"Pain. Joints. Spine." Том 9, №2, 2019
Osteopetrosis: classification, pathomorphology, genetic disorders, clinical manifestations (literature review and clinical case report)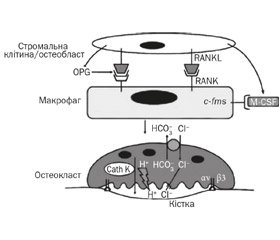 Summary
Остеопетроз — спадкове захворювання з автосомно-рецесивним чи автосомно-домінантним типом успадкування, спричинене порушенням функціональної активності остеокластів внаслідок мутації генів. У статті на основі аналізу літературних джерел систематизовані дані про етіологію, класифікацію, патоморфологію, генні порушення і висвітлені сучасні підходи до лікування остеопетрозу. Описано три типи остеопетрозу з різним ступенем вираженості порушень у скелеті та тяжкості патології. Подані основні патоморфологічні зміни у структурній організації кісткової тканини, відзначені особливості стану остеокластів залежно від мутації генів, які контролюють їх функціональну активність. Протоколів лікування цієї патології немає, але проводиться розробка методів лікування на основі використання гемопоетичних стовбурових клітин. Наведено клінічний приклад пацієнтки з остеопетрозом.
Остеопетроз — наследственное заболевание с аутосомно-рецессивным или аутосомно-доминантным типом наследования, вызванное нарушением функциональной активности остеокластов за счет мутации генов. В статье на основе анализа литературных источников систематизированы данные об этиологии, классификации, патоморфологии, генных нарушениях и освещены современные подходы к лечению остеопетроза. Описаны три типа остеопетроза с различной степенью выраженности нарушений в скелете и тяжестью патологии. Представлены основные патоморфологические изменения в структурной организации костной ткани, отмечены особенности состояния остеокластов в зависимости от мутации генов, контролирующих их функциональную активность. Протоколов для лечения этой патологии не имеется, но ведется разработка методов лечения на основе использования гемопоэтических стволовых клеток. Представлен клинический пример пациентки с остеопетрозом.
Osteopetrosis is a hereditary disease with an autosomal recessive or autosomal dominant type of inheritance, caused by a disruption in the functional activity of osteoclasts due to gene mutation. The article systematizes data on etiology, classification, pathomorphology, gene disorders based on the analysis of 38 sources of literature, and deals with the modern approa­ches to the treatment of osteopetrosis. Three types of osteopetrosis with different severity degrees of skeletal disorders and pathological severity are described. The main pathomorphological changes in the structural organization of bone tissue are presented and features of the state of osteoclasts are shown depending on the mutation of genes controlling their functional activity. There are no protocols for the treatment of this pathology, but treatment me­thods based on the use of hematopoietic stem cells are under development. The paper presents with clinical case report of a patient with marble bone disease.
Keywords
остеопетроз; класифікація; патоморфологія; остеобласти; генні порушення; діагностика; лікування
остеопетроз; классификация; патоморфология; остеокласты; генные нарушения; диагностика; лечение
osteopetrosis; classification; pathomorphology; osteoclasts; gene disorders; diagnosis; treatment
For the full article you need to subscribe to the magazine.
Bibliography
1. Albers-Schonberg H. Rontgenbilder Einer Seltenen Knockenerkrankung. Munch. Med. Wochenschr. 1904. Vol. 51. P. 365-368.
2. Raynberg S.A. Rentgenodiagnostika zabolevaniy kostey i sustavov [Radiodiagnosis of bones and joints disea–ses]. Moscow. Meditsina. 1964. T. 1. 440 p. (in Russian).
3. Belozertseva L.V., Shchadneva S.I., Katkova M.I. et al. Osteopetroz («mramornaya» bolezn) Sovremennaya revmatologiya. 2014. Vol. 1. P. 23-26. doi: 10.14412/1996-7012-2014-1-23-26. (in Russian).
4. Shroff R., Beringer O., Rao K. et al. Denosumab for posttransplantation hypercalcemia in osteopetrosis. N. Engl. J. Med. 2012. Vol. 367(18). P. 1766-1767. doi: 10.1056/NEJMc1206193.
5. Wu C.C., Econs M.J., DiMeglio L.A. Diagnosis and Management of Osteopetrosis: Consensus Guidelines From the Osteopetrosis Working Group. J. Clin. Endocrinol. Metab. 2017 Sep 1. Vol. 102(9). P. 3111-3123. doi: 10.1210/jc.2017-01127.
6. Stark Z., Savarirayan R. Osteopetrosis. Orphanet. J. Rare Dis. 2009 Feb 20. Vol. 4. P. 5. doi: 10.1186/1750-1172-4-5.
7. Sobacchi C., Frattini A., Guerrini M.M. et al. Osteoclast-poor human osteopetrosis due to mutations in the gene encoding RANKL. Nat. Genet. 2007 Aug. Vol. 39(8). P. 960-2. doi: 10.1038/ng2076.
8. Manolagas S.C. Birth and death of bone cells: basic regulatory mechanisms and implications for the pathoge–nesis and treatment of osteoporosis. Endocr. Rev. 2000 Apr. Vol. 21(2). P. 115-37. doi: 10.1210/edrv.21.2.0395.
9. Palagano E., Blair H.C., Pangrazio A. et al. Buried in the Middle, But Guilty: Intronic Mutations in the TCIRG1 Gene Cause Human Autosomal Recessive Osteopetrosis. J. Bone Miner. Res. 2015 Oct. Vol. 30(10). P. 1814-21. doi: 10.1002/jbmr.2517.
10. Teitelbaum S.L. Osteoclasts: what do they do and how do they do it? AJP Feb. 2007. Vol. 170(2). P. 427-435. doi: 10.2353/ajpath.2007.060834.
11. Osreopetroz [Osteopetrosis]: ORPHA2781 https://www.orpha.net/data/patho/RU/Osteopetrosis-RUrusAbs3700_.pdf. Accessed 16 Mar 2019 (in Russian).
12. Diniz G., Olukman O., Calkavur S. et al. Histologically Diagnosed Case with Infantile Osteopetrosis Complicated by Hypopituitarism. Case Rep. Pathol. 2015. Vol. 2015. P. 786836. doi: 10.1155/2015/786836.
13. Dawar H., Mugalakhod V., Wani J., Raina D., Rastogi S., Wani S. Fracture management in osteopetrosis: an intriguing enigma. A guide for surgeons. Acta Orthop. Belg. 2017 Sep. Vol. 83(3). P. 488-494. PMID: 30423653.
14. Helfrich M., Perdu B., Coxon F. Human recessive osteopetrosis: new understanding of osteoclast function through molecular and functional analysis of a rare genetic bone disease. Osteologie. 2009 Jan. Vol. 18(4). P. 260-267. doi: 10.1055/s-0037-1619909.
15. Mazzolari E., Forino C., Razza A. et al. A single-center experience in 20 patients with infantile malignant osteopetrosis. Am. J. Hematol. 2009 Aug. Vol. 84(8). P. 473-9. doi: 10.1002/ajh.21447.
16. Balemans W., Van Wesenbeeck L., Van Hul W. A clinical and molecular overview of the human osteopetroses. Calcif. Tissue Int. 2005 Nov. Vol. 77(5). P. 263-74. doi: 10.1007/s00223-005-0027-6.
17. Pangrazio A., Pusch M., Caldana E. et al. Molecular and clinical heterogeneity in CLCN7-dependent osteopetrosis: report of 20 novel mutations. Hum. Mutat. 2010 Jan. Vol. 31(1). E1071-80. doi: 10.1002/humu.21167.
18. Cotter M., Connell T., Colhoun E., Smith O.P., McMahon C. Carbonic anhydrase II deficiency: a rare auto–somal recessive disorder of osteopetrosis, renal tubular acidosis, and cerebral calcification. J. Pediatr. –Hematol. Oncol. 2005 Feb. Vol. 27(2). P. 115-7. doi: 10.1097/01.mph.0000154068.86987.47.
19. Farfán M.A., Olarte C.M., Pesantez R.F. et al. Re–commendations for fracture management in patients with osteopetrosis: case report. Arch. Orthop. Trauma Surg. 2015 Mar. Vol. 135(3). P. 351-6. doi: 10.1007/s00402-014-2144-z.
20. Pangrazio A., Fasth A., Sbardellati A. et al. SNX10 mutations define a subgroup of human autosomal recessive osteopetrosis with variable clinical severity. J. Bone Miner Res. 2013 May. Vol. 28(5). P. 1041-9. doi: 10.1002/jbmr.1849.
21. Shapiro F. Osteopetrosis. Current Clinical Conside–rations. Clin. Orthop. Relat. Res. 1993 Sep. Vol. 294. P. 34-44. PMID: 8358940.
22. Bollerslev J., Henriksen K., Nielsen M.F., Brixen K., Van Hul W. Autosomal dominant osteopetrosis revisited: lessons from recent studies. Eur. J. Endocrinol. 2013 Jul 13. Vol. 169(2). R39-57. doi: 10.1530/EJE-13-0136.
23. Spichak I.I., Bogacheva M.V., Toporkov D.I. Osteopetroz — redkoye nasledstvennoye zabolevaniye (obzor literatury i sobstvennoye klinicheskoye nablyudeniye) [Osteopetrosis is a rare hereditary disease (literature review and case clinical report)]. Pediatricheskiy vestnik Yuzhnogo Urala. 2016. Vol. 2. P. 106-114. (in Russian).
24. Benichou O.D., Laredo J.D. de Vernejoul M.C. Type II autosomal dominant osteopetrosis (Albers-Schonberg disease): clinical and radiological manifestations in 42 patients. Bone. 2000 Jan. Vol. 26(1). P. 87-93. doi: 10.1016/S8756-3282(99)00244-6.
25. Tolar J., Teitelbaum S.L., Orchard P.J. Osteopetrosis. N. Engl. J. Med. 2004 Dec 30. Vol. 351(27). P. 2839-49. doi: 10.1056/NEJMra040952.
26. Van Wesenbeeck L., Cleiren E., Gram J. et al. Sixno–vel missense mutations in the LDL receptor-related protein 5 (LRP5) gene in different conditions with an increased bone density. Am. J. Hum. Genet. 2003 Mar. Vol. 72(3). P. 763-71. doi: 10.1086/368277.
27. Frattini A., Pangrazio A., Susani L. et al. Chloride channel CLCN7 mutations are responsible for severe recessive, dominant, and intermediate osteopetrosis. J. Bone Miner. Res. 2003 Oct. Vol. 18(10). P. 1740-7. doi: 10.1359/jbmr.2003.18.10.1740.
28. Steward C.G. Hematopoietic stem cell transplantation for osteopetrosis. Pediatr. Clin. North. Am. 2010 Feb. Vol. 57(1). P. 171-80. doi: 10.1016/j.pcl.2009.11.006.
29. Teitelbaum S.L., Ross F.P. Genetic regulation of osteoclast development and function. Nat. Rev. Genet. 2003 Aug. Vol. 4(8). P. 638-49. doi: 10.1038/nrg1122.
30. Waguespack S.G., Hui S.L., Dimeglio L.A., Econs M.J. Autosomal dominant osteopetrosis: clinical severity and natural history of 94 subjects with a chloride channel 7 gene mutation. J. Clin .Endocrinol. Metab. 2007 Mar. Vol. 92(3). P. 771-8. doi: 10.1210/jc.2006-1986.
31. Whyte M.P., Wenkert D., Clements K.L. et al. Bisphosphonate-induced osteopetrosis. N. Engl. J. Med. 2003. Vol. 349. P. 457-463. doi: 10.1056/NEJMoa023110.
32. Driessen G.J., Gerritsen E.J., Fischer A. et al. Long-term outcome of haematopoietic stem cell transplantation in autosomal recessive osteopetrosis: an EBMT report. Bone Marrow Transplant. 2003 Oct. Vol. 32(7). P. 657-63. doi: 10.1038/sj.bmt.1704194.
33. Steward C.G. Neurological aspects of osteopetrosis. Neuropathol. Appl. Neurobiol. 2003 Apr. Vol. 29(2). P. 87-97. PMID: 12662317.
34. Alkhiary Y.M., Gerstenfeld L.C., Krall E. et al. Enhancement of experimental fracture-healing by systemic administration of recombinant human parathyroid hormone (PTH 1-34). J. Bone Joint. Surg. Am. 2005 Apr. Vol. 87(4). P. 731-41. doi: 10.2106/JBJS.D.02115.
35. Sen R.K., Gopinathan N.R., Kumar R., Saini U.C. Simple reproducible technique in treatment for osteopetrotic fractures. Musculoskelet. Surg. 2013 Aug. Vol. 97(2). P. 117-21. doi: 10.1007/s12306-012-0222-3.
36. Sobacchi C., Schulz A., Coxon F.P. et al. Osteopetrosis: genetics, treatment and new insights into osteoclast function. Nat. Rev. Endocrinol. 2013 Sep. Vol. 9(9). P. 522-36. doi: 10.1038/nrendo.2013.137.
37. Alam I., McQueen A.K., Acton D. et al. Phenotypic severity of autosomal dominant osteopetrosis type II (ADO2) mice on different genetic backgrounds recapitulates the features of human disease. Bone. 2017 Jan. Vol. 94. P. 34-41. doi: 10.1016/j.bone.2016.10.016.