"Hypertension" №3-4 (65-66), 2019
Arterial hypertension and atrial fibrillation: a dangerous "friendship" that cannot be ignored!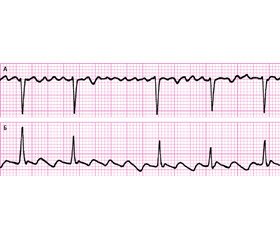 Authors:

Скибчик В.А., Бабляк С.Д., Матвієнко Ю.О.
Львівський національний медичний університет імені Данила Галицького, м. Львів, Україна



Categories:

Cardiology



Sections:

Specialist manual
Summary
У статті розглянуто вплив артеріальної гіпертензії на виникнення й прогресування фібриляції передсердь. Наголошено на важливості неконтрольованої артеріальної гіпертензії як серйозного фактора ризику виникнення інсультів у пацієнтів із фібриляцією передсердь. Проаналізовано основні аспекти використання спеціальних діагностично-прогностичних шкал, які корисні при лікуванні пацієнтів із поєднаною патологією (артеріальна гіпертензія і фібриляція передсердь). Акцентовано на необхідності їх застосування в реальній клінічній практиці з метою зниження ризику як ішемічних інсультів і системного венозного тромбоемболізму, так і серйозних кровотеч.
В статье рассмотрено влияние артериальной гипертензии на возникновение и прогрессирование фибрилляции предсердий. Подчеркнута важность неконтролированной артериальной гипертензии как серьезного фактора риска возникновения инсультов у пациентов с фибрилляцией предсердий. Проанализированы основные аспекты использования специальных диагностически-прогностических шкал, котрые полезны при лечении пациентов с сочетанной патологией (артериальная гипертензия и фибрилляция предсердий). Сделан акцент на необходимости их применения в реальной клинической практике с целью снижения риска как ишемических инсультов и системного венозного тромбоэмболизма, так и серьезных кровотечений.
In the article, the authors briefly discuss the effect of arterial hypertension on the onset and progression of atrial fibrillation. The importance of uncontrolled hypertension as a serious risk factor for stroke in patients with atrial fibrillation is emphasized. The main aspects of using special diagnostic and prognostic scales useful in the treatment of patients with combined pathology (arterial hypertension and atrial fibrillation) are analyzed. Focus is made on the need of using these scales in real clinical practice in order to reduce both the risk of ischemic strokes and systemic venous thromboembolism, as well as serious bleedings.
Keywords
артеріальна гіпертензія; фібриляція передсердь; шкали ризику кровотеч і вибору антикоагулянтів
артериальная гипертензия; фибрилляция предсердий; шкалы риска кровотечений и выбора антикоагулянтов
arterial hypertension; atrial fibrillation; bleeding risk and anticoagulant selection scales
For the full article you need to subscribe to the magazine.
Bibliography
1. Lip G.Y.H., Coca А., Kahan Т. et al. Hypertension and Cardiac Arrhythmias: Executive Summary of a Consensus Document from the European Heart Rhythm Association (EHRA) and ESC Council on Hypertension, endorsed by the Heart Rhythm Society (HRS), Asia-Pacific Heart Rhythm Society (APHRS) and Sociedad Latinoamericana de Estimulación Cardíaca y Electrofisiología (SOLEACE). European Heard Jornal — Cardiovascular Pharmacotherapy. 2017. Vol. 3. P. 235-250.
2. Kakkar A.K., Mueller I., Bassand J.P. et al. Risk Profiles and Antithrombotic Treatment of Patients Newly Diagnosed with Atrial Fibrillation at Risk of Stroke: Perspectives from the International, Observational, Prospective GARFIELD Registry. Public Library of Science. 2013, May. Vol. 8(5). e63479.
3. Connolly S.J., Eikelboom J., Joyner С. et al. Apixaban in Patients with Atrial Fibrillation. The New England Journal of Medicine. 2011. Vol. 364. P. 806-817.
4. Potpara T.S., Stankovic G.R., Beleslin B.D. et al. A 12-Year Follow-up Study of Patients With Newly Diagnosed Lone Atrial Fibrillation: Implications of Arrhythmia Progression on Prognosis: The Belgrade Atrial Fibrillation Study. Chest. 2012. Vol. 141. P. 339-347.
5. Lip G.Y., Nieuwlaat R., Pisters R. et al. Refining clinical risk stratification for predicting stroke and thromboembolism in atrial fibrillation using a novel risk factor-based approach: the euro heart survey on atrial fibrillation. Chest. 2010. Vol. 137. P. 263-272.
6. Kahan T., Bergfeldt L. Left ventricular hypertrophy in hypertension: its arrhythmogenic potential. Heart. 2005. Vol. 91(2). P. 250-256.
7. Potpara T.S., Polovina M.M., Marinkovic J.M. et al.
A comparison of clinical characteristics and long-term prognosis in asymptomatic and symptomatic patients with first-diagnosed atrial fibrillation: the Belgrade Atrial Fibrillation Study. Int. J. Cardiol. 2013. Vol. 168. P. 4744-4749.
8. Lauer A., Pfeilschifter W., Schaffer C.B. et al. Intracerebral haemorrhage associated with antithrombotic treatment: translational insights from experimental studies. Lancet Neurol. 2013. Vol. 12. P. 394-405.
9. Giugliano R.P., Ruff C.T., Braunwald Е. et al. Edoxaban versus Warfarin in Patients with Atrial Fibrillation. The New England Journal of Medicine. 2013. Vol. 369. P. 2093-2104.
10. Olesen J.B., Lip G.Y., Lindhardsen J. et al. Risks of thromboembolism and bleeding with thromboprophylaxis in patients with atrial fibrillation: A net clinical benefit analysis using a "real world" nationwide cohort study. Thromb Haemost. 2011. Vol. 106. P. 739-749.
11. Chao T.F., Liu C.J., Wang K.L. et al. Should atrial fibrillation patients with 1 additional risk factor of the CHA2DS2-VASc score (beyond sex) receive oral anticoagulation? J. Am. Coll. Cardiol. 2015. Vol. 65. P. 635-642.
12. Скибчик В.А., Соломенчук Т.М. Практичні аспекти сучасної кардіології. 2-ге вид., доповнене. Львів: Медицина світу, 2019. 424 с., іл.
13. Kirchhof P., Benussi S., Kotecha D. et al. 2016 ESC Guidelines for the management of atrial fibrillation developed in collaboration with EACTS. Eur. Heart J. 2016. Vol. 37(38). P. 2893-2962.
14. Pisters R., Lane D. A., Nieuwlaat R. et al. A novel user-friendly score (HAS-BLED) to assess 1-year risk of major bleeding in patients with atrial fibrillation: the Euro Heart Survey. Chest. 2010. Vol. 138. P. 1093-1100.
15. Apostolakis S., Sullivan R.M., Olshansky B. et al. Factors affecting quality of anticoagulation control among patients with atrial fibrillation on warfarin: the SAMe-TT2R2 score. Chest. 2013. Vol. 144(5). P. 1555-1563.
Similar articles


Authors:
В.І. Денесюк д.м.н., професор, заслужений діяч науки і техніки України, завідувач кафедри внутрішньої медицини № 3, Вінницький національний медичний університет ім. М.І. Пирогова, м. Вінниця, Україна О.В. Денесюк к.м.н., доцент кафедри пропедевтики внутрішньої медицини, Вінницький національний медичний університет ім. М.І. Пирогова, м. Вінниця, Україна


"News of medicine and pharmacy" 7 (618) 2017
Date: 2017.07.10
Sections: Specialist manual