"Child`s Health" Том 14, №6, 2019
Features of Kawasaki disease course in infants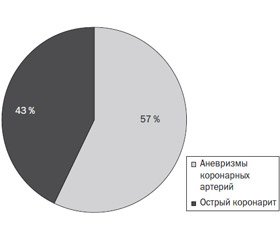 Authors:

Коренюк Е.С.(1), Крамаренко Н.Н.(1), Иванусь С.Г.(2)
(1) — ГУ «Днепропетровская медицинская академия МЗ Украины», г. Днепр, Украина
(2) — КУ «ДДГКБ № 2 ДГС», г. Днепр, Украина



Categories:

Pediatrics/Neonatology



Sections:

Clinical researches
Summary
Актуальність. Своєчасній діагностиці синдрому Кавасакі перешкоджає велика кількість клінічних масок хвороби, а також недостатня настороженість лікарів щодо цього захворювання у дітей із тривалою лихоманкою. Мета: підвищити ефективність діагностики хвороби Кавасакі на підставі ретроспективного аналізу клінічного перебігу та результатів захворювання у дітей, які перебували під нашим спостереженням. Матеріали та методи. Проведено аналіз історій хвороби 7 дітей віком від 7 місяців до 6 років із хворобою Кавасакі, які перебували на лікуванні в кардіопульмонологічному відділенні МДКЛ № 2 м. Дніпра. Діагноз хвороби Кавасакі був верифікований на підставі діагностичних критеріїв згідно з чинним клінічним протоколом. До всіх хворих були застосовані рутинні методи дослідження, ЕхоКГ (Д). Результати. Під час дослідження відзначено пізню діагностику хвороби Кавасакі (на етапі формування аневризм коронарних артерій) в 43 % спостережуваних випадків. Складність діагностики синдрому Кавасакі була обумовлена відсутністю повного комплексу типових ознак. Неповний варіант відзначався переважно в дітей перших трьох років життя і включав такі симптоми, як кон'юнктивіт, плямисто-папульозне висипання й ураження ротової порожнини в різноманітних комбінаціях. ЕхоКГ-дослідження виявило аневризми коронарних артерій у 57 % випадків, переважно у дітей раннього віку з неповним варіантом хвороби Кавасакі. На тлі проведеної терапії (внутрішньовенний імуноглобулін та аспірин) ми спостерігали значний регрес аневризм коронарних артерій у всіх пацієнтів. Висновки. У дітей раннього віку найбільш часто спостерігається неповний варіант синдрому Кавасакі, що ускладнює його діагностику. У зв'язку з цим тривала лихоманка в поєднанні навіть з 2–3 типовими ознаками повинна бути абсолютним показанням до проведення ЕхоКГ з обов'язковою візуалізацією коронарних артерій.
Актуальность. Своевременной диагностике синдрома Кавасаки препятствует большое количество клинических масок болезни, а также недостаточная настороженность врачей в отношении этого заболевания у длительно лихорадящего ребенка. Цель: повысить эффективность диагностики болезни Кавасаки на основании ретроспективного анализа клинического течения и исходов заболевания у детей, находившихся под нашим наблюдением. Материалы и методы. Проведен анализ историй болезни 7 детей в возрасте от 7 месяцев до 6 лет с болезнью Кавасаки, находившихся на лечении в кардиопульмонологическом отделении ДГКБ № 2 г. Днепр. Диагноз болезни Кавасаки был верифицирован на основе диагностических критериев в соответствии с действующим клиническим протоколом. Всем больным были проведены рутинные методы исследования, ЭхоКГ (Д). Результаты. В ходе исследования отмечена поздняя диагностика болезни Кавасаки (на этапе формирования аневризм коронарных артерий) в 43 % наблюдаемых случаев. Сложность диагностики синдрома Кавасаки была обусловлена отсутствием полного комплекса типичных клинических признаков. Неполный вариант отмечался преимущественно у детей первых трех лет жизни и включал такие симптомы, как конъюнктивит, пятнисто-папулезная сыпь и поражение ротовой полости в различных комбинациях. ЭхоКГ-исследование выявило наличие аневризм коронарных артерий в 57 % случаев, преимущественно у детей раннего возраста с неполным вариантом болезни Кавасаки. На фоне проводимой терапии (внутривенный иммуноглобулин и аспирин) мы наблюдали значительный регресс аневризм коронарных артерий у всех пациентов. Выводы. У детей раннего возраста наиболее часто встречается неполный вариант синдрома Кавасаки, что затрудняет его диагностику. В связи с этим длительная лихорадка в сочетании даже с 2–3 типичными признаками должна быть абсолютным показанием к проведению ЭхоКГ с обязательной визуализацией коронарных артерий.
Background. A large number of clinical masks and also insufficient vigilance of doctors regarding Kawasaki syndrome in a child with long-term fever impede timely diagnosis of Kawasaki syndrome. The purpose of the study was to increase the diagnostic efficiency of Kawasaki disease based on a retrospective analysis of its clinical course and outcomes in children under our supervision. Materials and methods. Case histories were analyzed in 7 children aged from 7 months to 6 years, who were treated in the cardiopulmonary department of Children's Clinical Hospital 2 in Dnipro. The diagnosis of Kawasaki disease was verified based on diagnostic criteria in accordance with the current clinical protocol. Routine research methods and echocardiography were performed for all patients. Results. The study revealed late diagnosis of Kawasaki disease, already at the stage of formation of coronary artery aneurysms, in 43 % of cases. The complexity of diagnosing Kawasaki syndrome was due to the lack of a full range of typical symptoms. The incomplete presentation was noted mainly in children of the first three years of life and included symptoms such as conjunctivitis, maculopapular rash, and oral lesions in various combinations. Echocardiography revealed coronary artery aneurysms in 57 % of cases, mostly in infants with incomplete presentation of Kawasaki disease. Against the background of therapy (intravenous immunoglobulin and aspirin), we observed a significant regression of coronary artery aneurysms in all patients. Conclusions. Infants most often have incomplete presentation of Kawasaki syndrome, which complicates its diagnosis. In this regard, prolonged fever in combination even with 2–3 typical signs should be an absolute indication for echocardiography with mandatory visualization of the coronary arteries.
Keywords
хвороба Кавасакі; особливості перебігу; діти
болезнь Кавасаки; особенности течения; дети
Kawasaki disease; course features; children
For the full article you need to subscribe to the magazine.
Bibliography
1. Шостакович-Корецкая Л.Р. Синдром Кавасаки как причина длительной лихорадки у детей. Актуальная инфектология. 2013. № 1. С. 104-107.
2. Лутфуллин И.Я. Синдром Кавасаки: клинические алгоритмы и проблема гиподиагностики заболевания. Вестник современной клинической медицины. 2016. Т. 9, вып. 2. С. 52-60.
3. Майданник В.Г. Болезнь Кавасаки в детском возрасте. Киев: Логос, 2015. 375 с.
4. Лыскина Г.А., Виноградова О.И., Ширинская О.Г. [и др.]. Клиника, диагностика и лечение синдрома Кавасаки. Клинические рекомендации. Москва, 2011. 57 с. http://www.rodkb.ru/Klinic_rec/5.pdf
5. Park Y.W. Epidemiology of Kawasaki disease in Korea. Korean J. Pediatr. 2008. № 5. Р. 452-456.
6. Лыскина Г.А. Синдром Кавасаки у детей, заболевших в возрасте 5 лет и старше. Обзор литературы, собственное наблюдение. Вестник современной клинической медицины. 2016. Т. 2, вып. 2. С. 52-60.
7. Rowley A.H., Baker S.C., Shulman S.T. et al. Ultrastructural, immunofluorescence, and RNA evidence support the hypothesis of a "new" virus associated with Kawasaki disease. J. Infect. Dis. 2011. Vol. 203. P. 1021-30.
8. Franco A., Shimizu C., Tremoulet A.H. et al. Memory T-cells and characterization of peripheral T-cell clones in acute Kawasaki disease. Autoimmunity. 2010. Vol. 43. P. 317-24.
9. Лыскина Г.А. Клиническая картина, диагностика и лечение синдрома Кавасаки: известные факты и нерешенные проблемы. Вопросы современной педиатрии. 2013. Т. 12, № 1. С. 63-73.
10. Бехтерева М.К. Синдром Кавасаки в практике педиатра и инфекциониста. Клинико-лабораторный консилиум. 2013. № 1. С. 43-49.
11. Sudo D., Monobe Y., Yashiro M. et al. Coronary artery lesions of incomplete Kawasaki disease: a nation wide survey in Japan. Eur. J Pediatr. 2012. Vol. 171(4). P. 651-656.
Similar articles

Authors:
Шостакович-Корецкая Л.Р., Будаева И.В. - Государственное учреждение «Днепропетровская медицинская академия»; Кафедра инфекционных болезней


"Actual Infectology" 1 (1) 2013
Date: 2013.12.09
Categories: Infectious diseases, Pediatrics/Neonatology
Sections: Specialist manual

Authors:
Г.Э. Сухарева, Н.В. Лагунова, Н.Н. Руденко, Крымский государственный медицинский университет им. С.И. Георгиевского, кафедра детских болезней, Республиканская детская клиническая больница, Республиканский диагностический центр, г. Симферополь, Научно-практический центр детской кардиологии и кардиохирургии МЗ Украины, г. Киев


"Child`s Health" 5(8) 2007
Date: 2008.07.14
Categories: Cardiology, Pediatrics/Neonatology
Sections: Specialist manual


Authors:
Mokiia-Serbina S.O. - State Institution «Dnipropetrovsk Medical Academy of the Ministry of Healthcare of Ukraine», Dnipropetrovsk, Ukraine


"Child`s Health" 1 (69) 2016
Date: 2016.04.14
Categories: Pediatrics/Neonatology
Sections: Specialist manual