"Child`s Health" Том 14, №6, 2019
The possibilities of new macrolides in the treatment of bacterial respiratory diseases in children: the effectiveness and safety of azithromycin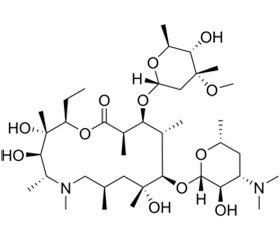 Summary
Робота присвячена питанням вибору антибактеріальних засобів у лікуванні дітей із захворюваннями органів дихання. Розглянута одна з груп препаратів вибору — макроліди й найбільш часто використовуваний представник цієї категорії антибіотиків — азитроміцин. Проаналізовані дані щодо ефективності його застосування, а також рівень біоеквівалентності генеричного препарату Азимед® (виробництва АТ «Київмедпрепарат», корпорація «Артеріум») оригінальному азитроміцину. Аналіз результатів проведених досліджень свідчить, що досліджувані лікарські засоби — Азимед® (генерик) та оригінальний препарат азитроміцину відповідають характеристикам біоеквівалентності, що визначає можливість їх взаємозамінності.
Работа посвящена вопросам выбора антибактериальных средств в лечении детей с заболеваниями органов дыхания. Рассмотрена одна из групп препаратов выбора — макролиды и наиболее часто используемый представитель этой категории антибиотиков — азитромицин. Проанализированы данные об эффективности его применения, а также уровень биоэквивалентности генерического препарата Азимед® (производство АО «Киевмедпрепарат», корпорация «Артериум») оригинальному азитромицину. Анализ результатов проведенных исследований свидетельствует о том, что изучаемые лекарственные средства — Азимед® (генерик) и оригинальный препарат азитромицина — отвечают характеристикам биоэквивалентности, что определяет возможность их взаимозаменяемости.
The work deals with the choice of antibacterial agents in the treatment of children with respiratory diseases. One of the groups of drugs of choice is considered — macrolides, and the most commonly used representative of this category of antibiotics, azithromycin. The data on the effectiveness of its use, as well as the bioequivalence of the generic drug Azimed® (manufactured by Kievmedpreparat, Arterium Corporation) with the original azithromycin were analyzed. An analysis of the research results indicates that the studied preparations — Azimed® (generic drug) and the original drug azithromycin — meet the bioequivalence characteristics that determines the possibility of their interchangeability.
Keywords
діти; захворювання; антибіотики; азитроміцин
дети; заболевания; антибиотики; азитромицин
children; diseases; antibiotics; azithromycin
For the full article you need to subscribe to the magazine.
Bibliography
1. Бойкова Н.Э., Гаращенко Т.И. Рациональность использования эфирных масел в терапии вирусных риносинуситов у детей. Лечащий врач. 2018. 9. 36-40.
2. Stenner M., Rudack C. Diseases of the nose and paranasal sinuses in child. GMS Curr. Top. Otorhinolaryngol. Head Neck Surg. 2014. 13. Doc10. Published online. 2014 Dec 1. DOI: 10.3205/cto000113.
3. Абдихаликов Ж.А., Анарбаев А.А. Синусогенные орбитальные осложнения у детей. Российский вестник перинатологии и педиатрии. 2016. 4.
4. Jaume F., Quintó L., Alobid I., Mullol J. Overuse of diagnostic tools and medications in acute rhinosinusitis in Spain: a population-based study (the PROSINUS study). BMJ Open. 2018. 8(1). e018788. DOI: 10.1136/bmjopen-2017-018788.
5. Ostapchuc M., Roberts D.M., Haddy R. Community-Acquired Pneumonia in Infants and Children. J. Am. Family Physician. 2004. 70(5). 899-908.
6. Rudan I., Boschi-Pinto C., Biloglav Z. et al. Epidemiology and etiology of childhood pneumonia. Bulletin of the World Health Organization. 2008. 86(5). 408-416.
7. Горячко А.Н., Сукало А.В. Прогностическая модель для определения вероятности развития врожденной пневмонии у доношенных новорожденных. Здоровье ребенка. 2019. 4. 93-99.
8. Абатуров А.Е., Волосовец А.П., Борисова Т.П. Медикаментозное управление окислительно-восстановительным состоянием организма при заболеваниях органов дыхания (Часть 6). Здоровье ребенка. 2018. 8. 87-100.
9. Леженко Г.О., Пашкова О.Є., Крайня Г.В. Прогнозування розвитку гострого бактеріального бронхіту у дітей раннього віку. Здоровье ребенка. 2018. 4. 38-48.
10. Barnett M.L., Linder J.A. Antibiotics prescribing to adults with sore throat in the United States, 1997–2010. JAMA Intern. Med. 2013 [Epub ahead of print].
11. Harrison L. Antibiotics still overprescribed fore sore throats, bronchitis. Medscape. 2013. www.medscape.com/viewarticle/812109
12. Balis E., Boufas А., Iliopoulos I. et al. Severe Community-Acquired Pneumonia with Acute Hypoxemic Respiratory Failure Due to Primary Infection with Chlamydia pneumoniae in a Previously Health Adult. Clin. Infect. Dis. 2003. 36. e155-7.
13. Naoyuki Miyashita, Hiroshi Fukano, Niro Okimoto et al. Clinical Presentation of Community-Acquired Chlamydia pneumonia Pneumonia in Adults. Chest. 2002. 121. 1776-81.
14. Sopena N., Garcia-Pares D., Pedro-Botet M.L. et al. Comparative study of bacterial community-acquired pneumoniae (CAP) caused by S. pneumoniae (CAP-SP), L. Pneumophilla (CAP-LP) and C. pneumoniae (CAP-CP). Аbstr. P891. 12th European Congress of Clinical Microbiology and Infectious Diseases. 2002.
15. Defilippi A., Silvestri M., Tacchella A. et al. Epidemiology and clinical features of Mycoplasma pneumoniae infection in children. Respir. Med. 2008. 102(12). 1762-1768.
16. Marguet C. Bronchopulmonary infections in the infant and the child. Rev. Prat. 2005. 57(11). 1237-1244.
17. Land J.A., Van Bergen J.E.A.M., Morre S.A., Postma M.J. Epidemiology of Chlamydia trachomatis infection in women and the costeffectiveness of screening. Human. Reproduction Update. 2010. 16(2). 189-204.
18. WHO. Prevention and control of sexually transmitted infections: draft global strategy, 2006. Available from: http://www.who.int/reproductive-health/docs/stis_strategy.pdf
19. Sahm D.F., Brown N.P., Draghi D.С. et al. Tracking resistance among bacterial respiratory tract pathogens: summary of findings of the TRUST Surveillance Initiative, 2001–2005. Postgrad. Med. 2008. 120(3 Suppl. 1). 8-15.
20. Vardakas K.Z., Siempo I.I., Grammatikos A. Respiratory fluoroquinolones for the treatment of community-acquired pneumonia. a meta-analysis of randomized controlled trials. CMAJ. 2008. 179(12). 1269-1277.
21. Drummond M.F., Becker D.L., Hux M. An economic evaluation of sequential i.v./pо moxifloxacin therapy compared to i.v./pо co-amoxiclav with or without clarithromycin in the treatment of community-acquired pneumonia. Chest. 2003. 124. 526-535.
22. Kozlov R.S., Sivaja O.V., Stratchounski L.S. 7-years monitoring of resistance of clinical S. pneumoniae in Russia: results of prospective multicenter study (PEHASus). Proc 45th ICAAC. 2005. Washington DC.
23. Визель А.А., Визель И.Ю. Азитромицин — от реалий к перспективе применения. Болезни органов дыхания: Приложение к журналу Consilium medicum. 2009. 10-16.
24. Arguedas A., Emparanza P., Schwartz R.H. et al. A randomized, multicenter, double blind, double dummy trial of single dose azithromycin versus high dose amoxicillin for treatment of uncomplicated acute otitis media. Pediatr. Infect. Dis. J. 2005. 24(2). 153-61.
25. US Preventive Services Task Force. Screening for chlamydial infection: U. S. Preventive Services Task Force recommendation statement. Ann. Intern. Med. 2007. 147. 128-134.
26. Lanjouw E., Ossewaarde J.M., Stary A. et al. 2010 European guideline for the management of Chlamydia trachomatis infections. Int. J. STD AIDS. 2010. 21(11). 729-737.
27. Van Bergen J.E.A.M., De Feijter E.M., Gotz H.M. CSI Netherlands 2007–2010. A Large Scale Internet Based Chlamydia Screening Implementation Programme. Seattle. USA. Abstractbook 17th ISSTDR. 2007.
28. Esposito S., Bosis S., Faelli N. et al. Role of atypical bacteria and azithromycin therapy for children with recurrent respiratory tract infections. Pediatr. Infect. Dis. J. 2005. 24(5). 438-44.
29. Saiman L., Marshall B.C., Mayer-Hamblett N. et al. Azithromycin in patients with cystic fibrosis chronically infected with Pseudomonas aeruginosa: a randomized controlled trial. Am. J. Respir. Crit. Care Med. 2003. 290(13). 1749-56.
30. Clement A., Tamalet A., Le Roux E. et al. Long term effects of azithromycin in patients with cystic fibrosis: a double-blind, placebo-controlled trial. Thorax. 2006. 61(10). 895-902.
31. Murray T.S., Egan M., Kazmierczak B.I. Pseudomonas aeruginosa chronic colonization in cystic fibrosis patients. Curr. Opin. Pediatr. 2007. 19(1). 83-8.
32. Amsden G.W. Anti-inflammatory effects of macrolides an underappreciated benefit in the treatment of community-acquired respiratory tract infections and chronic inflammatory pulmonary conditions? J. Antimicrob. Chemother. 2005. 55(1). 10-21.
33. American Thoracic Society. Guidelines for the management of adults with comrnunityacquired pneumonia. Diagnosis, assessent of severity, antimicrobial therapy, and prevention. Am. J. Respir. Crit. Care. Med. 2001. 163. 1730-1754.
34. Bartlett J.G. Management of respiratory tract infection. 3rd еd. Philadelphia. 2001. 178-82.
35. Хенд В.Л., Хенд Д.Л. Механизмы накопления и выброса азитромицина в полиморфноядерных лейкоцитах человека. Антибиотики и химиотерапия. 2002. 7(47). 6-12.
36. Зупанець I.А., Безугла Н.П., Либiна В.В. та ін. Оцiнка взаємозамінності Азимеду — бiоеквiвалентнiсть доведена! Лiки України. 2013.
37. Лукьянов С.В. Почему азитромицин остается препаратом выбора при внебольничных инфекциях нижних дыхательных путей. Лечащий врач. 2009. 9.
38. Fang G.D., Stout J.E., Yu V.L. Comparison of intracellular postantibiotic effect of azithromycin and clarithromycin vs. erythromycin against Legionella pneumophila serogroup 1. The 36th International Conference on Antimicrobial Agents and Chemotherapy. New Orleans. 1996. Аbstr. A91.
39. Волосовец А.П., Кривопустов С.П. Неантимикробный эффект макролидов: значение в практике педиатрии. Новости медицины и фармации. Спецвыпуск «Антимикробная и противовирусная терапия». 2010. 310.
40. Синкопальников А.И., Зайцев А.А. Азитромицин в пульмонологической практике: 20 лет спустя. Сonsilium medicum. Пульмонология. 2009. 54-59.
41. Saiman L., Anstead M., Mayer-Hamblett N. et al.; AZ0004 Azithromycin Study Group. Effect of azithromycin on pulmonary function in patients with cystic fibrosis uninfected with Pseudomonas aeruginosa: a randomized controlled trial. JAMA. 2010. 303(17). 1707-15.
42. Верткин А.Л. Больше, чем антибиотик: новый подход к лечению самых частых терапевтических заболеваний. Сonsilium medicum (мат-лы симпозиума в экстравыпуске).
Similar articles

Authors: Крамарев С.А., Закордонец Л.В.
Национальный медицинский университет имени А.А. Богомольца, г. Киев, Украина
"Actual Infectology" Том 8, №1, 2020
Date: 2020.02.28
Categories: Infectious diseases
Sections: Specialist manual


Authors: Абатуров А.Е., Никулина А.А., Кривуша Е.Л., Ивашина В.И.
ГУ «Днепропетровская медицинская академия Министерства здравоохранения Украины», г. Днепр, Украина
"Child`s Health" Том 13, №5, 2018
Date: 2018.09.19
Categories: Pediatrics/Neonatology
Sections: Specialist manual


Authors:
Юлиш Е.И., Кривущев Б.И. Донецкий национальный медицинский университет им. М. Горького


"Child`s Health" 6 (33) 2011
Date: 2013.01.04
Categories: Pediatrics/Neonatology