"Gastroenterology" Том 53, №3, 2019
Characteristics of the gut microbiota and the content of short-chain fatty acids in patients with irritable bowel syndrome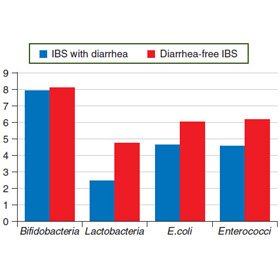 Authors:

Yu.M. Stepanov(1), I.Ya. Budzak(2), I.A. Klenina(1)
(1) — State Institution "Institute of Gastroenterology of the National Academy of Medical Sciences of Ukraine", Dnipro, Ukraine
(2) — State Institution "Dnipropetrovsk Medical Academy of the Ministry of Health of Ukraine", Dnipro, Ukraine



Categories:

Gastroenterology



Sections:

Clinical researches
Summary
У статті розглядаються питання, пов'язані з кишковою мікрофлорою та коротколанцюговими жирними кислотами у хворих із синдромом подразненого кишечника. Встановлено, що концентрація оцтової, пропіонової, масляної кислот у калі є вищою у хворих із синдромом подразненого кишечника з діареєю порівняно з хворими без діарейного синдрому. У 83,3–88,9 % хворих із різними формами синдрому подразненого кишечника спостерігаються дисбіотичні зміни; у пацієнтів із діарейною формою частіше відзначається знижений вміст біфідобактерій та, особливо, лактобактерій. Виявлена певна взаємозалежність між концентрацією коротколанцюгових жирних кислот та вмістом біфідобактерій, лактобактерій, кандидозної та умовно-патогенної флори.
В статье рассматриваются вопросы, связанные с кишечной микрофлорой и короткоцепочечными жирными кислотами у больных с синдромом раздраженного кишечника. Установлено, что концентрация уксусной, пропионовой, масляной кислот в кале выше у больных с синдромом раздраженного кишечника с диареей по сравнению с больными без диарейного синдрома. У 83,3–88,9 % больных с различными формами синдрома раздраженного кишечника наблюдаются дисбиотические изменения; у пациентов с диарейной формой чаще отмечается пониженное содержание бифидобактерий и, особенно, лактобактерий. Отмечается определенная взаимозависимость между концентрацией короткоцепочечных жирных кислот и содержанием бифидобактерий, лактобактерий, кандидозной и условно-патогенной флоры.
The article presents the issues related to gut microbiota and short-chain fatty acids in patients with irritable bowel syndrome. It was found that the faecal concentration of acetic, propionic, butyric acids is higher in patients with irritable bowel syndrome with diarrhea, compared with the patients without diarrhea syndrome. 83.3–88.9% of patients with various forms of irritable bowel syndrome presented with dysbiotic changes. The reduced concentration of Bifidobacterium species, mainly lactic acid bacteria, is more often registered in patients with diarrheal form. There is a certain correlation between the concentration of short-chain fatty acids and the content of Bifidobacterium, Lactobacillus, Candida and opportunistic bacteria.
Keywords
синдром подразненого кишечника; мікрофлора кишечника; дисбіоз; коротколанцюгові жирні кислоти
синдром раздраженного кишечника; микрофлора кишечника; дисбиоз; короткоцепочечные жирные кислоты
irritable bowel syndrome; gut microbiota; dysbiosis; short-chain fatty acids
For the full article you need to subscribe to the magazine.
Bibliography
1. Chong P.P., Chin V.K., Looi C.Y., Wong W.F., Madhavan P., Yong V.C. The Microbiome and Irritable Bowel Syndrome — A Review on the Pathophysiology, Current Research and Future Therapy [published correction appears in Front Microbiol. 2019 Aug 13;10:1870]. Front Microbiol. 2019. 10. 1136.
2. Casén C., Vebø H.C., Sekelja M., Hegge F.T., Karlsson M.K., Ciemniejewska E. et al. Deviations in human gut microbiota: a novel diagnostic test for determining dysbiosis in patients with IBS or IBD. Aliment. Pharmacol. Ther. 2015. 42. 71-83.
3. Iacob S., Iacob D.G. Infectious Threats, the Intestinal Barrier, and Its Trojan Horse: Dysbiosis. Front Microbiol. 2019. 10. 1676.
4. Ludidi S., Jonkers D., Elamin E., Pieters H.J., Schaepkens E., Bours P. et al. The intestinal barrier in irritable bowel syndrome: subtype-specific effects of the systemic compartment in an in vitro model. PLoS One. 2015. 10. e0123498.
5. Roediger W.E. Role of anaerobic bacteria in the metabolic welfare of the colonic mucosa in man. Gut. 1980. 21. 793-798.
6. Fukuda S., Toh H., Hase K., Oshima K., Nakanishi Y., Yoshimura K. et al. Bifidobacteria can protect from enteropathogenic infection through production of acetate. Nature. 2011. 469. 543-547.
7. Wang H.-B., Wang P.-Y., Wang X., Wan Y.-L., Liu Y.-C. Butyrate enhances intestinal epithelial barrier function via up-regulation of tight junction protein claudin-1 transcription. Dig. Dis. Sci. 2012. 57. 3126-3135.
8. Tedelind S., Westberg F., Kjerrulf M., Vidal A. Anti-inflammatory properties of the short-chain fatty acids acetate and propionate: a study with relevance to inflammatory bowel disease. World J. Gastroenterol. 2007. 13 (20). 2826-2832.
9. Kelly C.J., Zheng L., Campbell E.L., Saeedi B., Scholz C.C., Bayless A.J. et al. Crosstalk between microbiota-derived short-chain fatty acids and intestinal epithelial HIF augments tissue barrier function. Cell Host. Microbe. 2015. 17. 662-671.
10. Feng Y., Wang Y., Wang P., Huang Y., Wang F. Short-chain fatty acids manifest stimulative and protective effects on intestinal barrier function through the inhibition of NLRP3 inflammasome and autophagy. Cell. Physiol. Biochem. 2018. 49. 190-205.
11. Pozuelo M., Panda S., Santiago A., Mendez S., Accarino A., Santos J. et al. Reduction of butyrate- and methane-producing microorganisms in patients with irritable bowel syndrome. Sci. Rep. 2015. 5. 12693.
12. Tan J., McKenzie C., Potamitis M., Thorburn A.N., Mackay C.R., Macia L. The role of short-chain fatty acids in health and disease. Adv. Immunol. 2014. 121. 91-119.
13. Guohua Zhao. Rapid determination of short-chain fatty acids in colonic contents and faeces of humans and rats by acidified water-extraction and direct-injection gas chromatography. Biomedical chromatography. 2006. 20. 8. 675-682.
Similar articles

Authors:
N.Yu. Zavhorodnia, O.Yu. Lukianenko, I.A. Klenina, O.I. Hrabovska, O.M. Tatarchuk, N.S. Vishnarevska SI "Institute of Gastroenterology of NAMS of Ukraine", Dnipro, Ukraine


"Gastroenterology" Том 54, №1, 2020
Date: 2020.04.27
Categories: Gastroenterology
Sections: Clinical researches


Authors:
Степанов Ю.М.(1), Власова О.М.(2), Кленіна І.А.(1) (1) — ДУ «Інститут гастроентерології НАМН України», м. Дніпро, Україна (2) — ДЗ «Дніпропетровська медична академія МОЗ України», м. Дніпро, Україна


"Gastroenterology" Том 54, №1, 2020
Date: 2020.04.27
Categories: Gastroenterology
Sections: Clinical researches


Authors: Степанов Ю.М.(1), Будзак І.Я.(2), Кленіна І.А.(1)
(1) — ДУ «Інститут гастроентерології НАМН України», м. Дніпро, Україна (2) — ДЗ «Дніпропетровська медична академія МОЗ України», м. Дніпро, Україна
"Gastroenterology" Том 53, №1, 2019
Date: 2019.05.06
Categories: Gastroenterology
Sections: Clinical researches


Authors:
Sydorchuk A.S., Venglovs'ka Y.V., Bohachyk N.A., Sorokhan V.D., Grubliak L.V. - Higher state educational establishment of Ukraine «Bukovinian State Mediсal University», Chernivtsi, Ukraine


"Actual Infectology" 4 (9) 2015
Date: 2016.02.19
Categories: Infectious diseases
Sections: Specialist manual