"Gastroenterology" Том 53, №4, 2019
The value of extracellular vesicles in the pathogenesis and diagnosis of non-alcoholic fatty liver disease (literature review)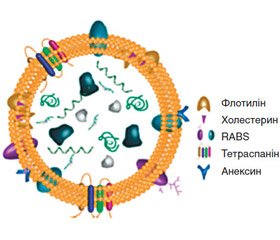 Summary
Екстрацелюлярні везикули (ЕВ) — це невеликі мембранні везикули, що виділяються клітинами в позаклітинне середовище. ЕВ являють собою полікомпозиційні комунікаційні молекули й можуть впливати на низку цільових клітин в оточуючому їх клітинному середовищі, а також мати дистанційну дію. У даний час ЕВ розглядаються як високочутливі біомаркери хронічних захворювань печінки. У статті наведений огляд сучасних літературних даних щодо ролі ЕВ у патогенезі неалкогольної жирової хвороби печінки (НАЖХП), а також діагностичного значення ЕВ у розрізі НАЖХП. Розглянуті питання класифікації, будови ЕВ, описані молекули, що входять до складу ЕВ. Увага приділена особливостям ідентифікації ЕВ у сироватці крові. У статті продемонстровано, що в прогресуванні НАЖХП мають значення як ЕВ, що походять із гепатоцитів, так і екстрагепатичні та бактеріальні ЕВ. Показано, що значення ЕВ при НАЖХП не обмежується формуванням дисметаболічних змін, а включає розвиток запалення та фіброзу печінки. З іншого боку, ЕВ можуть використовуватися як транспортери екзогенних молекул РНК до клітин печінки. EВ-асоційовані ncRNA впевнено визнаються як важливі регулятори біологічних процесів як у фізіологічних, так і в патологічних умовах.
Экстрацеллюлярные везикулы (ЭВ) — это небольшие мембранные везикулы, выделяемые клетками во внеклеточную среду. ЭВ представлюют собой коммуникационные молекулы и могут влиять на целый ряд целевых клеток в окружающей их клеточной среде, а также могут оказывать дистанционное действие. ЭВ рассматриваются в качестве высокочувствительных биомаркеров хронических заболеваний печени. В статье приведен обзор современных литературных данных о роли ЭВ в патогенезе неалкогольной жировой болезни печени (НАЖБП), а также диагностическом значении ЭВ в разрезе НАЖБП. Рассмотрены вопросы классификации ЭВ, строение ЭВ, описаны молекулы, входящие в состав ЭВ. Уделено внимание особенностям идентификации ЭВ в сыворотке крови. Подробно рассмотрены вопросы роли ЭВ в формировании и развитии НАЖБП. В cтатье показано, что в прогрессировании НАЖБП имеют значение как ЭВ, происходящие из гепатоцитов, так и внепеченочные и бактериальные ЭВ. Показано, что значение ЭВ при НАЖБП не ограничивается формированием дисметаболических изменений, а включает развитие воспаления и фиброза печени. С другой стороны, ЭВ могут использоваться в качестве транспортеров экзогенных молекул РНК в клетки печени. ЭВ-ассоциированные ncRNA уверенно признаются в качестве важных регуляторов биологических процессов как в физиологических, так и в патологических условиях.
Extracellular vesicles (EVs) are small membrane vesicles that are secreted by cells into the extracellular environment. EVs are cell-produced communication molecules that can affect a range of target cells in their cellular environment and may also have a long-range effect. Currently, EVs are considered to be highly sensitive biomarkers of chronic liver diseases. The article gives an overview of the current literature on the role of EVs in the pathogenesis of non-alcoholic fatty liver disease (NAFLD), as well as the diagnostic value of EVs in the context of NAFLD. The article deals with the classification of EVs, the structure of EV, describes molecules that make up EV. Attention is paid to the issues of EV identification in the blood serum. The role of EV in the formation and progression of NAFLD is discussed in detail. The article demonstrates that progression of NAFLD is associated with EVs derived from hepatocytes, as well as extrahepatic and bacterial EVs. It is shown that the value of EV in NAFLD is not limited to the formation of dysmetabolic changes, but includes the development of inflammation and liver fibrosis. On the other hand, EVs can be used as transporters of exogenous RNA molecules to the liver cells. EV-associated ncRNAs are confidently recognized as important regulators of biological processes in both physiological and pathological conditions.
Keywords
екстрацелюлярні везикули; біомаркери; хронічні захворювання печінки
экстрацеллюлярные везикулы; биомаркеры; хронические заболевания печени
extracellular vesicles; biomarkers; chronic liver disease
For the full article you need to subscribe to the magazine.
Bibliography
1. Leoni S., Tovoli F. et al. Current guidelines for the management of non-alcoholic fatty liver disease: A systematic review with comparative analysis. World J. Gastroenterol. 2018. № 24(30). Р. 3361-3373. doi: 10.3748/wjg.v24.i30.3361. PMID: 30122876; PMCID: PMC6092580.
2. Akiko Eguchi, Enis Kostallari, Ariel E. Feldstein, Vijay H. Shah. Extracellular vesicles, the liquid biopsy of the future. Journal of Hepatology. 2019. Vol. 70. Р. 1292-1294.
3. Hirsova P., Ibrahim S.H., Verma V.K. et al. Extracellular vesicles in liver pathobiology: small particles with big impact. Hepatology. 2016. № 64. Р. 2219-2233.
4. Maji S., Matsuda A., Yan I.K. et al. Extracellular vesicles in liver diseases. American Journal of Physiology-Gastrointestinal and Liver Physiology. 2016. Vol. 3. G194-G200.
5. Harding C.V., Heuser J.E., Stahl P.D. Exosomes: looking back three decades and into the future. J Cell Biol. 2013. Vol. 200. P. 367-371. doi: 10.1083/jcb.201212113. [Erratum. J. Cell Biol. 2013. Vol. 485. Р. 2013. doi: 10.1083/jcb.2012121132013c].
6. Lambrecht J., Verhulst S., Mannaerts I. et al. Prospects in non-invasive assessment of liver fibrosis: Liquid biopsy as the future gold standard? Biochim. Biophys Acta. 2018. Vol. 36. P. 1864-1024.
7. Deng F., Magee N., Zhang Y. Decoding the role of extracellular vesicles in liver diseases. Liver research. 2017. Vol. 1(3). P. 147155.
8. Xu Zhang, Xuetao Ji, Qian Wang, John Zhong Li. New insight into inter-organ crosstalk contributing to the pathogenesis of nonalcoholic fatty liver disease (NAFLD). Protein Cell. 2018. Vol. 9(2). P. 164-177. DOI: 10.1007/s13238-017-0436-0.
9. Yao Z.Y., Chen W.B., Shao S.S. et al. Role of exosome-associated microRNA in diagnostic and therapeutic applications to metabolic disorders. Journal of Zhejiang University-SCIENCE. 2018. Vol. 19(3). P. 183-198.
10. Hirsova P., Ibrahim S.H., Verma V.K. et al. Extracellular vesicles in liver pathobiology: Small particles with big impact. Hepatology. 2016. Vol. 64. P. 2219-33.
11. Ban L., Shackel N., McLennan S. Extracellular vesicles: a new frontier in biomarker discovery for non-alcoholic fatty liver disease. International journal of molecular sciences. 2018. Vol. 17(3). P. 376.
12. Pessolano E., Belvedere R., Bizzarro V. Annexin A1 Contained in Extracellular Vesicles Promotes the Activation of Keratinocytes by Mesoglycan Effects: An Autocrine Loop Through FPRs. Cells. 2019. Vol. 8(7). P. 753. doi: 10.3390/cells8070753.
13. Povero D., Eguchi A., Li H. et al. Circulating extracellular vesicles with specific proteome and liver microRNAs are potential biomarkers for liver injury in experimental fatty liver disease. PloS ONE. 2014. Vol. 9(12). P. e113651.
14. Otto G.P., Nichols B.J. The roles of flotillin microdomains-endocytosis and beyond. J. Cell Sci. 2011. Vol. 124(23). P. 3933-3940.
15. Andreu Z., Mó-Yáñez M. Tetraspanins in extracellular vesicle formation and function. Frontiers in immunology. 2014. Vol. 5. P. 442.
16. Lozano-Andrés E., Libregts S.F., Toribio V. et al. Tetraspanin-decorated extracellular vesicle-mimetics as a novel adaptable reference material. Journal of Extracellular Vesicles. 2019. Vol. 8(1). P. 1573052.
17. Pfeffer S.R. Two Rabs for exosome release. Nature cell biology. 2010. Vol. 12(1). P. 3.
18. Lorenz L., Axnick J., Buschmann T. et al. Mechanosensing by β1 integrin induces angiocrine signals for liver growth and survival. Nature. 2018. Vol. 562(7725). P. 128.
19. Bartucci R., Salvati A., Olinga P., Boersma Y.L. Vanin 1: Its Physiological Function and Role in Diseases. International journal of molecular sciences. 2019. Vol. 20(16). P. 3891.
20. Parola M., Patel H.H., Feldstein A.E. Lipid-induced toxicity stimulates hepatocytes to release angiogenic microparticles that require Vanin-1 for uptake by endothelial cells. Sci Signal. 2013 Oct 8. 6(296). ra88. doi: 10.1126/scisignal.2004512. PMID: 24106341; PMCID: PMC4016801.
21. Yang J., Li C., Zhang L., Wang X. Extracellular vesicles as carriers of non-coding RNAs in liver diseases. Frontiers in pharmacology. 2018. Vol. 9. P. 415.
22. Roderburg C., Luedde T. Circulating microRNAs as markers of liver inflammation, fibrosis and cancer. J. Hepatol. 2014. Vol. 61. P. 1434-7.
23. Arrese M., Eguchi A., Feldstein A.E. Circulating microRNAs: emerging biomarkers of liver disease. Semin. Liver Dis. 2015. Vol. 35. P. 43-54.
24. Falcon-Perez J.M. Circulating RNA: looking at the liver through a frosted glass. Biomarkers. 2015. Vol. 20(6–7). P. 339-54.
25. Rodriguez-Suarez E., Gonzalez E., Hughes C. et al. Quantitative proteomic analysis of hepatocyte-secreted extracellular vesicles reveals candidate markers for liver toxicity. J. Proteomics. 2014. 103. 227-240. doi: 10.1016/j.jprot.2014.04.008.
26. Giroud M., Scheideler M. Long Non-coding RNAs in metabolic organs and energy homeostasis. Int. J. Mol. Scі. 2017. Vol. 18. P. 2578. doi: 10.3390/ijms18122578C.
27. Carlevaro C.M., Irastorza R.M., Vericat F. Quaternionic representation of the genetic code. Biosystems. 2016. Vol. 141. P. 10-19. doi: 10.1016/j.biosystems.2015.12.009.
28. Galle P.R., Forner A., Llovet J.M. et al. EASL clinical practice guidelines: management of hepatocellular carcinoma. Journal of hepatology. 2018. Vol. 69(1). P. 182-236.
29. Malizia A.P., Wang D.Z. MicroRNAs in cardiomyocyte development. Wiley Interdisciplinary Reviews: Systems Biology and Medicine. 2011. Vol. 3(2). P. 183-190.
30. Hardy Т., Zeybel M., Day C.P. et al. Plasma DNA methylation: a potential biomarker for stratification of liver fibrosis in non-alcoholic fatty liver disease. Gut. 2017. Vol. 66. P. 1321-8.
31. Eguchi A., Lazaro R.G., Wang J. et al. Extracellular vesicles released by hepatocytes from gastric infusion model of alcoholic liver disease contain a MicroRNA barcode that can be detected in blood. Hepatology. 2017. Vol. 65. P. 475-90.
32. Shadway J.R. UEG image Hub.
33. Huang-Doran I., Zhang C.Y., Vidal-Puig A. Extracellular vesicles: novel mediators of cell communication in metabolic disease. Trends Endocrinol. Metab. 2017. Vol. 28. P. 3-18.
34. Ybсez-Mу M., Siljander P.R., Andreu Z. et al. Biological properties of extracellular vesicles and their physiological functions. J. Extracell Vesicles. 2015. Vol. 4. P. 27066.
35. Royo F., Moreno L., Mleczko J. et al. Hepatocyte-secreted extracellular vesicles modify blood metabolome and endothelial function by an arginase-dependent mechanism. Scientific reports. 2017. Vol. 7. P. 42798.
36. Kornek M., Lynch M., Mehta S.H. et al. Circulating microparticles as disease-specific biomarkers of severity of inflammation in patients with hepatitis C or nonalcoholic steatohepatitis. Gastroenterology. 2012. Vol. 143. P. 448-58.
37. Eguchi A., Feldstein A.E. Extracellular vesicles in non-alcoholic and alcoholic fatty liver diseases. Liver research. 2018. Vol. 2(1). P. 30-34.
38. Kornek M., Popov Y., Libermann T.A. et al. Human T cell microparticles circulate in blood of hepatitis patients and induce fibrolytic activation of hepatic stellate cells. Hepatology. 2011. Vol. 53(2011). P. 230-242.
39. Gut Y., Yin Y., Li Z., Zhang W. Microbiota-Derived Components and Metabolites in the Progression of Non-Alcoholic Fatty Liver Disease (NAFLD). Nutrients. 2019. Vol. 11(8). P. 1712.
40. Tulkens J., Vergauwen G., Van Deun J. et al. Increased levels of systemic LPS-positive bacterial extracellular vesicles in patients with intestinal barrier dysfunction. Gut. 2018. pii: gutjnl-2018-317726.
41. Anand D., Chaudhuri A. Bacterial outer membrane vesicles: New insights and applications. Mol. Membr. Biol. 2016. Vol. 33. P. 125-137.
42. Rani S., Ryan A.E., Griffin M.D. et al. Mesenchymal stem cell-derived extracellular vesicles: toward cell-free therapeutic applications. Molecular Therapy. Vol. 23(5). P. 812-823.
43. Phinney D.G., Di Giuseppe M., Njah J. et al. Mesenchymal stem cells use extracellular vesicles to outsource mitophagy and shuttle microRNAs. Nature communications. 2015. Vol. 6. P. 8472.