"Gastroenterology" Том 53, №4, 2019
History of Samual Feldman — a scientist, surgeon, musician (1874–1954)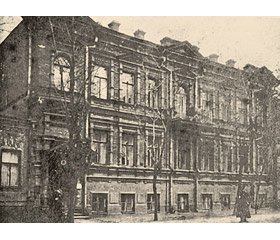 Authors:

Чабан М.П.(1), Шевцова З.І.(2), Гапонов В.В.(3)
(1) — Редакція обласної газети «Зоря», м. Дніпро, Україна
(2) — ДУ «Інститут гастроентерології НАМН України», м. Дніпро, Україна
(3) — ДУ «Дніпропетровська медична академія МОЗ України», м. Дніпро, Україна



Categories:

Gastroenterology



Sections:

Нistory of medicine
Summary
У статті представлені життєвий шлях і професійна діяльність лікаря-хірурга, вченого, викладача, організатора, громадського діяча Самуїла Лазарьовича Фельдмана. Будучи учасником чотирьох воєн, він зробив значний внесок у розвиток наукової та клінічної роботи в мирний і воєнний час на Катеринославщині — Дніпропетровщині.
В статье представлен жизненный путь и профессиональная деятельность врача-хирурга, ученого, преподавателя, организатора, общественного деятеля Самуила Лазаревича Фельдмана. Будучи участником четырех войн, он сделал большой вклад в развитие научной и клиничной работы в мирное и военное время на Екатеринославщине — Днепропетровщине.
The article deals with the path of life and professional activity of a surgeon, scientist, teacher, organizer, public person Samuel Lazarevych Feldman has been represented. Being a participant in four wars, he has made a significant contribution to the development of the scientific and clinical work in peacetime and wartime in Katerynoslavshchyna-Dnipropetrovshchyna.
Keywords
Самуїл Лазарьович Фельдман; лікар-хірург; Дніпропетровський медичний інститут; єврейська лікарня; Катеринославщина — Дніпропетровщина
Самуил Лазаревич Фельдман; врач-хирург; Днепропетровский медицинский институт; еврейская больница; Екатеринославщина — Днепропетровщина
Samuel Lazarevych Feldman; surgeon; Dnipropetrovsk Medical Institute; Jewish hospital; Katerynoslavshchyna-Dnipropetrovshchyna
For the full article you need to subscribe to the magazine.
Bibliography
1. Списки студентов и посторонних слушателей Императорского Новороссийского университета в весеннем полугодии 1894–95 учебного года. По физико-математическому факультету. Отделение естественных наук. Одесса, 1895. С. 16-17.
2. Обзор состояния земской медицины в Камышинском уезде в период 1908–1911 гг. / [Соч.] врачей делегатов: С.Л. Фельдмана и П.П. Сементовского. Саратов: тип. Губ. земства, 1913. 126 с.
3. Чабан Николай. Дом миллионера. Газета «Зоря», м. Дніпро, 3 квітня 2019 року. С. 7.
4. Газета «Днепровская правда», квітень 1949 року. С. 3.
5. Фельдман Самуїл. Автобіографія (рукопис). Дніпропетровськ, 1950, 10 січня. С. 1-2.
6. 50 лет Днепропетровского медицинского института. Под ред. проф. И.И. Крыжановской. Киев: Здоров'я. 1967. С. 202-206.
7. Митрофанова Е.Н. Вера Саввишна Мамонтова. Девочка с персиками. Отчизна. 2002. № 1. С. 31-33.
8. Чабан Николай. Волшебная подкова Присамарья: автопутешествие по Днепропетровщине: Евецко-Николаевка — Ивано-Михайловка — Андреевка — Всесвятское — Васильевка — Попасная. День (укр). 2010. № 114/115(2.07). С. 9.
Similar articles

Authors: Чабан М.П.(1), Шевцова З.І.(2), Гапонов В.В.(3)
(1) — Редакція обласної газети «Зоря», м. Дніпро, Україна
(2) — ДУ «Інститут гастроентерології НАМН України», м. Дніпро, Україна
(3) — ДЗ «Дніпропетровська медична академія МОЗ України», м. Дніпро, Україна
"Gastroenterology" Том 51, №3, 2017
Date: 2017.11.02
Categories: Gastroenterology
Sections: Нistory of medicine


Authors: Чабан М.П.(1), Шевцова З.І.(2), Гапонов В.В.(3)
(1) — Редакція обласної газети «Зоря», м. Дніпро, Україна
(2) — ДУ «Інститут гастроентерології НАМН України», м. Дніпро, Україна
(3) — ДУ «Дніпропетровська медична академія МОЗ України», м. Дніпро, Україна
"Gastroenterology" Том 52, №4, 2018
Date: 2019.01.24
Categories: Gastroenterology
Sections: Нistory of medicine


Authors: Чабан М.П.(1), Шевцова З.І.(2), Гапонов В.В.(3)
(1) — Редакція обласної газети «Зоря», м. Дніпро, Україна
(2) — ДУ «Інститут гастроентерології НАМН України», м. Дніпро, Україна
(3) — ДЗ «Дніпропетровська медична академія МОЗ України», м. Дніпро, Україна
"Gastroenterology" Том 51, №4, 2017
Date: 2018.01.22
Categories: Gastroenterology
Sections: Нistory of medicine


Authors:
Гапонов В. - ДЗ «Дніпропетровська медична академія МОЗ України»; Шевцова З. - ДУ «Інститут гастроентерології НАНМ України», м. Дніпропетровськ


"Gastroenterology" 3 (53) 2014
Date: 2014.09.19
Categories: Gastroenterology
Sections: Нistory of medicine