"Hypertension" №5-6 (67-68), 2019
Features of diastolic function of the left ventricle in hypertensive men with androgen deficiency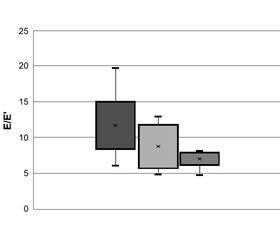 Authors:

Візір В.А., Насоненко О.В., Садомов А.С.
Запорізький державний медичний університет, м. Запоріжжя, Україна



Categories:

Cardiology



Sections:

Clinical researches
Summary
Актуальність. Вивчення питань статевого диморфізму у становленні та прогресуванні серцево-судинних захворювань залишається актуальним. Ролі андрогенів як потенційних медіаторів кардіоваскулярного ризику приділяється особлива увага багатьох дослідників. Мета дослідження: вивчення особливостей діастолічної функції лівого шлуночка (ЛШ) у чоловіків із гіпертонічною хворобою залежно від рівня загального (ЗТ) та вільного тестостерону (ВТ). Матеріали та методи. У дослідження були включені 38 пацієнтів із встановленим діагнозом гіпертонічної хвороби та 16 практично здорових чоловіків, які становили контрольну групу. Всім учасникам дослідження були проведені фізикальне обстеження, трансторакальна ехокардіографія, оцінка сироваткової концентрації загального та вільного тестостерону методом імуноферментного аналізу. За результатами обстеження 16 чоловіків зі зниженим рівнем ЗТ увійшли до групи 1, а 22 пацієнти із гіпертонічною хворобою з нормальним рівнем ЗТ без виражених клінічних ознак дефіциту андрогенів сформували групу 2. Результати. Стосовно показників систолічної функції ЛШ статистично значущих відмінностей між пацієнтами обох груп виявлено не було. За даними допплерографічного обстеження, чоловіки з нижчим рівнем ЗТ мали значно нижчу середню швидкість E' і вище за середнє значення E/E'. Частка пацієнтів з коефіцієнтом E/E' більше ніж 15 у групі 1 була більшою, ніж у групі 2 (19,7 проти 4,5 %), суттєве підвищення E/E' частіше спостерігалось при рівні ВТ менше 7 пг/мл. Статистично значущі кореляції виявлені між рівнем ВТ та Е'септ (R = 0,62; p < 0,001), а також при співвідношенні Е/Е' (R = –0,54; p < 0,001). Висновки. Ступінь порушення діастолічної функції ЛШ у чоловіків із гіпертонічною хворобою корелює з концентрацією ВТ та меншою мірою з рівнем ЗТ.
Актуальность. Изучение вопросов полового диморфизма в становлении и прогрессировании сердечно-сосудистых заболеваний остается актуальным. Роли андрогенов как потенциальных медиаторов кардиоваскулярного риска уделяется особое внимание многих исследователей. Цель исследования: изучение особенностей диастолической функции левого желудочка (ЛЖ) у мужчин с гипертонической болезнью в зависимости от уровня общего (ОТ) и свободного тестостерона (СТ). Материалы и методы. В исследование были включены 38 пациентов с установленным диагнозом гипертонической болезни и 16 практически здоровых мужчин, которые вошли в контрольную группу. Всем участникам исследования проведены физикальное обследование, трансторакальная эхокардиография, оценка сывороточной концентрации общего и свободного тестостерона методом иммуноферментного анализа. По результатам обследования 16 мужчин со сниженным уровнем ОТ вошли в группу 1, а 22 пациента с гипертонической болезнью с нормальным уровнем ОТ без выраженных клинических признаков дефицита андрогенов сформировали группу 2. Результаты. Относительно показателей систолической функции ЛЖ статистически значимых различий между пациентами обеих групп выявлено не было. По данным допплерографического обследования, у мужчин с низким уровнем СТ средняя скорость E' была значительно ниже, а среднее значение E/E' — выше. Доля пациентов с коэффициентом E/E' более 15 в группе 1 была выше, чем в группе 2 (19,7 против 4,5 %), существенное повышение E/E' чаще наблюдалось при уровне СТ менее 7 пг/мл. Статистически значимые корреляции обнаружены между уровнем СТ и Е'септ (R = 0,62; p < 0,001), а также при соотношении Е/Е' (R = –0,54; p < 0,001). Выводы. Степень нарушения диастолической функции ЛЖ у мужчин с гипертонической болезнью коррелирует с концентрацией СТ и в меньшей степени с уровнем ОТ.
Background. The investigation of sexual dimorphism in the development and progression of cardiovascular diseases remains relevant. Many researchers pay special attention to the role of androgens as potential mediators of cardiovascular risk. The literature describes the association of endogenous testosterone with the development of left ventricular (LV) diastolic dysfunction, but the echocardiographic parameters of the latter in men with hypertension in the presence of androgen deficiency remain unclear. The objective was to study the diastolic function of the left ventricle in hypertensive men depending on the level of total and free testosterone. Materials and methods. The study included 38 patients with established diagnosis of hypertension and 16 healthy men as the control group. History of coronary heart disease, heart failure NYHA III–IV, cardiomyopathy, valve anomaly, primary hypogonadism, diabetes mellitus, body mass index ≥ 30 kg/m2 were considered as exclusion criteria. For all participants, physical examination, evaluation of serum concentrations of total and free testosterone using immunoassay method, transthoracic echocardiography were performed. Diastolic function of the LV was analyzed using the parameters of filling rate. Indicators of transmitral diastolic blood flow were measured — peaks E and A, their ratio (E/A) and deceleration time. In addition, according to tissue Doppler imaging (TDI), early diastolic mitral annular velocity in the septal and lateral segments and its mean value were evaluated. To determine LV filling pressure, E/E' ratio was used. Based on the laboratory data, 16 men with reduced total testosterone level were included into group 1, and 22 hypertensive patients with normal total testosterone level without clinical signs of androgen deficiency formed group 2. Results. Patients did not differ significantly in their age, body mass index, heart rate, and tobacco smoking status. No statistically significant differences between the patients of both groups were revealed in terms of their LV systolic function. The analysis of TDI-derived data has shown that the average E' was significantly lower (0.07 vs. 0.10 m/s in group 2 (р < 0.05) and 0.11 m/s in control sample (р < 0.01)), and the average E/E' value was higher in men with low free testosterone level (9.83 vs. 8.03 in group 2 (p < 0.05) and 6.60 in the control group, p < 0.05), along with the fact that the septal and mean mitral annular velocity was significantly lower, while the lateral one did not differ significantly. The proportion of patients with E/E' ratio of more than 15 in the first group was higher than in group 2 (19.7 vs. 4.5 %). А significant increase in E/E' ratio was more frequently observed in free testosterone concentration of less than 7 pg/ml. Statistically significant correlation were found between the level of free testosterone and E'sept (R = 0.62, p < 0.001), and also with E/E' ratio (R = –0.54, p < 0.001). A positive direct relationship was also found between E'sept and the total testosterone concentration (R = 0.45, p = 0.005), but it was less potent. Conclusions. The degree of LV diastolic dysfunction in men with hypertension correlates with free testosterone concentration and, to a lesser extent, with total testosterone level. Further studies are needed to determine the pathogenetic mechanisms explaining the relationship shown.
Keywords
тестостерон; гіпертензія; лівий шлуночок; діастолічна дисфункція
тестостерон; артериальная гипертензия; левый желудочек; диастолическая дисфункция
testosterone; hypertension; left ventricle; diastolic dysfunction
For the full article you need to subscribe to the magazine.
Bibliography
1. Franco O., Peeters A., Bonneux L., de Laet C. Blood Pressure in Adulthood and Life Expectancy with Cardiovascular Disease in Men and Women: Life Course Analysis. Hypertension. 2005. 46(2). 280–286.
2. Scantlebury D., Borlaug B. Why are women more likely than men to develop heart failure with preserved ejection fraction? Current Opinion in Cardiology. 2011. 26(6). 562–568.
3. Achong N., Wahi S., Marwick T. Evolution and outcome of diastolic dysfunction. Heart. 2008. 95(10). 813–818.
4. Von Bibra H., St. John Sutton M. Diastolic dysfunction in diabetes and the metabolic syndrome: promising potential for diagnosis and prognosis. Diabetologia. 2010. 53(6). 1033–1045.
5. Kloner R., Carson C., Dobs A., Kopecky S., Mohler E. Testosterone and Cardiovascular Disease. Journal of the American College of Cardiology. 2016. 67(5). 545–557.
6. McBride J., Carson C., Coward R. Testosterone deficiency in the aging male. Therapeutic Advances in Urology. 2015. 8(1). 47–60.
7. Travison T., Vesper H., Orwoll E., Wu F., Kaufman J., Wang Y. et al. Harmonized Reference Ranges for Circulating Testosterone Levels in Men of Four Cohort Studies in the United States and Europe. The Journal of Clinical Endocrinology & Metabolism. 2017. 102(4). 1161–1173.
8. Recommendations for Cardiac Chamber Quantification by Echocardiography in Adults: An Update from the American Society of Echocardiography and the European Association of Cardiovascular Imaging. European Heart Journal — Cardiovascular Imaging. 2016. 17(4). 412–412.
9. Nagueh S., Smiseth O., Appleton C., Byrd B., Doka– inish H., Edvardsen T. et al. Recommendations for the Evaluation of Left Ventricular Diastolic Function by Echocardiography: An Update from the American Society of Echocardiography and the European Association of Cardiovascular Imaging. Journal of the American Society of Echocardiography. 2016. 29(4). 277–314.
10. Kovalenko V., Sychov O., Dolzhenko M., Ivaniv Yu., Deiak S., Potashev S., Nosenko N. Recommendations for the Evaluation of Left Ventricular Diastolic Function by Echocardiography. Рекомендації з ехокардіографічної оцінки діастолічної функції лівого шлуночка. Recommendations of Working Group of Functional Diagnostics of Association of Cardiologists of Ukraine and Ukrainian Association of Specialists in Echocardiography. Available from: http://www.webcardio.org
11. Wu H., Wang X., Wang J., Li J. Testosterone level and mortality in elderly men with systolic chronic heart failure. Asian Journal of Andrology. 2011. 13(5). 759–763.
12. Jin Q., Lou Y., Chen H., Li T., Bao X., Liu Q. et al. Lower free testosterone level is correlated with left ventricular diastolic dysfunction in asymptomatic middle–aged men with type 2 diabetes mellitus. International Journal of Clinical Practice. 2014. 68(12). 1454–1461.
13. Tinetti M., Gysel M., Farias J., Ferrer M., Lombardero M., Baranchuk A. Left ventricular filling pressure in male patients with type 2 diabetes and normal versus low total testosterone levels. Cardiology Journal. 2015. 22(2). 206–211.
14. Čulić V., Bušić Ž. Testosterone may influence left ventricular diastolic function depending on previous myocardial infarction and smoking. International Journal of Cardiology. 2015. 186. 67–71.
15. Čulić V. Androgens in cardiac fibrosis and other cardiovascular mechanisms. International Journal of Cardiology. 2015. 179. 190–192.
Similar articles