"Child`s Health" Том 15, №1, 2020
Perioperative fluid maintenance in young children with urgent abdominal pathology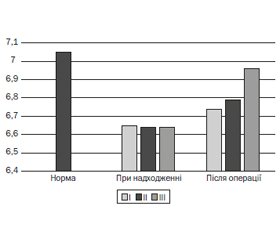 Summary
Безпечна інфузійна терапія у дітей вимагає глибокого розуміння основних принципів, що ґрунтуються на особливостях водно-електролітного обміну та кислотно-основного стану у дитячому віці. Вміст води й електролітів в організмі дитини підтримується в дуже вузьких межах, тому необхідно розуміти потенційні фізіологічні ефекти порушень балансу води та розчинених в ній речовин, тому що ці зміни завжди супроводжують періопераційний період. Періопераційна інфузійна терапія має прямий вплив на клінічний результат лікування, у зв'язку з чим її призначення повинно відповідати потребам хворого. Ціллю інфузійної терапії у хворих дітей у періопераційному періоді є підтримка ефективного циркулюючого об'єму та недопущення, де тільки можливо, інтерстиціального перевантаження рідиною. Крім знань фізіології і патофізіології водно-електролітного обміну в дитячому віці, для адекватної інфузійної терапії необхідно розуміння фармакології інфузійних препаратів, їх дозування, техніки застосування, порушення яких може негативно позначитися на прогнозі захворювання. Саме тому метою нашого дослідження стало вивчення змін гемодинамічних показників, водно-електролітного, кислотно-лужного обмінів при застосуванні різних інфузійних розчинів в періопераційному періоді. Робота виконана на основі аналізу лікування 55 пацієнтів молодшого віку з ургентною абдомінальною патологією, яких залежно від виду проведення періопераційної інфузійної терапії було розподілено на 3 групи: 1-ша група — діти, у яких як інфузійну терапію в періопераційному періоді використовували гіпотонічні глюкозо-сольові розчини; 2-га група — діти, у яких використовували розчин Рінгера лактат; 3-тя група — діти, у яких використовували збалансований електролітний розчин Рінгера малат. Дослідження показало, що у дітей з ургентною абдомінальною патологією відмічається зневоднення організму та абсолютна гіповолемія, яка погіршується розвитком гіпоосмолярного стану, а для швидкої нормалізації гемодинамічних показників, водно-електролітного обміну, кислотно-основного стану та водних секторів організму оптимальною інфузійною рідиною має бути збалансований сольовий розчин з додаванням аспартату та малату.
Безопасная инфузионная терапия у детей требует глубокого понимания основных принципов, основанных на особенностях водно-электролитного обмена и кислотно-основного состояния в детском возрасте. Содержание воды и электролитов в организме ребенка поддерживается в очень узких пределах, поэтому необходимо понимать потенциальные физиологические эффекты нарушений баланса воды и растворенных в ней веществ, так как эти изменения всегда сопровождают периоперационный период. Периоперационная инфузионная терапия имеет прямое влияние на клинический результат лечения, в связи с чем ее назначение должно соответствовать потребностям больного. Целью инфузионной терапии у больных детей в периоперационном периоде является поддержка эффективного циркулирующего объема и недопущение, где только возможно, интерстициальной перегрузки жидкостью. Кроме знаний физиологии и патофизиологии водно-электролитного обмена в детском возрасте, для адекватной инфузионной терапии необходимо понимание фармакологии инфузионных препаратов, их дозировки, техники применения, нарушение которых может негативно сказаться на прогнозе заболевания. Именно поэтому целью нашего исследования стало изучение изменений гемодинамических показателей, водно-электролитного, кислотно-щелочного обменов при применении различных инфузионных растворов в периоперационном периоде. Работа выполнена на основе анализа лечения 55 пациентов младшего возраста с ургентной абдоминальной патологией, которые в зависимости от вида проведения периоперационной инфузионной терапии были разделены на 3 группы: 1-я группа — дети, у которых в качестве инфузионной терапии в периоперационном периоде использовали гипотонические глюкозо-солевые растворы; 2-я группа — дети, у которых использовали раствор Рингера лактат; 3-я группа — дети, у которых использовали сбалансированный электролитный раствор Рингера малат. Исследование показало, что у детей с острой ургентной абдоминальной патологией отмечается обезвоживание организма и абсолютная гиповолемия, которая ухудшается развитием гипоосмолярного состояния, а для быстрой нормализации гемодинамических показателей, водно-электролитного обмена, кислотно-щелочного состояния и водных секторов организма оптимальной инфузионной средой должен быть сбалансированный солевой раствор с добавлением аспартата и малата.
Safe fluid therapy in children requires deep knowledge of main principles, which are based on water-electrolyte metabolism and acid-base balance in childhood. Water and electrolyte content in children's body is supported within very narrow limits, that is why it is very important to understand the potential physical effects of imbalances in water and substances dissolved in it because these changes always occur in the perioperative period. Perioperative fluid therapy directly impacts the clinical outcome of treatment, and therefore its appointment should meet the needs of a patient. The goal of fluid therapy in sick children in the perioperative period is to maintain effective circulating volume and to prevent, where possible, interstitial fluid overload. Besides the knowledge of the physiology and pathophysiology of water-electrolyte metabolism in childhood, an adequate fluid therapy requires an understanding of the pharmacology of infusion drugs, their dosage, techniques of use, violations of which may adversely affect the prognosis of the disease. That is why the purpose of our research is to study changes of hemodynamic indicators, water-electrolyte and acid-base metabolism while using various infusion solutions in the perioperative period. This work was done based on the analysis of the treatment of 55 pediatric patients with urgent abdominal pathology, which, depending on the type of perioperative infusion therapy conducted were divided into 3 groups. The 1st group covered the children who received as perioperative infusion therapy with hypotonic glucose-salt solutions, the 2nd group involved the children who had been treated with Ringer's lactate solution, the 3rd group consisted of the children treated with a balanced electrolyte Ringer's malate solution. This research showed that children with urgent abdominal pathology had dehydration and absolute hypovolemia, which worsened due to the development of hypoosmotic conditions. The quick normalization of hemodynamic parameters, water-electrolyte metabolism, acid-base balance and water sectors of a body needs an optimal infusion medium — a balanced saline solution with aspartate and malate added.
Keywords
інфузійна терапія; періопераційний період; гіпонатріємія; дитяча анестезіологія
инфузионная терапия; периоперационный период; гипонатриемия; детская анестезиология
infusion therapy; perioperative period; hyponatremia; pediatric anaesthesiology
For the full article you need to subscribe to the magazine.
Bibliography
1. Fuchs J., Adams S.T., Byerley J. Current Issues in Intravenous Fluid Use in Hospitalized Children. Rev. Recent. Clin. Trials. 2017. Vol. 12(4). P. 284-289. doi: 10.2174/1574887112666170816145122.
2. Taniguchi Y. Parenteral fluid therapy in the pediatric surgical patient. Masui. 2013. Vol. 62(9). P. 1069-79.
3. Khan M.F., Siddiqui K.M., Asghar M.A. Fluid choice during perioperative care in children: A survey of present-day proposing practice by anesthesiologists in a tertiary care hospital. Saudi J. Anaesth. 2018. Vol. 12(1). P. 42-45.doi: 10.4103/sja.SJA_258_17.
4. Steurer M.A., Berger T.M. Infusion therapy for neonates, infants and children. Anaesthesist. 2011. Vol. 60(1). P. 10-22. doi: 10.1007/s00101-010-1824-5.
5. Fuchs J., Adams S.T., Byerley J. Current Issues in Intravenous Fluid Use in Hospitalized Children. Rev. Recent. Clin. Trials. 2017. Vol. 12(4). P. 284-289. doi: 10.2174 / 1574887112666170816145122.
6. Alves J.T., Troster E.J., Oliveira C.A. Isotonic saline solution as maintenance intravenous fluid therapy to prevent acquired hyponatremia in hospitalized children. J. Pediatr. (Rio J.). 2011. Vol. 87(6). P. 478-86. doi: 10.2223/JPED.2133.
7. Fernández A.R., Ariza M.A., Casielles J.L. et al. Postoperative hyponatremia in pediatric patients. Rev. Esp. Anestesiol. Reanim. 2009. Vol. 56(8). P. 507-10.
8. Easley D., Tillman E. Hospital-acquired hyponatremia in pediatric patients: a review of the literature. J. Pediatr. Pharmacol. Ther. 2013. Vol. 18(2). P. 105-11. doi: 10.5863/1551-6776-18.2.105.
9. Rius Peris J.M., Rivas-Juesas C., Maraña Pérez A.I. et al. Use of hypotonic fluids in the prescription of maintenance intravenous fluid therapy. An. Pediatr. (Barc.). 2019. Vol. 91(3). P. 158-165. doi: 10.1016/j.anpedi.2018.10.016.
10. Holliday M.A., Segar W.E. The maintenance need for water in parenteral fluid therapy. Pediatrics. 1957. Vol. 19(5). P. 823-32.
11. Way C., Dhamrait R., Wade A., Walker I. et al. Perioperative fluid therapy in children: a survey of current prescribing practice. Br. J. Anaesth. 2006. Vol. 97(3). P. 371-9.
12. Bailey A.G., McNaull P.P., Jooste E. et al. Perioperative crystalloid and colloid fluid management in children: where are we and how did we get here? Anesth. Analg. 2010. Vol. 110(2). P. 375-90. doi: 10.1213/ANE.0b013e3181b6b3b5.
13. Sümpelmann R., Becke K., Crean P., Jöhr M. et al. European consensus statement for intraoperative fluid therapy in children. Eur. J. Anaesthesiol. 2011. Vol. 28(9). P. 637-9. doi: 10.1097/EJA.0b013e3283446bb8.
Similar articles

Authors:
Снісарь В.І., Єгоров С.В. - Дніпропетровська медична академія МОЗ України, м. Дніпро, Україна


"Child`s Health" 3 (71) 2016
Date: 2016.07.12
Categories: Pediatrics/Neonatology
Sections: Specialist manual



Authors:
Снісарь В.І. - ДЗ «Дніпропетровська медична академія МОЗ України», кафедра анестезіології, інтенсивної терапії та медицини невідкладних станів ФПО, м. Дніпро, Україна; Сорокіна О.Ю., Болонська А.В. - ДЗ «Дніпропетровська медична академія МОЗ України», кафедра медицини катастроф та військової медицини, м. Дніпро, Україна; Єгоров С.В. - ДЗ «Дніпропетровська медична академія МОЗ України», кафедра анестезіології, інтенсивної терапії та медицини невідкладних станів ФПО, м. Дніпро, Україна


"Child`s Health" 3 (71) 2016
Date: 2016.07.12
Categories: Pediatrics/Neonatology
Sections: Specialist manual