"Pain. Joints. Spine." Том 10, №1, 2020
Bone mineral density and trabecular bone score, hyperuricemia and metabolic syndrome in postmenopausal women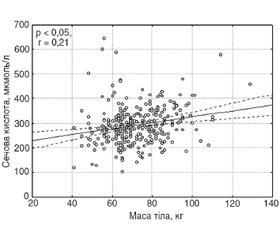 Summary
У статті подано результати досліджень щодо вивчення рівня сечової кислоти в жінок у постменопаузальному періоді з урахуванням показників індексу маси тіла, ліпідного обміну та мінеральної щільності кісткової тканини. Найвищий рівень сечової кислоти у сироватці плазми крові виявлено в жінок у постменопаузальному періоді із найвищим індексом маси тіла (ІМТ > 35 ум.од.). У жінок у постменопаузальному періоді існує вірогідна залежність між рівнем сечової кислоти та показниками ліпопротеїдів дуже низької щільності (r = 0,401, p < 0,05), тригліцеридами (r = 0,26, p < 0,05), коефіцієнтом атерогенності (r = 0,24, p < 0,05). Частота остеопорозу була нижчою в групі пацієнток із гіперурикемією порівняно з особами з нормоурикемією. Так, у групі пацієнтів з гіперурикемією вона становила 19 %, а в пацієнтів із нормоурикемією — 34 % на рівні поперекового відділу хребта, 17 і 21 % — на рівні шийки стегнової кістки відповідно.
В статье представлены результаты исследований по изучению уровня мочевой кислоты у женщин в постменопаузальном периоде с учетом показателей индекса массы тела, липидного обмена и минеральной плотности костной ткани. Самый высокий уровень мочевой кислоты в сыворотке плазмы крови выявлен у женщин в постменопаузальном периоде с наибольшим индексом массы тела (ИМТ > 35 усл.ед.). У женщин в постменопаузальном периоде существует достоверная зависимость между уровнем мочевой кислоты и показателями липопротеидов очень низкой плотности (r = 0,401, p < 0,05), триглицеридами (r = 0,26, p < 0,05), коэффициентом атерогенности (r = 0,24, p < 0,05). Частота остеопороза была ниже в группе пациенток с гиперурикемией по сравнению с лицами с нормоурикемией. Так, в группе пациентов с гиперурикемией она составляла 19 %, а у пациентов с нормоурикемией — 34 % на уровне поясничного отдела позвоночника, 17 и 21 % — на уровне шейки бедренной кости соответственно.
The article presents the results of independent study of hyperuricemia peculiarities among the women in postmenopau­sal period, taking into account indicators of body mass index, lipid metabolism and bone mineral density. The higher level of uric ­acid was found among women in postmenopausal period with ma­ximal body mass index (BMI > 35), with the highest degree of obesity. Significant correlation was determined between uric acid and triglyceride (r = 0.26, p < 0.05), atherogenic coefficient (r = 0.24, p < 0.05) among women in postmenopausal period. The incidence of osteoporosis in women with hyperuricemia was lower than the one of women who had a normal rate of uric acid: 19 % and 34 % at the level of lumbar spine, and 17 % and 21 % at the level of fe­moral neck.
Keywords
гіперурикемія; сечова кислота; ожиріння; індекс маси тіла; ліпідний обмін; метаболічний синдром; мінеральна щільність кісткової тканини; якість кісткової тканини
гиперурикемия; мочевая кислота; ожирение; индекс массы тела; липидный обмен; метаболический синдром; минеральная плотность костной ткани; качество костной ткани

hyperuricemia; uric acid; obesity; body mass index; lipid metabolism; metabolic syndrome; bone mineral density; trabecular bone score
For the full article you need to subscribe to the magazine.
Bibliography
1. Zhang W., Doherty M., Pascual E. et al. EULAR evidence based recommendation for gout. Ann. Rheum. Dis. 2006. 10. 1301-1311. DOI: 10.1136/ard.2006.05525.
2. Максудова А.Н., Саліхов І.Г., Хабіров Р.А. Подагра. 2008. 96.
3. Lai S.W., Tan C.K., Ng К.С. Epidemiology of hyperuricemia in the elderly. Yale J Biol. Med. 2001. 74(3). 151-157. PMID: 11501710.
4. Koga M., Saito H., Mukai M., Kasayama S.Y. Factors contributing to increased serum urate in postmenopausal Japanese females. Climacteric. 2009. 12(2). 146-152. DOI: 10.1080/13697130802607719.
5. Дзяк Г.В., Хомазюк Т.А. Подагра: «Капкан» метаболічних проблем: Наукове видання. 2010. 112. https://www.twirpx.com/file/907381.
6. Zhang M., Chang H., Gao Y. et al. Major dietary patterns and risk of asymptomatic hyperuricemia in Chinese adults. J. Nutr. Sci. Vitaminol. (Tokyo). 2012. 58(5). 339-345. DOI: 10.3177/jnsv.58.339.
7. Zoccali C., Mallamaci F. Uric acid, hypertension, and cardiovascular and renal complications. Curr. Hypertens. Rep. 2013. 15(6). 531-537. DOI: 10.1007/s11906-013-0391-y.
8. Ziaee A. Association between Uric Acid and Metabolic Syndrome in Qazvin Metabolic Diseases Study (QMDS), Iran Glob. J. Health Sci. 2012. 5(1). 155-165. DOI: 10.5539/gjhs.v5n1p155.
9. Zhang X. Value of three-dimensional speckle tracking echocardiography to assess left ventricular function in hyperuricemia patients. Clin. Rheumatol. 2018. 412-417. DOI: 10.1007/s10067-018-4132-0.
10. Yue J.R., Huang C.Q., Dong B.R. Association of serum uric acid with body mass index among long-lived Chinese. Exp. Gerontol. 2012. 47(8). 595-600. DOI: 10.1016/j.exger.2012.05.008.
11. Ahn S.H., Lee S.H., Kim B.J. et al. Higher serum uric acid is associated with higher bone mass, lower bone turnover, and lower prevalence of vertebral fracture in healthy postmenopausal women. Osteoporos. Int. 2013. 24(12). 2961-2970. DOI: 10.1007/s00198-013-2377-7.
12. Makovey J., Macara M., Chen J.S. et al. Serum uric acid plays a protective role for bone loss in peri- and postmenopausal women: a longitudinal study. Bone. 2013. 52(1). 400-406. DOI: 10.1016/j.bone.2012.10.025.
Similar articles

Authors:
Дубецька Г.С. — ДУ «Інститут геронтології імені Д.Ф. Чеботарьова НАМН України», м. Київ, Україна; В.В. Поворознюк — Науковий керівник: заслужений діяч науки та техніки України, д.м.н., проф.


"Pain. Joints. Spine." 4 (16) 2014
Date: 2015.03.04
Categories: Rheumatology, Traumatology and orthopedics
Sections: Specialist manual



Authors:
Міщенко Л.А. ДУ «ННЦ «Інститут кардіології імені академіка М.Д. Стражеска НАМН Украини», м. Київ, Україна


"Hypertension" 5 (49) 2016
Date: 2016.12.07
Categories: Cardiology
Sections: Specialist manual