"Child`s Health" Том 15, №2, 2020
Complex issues of early diagnosis of systemic lupus erythematosus in children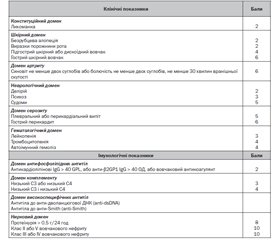 Authors:

Муквіч О.М., Омельченко Л.І., Бельська О.А., Дудка І.В., Людвік Т.А., Мацкевич А.М. ДУ «Інститут педіатрії, акушерства та гінекології ім. акад. О.М. Лук'янової НАМН України», м. Київ, Україна



Categories:

Pediatrics/Neonatology



Sections:

Specialist manual
Summary
Наведено дані про сучасні клінічні прояви системного червоного вовчака (СЧВ) у дітей та підлітків з описом поліморфізму окремих симптомів ураження шкіри, кістково-м'язової системи та внутрішніх органів, які є складними щодо ранньої діагностики захворювання. Висвітлено питання класифікаційного аналізу СЧВ, акцентовано увагу на тому, що класифікаційні критерії не завжди достатні для ранньої діагностики захворювання в дитячому віці, що в окремих випадках призводить до «випадання» хворих із неповністю сформованими синдромами та/або нетиповими формами захворювання. Діагностичні критерії СЧВ SLICC (2012) є достатньо інформативними, але вони не знайшли широкого впровадження в клінічній практиці дитячої ревматології. Наведено класифікаційні критерії ACR/EULAR (2017). Подані результати динамічного моніторування стану 22 пацієнтів, які протягом останніх 10 років лікувались у дитячій клініці інституту. Показано, що у 28 % хворих діагноз було верифіковано лише при повторних госпіталізаціях, у 10 % — майже через 6 років після дебюту хвороби. Наведено опис окремих клінічних випадків СЧВ: у пацієнта з первинно-хронічним перебігом (ураження шкіри та кістково-м'язової системи) і дитини з підгострим тяжким перебігом хвороби з ураженням нирок. Висвітлено можливості їх діагностики в дебюті захворювання при застосуванні запропонованих ACR/EULAR (2017) класифікаційних критеріїв СЧВ. Застосування сучасних клінічних та імунологічних критеріїв діагностики СЧВ здебільшого дозволяє встановити діагноз у ранні терміни захворювання та своєчасно розпочати патогенетичну терапію.
Приведены данные о современных клинических проявлениях системной красной волчанки (СКВ) у детей и подростков с описанием полиморфизма отдельных симптомов поражения кожи, костно-мышечной системы и внутренних органов, представляющих трудности в ранней диагностике заболевания. Освещены вопросы классификационного анализа СКВ, акцентировано внимание на том, что классификационные критерии не всегда достаточны для ранней диагностики заболевания в детском возрасте, что в отдельных случаях приводит к «выпадению» больных с полностью сформированными синдромами и/или нетипичными формами заболевания. Диагностические критерии СКВ SLICC (2012) достаточно информативны, однако не нашли широкого внедрения в клинической практике детской ревматологии. Приведены классификационные критерии ACR/EULAR (2017). Представлены результаты динамического мониторинга 22 пациентов, которые в течение последних 10 лет лечились в детской клинике института. Показано, что у 28 % больных диагноз был верифицирован только при повторной госпитализации, у 10 % — почти через 6 лет после дебюта болезни. Приведено описание клинических случаев СКВ: у пациента с первично-хроническим течением (поражением кожи и костно-мышечной систем) и ребенка с подострым тяжелым течением болезни с поражением почек. Обсуждаются вопросы их диагностики в дебюте заболевания при применении классификационных критериев СКВ, предложенных ACR/EULAR (2017). Применение современных клинических и иммунологических критериев диагностики СКВ в большинстве случаев позволяет установить диагноз в ранние сроки заболевания и своевременно начать патогенетическую терапию.
Data on the current clinical manifestations of systemic lupus erythematosus (SLE) in children and adolescents are presented with a description of the polymorphism of individual symptoms of skin lesions, musculoskeletal system and internal organs, which are difficult for early diagnosis of the disease. The questions of classification analysis of SLE are highlighted, attention is focused on the fact that classification criteria are not always sufficient for early diagnosis of the disease in childhood, which in some cases leads to the "loss" of patients with not fully formed syndromes and/or atypical forms of the disease. The diagnostic criteria for SLE of Systemic Lupus Collaborating Clinics (2012) are quite informative, but they have not been widely adopted in the clinical practice of pediatric rheumatology. American College of Rheumatology/European League Against Rheumatism (ACR/EULAR) classification criteria (2017) are provided. The results of dynamic monitoring of 22 patients who were treated in the children's clinic of the Institute over the past 10 years are presented. It is shown that in 28 % of patients the diagnosis was verified only with repeated hospitalizations, in 10 % — almost 6 years after the onset of the disease. The clinical cases of SLE are described: in a patient with a primary chronic course (lesions of the skin and musculoskeletal systems) and a child with a subacute severe course of the disease with kidney damage. The issues of their diagnosis in the onset of the disease are discussed using the classification criteria for SLE proposed by ACR/EULAR (2017). The use of modern clinical and immunological criteria for the diagnosis of SLE in most cases allows you to establish the diagnosis at an earlier stage of the disease and to start timely the pathogenetic therapy.
Keywords
системний червоний вовчак; діагностика; діти
системная красная волчанка; диагностика; дети
systemic lupus erythematosus; diagnosis; children
For the full article you need to subscribe to the magazine.
Bibliography
Алексеева Е.И., Дворяковская Т.М., Никишина И.П., Денисова Р.В., Подчерняева Н.С., Сухоруких О.А., Шубина Л.С. Системная красная волчанка: клинические рекомендации. Ч. 1. Вопросы современной педиатрии. 2018. 17(1). 19-37. doi: 10.15690/vsp.v17i1.1853).
O'Gorman W.E., Kong D.S., Balboni I.M., Rudra P., Bolen C.R., Ghosh D. et al. Mass cytometry identifies a distinct monocyte cytokine signature shared by clinically heterogeneous pediatric SLE patients. J. Autoimmun. 2017. 10.1016/j.jaut.2017.03.010 [PMCfree article] [PubMed] [CrossRef] [Google Scholar]
Benseler S.M., Silverman E.D. Systemic lupus erythematosus. Pediatr. Clin. North. Am. 2005 Apr. 52(2). 443-67.
Graciela S. Alarcón, Gerald McGwin, Ana M. Bertoli, Barri J. Fessler, Jaime Calvo-Alén, Holly M. Bastian, Luis M. Vilá, John D. Reveille, for the LUMINA Study Group Effect of hydroxychloroquine on the survival of patients with systemic lupus erythematosus: data from LUMINA, a multiethnic US cohort (LUMINA L). Ann. Rheum. Dis. 2007 Sep. 66(9). 1168-1172. PMID: 17389655.
Zhang C.X., Cai L., Shao K., Wu J., Zhou W., Cao L.F. et al. Serum IP-10 is useful for identifying renal and overall disease activity in pediatric systemic lupus erythematosus. Pediatr. Nephrol. 2018. 33(5). 837-45.10.1007/s00467-017-3867-1 [PubMed] [CrossRef] [Google Scholar].
Haddon D.J., Diep V.K., Price J.V., Limb C., Utz P.J., Balboni I. Autoantigen microarrays reveal autoantibodies associated with proliferative nephritis and active disease in pediatric systemic lupus erythematosus. Arthritis Res. Ther. 2015. 17. 162.10.1186/s13075-015-0682-6 [PMC free article] [PubMed] [CrossRef] [Google Scholar].
Hiraki L.T., Benseler S.M., Tyrrell P.N. et al. Clinical and laboratory characteristics and long-term outcome of pediatric systemic lupus erythematosus: a longitudinal study. J. Pediatr. 2008. 152(4). 550-556. doi: 10.1016/j.jpeds.2007.09.019.
Богмат Л.Ф., Никонова В.В., Шевченко Н.С., Бессонова И.М. Особенности нарушений функции почек у детей с системной красной волчанкой и ювенильным идиопатическим артритом. Здоровье ребенка. 2017. Т. 12. № 6. C. 663-669.
Чуриліна А.В. Діагностика та лікування системного червоного вовчака. Міжнародний журнал педіатрії, акушерства та гінекології 2018, квітень/червень. Т. 12. № 2. C. 23-32.
Brinks R., Fischer-Betz R., Sander O., Richter J.G., Chehab G., Schneider M. Age-specific prevalence of diagnosed systemic lupus erythematosus in Germany 2002 and projection to 2030. Lupus. 2014. 23. 1407-1411.
Deutsche Gesellschaft für Rheumatologie e. V. Diagnose & Klassifikation. www.dgrh.de/kriterienassessments.html. (last accessed on 19 March 2015).
Cozzani E., Drosera M., Gasparini G., Parodi A. Serology of lupus erythematosus: correlation between immunopathological features and clinical aspects. Autoimmune Dis. 2014. 2014 [PMC free article].
Pan N., Amigues I., Lyman S. et al. A surge in anti-dsDNA titer predicts a severe lupus flare within six months. Lupus. 2014. 23. 293-298.
Sakthiswary R., Suresh E. Methotrexate in systemic lupus erythematosus: a systematic review of its efficacy. Lupus. 2014. 23. 225-235.
Maneiro J.R., Lopez-Canoa N., Salgado E., Gomez-Reino J.J. Maintenance therapy of lupus nephritis with mycophenolate or azathioprine: systematic review and meta-analysis. Rheumatology (Oxford). 2014. 53. 834-838.
Kuhn A., Sigges J., Biazar C. et al. Influence of smoking on disease severity and antimalarial therapy in cutaneous lupus erythematosus: analysis of 1002 patients from the EUSCLE database. Br. J. Dermatol. 2014. 171. 571-579.
Gemeinsamer Bundesausschuss. Dossier zur Nutzenbewertung gemäß §35a SGBV — Belimumab (Benlysta) Modul 1. www.g-ba. de/downloads/92-975-94/2012-01-27_Modul1_ Belimumabpdf? (last accessed on 19 March 2015).
Xu L., Cai M., Shi BY., Li Z.L., Li X., Jin H.L. A prospective analysis of the effects of enteric-coated mycophenolate sodium and mycophenolate mofetil co-medicated with a proton pump inhibitor in kidney transplant recipients at a single institute in China. Transplant. Proc. 2014. 46. 1362-1365.
Similar articles

Authors: Богмат Л.Ф., Шевченко Н.С., Бессонова І.М., Ніконова В.В., Ахназарянц Е.Л.
ДУ «Інститут охорони здоров'я дітей та підлітків Національної академії медичних наук України», м. Харків, Україна
"Child`s Health" Том 12, №4, 2017
Date: 2017.08.01
Categories: Pediatrics/Neonatology
Sections: Clinical researches


Authors: Фесенко У.А.(1), Кльофа Т.Г.(2), Скуратівський Ю.Є.(2), Якимович Ю.С.(2), Павчак Р.М.(2), Родзоняк А.І.(2)
(1) — Львівський національний медичний університет імені Данила Галицького, м. Львів, Україна
(2) — Військово-медичний клінічний центр Західного регіону, м. Львів, Україна
"Emergency medicine" №7(102), 2019
Date: 2019.11.14
Categories: Medicine of emergency
Sections: Specialist manual


Authors: Матіящук І.Г., Амосова К.М., Яременко О.Б., Захарова В.І., Коляденко Д.І.
Національний медичний університет імені О.О. Богомольця, м. Київ, Україна
"Kidneys" Том 9, №1, 2020
Date: 2020.03.11
Categories: Nephrology
Sections: Clinical researches