"Тrauma" Том 21, №2, 2020
Optimization of the secondary prevention for bone fractures in osteoporosis in menopausal women and the role of comorbid metabolic syndrome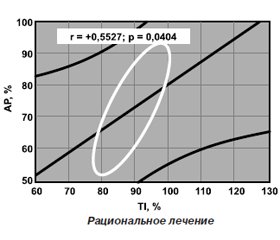 Authors:

Синяченко О.В., Климовицкий Ф.В., Морозюк Д.М., Ермолаева М.В., Верзилов С.Н., Ливенцова Е.В. Донецкий национальный медицинский университет, г. Лиман, Украина



Categories:

Traumatology and orthopedics



Sections:

Clinical researches
Summary
Актуальність. Остеопороз (ОП) характеризується крихкістю скелета і схильністю людей до переломів, обумовлених зменшенням кісткової маси та погіршенням мікроархітектури кістки. У неменструюючих жінок ламкість кісток більш виражена, а остеопоротичні переломи зустрічаються втричі частіше. Погіршують перебіг ОП у менопаузальних жінок наявність і тяжкість коморбідного метаболічного синдрому (МС), що вимагає вдосконалення лікувальних заходів у таких хворих. Мета дослідження: підвищити ефективність лікування ОП у менопаузальних жінок із МС і якість вторинної профілактики у них кісткових переломів. Матеріали та методи. Протягом двох років під наглядом перебували 28 неменструюючих жінок із ОП віком від 37 до 72 років (у середньому 50 років). У всіх випадках настала фізіологічна менопауза. Мінеральну щільність кістки оцінювали за Т-індексом остеоденситограм, рентгенологічними індексами Барнета — Нордіна, Рохліна й клиноподібності. У сироватці крові досліджували показники, що відображали стан кісткового метаболізму і МС. Результати. У менопаузальних жінок, які страждають на ОП, переломи стегнової кістки, хребта, кісток зап'ястка та ІІ плеснової діагностовано в 39 % випадків. Остеофрактури були прямо пов'язані з віком хворих, параметром остеоденситометричного індексу, наявністю й тяжкістю перебігу коморбідного МС, його складових чинників (IV типу гіперліпідемії і цукрового діабету другого типу), наявності діабетичної нейропатії, а також із вихідними концентраціями в крові Mg, Mn, Pb та Se. Розроблено оптимальну вторинну профілактику кісткових переломів у менопаузальних жінок із коморбідними ОП і МС, засновану на індивідуальних підходах до тривалого призначення препаратів Са, Se, Zn, бісфосфонатів, ранелату Sr, фібратів й урикодепресорів з урахуванням характеру і тяжкості перебігу МС. Висновки. Запропонована медична технологія лікування ОП у неменструюючих жінок із МС дозволила скоротити число остеофрактур у 10 разів, зменшити активність у крові лужної фосфатази і показника остеоденситометричного індексу.
Актуальность. Остеопороз (ОП) характеризуется хрупкостью скелета и подверженностью людей переломам, обусловленным уменьшением костной массы и ухудшением микроархитектуры кости. У неменструирующих женщин ломкость костей более выражена, а остеопоротические переломы встречаются втрое чаще. Ухудшает течение ОП у менопаузальных женщин наличие коморбидного метаболического синдрома (МС) и его тяжесть, что требует совершенствования лечебных мероприятий у таких больных. Цель исследования: повысить эффективность лечения ОП у менопаузальных женщин с МС и качество вторичной профилактики у них костных переломов. Материалы и методы. В течение двух лет под наблюдением находились 28 неменструирующих женщин с ОП в возрасте от 37 до 72 лет (в среднем 50 лет). Во всех случаях наступила физиологическая менопауза. Минеральную плотность кости оценивали по Т-индексу остеоденситограмм, рентгенологическим индексам Барнетта — Нордина, Рохлина и клиновидности. В сыворотке крови исследовали показатели, которые отражали состояние костного метаболизма и МС. ­Результаты. У менопаузальных женщин, страдающих ОП, переломы бедренной кости, позвоночника, костей запястья и ІІ плюсневой диагностированы в 39 % случаев. Остеофрактуры были прямо связаны с возрастом больных, параметром остеоденситометрического индекса, наличием и тяжестью течения коморбидного МС, составляющих его факторов (IV типа гиперлипидемии и сахарного диабета второго типа), с наличием диабетической нейропатии, а также с исходными концентрациями в крови Mg, Mn, Pb и Se. Разработана оптимальная вторичная профилактика костных переломов у менопаузальных женщин с коморбидными ОП и МС, основанная на индивидуальных подходах к длительному назначению препаратов Са, Se, Zn, бисфосфонатов, ранелата Sr, фибратов и урикодепрессоров с учетом характера и тяжести течения МС. Выводы. Предложенная медицинская технология лечения ОП у неменструирующих женщин с МС позволила сократить число остеофрактур в 10 раз, уменьшить активность в крови щелочной фосфатазы и показатель остеоденситометрического индекса.
Background. Osteoporosis is characterized by the fragi-lity of the skeleton and the susceptibility to fractures due to a decrease in bone mass and deterioration in bone microarchitecture. In menopausal women, bone fragility is more pronounced, and osteoporotic fractures are three times more frequent. The presence and severity of the comorbid metabolic syndrome worsens the course of osteoporosis in menopausal women, which requires an improvement of therapeutic measures in such patients. The purpose was to increase the effectiveness of treatment for osteoporosis in menopausal women with metabolic syndrome and the quality of secondary prevention of bone fractures in them. Materials and methods. Twenty eight menopausal women with osteoporosis aged 37 to 72 years (average 50 years) were monitored for two years. In all cases, physio-logical menopause occurred. Bone mineral density was evaluated by the T-index of osteodensitograms, X-ray indices of Barnett-Nordin, Rokhlin and wedge shape. In the blood serum, parameters were studied that reflected the state of bone metabolism and metabolic syndrome. Results. In menopausal women suffering from osteoporosis, fractures of the femur, spine, wrist bones and second metatarsal were diagnosed in 39 % of cases. They were directly related to the age of the patients, bone density, the presence and severity of the course of comorbid metabolic syndrome, and constituents of the latter (type IV hyperlipidemia and type II diabetes melitus), the presence of diabetic neuropathy, as well as baseline blood concentrations of Mg, Mn, Pb and Se. An optimal secondary prevention of bone fractures in menopausal women with comorbid osteoporosis and metabolic syndrome was developed based on individual approaches to the long-term administration of Ca, Se, Zn, bisphosphonates, strontium ranelate, fibrates and drugs that block uric acid production, taking into account the nature and severity of metabolic syndrome. Conclusions. Proposed medical technique for the treatment of osteoporosis in menopausal women with metabolic syndrome has reduced the number of bone fractures by 10 times, as well as the blood activity of alkaline phosphatase and bone density.
Keywords
остеопороз; жінки; кісткові переломи; профілактика; ефективність
остеопороз; женщины; костные переломы; профилактика; эффективность
osteoporosis; women; bone fractures; prevention; effectiveness
For the full article you need to subscribe to the magazine.
Bibliography
1. Sugimoto T., Sato M., Dehle F.C., Brnabic A.J., Weston A., Burge R. Lifestyle-related metabolic disorders, osteoporosis, and fracture risk in Asia: A systematic review. Value Health Reg. Issues. 2016. 9 (1). 49-56. doi: 10.1016/j.vhri.2015.09.005.
2. Wong S.K., Chin K.Y., Suhaimi F.H., Ahmad F., Ima-Nirwana S. The relationship between metabolic syndrome and osteoporosis: a review. Nutrients. 2016. 8 (6). 347. doi: 10.3390/nu8060347.
3. Nayak N.K., Khedkar C.C., Khedkar G.D., Khedkar C.D. Osteoporosis. Encyclopedia of food and health. Oxford: Academic Press, 2016. 181-5.
4. Kaufman J.M., Goemaere S. Osteoporosis in men. Best Pract. Res. Clin. Endocrinol. Metab. 2008. 22 (5). 787-812.
5. Horikawa K., Kasai Y., Yamakawa T., Sudo A. Prevalence of osteoarthritis, osteoporotic vertebral fractures, and spondylolisthesis among the elderly in a Japanese village. J. Orthop. Surg. 2016. 14 (1). 9-12.
6. Li R.C., Zhang L., Luo H., Lei Y., Zeng L., Zhu J. et al. Subclinical hypothyroidism and anxiety may contribute to metabolic syndrome in Sichuan of China: a hospital-based population study. Sci Rep. 2020. 10 (1). 2261. doi: 10.1038/s41598-020-58973-w.
7. Seo Y.G., Song H.J., Song Y.R. Fat-to-muscle ratio as a predictor of insulin resistance and metabolic syndrome in Korean adults. J. Cachexia Sarcopenia Muscle. 2020. 7 (2). 12548. doi: 10.1002/jcsm.12548.
8. Kayal R.A., Tsatsas D., Bauer M.A., Allen B., Al-Sebaei M.O., Kakar S. et al. Diminished bone formation during diabetic fracture healing is related to the premature resorption of cartilage associated with increased osteoclast acti-vity. J. Bone Miner. Res. 2007. 22 (2). 560-8. doi: 10.1359/jbmr.070115.
9. Yamagishi S., Nakamura K., Inoue H. Possible participation of advanced glycation end products in the pathogenesis of osteoporosis in diabetic patients. Med. Hypotheses. 2005. 65. 1013-5. doi: 10.1016/j.mehy.2015.07.017.
10. Vollenweider P., Randin D., Tappy L., Jequier E., Nicod P., Scherrer U. Impaired insulin-induced sympathetic neural activation and vasodilation in skeletal muscle in obese humans. J. Clin. Invest. 2014. 93. 2365-71.
11. Brown J.P., Morin S., Leslie W. Bisphosphonates for treatment of osteoporosis. Expected benefits, potential harms, and drug holidays. Canad. Fam. Physic. 2014. 60 (1). 324-33. doi: 10.1210/endo.141.3.7366.
12. Compston J., Cooper A., Cooper C. UK clinical guideline for the prevention and treatment of osteoporosis. Arch. Osteoporos. 2017. 12 (1). 43-9.