"Child`s Health" Том 15, №5, 2020
Functional and therapeutic potential of inulin (literature review)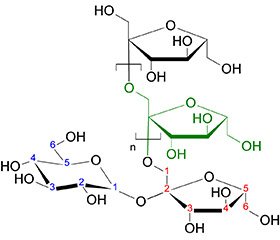 Authors:

Няньковський С.Л., Няньковська О.С., Яцула М.С., Городиловська М.І.
Львівський національний медичний університет імені Данила Галицького, м. Львів, Україна



Categories:

Pediatrics/Neonatology



Sections:

Specialist manual
Summary
Здоров'я і харчування — це сфера найбільш актуальних досліджень на сьогодні. Часто буває, що страви, які приносять нам задоволення, позбавляють нас деяких потрібних поживних речовин, що призводить до виникнення різних недуг, таких як гіперглікемія, гіперхолестеринемія, захворювання кишечника тощо. За останні кілька десятиліть зріс попит на функціональні продукти харчування. Кілька досліджень показали, що інулін функціонує як пребіотик, сприяючи доброму травленню, а також впливає на ліпідний обмін і зменшує ризик остеопорозу за рахунок збільшення абсорбції кальцію. Встановлено, що інулін має вплив на інсулінемію і глікемію, а також зменшує ризик раку товстої кишки. Останні дослідження показали, що він сприяє біосинтезу прекурсора вітаміну D.
Здоровье и питание — это сфера наиболее актуальных исследований на сегодняшний день. Часто бывает, что блюда, которые доставляют нам удовольствие, лишают нас некоторых необходимых питательных веществ, что приводит к возникновению различных недугов, таких как гипергликемия, гиперхолестеринемия, заболевания кишечника и тому подобное. За последние несколько десятилетий возрос спрос на функциональные продукты питания. Несколько исследований показали, что инулин функционирует как пребиотик, способствуя хорошему пищеварению, а также влияет на липидный обмен и уменьшает риск остеопороза за счет увеличения абсорбции кальция. Установлено, что инулин влияет на инсулинемию и гликемию, а также уменьшает риск рака толстой кишки. Последние исследования показали, что он способствует биосинтезу прекурсора витамина D.
Health and nutrition is the most challenging arena in this era and would persist in the forthcoming years. Although dense, energy rich or refined foods provide comfort but deprive some of the rightful nutrients that lead to onset of various ailments such as hyperglycemia, hypercholesterolemia, colorectal cancers and irritable bowel disease. Over the last few decades, tremendous increase in the demand of functional foods was revealed. Several researches show that inulin works as a prebiotic, promoting good digestive health, also affecting lipid metabolism and reducing the risk of osteoporosis by increasing calcium absorption. Inulin affects insulinemia and glycaemia, also reduces the risk of colon cancer. Recent studies have shown that it promotes the biosynthesis of vitamin D precursor.
Keywords
інулін; пребіотики; мікробіота; огляд
инулин; пребиотики; микробиота; обзор
inulin; prebiotics; microbiomе; review
For the full article you need to subscribe to the magazine.
Bibliography
Waqas A., Summer R. Functional and therapeutic potential of inulin: A comprehensive review. Critical Reviews in Food Science and Nutrition. 2019. 59(1). 1-13.
Інулін. URL: https://uk.wikipedia.org/wiki/%D0%86%D0%BD%D1%83%D0%BB%D1%96%D0%BD
Meyer D., Blaauwhoed J.-P. Handbook of Hydrocolloids (Second Edition). 2009. 948 p.
Kalyani Nair K., Kharb S., Thompkinson D.K. Inulin Dietary Fiber with Functional and Health Attributes — A Review. 2010. P. 189-203. URL: https://doi.org/10.1080/87559121003590664.
Dhingra D., Michael M., Rajput H., Patil R.T. Dietary fibre in foods: a review. J. Food Sci Technol. 2012. Vol. 49(3). P. 255-266. doi: 10.1007/s13197-011-0365-5.
Gibson G.R., Probert H.M., Van Loo J. et al. Dietary modulation of the human colonic microbiota: Updating the concept of prebiotics. Nutrition Research Reviews. 2004. Vol. 17(02). P. 259-275.
Slavin J. Fiber and prebiotics: Mechanisms and health benefits. Nutrients. 2013. Vol. 5(4). Р. 1417-1435.
Sonnenburg E.D., Zheng H., Joglekar P. et al. Specificity of polysaccharide use in intestinal bacteroides species determines diet-induced microbiota alterations. Cell. 2010. Vol. 141(7). Р. 1241-52.
Meyer D., Stasse-Wolthuis М. The bifidogenic effect of inulin and oligofructose and its consequences for gut health. European Journal of Clinical Nutrition. 2009. Vol. 63(11). Р. 1277-89.
de Graaf A.A., Venema К. Gaining insight into microbial physio–logy in the large intestine: A special role for stable isotopes. Advances in Microbial Physiology. 2007. Vol. 53. Р. 73-314.
Albers R., Antoine J.-M., Bourdet-Sicard R. et al. Markers to measure immunomodulation in human nutrition intervention studies. Bri–tish Journal of Nutrition. 2005. Vol. 94(03). P. 452-81.
Bouhnik Y., Raskine L., Champion K. et al. Prolonged admi–nistration of low-dose inulin stimulates the growth of bifidobacteria in humans. Nutrition Research. 2007. Vol. 27(4). P. 187-93.
Menne E., Guggenbuhl N. Fn-type chicory inulin hydrolysate has a prebiotic effect in humans. The Journal of Nutrition. 2000. Vol. 130 (5). P. 1197-1199.
Harmsen H.J., Raangs G.C., Franks A.H. et al. The effect of the prebiotic inulin and the probiotic Bifidobacterium longum on the fecal microflora of healthy volunteers measured by FISH and DGGE. Microbial Ecology in Health and Disease. 2002. Vol. 14 (4). P. 212-220.
Kolida S., Meyer D., Gibson G. A double-blind placebo-controlled study to establish the bifidogenic dose of inulin in healthy humans. European Journal of Clinical Nutrition. 2007. Vol. 61(10). P. 1189-1195.
Knol J., Boehm G., Lidestri M. et al. Increase of faecal bifidobacteria due to dietary oligosaccharides induces a reduction of clinically relevant pathogen germs in the faeces of formula fed preterm infants. Acta Paediatrica. 2005. Vol. 94 (s449). P. 31-33.
Brunser O., Figueroa G., Gotteland M. et al. Effects of probiotic or prebiotic supplemented milk formulas on fecal microbiota composition of infants. Asia Pacific Journal of Clinical Nutrition. 2006. Vol. 15 (3). P. 368-376.
Kim S.-H., Lee D.H., Meyer D. Supplementation of infant formula with native inulin has a prebiotic effect in formula-fed babies. Asia Pacific Journal of Clinical Nutrition. 2007. 16(1). 172-7.
Knol J., Scholtens P., Kafka C. et al. Colon microflora in infants fed formula with galacto-and fructo-oligosaccharides: More like breast-fed infants. Journal of Pediatric Gastroenterology and Nutrition. 2005. Vol. 40(1). P. 36-42.
Yasmin A., Butt M.S., Afzaal M. et al. Prebiotics, gut microbiota and metabolic risks: Unveiling the relationship. Journal of Functional Foods. 2015. Vol. 17. P. 189-201.
Lin Z., Zhang B., Liu X. et al. Effects of chicory inulin on serum metabolites of uric acid, lipids, glucose, and abdominal fat deposition in quails induced by purine-rich diets. Journal of Medicinal Food. 2014. Vol. 17(11). P. 1214-1221.
Kaur N., Gupta А.К. Applications of inulin and oligofructose in health and nutrition. Journal of biosciences. 2002. Vol. 27 (7). P. 703-714.
Russo F., Riezzo G., Chiloiro M. et al. Metabolic effects of a diet with inulinenriched pasta in healthy young volunteers. Current Pharmaceutical Design. 2010. Vol. 16 (7). P. 825-831.
Nakamura Y.K., Omaye S.T. Metabolic diseases and pro- and prebiotics: Mechanistic insights. Nutrition & Metabolism. 2012. Vol. 9(1). Р. 1.
Abad Alegria F., Gonzalez Vivanco Р. The health and nutritional virtues of artichokes-from folklore to science. V International Congress on Artichoke. 2003. Р. 25-31.
Zaky E.A. Physiological response to diets fortified with Jerusalem artichoke tubers (Helianthus tuberosus L.) powder by diabetic rats. American-Eurasian Journal of Agricultural & Environmental Sciences. 2009. Vol. 5(5). Р. 682-688.
Alexiou H., Franck А. Prebiotic inulin type fructans: Nutritional benefits beyond dietary fibre source. Nutrition Bulletin. 2008. Vol. 33(3). Р. 227-233.
Den Hond E., Geypens B., Ghoos Y. Effect of high performance chicory inulin on constipation. Nutrition Research. 2000. Vol. 20(5). Р. 731-736.
Fooks L.J., Gibson G.R. In vitro investigations of the effect of probiotics and prebiotics on selected human intestinal pathogens. FEMS Microbiology Ecology. 2002. Vol. 39(1). Р. 67-75.
Lewis S., Burmeister S., Brazier J. Effect of the prebiotic oligofructose on relapse of Clostridium difficile-associated diarrhea: A rando–mized, controlled study. Clinical Gastroenterology and Hepatology. 2005. Vol. 3(5). Р. 442-448.
Furrie E., Macfarlane S., Kennedy A. et al. Synbiotic therapy (Bifidobacterium longum / synergy 1) initiates resolution of inflammation in patients with active ulcerative colitis: A randomised controlled pilot trial. Gut. 2005. Vol. 54(2). P. 242-249.
Rafter J., Bennett M., Caderni G. et al. Dietary synbiotics reduce cancer risk factors in polypectomized and colon cancer patients. The American Journal of Clinical Nutrition. 2007. Vol. 85(2). P. 488-496.
Shoaib M., Mukama O., Shehzad A. et al. Іnulin: Properties, health benefits and food applications. Carbohydrate Polymers. 2016. Vol. 147. P. 444-454.
Becerril-Alarcón Y., Campos-Gómez S., Valdez-Andrade J.J. Inulin Supplementation Reduces Systolic Blood Pressure in Women with Breast Cancer Undergoing Neoadjuvant Chemotherapy. Cardiovasc. Ther. 2019. Vol. 1. 5707150. doi: 10.1155/2019/5707150.
Weaver C.M., Liebman M. Biomarkers of bone health appropriate forevaluating functional foods designed to reduce risk of osteoporosis. British Journal of Nutrition. 2002. Vol. 88. P. S225-S232.
Scholz-Ahrens K.E., Schaafsma G., van den Heuvel E.G., Schrezenmeir J. Effects of prebiotics on mineral metabolism. The American Journal of Clinical Nutrition. 2001. Vol. 73(2). P. 459s-464s.
Ranawana V. Inulin: A Review of its Functional Properties in Relation to Calcium Absorption in Humans. Journal of Food and Agriculture. 2010. Vol. 1. P. 26-35. URL: http://doi.org/10.4038/jfa.v1i1.1837
Yasuda K., Roneker K.R., Miller D.D. et al. Supplemental dietary inulin affects the bioavailability of iron in corn and soybean meal to young pigs. Journal of Nutrition. 2006. Vol. 136(12). P. 3033-3038.
Schley P.D., Field C.J. The immune-enhancing effects of dietary fibres and prebiotics. British Journal of Nutrition. 2002. Vol. 87. P. S221-S230.
Kelly-Quagliana K.A., Nelson P.D., Buddington R.K. Dietary oligofructose and inulin modulate immune functions in mice. Nutrition Research. 2003. Vol. 23(2). P. 257-267.
Gokhale S., Bhaduri А. Provitamin D3 modulation through prebiotics supplementation: simulation based assessment. Nature. 2019. Vol. 9. P. 19267. URL: https://doi.org/10.1038/s41598-019-55699-2.
URL: https://www.add.ua/ua/inulin-neo-3-vanilin-dlya-detej-sashe-10.html.