"Pain. Joints. Spine." Том 10, №3, 2020
History of arthrology in the mirror of numismatics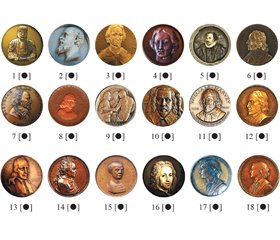 Summary
Метою роботи був аналіз історії артрології за нумізматичними матеріалами. Галузь історичної науки нумізматика (від лат. numisma — «монета») зародилася в XIX столітті й стала тісно пов'язаною з економікою, політикою, культурою та правом, включає в себе тематичне вивчення монет, медалей і плакет. Найкраще історію артрології ілюструють різні форми медальєрного образотворчого мистецтва (екзонумія, або паранумізматика), а медаль стала прообразом пам'ятної (меморіальної) монети. У даній роботі подано каталог 157 нумізматичних матеріалів (138 медалей, 15 плакет, 4 монети), зокрема й деяких унікальних, вперше наведених, відображено етапи розвитку вивчення використання лікувальних факторів, є посилання на значні історичні події, згадуються короткі біографії медиків (62 особи), які зробили неоціненний внесок у формування цієї наукової дисципліни. На медалях можна зустріти портрети основоположників світової артрології, давньоіндійського лікаря Чараку й давньогрецького Аретея, а також українських медиків минулого — Агапіта Печерського, Є.Й. Мухіна, О.А. Кисіля, Д.Ф. Чеботарьова. Робота складається з розділів «Зародження артрології», «Структура й функція суглобів», «Остеоартрит», «Подагричний артрит», «Ревматоїдний артрит», «Інфекційний і інфекційно-алергійний (реактивний) артрит», «Туберкульозний артрит», «Інші артрити». На превеликий жаль, поки що пам'ять про знаменитих лікарів минулого недостатньо відзначена випуском нумізматичної продукції, тому в майбутньому сподіваємося на планомірний підхід до цієї справи, на цілеспрямовану пропаганду досягнень ревматології засобами нумізматики, що подає наочний приклад для вивчення історії артрології, сприяє підвищенню рівня освіченості лікарів. Автори розраховують на появу нових цікавих матеріалів таких малих форм образотворчого мистецтва.
Целью работы был анализ истории артрологии по нумизматическим материалам. Отрасль исторической науки нумизматика (от лат. numisma — «монета») зародилась в XIX веке и стала тесно связанной с экономикой, политикой, культурой и правом, включает в себя тематическое изучение монет, медалей и плакет. Лучше всего историю артрологии иллюстрируют различные формы медальерного изобразительного искусства (экзонумия, или паранумизматика), а медаль стала прообразом памятной (мемориальной) монеты. В данной работе представлен каталог 157 нумизматических материалов (138 медалей, 15 плакет, 4 монеты), в том числе некоторых уникальных, впервые приведенных, отражены этапы развития изучения использования лечебных факторов, есть ссылки на значительные исторические события, упоминаются краткие биографии медиков (62 персоны), внесших неоценимый вклад в формирование этой научной дисциплины. На медалях можно встретить портреты основоположников мировой артрологии, древнеиндийского врача Чараку и древнегреческого Аретея, а также украинских медиков — Агапита Печерского, Е.И. Мухина, А.А. Киселя, Д.Ф. Чеботарева. Работа содержит следующие разделы: «Зарождение артрологии», «Структура и функция суставов», «Остеоартрит», «По­дагрический артрит», «Ревматоидный артрит», «Инфекционный и инфекционно-аллергический (реактивный) артрит», «Туберкулезный артрит», «Другие артриты». К большому сожалению, пока память о знаменитых врачах прошлого недостаточно отмечена выпуском нумизматической продукции, поэтому в будущем надеемся на планомерный подход к этому делу, на целенаправленную пропаганду достижений ревматологии средствами нумизматики, которая подает наглядный пример для изучения истории артрологии, способствует повышению уровня образованности врачей. Авторы рассчитывают на появление новых интересных материалов таких малых форм изобразительного искусства.
The main goal was to analyze the history of arthrology using numismatic materials. The numismatics (from the Latin "numisma" – coin), a branch of historical science, that was originated in the 19th century and closely related to economics, politics, culture and law, which includes the study of coins, medals and plaques. The history of arthrology is best illustrated by various forms of me­dal art (exonum or paranumism), and the medal became the prototype of a commemorative (memorial) coin. This work presents a catalog of 157 numismatic materials (138 medals, 15 plaques, 4 coins), including some unique ones, presented for the first time, the stages of development of the study of the use of therapeutic factors were reflected, there are references to significant historical events, brief biographies of physicians (62 persons) were mentioned, who made an invaluable contribution to the formation of this scientific discipline. On the medals, can be found the portraits of the founders of the world arthrology, the ancient Indian doctor Charaka and the ancient Greek physician Aretaeus, as well as the portraits of the Ukrainian doctors – Agapetus of Pechersk, E. YO. Mukhin, O. A. Kysil, D. F. Chebotaryov. The work contains the following sections: "Inception of arthrology", "Structure and function of joints", "Osteoarthritis", "Gouty arthritis", "Rheumatoid arthritis", "Infectious and infectious-allergic (reactive) arthritis", "Tuberculous arthritis", "Others arthrites". Unfortunately, so far the me­mory of famous doctors of the past has not been sufficiently marked by the release of numismatic products, so in the future we hope for a systematic approach to this matter, for the purposeful promotion of the achievements of rheumatology by means of numisma­tics, which provides an illustrative example for studying the history of arthrology, contributes to an increase in the level of education of doctors. Аuthors look forward to the appearance of new and inte­resting materials of such small forms of art.
Keywords
медицина; артрологія; історія, нумізматика
медицина; артрология; история; нумизматика
medicine; arthrology; history; numismatics
For the full article you need to subscribe to the magazine.
Bibliography
Kunzmann R. The Saint Eligius, his life and work and his traces in numismatics. Schweiz. Arch. Tierheilkd. 2014. 156(1). 13-6. doi: 10.1024/0036-7281/a000541.
Syniachenko O.V., Golovach I.Yu., Iermolaieva M.V. et al. Revmatolohiya v oblychchyakh: numizmatychno-biohrafichnyy kataloh [Rheumatology in the face: numismatic and biographical catalog]. Kramators´k: Drukars´kyy dim; 2019. 180 p. (In Ukrainian).
Syniachenko O.V., Smiian S.I., Iermolaieva M.V., Dumansky Yu.V. Medytsyna. Ukrayina. Numizmatyka [Medicine. Ukraine. Numismatics]. Ternopil´: Pidruchnyky i posibnyky; 2019. 192 p. (In Ukrainian).
Pearn J. Enduring biographic heritage — medical numismatics. J. Med. Biogr. 2019. 27(2). 108-15. doi: 10.1177/0967772016676784.
Mayer R. The history of a medal. Rev. Med. Brux. 2011. 32(6). 553-9. PMID: 22279858.
Popkin R.J. Medicine in numismatics. Surg. Gynecol. Obstet. 1961. 113. 657-60. doi: 10.1056/NEJM196408062710611.
Iavazzo C., Papakiritsis M., Karamanou M. et al. Ant mandibles as staples in the era of Greek patriot Ioannis Makriyannis (1797–1864). Acta Med. Hist. Adriat. 2018. 11(2). 359-64. PMID: 24304118.
Karamanou M., Tsoucalas G., Gialafos E. et al. Jean-Baptiste de Sénac's (1693–1770) important work on cardiology and valvular disorders. Curr. Pharm. Des. 2016. 22(13). 1853-6. doi: 10.2174/1381612822666151208120832.
Vrebos J.G. Dupuytren's contracture: an inaccurate denomination. Acta Chir. Belg. 2019. 109(5). 657-67. doi: 10.1080/00015458.2009.11680512.
Haas L.F. William Harvey 1578–1657. J. Neurol. Neurosurg. Psychiatry. 1992. 55(2). 111. doi: 10.1136/jnnp.55.2.111.
McDonald S.W., Russell D. William Hunter and lymphatics. Ann. Anat. 2018. 218(7). 40-8. doi: 10.1016/j.aanat.2018.03.002.
Dagnino-Sepúlveda J. William Hunter (1718–1783): his legacy three hundred years from his birthday. Rev. Med. Chil. 2019. 147(1). 96-102. doi: 10.4067/S0034-98872019000100096.
Adams Z.M., Fins J.J. Personalities in the history of medicine. Marie François Xavier Bichat. Praxis. 2015. 104(10). 537-8.
Joshi V.R., Poojary V.B. William Heberden (1710–1801). J. Assoc. Physicians. India. 2013. 61(12). 946-7. doi: 10.1093/rheumatology/keg007.
Dequeker J., Luyten F.P. The history of osteoarthritis/osteoarthrosis. Ann. Rheum. Dis. 2018. 67(2). 5-9. doi: 10.1136/ard.2007.079764.
Deshpande S. History of rheumatology. Med. J. D.Y. Patil. Univ. 2014. 7(3). 119-23. doi: 10.1155/2012/259408.
Savoia P. Skills, Knowledge, and Status: the career of an early modern Italian surgeon. Bull Hist. Med. 2019. 93(1). 27-54. doi: 10.1353/bhm.2019.0001.
Walusinski O. Jean-Martin Charcot (1825–1893): A treatment approach gone astray? Eur. Neurol. 2017. 78(5–6). 296-306. doi: 10.1159/000481940.
Ellis H. Percivall Pott: surgeon remembered by his three eponyms. Br. J. Hosp. Med. 2014. 75(1). 54. doi: 10.12968/hmed.2014.75.1.54.
Tan S.Y., Kwok E. René Leriche (1879–1955): Innovator of vascular surgery. Singapore Med. J. 2015. 56(4). 184-5. doi: 10.11622/smedj.2015056.
Taneja R., Maranda E.L., Jarrett O.G. et al. Jean Louis-Alibert-Physician, Teacher, Pioneer. JAMA Dermatol. 2016. 152(9). 1066. doi: 10.1001/jamadermatol.2015.6067.
Similar articles

Authors:
Синяченко О.В., Климовицький В.Г., Єрмолаєва М.В., Верзілов С.М., Синяченко Т.Ю., Лівенцова К.В. Донецький національний медичний університет, м. Лиман, Україна


"Тrauma" Том 21, №5, 2020
Date: 2020.12.10
Categories: Traumatology and orthopedics
Sections: Нistory of medicine


Authors:
Синяченко О.В., Єрмолаєва М.В., Верзілов С.М., Лівенцова К.В., Верзілова С.Ф. Донецький національний медичний університет, м. Лиман, Україна


"Gastroenterology" Том 54, №3, 2020
Date: 2020.09.22
Categories: Gastroenterology
Sections: Нistory of medicine



Authors:
Синяченко О.В., Єрмолаєва М.В., Верзілов С.М., Лівенцова К.В., Герасименко В.В., Полесова Т.Р. Донецький національний медичний університет, м. Лиман, Україна


"Child`s Health" Том 15, №6, 2020
Date: 2020.11.16
Categories: Pediatrics/Neonatology
Sections: Нistory of medicine