"Child`s Health" Том 15, №6, 2020
Child's health in the mirror of numismatics. Report 1. The history of pediatrics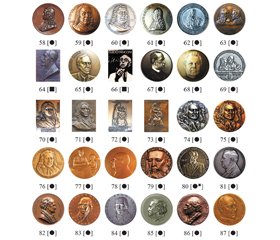 Authors:

Синяченко О.В., Єрмолаєва М.В., Верзілов С.М., Лівенцова К.В., Герасименко В.В., Полесова Т.Р. Донецький національний медичний університет, м. Лиман, Україна



Categories:

Pediatrics/Neonatology



Sections:

Нistory of medicine
Summary
Метою роботи був аналіз історії розвитку педіатрії за нумізматичними матеріалами. Галузь історичної науки нумізматика (від лат. numisma — «монета») зародилася в XIX столітті й стала тісно пов'язаною з економікою, політикою, культурою і правом, включає в себе тематичне вивчення монет, медалей і плакет. Найкраще історію педіатрії ілюструють різні форми медальєрного образотворчого мистецтва (екзонумія або паранумізматика), а медаль стала прообразом пам'ятної (меморіальної) монети. У даній роботі наведено каталог 116 нумізматичних матеріалів (97 медалей, 11 плакет, 8 монет), у тому числі деяких унікальних, уперше наведених. Є зображення на монетах і медалях міжнародних загальновизнаних символів педіатрії — Гор-па-херда, або Гарпократа (хлопчика, який тримає палець руки біля рота), і більш пізніх (пелікана, який годує кров'ю з розірваних грудей своїх пташенят, та флорентійського сповитого немовляти). У роботі за матеріалами нумізматики відображено етапи вивчення використання лікувальних чинників, є посилання на значні історичні події, згадуються короткі біографії медиків (46 персон), які зробили неоціненний внесок у формування педіатричної науки. На медалях можна зустріти портрети організаторів служби надання медичної допомоги дітям, видних педіатрів і представників вузьких спеціальностей. На превеликий жаль, поки пам'ять про знаменитих лікарів-педіатрів минулого недостатньо відзначено випуском нумізматичної продукції, тому в майбутньому сподіваємося на планомірний підхід до цієї справи, на цілеспрямовану пропаганду досягнень педіатрії засобами нумізматики, яка подає наочний приклад для вивчення історії медицини, сприяє підвищенню рівня освіченості лікарів. Автори розраховують на появу нових цікавих матеріалів таких малих форм образо­творчого мистецтва.
Целью работы был анализ истории развития педиатрии по нумизматическим материалам. Отрасль исторической науки нумизматика (от лат. numisma — «монета») зародилась в XIX веке и стала тесно связанной с экономикой, политикой, культурой и правом, включает в себя тематическое изучение монет, медалей и плакет. Лучше всего историю педиатрии иллюстрируют различные формы медальерного изобразительного искусства (экзонумия или паранумизматика), а медаль стала прообразом памятной (мемориальной) монеты. В данной работе представлен каталог 116 нумизматических материалов (97 медалей, 11 плакет, 8 монет), в том числе некоторых уникальных, впервые приведенных. Имеются изображения на монетах и медалях международных общепринятых символов педиатрии — Гор-па-херда, или Гарпократа (мальчика, держащего палец руки у рта), и более поздних (пеликана, кормящего кровью из разорванной груди своих птенцов, и флорентийского запеленатого младенца). В работе по материалам нумизматики отражены этапы ­изучения использования лечебных факторов, есть ссылки на значительные исторические события, упоминаются краткие биографии медиков (46 персон), внесших неоценимый вклад в формирование педиатрической науки. На медалях можно встретить портреты организаторов службы оказания медицинской помощи детям, видных педиатров и представителей узких специальностей. К большому сожалению, пока память о знаменитых врачах-педиатрах прошлого недостаточно отмечена выпуском нумизматической продукции, поэтому в будущем надеемся на планомерный подход к этому делу, на целенаправленную пропаганду достижений педиатрии средствами нумизматики, которая подает наглядный пример для изучения истории медицины, способствует повышению уровня образованности врачей. Авторы рассчитывают на появление новых интересных материалов таких малых форм изобразительного искусства.
The purpose of the work was to analyze the history of pediatrics development based on numismatic materials. Numismatics (from the Latin numisma — coin), the branch of historical science, originated in the 19th century and became closely related to economics, politics, culture and law, it includes the thematic study of coins, medals and plaques. The history of pediatrics is best illustrated by various forms of medal art (exonumia, or paranumismatics), and the medal became the prototype of a commemorative (memorial) coin. This work presents a catalogue of 116 numismatic materials (97 medals, 11 plaques, 8 coins), including some unique ones that were presented for the first time. There are images on coins and medals of common international symbols of pediatrics — Har-pa-khered, or Harpocrates (a boy holding a finger to his mouth), and later ones (a pelican feeding its chicks by the blood from the torn breast, and a Florentine swaddled baby). The stages of development of the study of using therapeutic factors were reflected in the work on the materials of numismatics, there are references to significant historical events; brief biographies of physicians (46 persons) were mentioned, who made an invaluable contribution to the formation of pediatric science. On the medals, it can be found the portraits of the organizers of the service of providing medical care for children, prominent pediatricians and representatives of narrow specialists. Unfortunately, for now the memory of famous pediatricians of the past is not sufficiently marked by release of numismatic products, therefore, we hope for a systematic approach to this matter in the future, for the purposeful promotion of the achievements of pediatrics by means of numismatics, which provides an visual example for studying the history of medicine, contributes to an increase in the level of doctor's education. The authors expect to emerge of new interesting materials of such small forms of art.
Keywords
медицина; педіатрія; історія; нумізматика
медицина; педиатрия; история; нумизматика
medicine; pediatrics; history; numismatics
For the full article you need to subscribe to the magazine.
Bibliography
Schaad U.B. History of pediatrics — a brief summary. Ther. Umsch. 1998. 55(1). 6-7. PMID: 9492610.
Cataldi L. History of рediatrics, contribution to the pediatric renewal. Minerva Pediatr. 2009. 61(6). 589-91. PMID: 19935500.
Liu B.H., Liu J.F. Brief introduction to the development of ancient history of paediatric diagnosis of traditional Chinese medicine. Zhonghua Yi Shi Za Zhi. 2017. 47(6). 348-50. PMID: 29374947.
Tullu M.S., Kamat J.R. Paediatrics in India. J. Postgrad. Med. 2000. 46(3). 233-5. PMID: 11298481.
Mahnke C.B. The growth and development of a specialty: the history of pediatrics. Clin. Pediatr. 2000. 39(12). 705-14. doi: 10.1177/000992280003901204.
Tulassay Z. Editorial comment: Pediatrics as a multidisciplinary discipline. Orv. Hetil. 2013. 154(38). 1487. doi: 10.1556/OH.2013.29711.
Gunasekera H., Kilham H. In the beginning, there was general paediatrics. J. Paediatr. Child Health. 2015. 51(1). 48-53. doi: 10.1111/jpc.12816.
Karl T.R., Martin G.R., Jacobs J.P., Wernovsky G. Key events in the history of cardiac surgery and paediatric cardiology. Cardiol. Young. 2017. 27(10). 2029-62. doi: 10.1017/S1047951117002256.
Bywaters E.G. The history of pediatric rheumatology. Arthritis Rheum. 1977. 20(2). 145-52. PMID: 400829.
Alvarez Carrasco R.I. Notes for the history of pediatric gastroenterology in Peru. Rev. Gastroenterol. Peru. 2015. 35(3). 265-73. PMID: 26397286.
Chesney R.W. The development of pediatric nephrology. Pediatr. Res. 2002. 52(5). 770-8. doi: 10.1203/00006450-200211000-00026.
Fisher D.A. A short history of pediatric endocrinology in North America. Pediatr. Res. 2004. 55(4). 716-26. doi: 10.1203/01.PDR.0000113824.18487.9B.
Cianfarani S. Endocrine history. Horm. Res. Paediatr. 2018. 89(4). 211-2. doi: 10.1159/000487425.
Arroyo H.A., Moreno Flagge N. Updates in pediatric neurology. Introduction. Medicina Aires. 2007. 67(6). 529-30. doi: 10.1111/jpc.13286.
Millichap J.J., Millichap J.G. Child neurology: Past, present, and future: part 1: history. Neurology. 2009. 73(7). 31-3. doi: 10.1212/WNL.0b013e3181b2a6df.
Brucknerova I., Holomanova A., Mach M., Ujhazy E. From pediatric history. Important personalities in relation to some genetic defects — "trisomies". Neuro Endocrinol. Lett. 2012. 33(7). 661-4. PMID: 23391875.
Kunzmann R. The Saint Eligius, his life and work and his traces in numismatics. Schweiz. Arch. Tierheilkd. 2014. 156(1). 13-6. doi: 10.1024/0036-7281/a000541.
Syniachenko O.V., Golovach I.Yu., Iermolaieva M.V. et al. Revmatolohiya v oblychchyakh: numizmatychno-biohrafichnyy kataloh [Rheumatology in the face: numismatic and biographical catalog]. Kramatorsʹk: Drukarsʹkyy dim. 2019. 180 p. (In Ukrainian).
Syniachenko O.V., Smiian S.I., Iermolaieva M.V., Dumansky Yu.V. Medytsyna. Ukrayina. Numizmatyka [Medicine. Ukraine. Numismatics]. Ternopilʹ: Pidruchnyky i posibnyky, 2019. 192 p. (In Ukrainian).
Allen C.R. A survey of medical numismatics. Medicina in nummis. JAMA. 1981. 246(20). 2347-9. PMID: 7029013.
Kay M. Medical numismatics. Adler Mus. Bull. 1996. 22(2). 3-6. PMID: 11613550.
Tiser H. Themes in our profession on coins and medals. Cesk. Gynekol. 1986. 51(3). 195-9. PMID: 3521905.
Pearn J. Enduring biographic heritage — medical numismatics. J. Med. Biogr. 2019. 27(2). 108-15. doi: 10.1177/0967772016676784.
Kahn L. The "Ospedale degli Innocenti" and the "bambino" of the American academy of pediatrics. Pediatrics. 2002. 110(1). 175-80. doi: 10.1542/peds.110.1.175.
Rabo E. The Swedish Pediatric Associations 1900–1970. Sven. Med. Tidskr. 1999. 3(1). 197-212. PMID: 11625673.
Farnetani I., Farnetani F. Pediatric history in Pisa and the birth of world pediatrics. Minerva Pediatr. 2009. 61(5). 571-85. PMID: 19794385.
Sanghera R.S. Sir George Frederic Still (1868-1941): A "father" to many children. J. Med. Biogr. 2016. 24(4). 474-7. doi: 10.1177/0967772014537739.
Ellis H. Sir Frederic Still: first professor of paediatrics in the UK. Br. J. Hosp. Med. 2018. 79(3). 175. doi: 10.12968/hmed.2018.79.3.175.
Eknoyan G. On the evolution of pediatrics and the emergence of pediatric nephrology. Adv. Chronic Kidney Dis. 2005. 12(4). 406-11. doi: 10.1053/j.ackd.2005.07.003.
Chesney R.W. The development of pediatric nephrology. Pediatr. Res. 2002. 52(5). 770-8. doi: 10.1203/00006450-200211000-00026.
Kausman J.Y., Powell H.R. Paediatric nephrology: the last 50 years. J. Paediatr. Child Health. 2015. 51(1). 94-7. doi: 10.1111/jpc.12812.
Similar articles

Authors:
Синяченко О.В., Єрмолаєва М.В., Верзілов С.М., Лівенцова К.В., Верзілова С.Ф. Донецький національний медичний університет, м. Лиман, Україна


"Gastroenterology" Том 54, №3, 2020
Date: 2020.09.22
Categories: Gastroenterology
Sections: Нistory of medicine


Authors:
Синяченко О.В., Єрмолаєва М.В., Верзілов С.М., Лівенцова К.В., Синяченко Т.Ю., Верзілова С.Ф. Донецький національний медичний університет, м. Лиман, Україна


"Pain. Joints. Spine." Том 10, №3, 2020
Date: 2020.10.05
Categories: Rheumatology, Traumatology and orthopedics
Sections: Specialist manual



Authors:
Синяченко О.В., Климовицький В.Г., Єрмолаєва М.В., Верзілов С.М., Синяченко Т.Ю., Лівенцова К.В. Донецький національний медичний університет, м. Лиман, Україна


"Тrauma" Том 21, №5, 2020
Date: 2020.12.10
Categories: Traumatology and orthopedics
Sections: Нistory of medicine