"Actual Infectology" Том 5, №1, 2017
Norovirus infection: features of epidemiology and clinical and laboratory manifestations at the present stage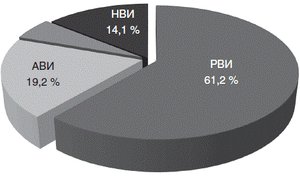 Authors:

Пронько Н.В.(1), Красько Ю.П.(2)
(1) — Гродненский государственный медицинский университет, г. Гродно, Республика Беларусь
(2) — Гродненская областная инфекционная клиническая больница, г. Гродно, Республика Беларусь



Categories:

Infectious diseases



Sections:

Clinical researches
Summary
Гострі кишкові інфекції вірусної етіології набувають все більшої актуальності. У даній роботі проведено аналіз клініко-епідеміологічних особливостей норовірусної кишкової інфекції у дітей. Наведені дані власних досліджень, проведених за 2013–2016 роки. Норовірусна інфекція характеризується гострим початком, помірною лихоманкою, водянистою діареєю, циклічністю перебігу. Пацієнтам віком до 1 року властивий розвиток вододефіцитного ексикозу. Групою ризику є діти перших трьох років життя. Клінічний перебіг норовірусної інфекції залежить від віку і преморбідного фону.
Острые кишечные инфекции вирусной этиологии приобретают все большую актуальность. В настоящей работе проведен анализ клинико-эпидемиологических особенностей норовирусной кишечной инфекции у детей. Представлены данные собственных исследований, проведенных за 2013–2016 годы. Норовирусная инфекция характеризуется острым началом, умеренной лихорадкой, водянистой диареей, цикличностью течения. Пациентам в возрасте до 1 года свойственно развитие вододефицитного экси­коза. Группой риска являются дети первых трех лет жизни. Клиническое течение норовирусной инфекции зависит от возраста и преморбидного фона.
Background. Among most significant for practical medicine infections, acute intestinal infections of viral etiology are becoming increasingly topical [2, 4]. According to domestic and foreign literature, up to 70 % of gastroenteritis occur during cold seasons of the year and are induced by viruses [3, 5]. The range of the factors producing viral diarrheas is rather wide. One of the comparatively new acute intestinal infections (AII) producing factors is noroviruses [5, 6]. The prevalence of noroviruses has been little studied, and the clinical picture has been characterized insufficiently. This can be explained by insufficient diagnostics and registration of this infection [3, 6, 7]. Aim of the work: analysis of the morbidity and determination of clinical laboratory features of noroviral infection (NVI) in children according to the data of the Regional Clinical Infectious Di­seases Hospital in Grodno. Materials and methods. A comprehensive clinical laboratory analysis of 1,105 case histories of children aged 1 month to 14 years with verified viral intestinal infection, who were admitted to Grodno Regional Clinical Infectious Diseases Hospital from January 2013 to December 2016, was carried out. The patients were divided according to the final clinical diagnosis in the following way: rotaviral infection (RVI) was found in 676 (61.2 %) individuals, adenoviral intestinal infection (AVI) — in 212 (19.2 %), NVI was detected in 156 (14.1 %) and enteroviral infection — in 61 (5.5 %) persons. The examination was carried out according to the protocols approved by the Ministry of Health of the Republic of Belarus. Results. As our study showed, at the period analyzed the viral intestinal diseases amounted to 70.4 % of all the cases of diseases in the structure of AII in children. Patients hospitalized with viral diarrhea showed prevalence of RVI (61.2 %). NVI was the third by the incidence among viral diarrheas, and it was registered in 14.1 % of the cases. Among 156 patients with NVI, there were 75 boys (48.1 %) and 81 girls (51.9 %), and no significant differences were noticed in the sex of the patients. There were 95 organized (60.9 %) and 61 unorganized children (39.1 %). In the majority of cases, NVI manifes­ted itself as monoinfection (92.9 %), while mixed infection occurred in 7.1 % of the cases. The mixed infection was due to a combination of two viruses — norovirus-rotavirus associated with pathogenic flora (Staphylococcus, Proteus). The analysis of the age structure of the group of children with noroviral infection showed that children aged up to 1 year amounted to 31 patients (19.9 %), those of 1 to 3 years of age — to 93 patients (59.6 %), there were 21 children aged 4–6 years (13.5 %) and 7 patients aged 7–10 years (3.8 %), whereas the number of 1–14-year olds amounted to 5 patients (3.2 %). At the moment of disease, the majority of the children examined were at the age of the first three years of life (76.9 %). Acute gastroenteritis was diagnosed in 132 (84.6 %) patients, acute gastroenterocolitis — in 9 patients (5.8 %), and 15 patients had acute enteritis. The analysis of the clinical course of NVI enabled us to identify such symptoms, as general infectious and gastroenteritis. The clinical picture of NVI showed that the leading syndrome was that of acute gastroenteritis. The disease started from vomiting, changing of stool characteristics and frequency, and increasing of temperature. Manifestations of intoxication were noted in 136 (87.29 %) patients. The patients had also sluggishness, weakness, decreased appetite and I to II degree water-deficient exsicosis. The assessment of the premorbid background established that the majority of children with NVI had the appropriate pathology and a compromised premorbid background. Conclusions. Viral intestinal diseases are one of the leading causes of infectious gastroenteritis in children of the first three years of age in Grodno region. NVI were characterized by acute onset, moderate fever, watery diarrhea and cyclicality of the course of the disease. Water-deficient exsicosis was typical for patients aged up to 1 year. The at-risk group included children of the first three years of life. The clinical course of NVI depended on the age and the premorbid background, as well as on the predisposing factors: anemia, alimentary allergy, exudative diathesis, etc.
Keywords
кишкова інфекція; норовірусна інфекція; діти
кишечная инфекция; норовирусная инфекция; дети
intestinal infection, norovirus infection, children
For the full article you need to subscribe to the magazine.
Bibliography
1. Ershova IB, Mochalova AA, Osipova TF, Reshchikov VA, Kozina SYU. Drugs reducing microbiocenosis as the causal treatment of acute intestinal infections in children. Aktualnaya infektologiya. 2015;2(7):45-50. (in Russian).
2. Dennehy PH. Acute diarrheal disease in children: epidemiology, prevention, and treatment. Infect Dis Clin North Am. 2005;19(3):585-602.
3. Sadkowska-Todys MA, Zieliński A, Czarkowski MS. Infectious diseases in Poland in 2014. Przegl Epidemiol. 2016;70(2):167-181.
4. Pronko NV, Leoshko KV. Clinical and epidemiological cha–racteristics of viral diarrhea in a hospital infection. Medicinskaya panorama. 2015;1:38-41. (in Russian).
5. Koletzko S, Osterrieder S. Acute Infectious Diarrhea in Children. Dtsch Arztebl Int. 2009;106(33):539-548.
6. Prisyazhnyuk EN, Reznik VI, Lebedeva LA, Karavyans–kaya TN, Golubeva EM. The role of viral pathogens in the etiology of acute intestinal diseases. Zdorove. Medicinskaya Ehkologiya. Nauka. 2012;3-4(49):213-216.
7. Glass RI, Parashar UD, Estes MK. Norovirus Gastroenteritis. N Engl J Med. 2009;361:1776-1785.
8. Payne DC, Vinjé J, Szilagyi PG [et al.]. Norovirus and Medically Attended Gastroenteritis in U.S. Children. N Engl J Med. 2013;368:1121-1130.
Similar articles

Authors: Пронько Н.В.
УО «Гродненский государственный медицинский университет», г. Гродно, Республика Беларусь
"Actual Infectology" Том 6, №2, 2018
Date: 2018.06.11
Categories: Infectious diseases
Sections: Clinical researches


Authors:
L. Palatna - Department of Paediatric Infectious Diseases Bogomolets National Medical University, Kyiv, Ukraine; A. Vilensky, N. Pranik, S. Renchkovska - Medical Network "DOBROBUT", Kyiv, Ukraine


"Actual Infectology" 1 (6) 2015
Date: 2015.05.29
Categories: Infectious diseases
Sections: Clinical researches


Authors:
Палатна Л.О. - Кафедра дитячих інфекційних хвороб НМУ імені О.О. Богомольця, м. Київ; Віленський А.Б., Пранік Н.Б., Ренчковська С.О. - Медична мережа «Добробут», м. Київ


"Actual Infectology" 1 (6) 2015
Date: 2015.05.28
Categories: Infectious diseases
Sections: Clinical researches


Authors:
Пронько Н.В.(1), Красько Ю.П.(2) (1) — УО «Гродненский государственный медицинский университет», г. Гродно, Беларусь (2) — УЗ «Гродненская областная инфекционная клиническая больница», г. Гродно, Беларусь


"Actual Infectology" Том 7, №3, 2019
Date: 2019.06.27
Categories: Infectious diseases
Sections: Clinical researches