Ukrainian journal of surgery 1 (32) 2017
Comprehensive treatment of cholangiocarcinoma complicated with obstructive jaundice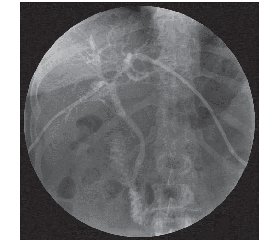 Authors:

Тищенко А.М., Авдосьев Ю.В., Брицкая Н.Н., Лаврентьева О.Ю.
ГУ «Институт общей и неотложной хирургии им. В.Т. Зайцева НАМН Украины», г. Харьков, Украина



Categories:

Surgery



Sections:

Clinical researches
Summary
Проведено аналіз результатів лікування 45 хворих з холангіоцелюлярним раком, ускладненим механічною жовтяницею. Доведено високу ефективність використання черезпечінкових ендобіліарних втручань як першого або остаточного етапу хірургічного лікування даної категорії пацієнтів із подальшим застосуванням агресивної хірургічної тактики, що передбачає виконання резекції ураженої частини печінки в поєднанні з тотальною каудальною лобектомією, резекції позапечінкових жовчовивідних шляхів і розширеної лімфодисекції (D2–D3) як другого етапу оперативного лікування.
Проведен анализ результатов лечения 45 больных с холангиоцеллюлярным раком, осложненным механической желтухой. Доказана высокая эффективность использования чрескожных чреспеченочных эндобилиарных вмешательств в качестве первого либо окончательного этапа хирургического лечения данной категории пациентов с дальнейшим применением агрессивной хирургической тактики, которая предусматривает выполнение резекции пораженной части печени в сочетании с тотальной каудальной лобэктомией, резекции внепеченочных желчевыводящих путей и расширенной лимфодиссекции (D2–D3) в качестве второго этапа оперативного лечения.
The paper deals with the analyzed results of treatment of 45 patients with cholangiocarcinoma complicated with obstructive jaundice. It has been proved the effectiveness of percutaneous transhepatic endobiliary interventions as the first or the final stage of the surgical treatment of these patients, following by the aggressive surgical strategy that involves major hepatectomy combined with total caudal lobectomy, resection of the extrahepatic biliary tract and extensive lymph node dissection (D2–D3) as the second stage of surgery.
Keywords
холангіокарцинома; механічна жовтяниця; хірургічне лікування
холангиокарцинома; механическая желтуха; хирургическое лечение
cholangiocarcinoma; obstructive jaundice; surgical treatment
For the full article you need to subscribe to the magazine.
Bibliography
1. Treatment of unresectable cholangiocarcinoma with gemcitabine-based transcatheter arterial chemoembolization (TACE): a single-institution experience / Gusani N.J., Balaa F.K., Steel J.L. [et al.] // Journal of Gastrointestinal Surgery. 2008. — Vol. 12(1). — Р. 129-137.
2. Surgical treatment of hilar cholangiocarcinoma in the "new era": the Nagoya University experience / T. Igami, H. Nishio, T. Ebata [et al.] // J. Hepatobiliary Pancreat. Sci. — 2010. — Vol. 17. — P. 449-454.
3. Klatskin G. Adenocarcinoma of the hepatic duct at its bifurcation within the porta hepatic: an unusual tumor with distinctive clinical and pathological features / Klatskin G. // Amer. J. Med. — 1965. — Vol. 38. — P. 241-256.
4. Major hepatectomy for perihilar cholangiocarcinoma / M. Unno, Y. Katayose, T. Rikiyama [et al.] // J. Hepatobiliary Pancreat. Sci. — 2010. — Vol. 17. — P. 463-469.
5. Surgical treatment of hilar cholangiocarcinoma in the new era: the Asan experience / S.G. Lee, G.W. Song, S. Hwang [et al.] // J. Hepatobiliary Pancreat. Sci. — 2010. — Vol. 17(4). — P. 476-489.
6. Seidensticker R. Integration of chemoembolization and radioembolization into multimodal treatment of cholangiocarcinoma / Seidensticker R., Ricke J., Seidensticker M. // Best Pract. Res. Clin. Gastroenterol. — 2015. — Vol. 29(2). — P. 319-32.
7. Zhang W. Perihilar cholangiocarcinoma: Current therapy / Zhang W., Yan L.N. // World J. Gastrointest. Pathophy–siol. — 2014. — Vol. 5(3). — P. 344-354.
8. Simultaneous biliary drainage and portal vein embolization before extended hepatectomy for hilar cholangiocarcinoma: preliminary experience / Guiu B., Bize P., Demartines N. [et al.] // Cardiovasc. Intervent. Radiol. — 2014. — Vol. 37. — P. 698-704.
9. Percutaneous bilateral metallic stent placement using a stentin-stent deployment technique in patients with malignant hilar biliary obstruction / Gwon D.I., Ko G.Y., Kim J.H. [et al.] // Am. J. Roentgenol. — 2013. — Vol. 200. — P. 909-914.
10. Tumour size over 3 cm predicts poor short-term outcomes after major liver resection for hilar cholangiocarcinoma. By the HC-AFC-2009 group / Regimbeau J.M., Fuks D., Pessaux P. [et al.] // HPB. — 2015. — Vol. 17(1). — P. 79-86.
11. Long-term survival following extended hepatectomy with concomitant resection of all major hepatic veins for intrahepatic cholangiocarcinoma: report of a case / Kobayashi S., Igami T., Ebata T. [et al.] // Surg. Today. — 2015. — Vol. 45(8). — P. 1058-63.
Similar articles

Authors:
Котенко О.Г., Попов А.О., Коршак А.А., Гриненко А.В., Гусев А.В.,Федоров Д.А., Григорян М.С. - Национальный институт хирургии и трансплантологии им. А.А. Шалимова, г. Киев, Украина


Ukrainian journal of surgery 3(22) 2013
Date: 2013.09.02
Categories: Surgery
Sections: Clinical researches


Authors: Котенко О.Г., Попов А.О., Гриненко А.В., Гусев А.В., Григорян М.С., Федоров Д.А., Коршак А.А., Остапишен А.Н., Минич А.А., Жиленко А.И., Юзвик К.А.
ГУ «Национальный институт хирургии и трансплантологии им. А.А. Шалимова НАМН Украины», г. Киев, Украина
Ukrainian journal of surgery 1 (36) 2018
Date: 2018.07.02
Categories: Surgery
Sections: Clinical researches


Authors: Котенко О.Г., Попов А.О., Гриненко А.В., Гусев А.В., Григорян М.С., Федоров Д.А., Коршак А.А., Остапишен А.Н., Минич А.А.
ГУ «Национальный институт хирургии и трансплантологии им. А.А. Шалимова НАМН Украины», г. Киев, Украина
Ukrainian journal of surgery 4 (35) 2017
Date: 2018.01.11
Categories: Surgery
Sections: Clinical researches