Ukrainian journal of surgery 1 (32) 2017
Simultaneous laparoscopic lifting operations in combined pathology of the abdominal organs, retroperitoneal space and pelvis in patients with cardiopulmonary pathology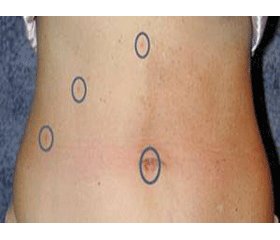 Authors:

Запорожченко Б.С., Колодий В.В., Горбунов А.А., Запорожченко М.Б., Бондарец Д.А., Холодов И.Г.
Одесский областной медицинский центр,
Одесский национальный медицинский университет, г. Одесса, Украина



Categories:

Surgery



Sections:

Clinical researches
Summary
У роботі проаналізовані результати оперативного лікування 84 пацієнтів, які перенесли симультанні оперативні втручання на органах черевної порожнини, малого таза і заочеревинного простору на фоні супутньої соматичної патології. Досліджувану групу склали 36 пацієнтів, оперованих із використанням авторської технології лапароліфтингу, конт­рольну — 48 пацієнтів, оперованих за класичною техноло­гією з накладанням карбоксиперитонеуму. Визначено варіанти оптимальних оперативних доступів, вивчено структуру й частоту післяопераційних ускладнень, особливості перебігу раннього післяопераційного періоду. Виявлено, що симультанні ліфтингові лапароскопічні операції мають низку незаперечних переваг: знижується частота та тяжкість післяопераційних ускладнень, інтенсивність післяопераційного больового синдрому, кількість загострень супутніх хронічних захворювань, тривалість перебування в стаціонарі після операції.
В работе проанализированы результаты оперативного лечения 84 пациентов, перенесших симультанные оперативные вмешательства на органах брюшной полости, малого таза и забрюшинного пространства на фоне сопутствующей соматической патологии. Исследуемую группу составили 36 пациентов, оперированных с использованием авторской технологии лапаролифтинга, контрольную — 48 пациентов, оперированных по классической технологии с наложением карбоксиперитонеума. Определены варианты оптимальных оперативных доступов, изучена структура и частота послеоперационных осложнений, особенности течения раннего послеоперационного периода. Выявлено, что симультанные лифтинговые лапароскопические операции имеют ряд неоспоримых преимуществ: снижается частота и тяжесть послеоперационных осложнений, интенсивность послеоперационного болевого синдрома, количество обострений сопутствующих хронических заболеваний, продолжительность пребывания в стационаре после операции.
Background. The widespread introduction of vi­deoendoscopic technologies, suturing devices and other technical means caused a powerful impetus to the development of simultaneous operations in combined surgical diseases. However, the frequent comorbidity of surgical pathology of the cardiovascular and respiratory systems greatly limits, and in some cases eliminates the laparoscopic simultaneous operations in a number of patients with reduced cardiopulmonary reserve. Gasless laparoscopy is designed to solve this problem, it is not widely used today due to the lack of universal, easy-to-use and affordable laparolifting systems. The aim of the study was to optimize the treatment policy for concomitant diseases of the abdominal cavity, pelvic cavity and retroperitoneal space in patients with a high index of polymorbidity through the application of developed lifting system. Materials and methods. In the department of clinical surgery of Odessa Regional Medical Center at the premises of Department of Surgery N 2 of Odessa National Medical University in the period from 2011 to 2016, there were carried out 84 simultaneous laparoscopic surgeries for concomitant diseases of the abdominal cavity in patients with concomitant diseases of the cardiovascular and respiratory systems. All patients were divided into two groups. The first, or study (main), group included 36 patients, who underwent surgery with the use of developed by the author technology of laparolifting. The second (comparison, control) group included 48 patients, who had laparoscopic surgery performed by the classical method with the imposition of a carboxiperitoneum. In all patients of the main group, we have established the presence of comorbidities that determine their relationship to the III–IV class of risk according to ASA classification, in the control group — I–II class operational and anesthetic risk, respectively. Results. The average time of patients' stay in the intensive care unit and hospital stay were significantly lower in the group of patients operated in gasless mode. Duration of hospital stay after surgery was lower in group 1 — 8.56 bed-days, in group 2 — 10.5 bed-days (p < 0.05). The average time in the intensive care bed was 1.29 days in the study group and 1.58 days in the control group (p < 0.05). In the main group, complications were registered in 3 patients (8.3 %), in the control group — in 7 (14.6 %) (p < 0.05). In the majority of cases, there have been registered non-severe wound complications, which were not life-threatening, but in 4 patients from the comparison group, the potentially fatal complications have been reported, such as a paroxysm of atrial fibrillation, ventricular tachycardia, exacerbation of chronic obstructive pulmonary disease. Exacerbations of chronic diseases of the respiratory and cardiovascular systems and lower limbs were recorded more frequently in the control group — 6 (12.5 %) cases, which influenced the length of hospital stay and cost of treatment. In the main group, 2 patients had an exacerbation of duodenal ulcer. Three patients in the control group and 2 — in the main group had abdominal bleeding stopped intraoperatively. No deaths have been registered during the observation. Conclusions. The use of developed technology of laparolifting was not associated with serious technical difficulties in surgical operations and has just a little duration. The latter, in our opinion, is not critical at this stage of anesthesiology and intensive care development. Also, we found statistically significant differences during the early postoperative period and intensity of functional systems of the body. Such benefits of gasless endovideosurgical simultaneous correction of comorbidity, as an extension of the indications for laparoscopic interventions for the most complex, somatically burdened category of patients, the absence of the negative impact of stress carboxiperitoneum on homeostasis, decrease in the incidence of intra- and postoperative complications, reducing the time spent of hospital stay, make it possible to recommend these interventions for implementation in the clinical practice.
Keywords
симультанна лапароскопія; безгазова лапароскопія; лапароліфтинг
симультанная лапароскопия; безгазовая лапароскопия; лапаролифтинг
simultaneous laparoscopy; gasless laparoscopy; laparolifting
For the full article you need to subscribe to the magazine.
Bibliography
1. Адамян Л.В., Гайдарова А.Х., Панин A.B. Сочетанные операции в гинекологии: вопросы классификации и методологического подхода / Л.В. Адамян, А.Х. Гайдарова, А.В. Панин // Лапароскопия и гистероскопия в акушерстве и гинекологии / Под ред. В.И. Кулакова, Л.В. Адамян. — М., 2002. — С. 422-428.
2. Брехов Е.И. Опыт проведения симультанных лапароскопической холецистэктомии и гинекологических операций / Е.И. Брехов, Е.Б. Савинова, Е.А. Лебедева // Хирургия. Журнал им. Н.И. Пирогова. — 2010. — № 12. — С. 23-26.
3. Буянов В.М., Маховский В.З. Сочетанные хирургические операции в брюшной полости и забрюшинном пространстве // Хирургия. — 1990. — № 7. — С. 81-86.
4. Гордеева Т.В. Симультанные лапароскопические операции при сочетанных заболеваниях органов брюшной полости, забрюшинного пространства и малого таза у женщин: Дис... канд. мед. наук: 14.00.27, 14.00.01 / Т.В. Гордеева. — СПб., 2006. — 209 с.
5. Емельянов С.И., Протасов А.В., Рутенбург Г.М. Эндохирургия паховых и бедренных грыж. — СПб., 2000.
6. Лапароскопическая герниопластика при паховых и бедренных грыжах / В.М. Седов, А.Б. Гуслев, Г.М. Рутенбург, В.В. Стрижелецкий. — СПб.: Изд-во СПбГМУ им. акад. И.П. Павлова, 1995. — С. 40-41.
7. Лебедева Е.А. Симультанные лапароскопические холецистэктомии и гинекологические операции при сочетанной патологии желчного пузыря и органов малого таза: Дис... канд. мед. наук. 14.00.27 / Е.А. Лебедева. — М., 2010. — 123 с.
8. Манагадзе Л.Г., Лопаткин Н.А., Лоран О.Б., Пушкарь Д.Ю., Даренков С.П., Турманидзе Н.Л., Гогенфеллнер Р. Оперативная урология. Классика и новации. — М.: Медицина, 2003. — 740 с.
9. Пинский С.Б., Цмайло В.М. Клинические аспекты различных форм первичного гиперпаратиреоза // Сибирский медицинский журнал. — 2009. — № 5. — С. 75.
10. Пучков К.В., Баков В.С., Иванов В.В. Симультанные лапароскопические оперативные вмешательства в хирургии и гинекологии. — М., 2005.
11. Роман Л.И., Хавин Э.Л. Диагностика и лечение сочетанных заболеваний желчных путей и почек // Хирургия. — 1971. — № 5. — С. 88-93.
12. Седов В.М., Гуслев А.Б., Рутенбург Г.М., Стрижелецкий В.В. Лапароскопическая герниопластика при паховых и бедренных грыжах. — СПб.: Изд-во СПбГМУ им. акад. И.П. Павлова, 1995.
13. Тареев Е.М. Внутренние болезни. — М., 1957. — 582 с.
14. Хатьков И.Е., Агапов В.К., Цвиркун В.В. и др. Возможности эндовидеохирургического доступа в выполнении расширенных и комбинированных вмешательств // Здоровье столицы. VII Московская ассамблея: Сб. науч. трудов. — М.: ГЕОС, 2008.
15. Comparison of early outcomes for laparoscopic ventral hernia repair between nonobese and morbidly obese patient populations / S. Ching, A. Sarela, S. Dexter [et al.] // Surg. Endosc. — 2008. — Vol. 22 (10). — Р. 2244-2250.
16. Kamer E., Unalp H.R., Derici H., Tansug T., Onal M.A. Laparoscopic cholecystectomy accompanied by simultaneous umbilical hernia repair: a retrospective study // J. Postgrad. Med. — 2007. — 53 (3). — 176-80.
17. Fersli G.S., Massad A., Albert P. // J. Laparoendosc. Surg. — 1992. — Vol. 2. — P. 281-286.
18. Wein A.J., Kavoussi R.L., Nowick A.C., Partin A.W., Peters C.A. et al. Campbell-Walsh Urology Ninth Edition: Saunders Elsevier, 2007.
Similar articles

Authors: Завгородний С.Н.(1), Кубрак М.А.(1), Рылов А.И.(1, 2), Данилюк М.Б.(1, 2)
(1) — Запорожский государственный медицинский университет, г. Запорожье, Украина
(2) — КУ «Городская клиническая больница экстренной и скорой медицинской помощи», г. Запорожье, Украина
International journal of endocrinology Том 13, №8, 2017
Date: 2018.01.31
Categories: Endocrinology
Sections: Specialist manual


Authors:
Дронова В.Л.1, Дронов А.И.2, Крючина Е.А.2, Теслюк Р.С.1, Луценко Е.В.1, Насташенко М.И.1, 1 Государственное учреждение «Институт педиатрии, акушерства и гинекологии Национальной академии медицинских наук Украины», Киев, Украина, 2 Национальный медицинский университет имени А.А. Богомольца, Киев, Украина


Ukrainian journal of surgery 2 (21) 2013
Date: 2013.07.02
Categories: Surgery
Sections: Specialist manual


Authors:
Климовицкий В.Г.(1), Зуб В.А.(2), Власенко М.А.(1), Колотило А.Н.(2), Цысельский Р.К.(2), Солоницын Е.А.(1) (1) — Донецкий НИИ травматологии и ортопедии, г. Лиман, Украина (2) — Черниговский областной онкологический диспансер, г. Чернигов, Украина


"Тrauma" Том 18, №3, 2017
Date: 2017.07.12
Categories: Traumatology and orthopedics
Sections: Specialist manual


Authors:
Ничитайло M.Ю., Загрійчук М.С., Булик І.І., Національний інститут хірургії та трансплантології України ім. О.О. Шалімова НАМН України, м. Київ


Ukrainian journal of surgery 1 (20) 2013
Date: 2013.03.29
Categories: Gastroenterology, Surgery
Sections: Clinical researches