Ukrainian journal of surgery 1 (32) 2017
Efficacy of endovascular laser coagulation with different radiation power in patients with varicose veins disease of lower limb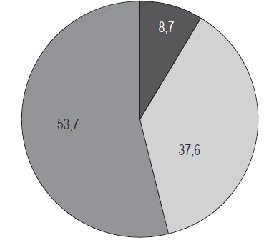 Authors:

Синяченко Ю.О., Самойленко Г.Е., Синяченко О.В.
Донецкий национальный медицинский университет, г. Лиман, Украина



Categories:

Surgery



Sections:

Clinical researches
Summary
Актуальність. Ендоваскулярна лазерна коагуляція (ЕВЛК) є одним із сучасних методів лікування хворих з варикозною венозною хворобою вен нижніх кінцівок, але вимагає свого вдосконалення. Мета дослідження: провести порівняльну оцінку ефективності ЕВЛК різної потужності випромінювання при окремих варіантах перебігу варикозу, виділити прогностичні критерії. Матеріали та методи. Обстежено 263 хворих (64 чоловіки і 199 жінок віком від 29 до 72 років), яким у 57 % випадків виконано ЕВЛК малої потужності (7–10 Вт) і у 43 % — великої (15 Вт). Результати. Малопотужне випромінювання при ЕВЛК судин у хворих на варикоз нижніх кінцівок виконувалося рідше у випадках перенесеного раніше флеботромбозу, наявності артеріальної гіпертензії, змін поверхневої в'язкості сироватки венозної крові, менших параметрів енергії на довжину стрипінгу й площу судинної інтими, але в групі з однаковими спостереженнями за тяжкістю класу захворювання, супутньою патологією і фоновою медикаментозною терапією, при цьому ефективність лікувальних заходів опісля двох та чотирьох тижнів після операції у пацієнтів з малопотужною лазерною абляцією є вищою, а повна оклюзія вени спостерігалася на 80 % частіше, що визначалося устьовим розширенням вени, нерівністю ходу її стовбура, наявністю коморбідного цукрового діабету другого типу й гонартрозу, призначенням рівароксабану і низькомолекулярних гепаринів. Висновки. Малопотужна ЕВЛК при варикозі ніг досить ефективна, але вимагає певних показань до її застосування.
Актуальность. Эндоваскулярная лазерная коагуляция (ЭВЛК) является одним из современных методов лечения больных с варикозной венозной болезнью вен нижних конечностей, но требует своего совершенствования. Цель исследования: провести сравнительную оценку эффективности ЭВЛК с разной мощностью излучения при отдельных вариантах течения варикоза, выделить прогностические критерии. Материал и методы. Обследованы 263 больных (64 мужчины и 199 женщин в возрасте от 29 до 72 лет), которым в 57 % случаев выполнена ЭВЛК малой мощности (7–10 Вт) и в 43 % — большой (15 Вт). Результаты. Маломощное излучение при ЭВЛК сосудов у больных варикозом нижних конечностей выполнялось реже в случаях перенесенного ранее флеботромбоза, артериальной гипертензии, изменений поверхностной вязкости сыворотки венозной крови, меньших параметров энергии на длину стриппинга и площадь сосудистой интимы, но в группе с одинаковыми наблюдениями по тяжести класса заболевания, сопутствующей патологии и фоновой медикаментозной терапии, при этом эффективность лечебных мероприятий спустя две и четыре недели после операции у пациентов с маломощной лазерной абляцией была выше, а полная окклюзия вены наблюдалась на 80 % чаще, что определялось приустьевым расширением вены, неровностью хода ее ствола, наличием коморбидного сахарного диабета второго типа и гонартроза, назначением ривароксабана и низкомолекулярных гепаринов. Выводы. Маломощная ЭВЛК при варикозе ног весьма эффективна, но требует определенных показаний к ее применению.
Background. Endovascular laser coagulation (EVLT) is one of the modern methods of treatment of patients with varicose veins of the lower limbs, but requires its improvement. Objective: to perform a comparative assessment of the effectiveness of EVLT with different radiation power at certain varicose veins clinical course, to identify prognostic criteria. Materials and methods. The study included 263 patients (64 men and 199 women aged 29 to 72 years), who underwent low power EVLT (7–10 watts) in 57 % of cases and high (15 watts) — in 43 %. Results. Low-power EVLT of vessels in patients with varicose veins of the lower extremities was performed less frequently in cases of previous phlebothrombosis, hypertension, changes the surface viscosity of venous serum, smaller energy parame­ters on the length of striping and the area of the vascular intima, but in the group with the same observations according to the disease class severity, comorbidity and background of drug therapy the effectiveness of medical actions in two and four weeks after surgery in patients with a low-power laser ablation was higher, and the total vein occlusion was observed in 80 % more frequently, that was determined by pre-estuarine expansion of veins, roughness in its tube course, presence of comorbid second type diabetes and gonarthrosis, administration of rivaroxaban and low molecular weight heparins. Conclusions. The low-power EVLT in varicose vein of lower limbs is highly effective, but requires certain indications for its use.
Keywords
варикоз; вени; лазер; потужність випромінювання; ефективність
варикоз; вены; лазер; мощность излучения; эффективность
varicose veins; laser; power radiation; efficiency
For the full article you need to subscribe to the magazine.
Bibliography
1. Amann-Vesti B. New therapies for varicose veins / B. Amann-Vesti, T. Meier // Praxis. — 2016. — Vol. 105, № 14. — P. 801-810.
2. Golbasi I. Endovenous laser with miniphlebectomy for treatment of varicose veins and effect of different levels of laser energy on recanalization: A single center experience / I. Golbasi, C. Turkay, O. Erbasan [et al.] // Lasers Med. Sci. — 2015. — Vol. 30, № 1. — P. 103-108.
3. Jibiki M. Effect of the wide-spread use of endovenous laser ablation on the treatment of varicose veins in Japan: a large-scale, single institute study / M. Jibiki, T. Miyata, S. Futatsugi [et al.] // Laser Ther. — 2016. — Vol. 25, № 3. — P. 171-177.
4. Meissner M.H. What is effective care for varicose veins? / M.H. Meissner // Phlebology. — 2016. — Vol. 31, № 1. — P. 80-87.
5. Mendes-Pinto D. Endovenous laser ablation of the great saphenous vein comparing 1920-nm and 1470-nm diode laser / D. Mendes-Pinto, P. Bastianetto, L. Cavalcanti Braga Lyra [et al.] // Int. Angiol. — 2016. — Vol. 35, № 6. — P. 599-604.
6. Osmanov R.R. A middle-term results of endovenous laser ablation for varicose disease of the lower extremities / R.R. Osmanov // Klin. Khir. — 2016. — № 2. — P. 48-51.
7. Pavlović M.D. Drug treatment of chronic venous diesease / M.D. Pavlović // Wien Med. Wochenschr. — 2016. — Vol. 166, № 9–10. — P. 312-319.
8. Rabe E. Epidemiology of chronic venous diseases / E. Rabe, G. Berboth, F. Pannier [et al.] // Wien Med. Wochenschr. — 2016. — Vol. 166, № 9–10. — P. 260-263.
9. Schuller-Petrovic S. Endovenous ablation of saphenous vein varicosis / S. Schuller-Petrovic // Wien Med. Wochenschr. — 2016. — Vol. 166, № 9–10. — P. 297-301.
10. Shaidakov E.V. Radiofrequency ablation or stripping of large-diameter incompetent great saphenous varicose veins with C2 or C3 disease / E.V. Shaidakov, A.G. Grigoryan, E.A. Ilyu–khin [et al.] // J. Vasc. Surg. Venous Lymphat. –Disord. — 2016. — Vol. 4, № 1. — P. 45-50.
11. Tezuka M. Endovenous laser treatment for varicose veins / M. Tezuka, Y. Kanaoka, T. Ohki // Nihon Geka Gakkai Zasshi. — 2015. — Vol. 116, № 3. — P. 155-160.
12. Uthoff H. Well-Tried and New Ones – update varicose vein treatment 2016 / H. Uthoff, L. Spinedi, T. Lattmann [et al.] // Praxis. — 2016. — Vol. 105, № 14. — P. 813-819.