Ukrainian journal of surgery 1 (32) 2017
Complications of gastric plication. Methods of prevention and correction methods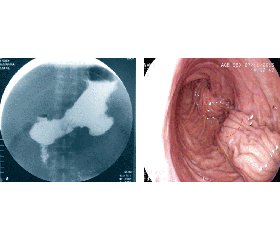 Authors:

Милица К.Н.
ГУ «Запорожская медицинская академия последипломного образования МЗ Украины», г. Запорожье, Украина



Categories:

Surgery



Sections:

Clinical researches
Summary
Актуальність. Актуальність проблеми ожиріння та метаболічного синдрому, а також те, що найбільш ефективним способом лікування ожиріння та пов'язаних із ним метаболічних розладів із тривалим і стійким результатом є баріатрична хірургія, у медичному співтоваристві вже не викликає сумнівів. Але поширення баріатрії в Україні не надто активне з огляду на високу вартість операцій. Останніми роками з'являються нові методики операцій зі значно меншою собівартістю. Однією з таких операцій є поздовжня гастроплікація. Тому метою даного дослідження були вивчення ускладнень поздовжньої гастроплікації, пошук можливості їх профілактики та корекції. Матеріали та методи. Розглянуті результати виконання 40 гастроплікацій. Віддалені результати вивчено у 28 пацієнтів із періодом спостереження від 1 до 4 років. Результати. Найбільш поширеним ускладненням після перших 10 операцій був набряк слизової оболонки шлунка, що призводило до повного гастростазу. Значно більш рідкісними ускладненнями були: поява псевдодивертикулів зони плікації в тілі шлунка; розширення ділянки дна шлунка; стриктура ділянки кута шлунка; деплікація шлунка. Після виконання перших 10 операцій техніка операції була модифікована з використанням зонда більшого діаметра — 12 мм. Була змінена техніка ушивання першого ряду, крім зшивання передньої та задньої стінок шлунка, у шов підхоплюється і ділянка великої кривизни для формування єдиного каналу, що запобігає розвитку непрохідності при набряку слизової оболонки. У статті також описано способи корекції інших ускладнень, що можуть виникнути після виконання гастроплікації. Висновки. Поздовжня гастроплікація заслуговує широкого впровадження в практичну баріатрію. Її безумовними перевагами є технічна й економічна доступність, невелика кількість ускладнень, що можна дійсно запобігти.
Актуальность. Актуальность проблемы ожирения и метаболического синдрома, а также то, что наиболее эффективным способом лечения ожирения и связанных с ним метаболических расстройств с длительным и устойчивым результатом является бариатрическая хирургия, в медицинском сообществе уже не вызывают сомнений. Но распространение бариатрии в Украине не слишком активно ввиду высокой стоимости операций. В последние годы появляются новые методики операций со значительно меньшей себестоимостью. Одной из таких операций является продольная гастропликация. Поэтому целью данного исследования были изучение осложнений продольной гастропликации, поиск возможности их профилактики и коррекции. Материалы и методы. Рассмотрены результаты выполнения 40 гастропликаций. Отдаленные результаты изучены у 28 пациентов с периодом наблюдения от 1 до 4 лет. Результаты. Самым распространенным осложнением после первых 10 операций был отек слизистой оболочки желудка, приводивший к полному гастростазу. Более редкими осложнениями были: псевдодивертикул зоны пликации в области тела желудка; расширение области дна желудка; стриктура области угла желудка; депликация желудка. После выполнения первых 10 операций техника операции была модифицирована с использованием зонда большего диаметра — 12 мм. Была изменена техника ушивания первого ряда, кроме сшивания передней и задней стенок желудка, в шов вовлекается и область большой кривизны для формирования единого канала, который предотвращает развитие непроходимости при отеке слизистой оболочки. В статье также описаны способы коррекции других осложнений, которые могут возникнуть после выполнения гастропликации. Выводы. Продольная гастропликация заслуживает широкого внедрения в практическую бариатрию. Ее безусловными преимуществами являются техническая и экономическая доступность, небольшое число действительно предотвратимых осложнений.
Background. The relevance of the problem of obesity and metabolic syndrome, as well bariatric surgery as the most effective way to treat obesity and related metabolic disorders with long-term and stable result are without any doubt in the medical community. But the implementation of bariatric surgery in Ukraine is not too active due to the high cost of operations. In recent years, there have been developed new cheaper intervention methods. One of them is a laparoscopic longitudinal gastroplication. Therefore, the aim of this study was to study any complications of gastric plication, search for possibilities of their prevention and correction. Materials and methods. The study involved the results of 40 gastric plications. Long-term results were studied in 28 patients with follow-up from 1 to 4 years. Results. The most ubiquitous complication after the first 10 operation was swelling of the gastric mucous membrane caused complete gastrostasis. Much more rare complications were pseudodiverticulosis in plication areas in the body of the stomach; the expansion of gastric fundus; stricture of the stomach angle; stomach deplication. After the first 10 operations the technique was modified by increasing diameter of gastric tube to 12 mm. Suturing technique of the first row has been changed. The suture involves cross-linking the front and back walls of the stomach as well as a greater curvature of the stomach to form a single channel, which prevents the development of edema mucous obstruction. The article also describes the ways of correction of other complications that may arise after the gastric plication surgery. Conclusions. Laparoscopic gastric plication is worth getting widespread implementation into practical bariatrics. The unconditional advantages of gastric plication are the technical and economic availability, a small number of really preventable complications.
Keywords
ожиріння; метаболічний синдром; баріатрична хірургія; гастроплікація
ожирение; метаболический синдром; бариатрическая хирургия; гастропликация
obesity; metabolic syndrome; bariatric surgery; gastric plication
For the full article you need to subscribe to the magazine.
Bibliography
1. Buchwald H., Avidor Y., Braunwald E. et al. Bariatric surgery: a systematic review and meta-analysis // JAMA. — 2004. — 292(14). — 1724-37.
2. Denis G.V., Obin M.S 'Metabolically healthy obesity': origins and implications // Mol. Aspects Med. — 2013. — 34. — 59-70. — doi: 10.1016/j.mam.2012.10.004.
3. Lazzati A., Guy-Lachuer R., Delaunay V., Szwarcensztein K., Azoulay D. Bariatric surgery trends in France: 2005–2011 // Surg. Obes. Relat. Dis. — 2014. — 10(2). — 328-334.
4. Padwal R., Klarenbach S., Wiebe N. et al. Bariatric surgery: a systematic review of the clinical and economic evidence // J. Gen. Intern. Med. — 2011. — 26(10). — 1183-1194.
5. Ramos A., Galvao Neto M., Galvao M. et al. Laparoscopic greater curvature plication: initial results of an alternative restrictive bariatric procedure // Obes. Surg. — 2010. — 20. — 913-8.
6. Swinburn B.A., Sacks G., Hall K.D., McPherson K., Finegood D.T., Moodie M.L. The global obesity pandemic: shaped by global drivers and local environments // Lancet. — 2011. — 378. — 804-814.
7. Wang B.C.M., Wong E.S., Alfonso-Cristancho R. et al. // Eur. J. Health Econ. — 2014. — 15. — 253.
Similar articles

Authors: Гавриш Р.Я., Лукавецький О.В.
Львівський національний медичний університет імені Данила Галицького, м. Львів, Україна
Львівська обласна клінічна лікарня, м. Львів, Україна
Ukrainian journal of surgery 2 (37) 2018
Date: 2018.12.05
Categories: Surgery
Sections: Clinical researches




Authors:
Назыров Ф.Г., Нишанов М.Ф. - Андижанский государственный медицинский институт, Республика Узбекистан


"Emergency medicine" 1 (56) 2014
Date: 2014.03.19
Categories: Medicine of emergency
Sections: Clinical researches