"Тrauma" Том 18, №2, 2017
Modern trends in the treatment of periprosthetic femur fractures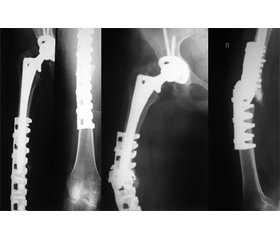 Authors:

Білінський П.І., Паламар Б.І., Дроботун О.В., Андрейчин В.А., Шишко Е.О., Вихров С.Л.
Національна медична академія післядипломної освіти ім. П.Л. Шупика, м. Київ, Україна
Київська міська клінічна лікарня № 3, м. Київ, Україна
Національний медичний університет ім. О.О. Богомольця, м. Київ, Україна
Івано-Франківський національний медичний університет, м. Івано-Франківськ, Україна
Криворізька міська лікарня № 5 ДОР, м. Кривий Ріг, Україна



Categories:

Traumatology and orthopedics



Sections:

Specialist manual
Summary
Проведено аналіз застосування сучасних методик остеосинтезу перипротезних переломів стегнової кістки. Розглянуто 27 різноманітних випадків із цими переломами. Підкреслена важливість Ванкуверської класифікації для кращого розуміння біомеханічної ситуації. Наведено 6 цікавих випадків остеосинтезу перипротезних переломів, що мають науковий і практичний інтерес.
Подвергнуты анализу современные методики остеосинтеза перипротезных переломов. Рассмотрены 27 разнообразных случаев с этими переломами. Подчеркнута важность Ванкуверской классификации для лучшего понимания биомеханической ситуации. Приведены 6 интересных случаев остеосинтеза перипротезных переломов, представляющих научный и практический интерес.
Background. One of the complications of endoprosthetic replacement is periprosthetic femur fracture (PFF). The last one occurs intraoperatively during endoprosthesis revision (ER) and at any time after surgery. Currently, there is no consensus in choosing the optimal treatment method in periprosthetic fractures and means for its implementation. Most often, osteosynthesis is performed using various plates and cerclages. The purpose of the work was to analyze the current trends in PFF treatment and means for their implementation. Materials and methods. We conducted a detailed biomechanical analysis of situations that arise during PFF. Published data were studied, as well as 27 cases with such a problem. In 4 patients, PFF had appeared during the initial arthroplasty, after surgery 9 patients had broken femur, during ER — 8 and after it — 6 patients. The most positive results were obtained, when the method of treatment was determined on the basis of the Vancouver classification of PFF. It is important to evaluate the interaction of femur fragments and prosthetic legs and the processes that take place at this junction. Proper understanding of the biomechanical results of this interaction dynamics allows getting a good result in most cases. Results. The most common method of surgical PFF treatment is fragment fixation by different cerclages: wire, cable, band, cerclages with platforms. Indication for this method of treatment is type B2 fracture, when the leg is unstable, and bone has good quality. It is also indicated at intraoperative fractures type A and B1. Application of cerclages without platforms leads to suppuration, aseptic instability of leg, femur fracture. We observed this complication in 3 cases. Better results in B2, B3 fractures are provided by combined osteosynthesis with gear plate, which stabilizes fragments of the femur by band cerclages. Conclusions. PFF treatment is a complex social and medical problem. It is associated with a variety of complex biomechanical and clinical situations that arise in this case. Only a detailed analysis and selection of the most optimal methods and fixation device can provide positive results. This issue requires further comprehensive investigation.
Keywords
перипротезні переломи стегнової кістки; методики оперативного лікування
перипротезные переломы бедренной кости кости; методики оперативного лечения
periprosthetic femur fractures; methods of surgical treatment
For the full article you need to subscribe to the magazine.
Bibliography
1. Ахтямов И.Ф. Ошибки и осложнения эндопротезирования тазобедренного сустава: рук-во для врачей / И.Ф. Ахтямов, И.И. Кузьмин. — Казань: Центр оперативной печати, 2006. — 328 с.
2. Загородний Н.В. Эндопротезирование при повреждениях и заболеваниях тазобедренного сустава: Дис… д-ра мед. наук / Н.В. Загородний. — М., 1998. — 406 с.
3. Перипротезні переломи: структура та чинники виникнення / Г.В. Гайко, О.В. Калашников. О.М. Сулима, Т.В. Нізалов, Р.А. Козак, О.А. Галузинський, П.С. Черняк // Травма. — 2014. — Т. 15, № 3. — С. 99-101.
4. Современные подходы к лечению перипротезных переломов бедра / В.В. Ключевский, В.В. Даниляк, С.И. Гильфанов, М.В. Белов, Вас.В. Ключевский // Гений ортопедии. — 2008. — № 4. — С. 126-131.
5. Филиппенко В.А. Ошибки и осложнения при эндопротезировании тазобедренного сустава и их профилактика / В.А. Филиппенко, В.А. Танькут, С.Х. Масандика // Вестн. травматол. и ортопед. им. Н.Н. Приорова. — 1998. — № 3. — С. 37-40.
6.Челноков А.Н. Перипротезные переломы бедра с нестабильностью / А.Н. Челноков, И.М. Пивень // Гений ортопедии. — 2015. — № 4. — С. 85-89.
7. Athwal G.S. Revision total elbow arthroplasty for prosthe-tic fractures / G.S. Athwal, B.F. Morrey // J. Bone Joint Surg. Am. — 2006. — Vol. 88, № 9. — Р. 2017-2026.
8. Congenital hip disease in adults. Classification of acetabular deficiencies and operative treatment with acetabuloplasty combined with total hip arthroplasty / G. Hartofilakidis [et. al.] // J. Bone Joint Surg. — 1996. — Vol. 78-A, № 5. — P. 683-692.
9. Duncan C. Fractures of the femur after hip replacement / C. Duncan, B. A. Masri // Instr. Course Lect. — 1995. — № 44. — Р. 293-304.
10. Intraoperative periprosthetic fractures during total hip arthroplasty: evaluation and management / D. Davidson, J. Pike, D. Garbuz, C.P. Duncan, B.A. Masri // J. Bone Joint Surg. Am. — 2008. — Vol. 90, № 9. — Р. 2000-2012.
11. Lewallen D.G. Femoral Fractures Associated with Hip Arthroplasty / D.G. Lewallen, D.J. Berry // Reconstructive Surgery of the joint. — 1993. — Vol. 2, № 5. — P. 1273-1288.
12. Moran M.C. Treatment of periprosthetic fractures around total hip arthroplasty with an extensively coated femoral component / M.C. Moran // Journal of Arthroplasty. — 1996. — Vol. 11, № 8. — Р. 981-988.
13. Ochsner P.E. Total Hip Replacement / P.E. Ochsner. — Springer-Verlag, 2002. — 243 p.
Similar articles

Authors:
Білінський П.І., Андрейчин В.А., Дроботун О.В. Національна медична академія післядипломної освіти ім. П.Л. Шупика, м. Київ, Україна Івано-Франківський національний медичний університет, м. Івано-Франківськ, Україна Національний медичний університет ім. О.О. Богомольця, м. Київ, Україна


"Тrauma" Том 18, №3, 2017
Date: 2017.07.12
Categories: Traumatology and orthopedics
Sections: Specialist manual


Authors: Білінський П.І.(1), Андрейчин В.А.(2), Дроботун О.В.(3)
(1) — Національна медична академія післядипломної освіти ім. П.Л. Шупика, м. Київ, Україна
(2) — Івано-Франківський національний медичний університет, м. Івано-Франківськ, Україна
(3) — Національний медичний університет ім. О.О. Богомольця, м. Київ, Україна
"Тrauma" Том 19, №1, 2018
Date: 2018.04.17
Categories: Traumatology and orthopedics
Sections: Clinical researches


Authors:
Герцен Г.І., Штонда Д.В. - Національна медична академія післядипломної освіти імені П.Л. Шупика, м. Київ


"Тrauma" Том 14, №5, 2013
Date: 2013.12.14
Categories: Traumatology and orthopedics
Sections: Clinical researches


Authors:
Герцен Г.І., Штонда Д.В., Рижак І.В., Шапошніков О.В., Ломінашвілі Н. - Національна медична академія післядипломної освіти імені П.Л. Шупика, м. Київ


"Тrauma" Том 15, №3, 2014
Date: 2014.07.09
Categories: Traumatology and orthopedics
Sections: Clinical researches