"Тrauma" Том 18, №2, 2017
Modern methods of surgical treatment of victims with limb gunshot injuries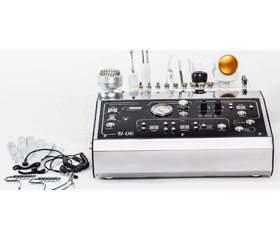 Authors:

Бур'янов О.А.(1), Ярмолюк Ю.О.(2), Лось Д.В.(3), Вакулич М.В.(1)
(1) — Національний медичний університет імені О.О. Богомольця, м. Київ, Україна
(2) — Національний військово-медичний клінічний центр «Головний військовий клінічний госпіталь» МО України, м. Київ, Україна
(3) — Військово-медичний клінічний центр Західного регіону, м. Львів, Україна



Categories:

Traumatology and orthopedics



Sections:

Clinical researches
Summary
Подано можливості етапного лікування вогнепальних ран у 254 пацієнтів з використанням терапії негативним тиском, ультразвукової кавітації і мікробіологічного дослідження раневого вмісту. Представлено підходи в комплексному лікуванні на підставі бактеріологічних властивостей вогнепальних поранень. Аналіз результатів лікування показав, що метод комплексного лікування вогнепальних ран м'яких тканин кінцівок з використанням апарату вакуумної аспірації, ультразвукової кавітації для очищення ран, збагаченої тромбоцитами плазми, для локальної стимуляції репаративних процесів дає можливість скоротити тривалість лікування до 8 ± 2,8 дня, знизити кількість ускладнень на 30 ± 1,2 %, що дозволяє рекомендувати цей метод лікування даної патології.
Представлены возможности этапного лечения огнестрельных ран у 254 пациентов с использованием терапии отрицательным давлением, ультразвуковой кавитации и микробиологического исследования раневого содержимого. Описаны подходы к комплексному лечению на основе бактериологических свойств огнестрельных ранений. Анализ результатов лечения показал, что метод комплексного лечения огнестрельных ран мягких тканей конечностей с использованием аппарата вакуумной аспирации, ультразвуковой кавитации для очистки ран, обогащенной тромбоцитами плазмы для локальной стимуляции репаративных процессов дает возможность сократить длительность лечения до 8 ± 2,8 дня, снизить количество осложнений на 30 ± 1,2 %, что позволяет рекомендовать этот метод лечения данной патологии.
Background. The structure of sanitary losses during the antiterrorist operation shows that in the structure of gunshot injuries, injuries of the extremities occur most often (62.5 %). 35–40 % of them are accompanied by fractures, 2 % — by vascular injury, 11 % — by peripheral nerve injury, 20.8 % — by combined injuries, 2 % — by burns, the incidence of traumatic shock is 10 %. The high kinetic energy of wounding projectile (bullet, modern weapons shrapnel) leads to significant traumatic soft tissue defects of the skin, injuries of subcutaneous tissues, muscles, requiring prolonged hospital treatment for wound healing, numerous repeated surgeries, delays fracture fixation, leads to complications, such as suppuration (6–18 %), post-traumatic contractures (12 %), disability. Today, extremely urgent task is the implementation and evaluation of modern methods of the treatment for gunshot wounds. Materials and methods. The study included 254 patients (men), who were treated at the National Military Medical Clinical Center (Kyiv) and Military Medical Clinical Centre of Western Region (Lviv) in 2014–2015. The criteria for inclusion in the study were one or more wounds of the upper or lower extremities as a result of a gunshot wound. The average age of patients was 33 ± 12 years (from 21 to 45 years). All patients underwent clinical, laboratory and radiological examinations, culture from wounds to determine the flora and sensitivity to antibiotics in dynamics, microscopic examination of soft tissue wounds and computed tomography to clarify the nature of the fracture. Patients in both groups received similar treatment, but patients of the I group received additionally: negative pressure wound therapy, ultrasonic cavitation, local stimulation of reparative processes by introducing platelet-rich plasma, topical treatment of wounds (argoderm bandages with nanosilver, decasan, betadine, octenisept, gentaxan, hyaluronic acid ialuset). Results. The results of the introduction of staged treatment for gunshot wounds with modern treatments are: reduction in the average duration of wound care by 5.9 (20.9 %), of staged surgical treatments — by 3.9 (47 %), the incidence of the purulent necrotic complications decreased by 10.3 %. Conclusions. The analysis of treatment results showed that the method of comprehensive treatment for gunshot wounds of the soft tissues of the extremities using vacuum aspiration, ultrasonic cavitation for cleaning wounds, platelet-rich plasma for local stimulation of reparative processes allow to reduce treatment duration to 8.0 ± 2.8 days, to decrease the incidence of complications by 30.0 ± 1.2 % that made it possible to recommend its as the method of choice in the treatment of this disease.
Keywords
вогнепальна рана; ультразвукова кавітація; терапія негативним тиском; бактеріологічні дослідження
огнестрельная рана; ультразвуковая кавитация; терапия отрицательным давлением; бактериологические исследования
gunshot wound; ultrasound cavitation; negative pressure therapy; bacteriological researches
For the full article you need to subscribe to the magazine.
Bibliography
1. Гелашвили П.А. Адаптационные процессы в микроциркуляторных модулях скелетных мышц после гемодинамических нарушений и огнестрельного ранения: Дис… д-ра мед. наук. / П.А. Гелашвили. — Уфа, 2005. — 233 с.
2. Елоев Р.М. Современные подходы к диагностике и лечению огнестрельных ранений конечностей: Дис… канд. мед. наук / Р.М. Елоев. — М., 2010. — 97 с.
3. Зайко М.Н. Патофізіологія. — К.: ВСВ Медицина, 2014. — 752 с.
4. Заруцький Я.Л. Вказівки з військово-польової хірургії. — К.: ВСВ Медицина, 2014. — 752 с.
5. Никитин С.Р. Патогенетическое обоснование местного применения иммобилизованной лизоамидазы и антиоксидантов для лечения огнестрельных ран: Дис… канд. мед. наук / С.Р. Никитин. — М., 2005. — 92 с.
6. Панов В.В. Лечение огнестрельных ран в условиях вооруженного конфликта: Дис… канд. мед. наук / В.В. Панов. — Р.-Д., 2003. — 162 с.
7. Родивилов Б.Б. Применение аллогенных фибробластов в комплексном лечении огнестрельных ран: дис… канд. мед. Наук / Б.Б. Родивилов. — М., 2007. — 108 с.
8. Шапошников Ю.Г. Патогенез огнестрельных ран и принципы их хирургического лечения / Ю.Г. Шапошников, Б.Я. Рудаков // Хирургия. — 1986. — № 6. — С. 7-13.
9. Browner B. D., Jupiter J.B., Levine A. M. Skeletal Trauma. — 4th еdition. — Saunders, 2009. — 2784 p.
10. Suzuki T., Minehara A. Negative-pressure wound therapy over surgically closed wounds in open fractures // Journal of Orthopaedic Surgery. — 2014. — 22(1). — 30–4. — Р. 30-34.
11. Emergency war surgery NATO handbook. — Washington, 1988. — 386 p.
Similar articles

Authors:
Лоскутов О.Є.(1), Жердєв І.І.(2), Доманський А.М.(1), Король С.О.(3) - (1) ДЗ «Дніпропетровська медична академія МОЗ України», м. Дніпро, Україна; (2) КЗ «Дніпропетровська обласна лікарня ім. І.І. Мечникова», м. Дніпро, Україна; (3) Українська військово-медична академія, м. Київ, Україна


"Тrauma" Том 17, №3, 2016
Date: 2016.09.05
Categories: Traumatology and orthopedics
Sections: Specialist manual



Authors: Гур'єв С.О.(1), Танасієнко П.В.(1), Марцинковський І.П.(2)
(1) — ДЗ «Український науково-практичний центр екстреної медичної допомоги та медицини катастроф МОЗ України», м. Київ, Україна
(2) — Військово-медичний клінічний центр Центрального регіону, м. Вінниця, Україна
"Тrauma" Том 18, №5, 2017
Date: 2017.11.21
Categories: Traumatology and orthopedics
Sections: Specialist manual


Authors: Kopchak A.V., Rybak V.A., Marukhno Yu.I.
Department of Dentistry of National Medical University named after O.O. Bohomolets, Kyiv
Kyiv Regional Clinical Hospital, Center of Maxillofacial Surgery and Dentistry, Kyiv, Ukraine
"Emergency medicine" 7 (70) 2015
Date: 2016.01.20
Categories: Medicine of emergency
Sections: Specialist manual