"Тrauma" Том 18, №2, 2017
Primary arthroplasty for trochanteric fractures in elderly and senile age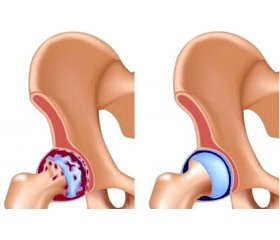 Authors:

Канзюба А.І., Климовицький В.Г., Хайло П.А., Канзюба М.А.
НДІ ТО Донецького національного медичного університету, м. Лиман, Україна
ДВНЗ «Ужгородський національний університет», м. Ужгород, Україна



Categories:

Traumatology and orthopedics



Sections:

Clinical researches
Summary
У 38 пацієнтів віком від 72 до 88 років (середній вік — 76,4 ± 2,1 року) застосовано первинну артропластику кульшового суглоба з приводу переломів вертлюжної ділянки стегнової кістки. Показання до артропластики зумовлені значним остеопорозом і обмеженими фізичними можливостями пацієнтів у зв'язку з надмірною масою тіла, наявністю дегенеративних змін у суглобах нижньої кінцівки. Терміни виконання первинної артропластики кульшового суглоба — від 3 до 9 діб після травми. Технічні особливості імплантації ніжки ендопротеза залежали від характеру перелому вертлюжної ділянки, який визначали за класифікацією АО. Розподіл пацієнтів був таким: тип А 1.2 — 4 особи; тип А 1.3 — 9; тип А 2.1 — 5; тип А 2.2 — 11; тип А 2.3 — 5; тип А 3.3 — 4. 35 осіб із числа оперованих пацієнтів були обстежені в період від 4 до 6 місяців після перенесеної первинної артропластики. Самостійно пересуватися в приміщенні з повною опорою на оперовану кінцівку за допомогою ходунка були здатні 8 пацієнтів, милиць — 4, трості або 1 милиці — 10, без сторонньої допомоги — 13.
У 38 пациентов в возрасте от 72 до 88 лет (средний возраст — 76,4 ± 2,1 года) выполнена первичная артропластика тазобедренного сустава по поводу переломов вертельной области бедренной кости. Показания к артропластике обусловлены значительным остеопорозом и ограниченными физическими возможностями пациентов в связи с повышенной массой тела, наличием дегенеративних изменений в суставах нижних конечностей. Сроки выполнения первичной артропластики тазобедренного сустава — от 3 до 9 суток после травмы. Технические особенности имплантации ножки эндопротеза зависели от характера перелома вертельной области, который определяли по классификации АО. Распределение пациентов было следующим: тип А 1.2 — 4 чел.; тип А 1.3 — 9; тип А 2.1 — 5; тип А 2.2 — 11; тип А 2.3 — 5; тип А 3.3 — 4. 35 человек из числа оперированных пациентов были обследованы в период от 4 до 6 месяцев после перенесенной артропластики. Самостоятельно передвигаться в помещении с полной опорой на оперированную конечность при помощи ходунка были способны 8 пациентов, костылей — 4, трости или одного костыля — 10, без посторонней помощи — 13.
Background. Fractures of the proximal femur are the most popular category of complex and traumatic injuries of the musculoskeletal system in elderly patients. Restricted physiological reserve in patients of this age group, as well as comorbidities contribute to long periods of patients' staying at hospital, complications and high risk associated with this significant economic costs. The most common complication is secondary displacement of fragments as a result of early load of the operated limb. In 28 % of patients infectious complications of wound healing are observed. Using of osteosynthesis is limited due to significant degenerative changes in the hip joint. Alternatively trochanteric osteosynthesis for femur fractures in elderly patients in recent years is considered a primary hip replacement. According to the authors' data, the use of arthroplasty provides early activation of patients, reduces the risk of infectious and thromboembolic complications, cardiovascular complications, completely eliminates the problem of fragments consolidation and aseptic necrosis of the femoral head. The purpose of investigation was to justify the use of arthroplasty for trochanteric fractures and describe technical features of femoral component endoprosthesis. Materials and methods. The study group included 38 patients operated during 2012–2016 in the department s of Donetsk Research and Development Institute of Traumatology and Orthopedics and clinics of the Medical Faculty of Uzhgorod National University. The patients' age ranged from 72 to 88 years (average age 76.4 ± 2.1 years). Terms of primary hip arthroplasty was 3 to 9 days after the injury. According to AO classification, 34 patients had transtrochanteric fractures: 13 — ordinary ones (31-A1); 21 patients had multifragment fractures (31-A2). Four patients were operated for multifragment transtrochanteric fractures (31-A3). Thirty-four patients underwent hemiarthroplasty unipolar endoprosthesis. Thirty-two patients underwent cement fixation implants — with a standard stem in 27 cases, with the extended stem in 5patients. In 2 patients stem without cement revision was implanted. In 4 patients total arthroplasty with cement fixation of both components of endoprosthesis was performed. Results. When planning the surgical approach and restore metaphyseal femur acceptability no damage to the muscles attached to an array of trochanter major was provided. Technical features of stem implantation depend on the transtrohanteric fracture type. We found it impossible to reposition and provisionally fix pieces of amputate muscles that are attached to trohanteric areas because they further ensure the stability of the artificial joint. In biomechanical terms it is very important to restore the medial wall of the femur at or below of the small trohanter location along which the load of most of the implanted endoprosthesis stems is distributed. Depending on the location of fragments of the trohanteric area fixing with wire in a circular cable ties was additionally performed. All patients achieved satisfactory initial fixation of the femoral component of the endoprosthesis. In the presence of involutional osteoporosis and expressed exhausted physical capacity primary arthroplasty allowed ensure early mobilization, supporting and motor function in all operated patients. Conclusions. Arthroplasty results indicate the feasibility of this type of surgery in elderly and senile osteoporosis in the presence of significant disability and to restore the static and dynamic functioning. The reconstruction of the proximal femur provides the possibility of implanting the femoral component of the implant using bone cement under conditions of individual choice of stem length.
Keywords
вертлюжна ділянка; переломи; ендопротезування
вертельная область; переломы; эндопротезирование
trochanteric area; fractures; endoprothesis
For the full article you need to subscribe to the magazine.
Bibliography
1. Бойко И.В. Первичное однополюсное цементное эндопротезирование при чрезвертельных переломах бедренной кости системой «Double Cup» у пациентов старческого возраста / И. Бойко, А. Сабсай, В. Макаров // Проблемы травматологии и остеосинтеза. — 2015. — № 1(1). — С. 43.
2. Воронцова Т.Н. Структура контингента больных с переломами проксимального отдела бедренной кости и расчет среднегодовой потребности в экстренном хирургическом лечении / Т.Н. Воронцова, А.С. Богопольская, А.Ж. Черный, С.Б. Шевченко // Травматология и ортопедия России. — 2016. — 1(79). — С. 7-20.
3. Лазарев А.Ф. Лечение пожилых пациентов при переломах проксимального отдела бедренной кости / А.Ф. Лазарев, И.Ф. Ахтямов, Э.И. Солод, М.Г. Какабадзе. — Казань: Скрипта, 2010. — 224 с.
4. Первичное эндопротезирование при переломах проксимального отдела бедренной кости / А. Слободской, А. Лежнев, И. Бадак и др. // Гений ортопедии. — 2011. — № 1. — С. 23-27.
5. Результаты первичного эндопротезирования тазобедренного сустава при переломах вертельной области бедренной кости у пациентов пожилого возраста / А. Дулаев, А. Цед, К. Усубалиев и др. // Ученые записки СПбГМУ им. акад. И.П. Павлова. — 2016. — Т. XXIII, — № 1. — С. 54-58.
6. Эндопротезирование тазобедренного сустава при чрезвертельных переломах у пациентов пожилого возраста в стационаре скорой медицинской помощи / А. Дулаев, А. Цед, И. Джусоев и др. // Скорая мед. помощь. — 2015. — Т. 16, — № 4. — С. 77-79.
7. Atypical femoral fractures: retrospective radiological study of 319 femoral fractures and presentation of clinical cases / V. Bottai, S. Giannotti, G. Dell'Osso et al. // Osteoporos Int. — 2014. — Vol. 25, — № 3. — P. 993-997.
8. Clinical and surgical approach of severe bone fragility fracture: clinical case of 4 fragility fracture in patient with heavy osteoporosis / S. Giannotti, V. Bottai, E. Pini et al. // Clin. Cases Miner. Bone Metab. — 2013. — Vol. 10, — № 1. — P. 52-55.
9. Robstad B. The rate of hip osteoarthritis in patients with proximal femoral fractures versus hop contusions / B. Robstad, F. Frihagen, L. Nordsletten // Osteoporosis int. — 2012. — 23(3). — C. 86-88.
10. Treatment of post-operative infections following proximal femoral fractures: Our institutional experience / A. Theotoridesa, T. Pollardb, A. Fishlocka et al. // Injury — Int. J. Care Injured. — 2011. — 42(5). — P. 28-34.
Similar articles

Authors:
Герцен Г.І., Штонда Д.В. - Національна медична академія післядипломної освіти імені П.Л. Шупика, м. Київ


"Тrauma" Том 14, №5, 2013
Date: 2013.12.14
Categories: Traumatology and orthopedics
Sections: Clinical researches


Authors: Бабалян В.О.(1), Карпінський М.Ю.(2), Яресько О.В.(2)
(1) — Харківська медична академія післядипломної освіти, м. Харків, Україна
(2) — ДУ «Інститут патології хребта та суглобів ім. проф. М.І. Ситенка НАМН України», м. Харків, Україна
"Тrauma" Том 19, №1, 2018
Date: 2018.04.17
Categories: Traumatology and orthopedics
Sections: Clinical researches


Authors: Бондар В.К.
Київський міський ортопедичний центр ендопротезування, хірургії та реабілітації, м. Київ, Україна
"Тrauma" Том 19, №3, 2018
Date: 2018.07.18
Categories: Traumatology and orthopedics
Sections: Specialist manual


Authors:
Герцен Г.І., Штонда Д.В., Рижак І.В., Шапошніков О.В., Ломінашвілі Н. - Національна медична академія післядипломної освіти імені П.Л. Шупика, м. Київ


"Тrauma" Том 15, №3, 2014
Date: 2014.07.09
Categories: Traumatology and orthopedics
Sections: Clinical researches