"Actual Infectology" Том 5, №2, 2017
The syndrome of bacterial overgrowth in children with chronic gastritis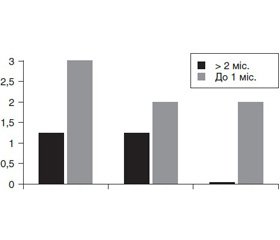 Authors:

Сорокман Т.В., Швигар Л.В., Молдован П.М.
Вищий державний заклад України «Буковинський державний медичний університет», м. Чернівці, Україна



Categories:

Infectious diseases



Sections:

Clinical researches
Summary
Актуальність. Однією з основних причин виникнення синдрому надлишкового бактеріального росту (СНБР) може бути ахлоргідрія будь-якого походження. Дані про цю проблему суперечливі, ряд дослідників заперечують зв'язок тривалого прийому інгібіторів протонної помпи (ІПП) з розвитком СНБР. Мета. Вивчення клінічних проявів та оцінювання стану мікробіоценозу верхніх відділів тонкої кишки у дітей, хворих на хронічний гастрит (ХГ) зі зниженою кислотоутворюючою функцією шлунка. Матеріали та методи. Обстежено 65 дітей, хворих на ХГ, віком 7–18 років. Методи дослідження включали: езофагогастродуоденоскопію, щиткову біопсію слизової оболонки шлунка на H. рylori, pH-метрію; ультразвукове дослідження органів черевної порожнини. Морфологічні зміни слизової оболонки оцінювали за візуально-аналоговою шкалою. Для верифікації СНБР усім пацієнтам проводився водневий дихальний тест (ВДТ) із використанням аналізатора Gastrolyzer та навантаженням лактулозою. Результати представлялися: кількістю спостережень, середніми значеннями показників, їх стандартними відхиленнями та помилками (М ± m для р < 0,05), відносними частотами (%). Результати. Серед 65 обстежених дітей, хворих на ХГ, виділено 27 осіб, у яких встановлено зниження кислотоутворюючої функції шлунка; середній показник pH становив 4,7 ± 0,4. У 17 дітей, хворих на ХГ, виявлено гастроезофагеальний рефлюкс (ГЕР). В обох групах хворих домінували симптоми діареї і метеоризму, проте в групі пацієнтів із ГЕР на тлі прийому ІПП частота і вираженість симптомів наростала зі збільшенням тривалості терапії. Встановлено, що інфекція H. рylori реєструвалася у 42 (64,6 %) серед усіх дітей, хворих на ХГ. За результатами ВДТ у більше ніж третини (44,4 %) пацієнтів виявлено СНРБ. У дітей, хворих на ХГ у поєднанні з ГЕР, позитивний ВДТ зареєстровано у 41,1 %. Відзначено, що частота виявлення СНБР у цих пацієнтів збільшується зі збільшенням тривалості прийому ІПП. Висновки. У дітей, хворих на ХГ із пониженою кислотопродукувальною функцією шлунка та у хворих дітей із ГЕР, які тривалий час отримували ІПП, відзначається висока частота скарг, пов'язаних із розвитком СНБР. Наявність СНБР у пацієнтів із ХГ і пацієнтів, які тривалий час отримували ІПП, підтверджується результатами ВДТ (44,4 і 41,1 % відповідно).
Актуальность. Одной из основных причин возникновения синдрома избыточного бактериального роста (СИБР) может быть ахлоргидрия любого происхождения. Данные об этой проблеме противоречивы, ряд исследователей отрицают связь длительного приема ингибиторов протонной помпы (ИПП) с развитием СИБР. Цель. Изучение клинических проявлений и оценивание состояния микробиоценоза верхних отделов тонкой кишки у детей с хроническим гастритом (ХГ) и пониженной кислотообразующей функцией желудка. Материалы и методы. Обследовано 65 детей с ХГ в возрасте 7–18 лет. Методы исследования включали: эзофагогастродуоденоскопию, щитковую биопсию слизистой оболочки желудка на H. рylori, pH-метрию; ультразвуковое исследование органов брюшной полости. Морфологические изменения слизистой оболочки оценивали по визуально-аналоговой шкале. Для верификации СИБР всем пациентам проводился водородный дыхательный тест (ВДТ) с использованием анализатора Gastrolyzer и нагрузкой лактулозой. Результаты представлялись: количеством наблюдений, средними значениями показателей, их стандартными отклонениями и ошибками (М ± m для р < 0,05), относительными частотами (%). Результаты. Среди 65 обследованных детей с ХГ выделены 27 человек, у которых установлено снижение кислотообразующей функции желудка; средний показатель pH составлял 4,7 ± 0,4. У 17 детей с ХГ обнаружен гастро­эзофагеальный рефлюкс (ГЭР). В обеих группах больных доминировали симптомы диареи и метеоризма, однако в группе пациентов с ГЭР на фоне приема ИПП частота и выраженность симптомов нарастала с увеличением продолжительности терапии. По результатам исследования установлено, что инфекция H. рylori регистрировалась у 42 (64,6 %) из всех детей с ХГ. По результатам ВДТ у более чем трети (44,4 %) пациентов выявлен СИРБ. У детей с ХГ в сочетании с ГЭР положительный ВДТ зарегистрирован в 41,1 %. Отмечено, что частота выявления СИБР у этих пациентов увеличивается с увеличением продолжительности приема ИПП. Выводы. У детей с ХГ и пониженной кислотообразующей функцией желудка и у больных детей с ГЭР, длительно получавших ИПП, отмечается высокая частота жалоб, связанных с развитием СИБР. Наличие СИБР у пациентов с ХГ и пациентов, длительно получавших ИПП, подтверждается результатами ВДТ (44,4 и 41,1 % соответственно).
Background. Achlorhydria of any origin may be one of the main causes of bacterial overgrowth syndrome (BOS). The data on this controversial issue, some researchers argue the association of long-term use of proton pump inhibitors (PPI) with BOS development. The purpose was to study the clinical manifestations and the state of microbiota of the upper intestine in children with chronic gastritis and reduced gastric function. Materials and methods. The study involved 65 children with chronic gastritis (CG), aged 7–18 years. The study methods included esophasogastroduodenoscopy, biopsy of the gastric mucosa for H. pylori, pH-meter; ultrasound investigation of the abdominal cavity. Mucosa morphological changes were assessed by visual analogue scale. A hydrogen breath test (HBT) using the analyzer Gastrolyzer load lactulose was performed in all patients in order to verify BOS. The results were presented by the number of observations mean values and their standard deviation and error (M ± m for p < 0.05), relative frequency (%). Results. Of the 65 examined children suffering from CG, 27 persons had hypoacidy hastritis, the average pH was 4.7 ± 0.4. Seventeen children with CG had gastroesophageal reflux (GER). In both groups of patients symptoms of diarrhea and flatulence dominated, but in patients with GER receiving PPIs prevalence and severity of symptoms deteriorated with increasing duration of therapy. The study found that H. pylori infection was registered in 42 (64.6 %) of all children with CG. The HBT results demonstrated that more than a third (44.4 %) patients had BOS. In children with CG combined with GER positive HBT was registered in 41.1 % cases. The BOS incidence in these patients was found to enhance with increasing duration of PPI intake. Conclusions. A high incidence of complaints related to the BOS development was found in children with hypoa­cid CG and in patients with GER treated with PPIs. BOS in patients with CG and patients who have been treated with PPIs, was verified by HBT (44.4 % and 41.1 %, respectively).
Keywords
діти; хронічний гастрит; синдром надлишкового бактеріального росту
дети; хронический гастрит; синдром избыточного бактериального роста
children; chronic gastritis; bacterial overgrowth syndrome
For the full article you need to subscribe to the magazine.
Bibliography
1. Gill SR, Pop M, Deboy RT, Eckburg PB, Turnbaugh PJ, Samuel BS, Gordon JI, Relman DA, Fraser-Liggett CM, Nelson KE. Metagenomic analysis of the human distal gut microbiome. Science. 2006 Jun 2;312(5778):1355-9. doi:10.1126/science.1124234.
2. Tremaroli V, Backhed F. Functional interactions between the gut microbiota and host metabolism. Nature. 2012;489(7):242-9. doi: 10.1038/nature11552.
3. Sanders ME, Guarner F, Guerrant R, Holt PR, Quigley EM, Sartor RB, et al. An update on the use and investigation of probiotics in health and disease. Gut 2013;62(5):787-96. doi: 10.1136/gutjnl-2012-302504.
4. Lozupone CA, Stombaugh J, Gonzalez A, Ackermann G, Wendel D, Vázquez-Baeza Y, et al. Meta-analyses of studies of the human microbiota. Genome Res 2013 Oct;23(10):1704-14. doi: 10.1101/gr.151803.112.
5. Plotnykova EYu, Zakharova Yu. Diagnosis and treatment of the syndrome of bacterial overgrowth. Russkyy medytsynskyy zhurnal. 2015;13:767. (In Russian).
6. Spiegel BM, Chey WD, Chang L. Questioning the bacterial overgrowth hypothesis of irritable bowel syndrome: an epidemiologic and evolutionary perspective. Clin. Gastroenterol Hepatol. 2011;9(6):461-9. doi: 10.1016/j.cgh.2011.02.030.
7. Ershova IB, Mochalova AA, Osipova TF, Rezchikov VA. Topical issues of joint use of antibacterial drugs and probiotics. Aktualnaya infektologiya. 2015;3(8):25-30. (In Russian). doi: 10.22141/2312-413x.3.08.2015.78696.
8. Ratuapli SK, Ellington TG, O'Neill MT, Umar SB, Harris LA, Foxx-Orenstein AE, Burdick GE, Dibaise JK, Lacy BE, Crowell MD. Proton pump inhibitor therapy use does not predispose to small intestinal bacterial overgrowth. Am J Gastroenterol. 2012;107(5):730-5. doi: 10.1038/ajg.2012.4.
9. Lombardo L, Foti M, Ruggia O, Chiecchio A. Increased incidence of small intestinal bacterial overgrowth during proton pump inhibitor therapy. Clin Gastroenterol Hepatol. 2010;8(6):504-8. doi: 10.1016/j.cgh.2009.12.022.