"Тrauma" Том 18, №3, 2017
The use of kinesitherapy in the rehabilitation of the children with infantile cerebral palsy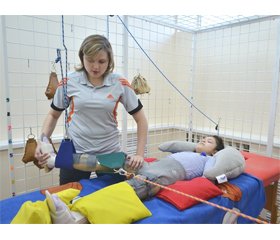 Summary
В роботі подані результати використання тренажерних пристроїв Гросса і МОТОmed gracile12 в реабілітації дітей із різними формами дитячого церебрального паралічу (ДЦП), формуванні й розвитку основних рухових навичок, підвищенні фізичної підготовленості та витривалості. Відновлювальне лікування дитини з ДЦП проводилось з урахуванням індивідуальних можливостей і потреб. У реабілітаційній програмі використовували метод чергування занять на тренажерах. Терапія базувалася на ігрових формах. Реабілітація адаптувалась до індивідуального рівня розвитку дитини, робився акцент на її сильні сторони та потреби. Використовувалися поєднані режими пасивного, активного й комбінованого тренування. Завдяки впровадженню методики використання тренажерних пристроїв Гросса і МОТОmed gracile12 в комплексну реабілітацію дітей із ДЦП збільшився загальний рівень рухової активності та маніпулятивної діяльності, досягнуті результати зберігалися тривалий час.
В работе представлены результаты использования тренажерных устройств Гросса и МОТОmed gracile12 в реабилитации детей с различными формами детского церебрального паралича (ДЦП), формировании и развитии основных двигательных навыков, повышении физической подготовленности и выносливости. Восстановительное лечение ребенка с ДЦП проводилось с учетом индивидуальных возможностей и потребностей. В реабилитационной программе использовали метод чередования занятий на тренажерах. Терапия базировалась на игровых формах. Реабилитация адаптировалась к индивидуальному уровню развития ребенка, делался акцент на его сильные стороны и потребности. Использовались сочетанные режимы пассивной, активной и комбинированной тренировки. Благодаря внедрению методики использования тренажерных устройств Гросса и МОТОmed gracile12 в комплексную реабилитацию у пациентов увеличился объем активных движений и манипулятивной деятельности, достигнутые результаты сохранялись длительное время.
Infantile cerebral palsy (ICP) is a severe illness that is associated with perinatal cenhtral nervous system damage. The problem of cerebral palsy is very relevant for our country. Prevalence of ICP in the world in recent years is dramatically increasing. This disease is not a progressive condition that persists throughout the person's life, and is the cause of the formation of musculoskeletal system pathology of various degrees leading to the development of pathological structures in the central nervous system, as well as to the disruption of vital internal organs functioning. With well-timed diagnosis, the earliest possible and long-term recovery treatment of infantile cerebral palsy, it is quite possible to achieve considerable improvement of the overall condition, and consequently improve the quality of life and socialization of the child. Single standardized method for the treatment of this severe disease does not exist. In recent years, a firm place of comprehensive rehabilitation system for children with various forms of infantile cerebral palsy and paresis of the upper and lower extremities belongs to kinesitherapy using robotic simulators. Kinesitherapy is a scientifically based set of exercises aimed at increasing of overall strength, endurance and mobility. Correctly selected movements and poses could have a beneficial effect on the functioning of cerebral structures affected by cerebral palsy. This works presents the results of Gross training and MOTOmed gracile12 devices use in the rehabilitation of children with various forms of cerebral palsy, formation and development of basic motor skills, increasing physical fitness and endurance. Rehabilitation treatment of the child with cerebral palsy was carried out taking into account individual opportunities and needs. Rehabilitation program used the method of alternating training on simulators. Therapy was based on game forms. Rehabilitation was adapted to the individual level of children's development underlying their strengths and needs. Combined modes of passive, active and combined training were used. Due to introduction of Gross training devices and MOTOmed gracile12 use to the comprehensive rehabilitation of children with cerebral palsy, the overall level of motor activity and manipulative activity increased, and achieved results lasted for a long time.
Keywords
дитячий церебральний параліч; реабілітація; кінезотерапія; діти

дети; детский церебральный паралич; реабилитация; кинезотерапия
children; infantile cerebral palsy; rehabilitation; kinesitherapy
For the full article you need to subscribe to the magazine.
Bibliography
1. Губертус фон Фосс. Дитячий церебральний паралiч: панорама лiкувальних можливостей / Губертус фон Фосс // Phisiotherapiа. — 2006. — № 5. — С. 5-8.
2. Добрянська М. Сучасна психоневрологiчна допомога дiтям: погляд на проблему / Добрянська М. // Нейро News. — 2010. — № 5/2. — С. 4-7.
3. Заикина Г.Т. Обзор методов физической реабилитации детей с церебральным параличом / Заикина Г.Т. // Педагогико-психологические и медико-биологические проблемы физической культуры и спорта. — 2006. — Т. 1, № 1. — С. 156-162.
4. Зиновьева О.Е. Состояние скелетных мышц при церебральной спастичности / Зиновьева О.Е., Шенкман Б.С., Катушкина Э.А. // Неврологический журнал. — 2008. — Т. 13, № 6. — С. 42-48.
5. Иванова Г.Е. Применение аппарата МОТОмед фирмы RECK Medizintechnik (Германия) в клинической практике / Иванова Г.Е., Ковряжкина Е.А. // Медицинский алфавит. Больница. — 2009. — № 1. — С. 4-9.
6. Качмар О.О. Надiйнiсть української версiї системи класифiкацiї великих моторних функцiй / Качмар О.О., Козявкiн В.І., Гордiєвич М.С. // Мiжнародний неврологiчний журнал. — 2010. — № 5(357). — С. 77-81.
7. Моiсеєнко Р.А. Окремi показники дiяльностi дитячої неврологiчної служби / Моiсеєнко Р.А., Терещенко А.В. // Приложение к журналу «Нейро News»: Мат-лы Международного и IX Украинского конгресса детских неврологов «Диагностика, лечение, реабилитация и профилактика заболеваний нервной системы у детей». — К., 2009. — С. 61.
8. Сокрут В.Н. Медицинская реабилитация: учебник для студентов и врачей / Сокрут В.Н., Яблучанский Н.И. — Славянск: Ваш имидж, 2015. — С. 119-155.
9. Shen M. Effect of Motomed Gracile on Function Lower Limbs in Children with Spastic Cerebral Palsy / Shen M., Li Z.P., Cui Y. // Chin. J. Rehabil. Theory and Practice. — 2009. — № 9. — 15ff.
Similar articles

Authors:
Балычевцева И.В., Висягин В.Б., Щур Н.В. - Донецкий национальный медицинский университет им. М. Горького


"Child`s Health" 4 (55) 2014
Date: 2014.08.06
Categories: Pediatrics/Neonatology
Sections: Specialist manual


Authors:
Козявкин В.И., Лисович В.И., Кушнир А.Д., Качмар О.А. Международная клиника восстановительного лечения, г. Трускавец, Украина


International neurological journal №8 (102), 2018
Date: 2019.01.15
Categories: Neurology
Sections: Clinical researches