"Child`s Health" Том 12, №4, 2017
The role of genetic nephropathies in the formation of chronic renal failure in children (a clinical observation of a child with acrorenal syndrome)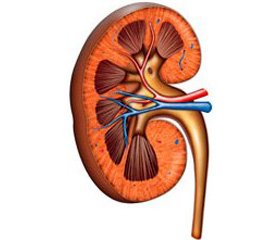 Authors:

Гончарь М.А.(1), Сенаторова А.С.(1), Муратов Г.Р.(1, 2), Омельченко Е.В.(1), Галдина И.М.(1, 2), Пушкарь Е.М.(2), Яблонская Н.Н.(2), Колибаева Т.Ф.(2), Хомовская А.А.(1)
1Харьковский национальный медицинский университет, г. Харьков, Украина
2КУЗ «Областная детская клиническая больница», г. Харьков, Украина



Categories:

Pediatrics/Neonatology



Sections:

Specialist manual
Summary
У статті автори аналізують дані літератури, а також результати власного багаторічного досвіду діагностики генетично детермінованих захворювань нирок, що супроводжувалися розвитком хронічної ниркової недостатності. Викладено основні причини захворювань, принципи їх діагностики та лікування. Наведено клінічне спостереження за пацієнтом з акроренальним синдромом, ускладненим розвитком хронічної ниркової недостатності.
В статье авторы анализируют данные литературы, а также результаты собственного многолетнего опыта диагностики генетически детерминированных заболеваний почек, сопровождавшихся развитием хронической почечной недостаточности. Изложены основные причины заболеваний, принципы их диагностики и лечения. Приведено клиническое наблюдение пациента с акроренальным синдромом, осложнившимся развитием хронической почечной недостаточности.
In the article, the authors analyze the literature, as well as the results of their own long-term experience in the diagnosis of genetically determined renal diseases accompanied by the development of chronic renal failure. The main causes of diseases, the principles of their diagnosis and treatment were outlined. Clinical observation of a patient with acrorenal syndrome with complicated development of chronic renal failure is given.
Keywords
генетичні нефропатії; хронічна ниркова недостатність; діти; гемодіаліз; акроренальний синдром
генетические нефропатии; хроническая почечная недостаточность; дети; гемодиализ; акроренальный синдром
genetic nephropathies; chronic renal failure; children; hemodialysis; acrorenal syndrome
For the full article you need to subscribe to the magazine.
Bibliography
1. Riabov SI, editor. Nefrologija. Rukovodstvo dlja vrachej [Nephrology. Guidelines for physicians]. Vol. 2, Pochechnaja nedostatochnost [Renal insufficiency]. Saint-Petersburg: SpecLit; 2013. 232 p. (In Russian).
2. Shilov EM, Smirnov AV, Kozlovskaya NL, editors. Nefrologija. Klinicheskie rekomendacii [Nephrology. Clinical guideleines]. Moscow: GEOTAR-Media; 2016. 816 p. (In Russian).
3. Levey AS, de Jong PE, Сoresh J, et al. The definition, classification and prognosis of chronic kidney disease: a KDIGO Controversies Conference report. Kidney Int. 2010 Jul;80(1):17-28. PMID: 21150873. doi: 10.1038/ki.2010.483.
4. Harambat J, Van Stralen KJ, Kim JJ, Tizard EJ. Epidemiology of chronic kidney disease in children. Pediatr Nephrol. 2012;27(3):363-73. PMID: 21713524. PMCID: PMC3264851. doi: 10.1007/s00467-011-1939-1.
5. U.S. Renal Data System (USRDS) 2010. Annual Data Report: Atlas of Chronic Kidney Disease and End-Stage Renal Disease in the United States. Bethesda, Md: National Institutes of Health, national Institute of Diabetes and Digestion Kidney Disease. 2010;1.
6. Daminova MA. Chronic renal diseases in children: etiology, classification and factors for progression. Vestnik sovremennoj klinicheskoj mediciny. 2016;9(2):36-41. (In Russian). doi: 10.20969/VSKM.2016.9(2).36-41.
7. Whyte DA, Fine RN. Chronic Kidney Disease in Children. Pediatr Rev. 2008 Oct;29(10):335-41. doi: 10.1542/pir.29-10-335.
8. Blackeley S. Renal failure and replacement therapies (Competency-based critical care). Begachev AV, Stetsiuk EA, editors, translators. Moscow: Vidar; 2013. 160 p. (In Russian).
9. Hildebrandt F. Genetic kidney diseases. Lancet. 2010 Apr 10; 375(9722):1287–1295. doi: 10.1016/S0140-6736(10)60236-X.
10. Vyalkova AA, Zorin IV, Gordienko LM, Meshcheryakova AI, Egorochkina MS, Savelyeva EV. Problems of diagnosis of chronic kidney disease in children. Prakticheskaja medicina. 2013;6(75):72-7. (In Russian).
11. Sheiman DA. Patofiziologija pochki [Kidney Pathophysiology]. Moscow: Binom; 2015. 206 p. (In Russian).
12. Deltas C, Pierides A, Voskarides K. The role of molecular genetics in diagnosing familial hematuria. Pediat Nephrol. 2012 Aug;27(8):1221-31. doi: 10.1007%2Fs00467-011-1935-5.
13. Detskaja nefrologija: Rukovodstvo dlja vrachej [Pediatric Nephrology: Guidelines for Physocians]. Ignatova MS, editor. 3rd ed. Moscow: MIA; 2011. 696 p. (In Russian).
14. Prakticheskoe rukovodstvo po detskim boleznjam [Practical guidelines for childhood diseases management]. Vol. 6, Nefrologija detskogo vozrasta [Pediatric Nephrology]. Mukhina YuG, Belmer SV, Osmanov IM, Dlin VV, Chugunova OL, editors. Moscow: Medpraktika-M; 2010. 736 p. (In Russian).
15. Miltényi M, Balogh L, Derte Z, et al. A new variant of the acrorenal syndrome associated with bilateral oligomeganefronic hypoplasia. European journal of Pediatrics. 1984 Apr;142(1):40-3. PMID: 6714259.
16. Miltényi M, Czeizel AE, Balogh L, Detre Z. Autosomal recessive acrorenal syndrome. Am J Med Genet. 1992 Jul;43(5):789-90. PMID: 1344975. doi: 10.1002/ajmg.1320430506.
Similar articles


Authors:
Babenko Z.V. - City clinical hospital № 10, Odessa


"Kidneys" 1 (15) 2016
Date: 2016.03.11
Categories: Nephrology
Sections: Specialist manual


Authors:
Корж А.Н. — Харьковская медицинская академия последипломного образования, кафедра общей практики — семейной медицины


"Kidneys" 1 (11) 2015
Date: 2015.06.02
Categories: Nephrology
Sections: Specialist manual