Ukrainian journal of surgery 2 (33) 2017
Ultrasound aspects in the diagnosis of complicated forms of acute pancreatitis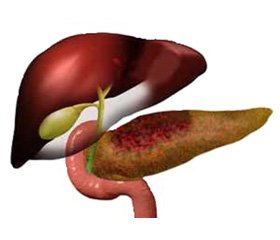 Authors:

Яремчук А.М., Жариков С.О., Пицентий Е.С., Девнозашвили М.Э.
Донецкий национальный медицинский университет, г. Лиман, Украина



Categories:

Surgery



Sections:

Clinical researches
Summary
Гострий панкреатит є однією з актуальних патологій травного тракту. Захворюваність в Україні становить 6,7 випадку на 10 000 населення. Дане захворювання посідає друге місце за поширеністю серед усіх гострих хірургічних патологій органів черевної порожнини і поступається лише гострому апендициту. В основу нашої роботи покладено аналіз діагностики й лікування 85 пацієнтів із гострим панкреатитом, які перебували на стаціонарному лікуванні в МКЛ № 1 м. Краматорська. Були визначені форми й сонографічні аспекти ускладнень гострого панкреатиту.
Острый панкреатит является одной из актуальных патологий пищеварительного тракта. Заболеваемость в Украине составляет 6,7 случая на 10 000 населения. Данное заболевание занимает второе место по распространенности среди всех острых хирургических патологий органов брюшной полости и уступает лишь острому аппендициту. В основу нашей работы положен анализ диагностики и лечения 85 пациентов с острым панкреатитом, которые находились на стационарном лечении в ГКБ № 1 г. Краматорска. Были определены формы и сонографические аспекты осложнений острого панкреатита.
Acute pancreatitis is one of the important pathologies of the digestive tract. The incidence in Ukraine is 6.7 cases per 10,000 population. This disease ranks second among all acute surgical disea­ses of the abdominal cavity, which incidence is second only to acute appendicitis. Our work is based on the analysis of the diagnosis and treatment of 85patients with acute pancreatitis, who were hospitalized at the city hospital of Kramatorsk. Acute edematous pancreatitis was detected in 15 (17.4 %) patients, acute destructive pancreatitis — in 70 (82.6 %) persons.
Keywords
гострий панкреатит; ультразвукова діагностика
острый панкреатит; ультразвуковая диагностика
acute pancreatitis; ultrasound diagnosis
For the full article you need to subscribe to the magazine.
Bibliography
1. Савельев В.С. Роль прокальцитонинового теста в диагностике и оценке тяжести инфицированных форм панкреонекроза // Хирургия. — 2001. — № 4. — С. 44-49.
2. Филин В.И. Неотложная панкреатология. — СПб., 1994.
3. Конькова М.В. Диагностическая и интервенционная сонография в неотложной абдоминальной хирургии. — Донецк: Новый мир, 2005. — 300 с.
4. Абдулаев Р.Я., Ультрасонография / Р.Я. Абдулаев, Т.С. Головко. — Харьков: Нове слово, 2009. — 180 с.
5. Красильников Д.М. Острый панкреатит: Учебно-методическое пособие. — Казань, 2011. — 39 с.
6. Губергриц Н.Б. Клиническая панкреатология / Н.Б. Губергриц, Т.Н. Христич. — Донецк: Лебедь, 2000. — 416 с.
7. Савельев В.С. Панкреонекрозы / В.С. Савельев, М.И. Филимонов, С.З. Бурневич. — М.: МИА, 2008. — 264 с.