"Actual Infectology" Том 5, №4, 2017
Epidemiological features of diarrheal infections in Ukraine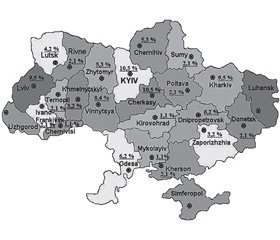 Summary
Тяжкість інфекційного процесу при гострих кишкових інфекціях у сучасних умовах в Україні вивчалася згідно з офіційними статистичними звітами Міністерства охорони здоров'я України з використанням описових й аналітичних методів епідеміологічних досліджень. Установлено, що епідеміологічна ситуація із захворюваності на гострі кишкові інфекції несприятлива. Найвищі показники були зареєстровані на адміністративних територіях, прилеглих до Чорного й Азовського морів, а також у Харківській області. У нозологічній структурі переважають гострі кишкові інфекції невідомої етіології і ті з них, що викликані вірусами й умовно-патогенними мікроорганізмами. Епідеміологічна ситуація з гострих кишкових інфекцій ускладнюється спалахами, що найчастіше викликаються сальмонелою і виникають на підприємствах громадського харчування.
Тяжесть инфекционного процесса при острых кишечных инфекциях в современных условиях в Украине изучалась согласно официальным статистическим отчетам Министерства здравоохранения Украины с использованием описательных и аналитических методов эпидемиологических исследований. Установлено, что эпидемиологическая ситуация по заболеваемости острыми кишечными инфекциями неблагоприятна. Самые высокие показатели были зарегистрированы на административных территориях, прилегающих к Черному и Азовскому морям, а также в Харьковской области. В нозологической структуре преобладают острые кишечные инфекции неизвестной этиологии и те из них, которые вызваны вирусами и условно-патогенными микроорганизмами. Эпидемиологическая ситуация по острым кишечным инфекциям осложняется вспышками, чаще всего вызываемыми сальмонеллой и возникающими на предприятиях общественного питания.
According to the official statistical reports of the Ministry of Health in Ukraine using descriptive and analytical methods of epidemiological researches, epidemic process intensity in acute intestinal infections under the current conditions in Ukraine has been studied. It was found that epidemiological situation of acute intestinal infection incidence is unfavourable. The highest rates were registered in the administrative territories adjacent to the Black and Azov Sea as well as in Kharkiv region. Acute intestinal infections of unknown etiology and those caused by viruses and opportunistic pathogens prevail in the nosological structure. Epidemiological situation of acute intestinal infections becomes more complicated due to cases of outbreaks that are more often caused by salmonella and occur in public food facilities.
Keywords
гострі кишкові інфекції; частота; сальмонельоз; спалахи
острые кишечные инфекции; частота; сальмонеллез; вспышки
acute intestinal infections; incidence; salmonellosis; outbreaks
For the full article you need to subscribe to the magazine.
Bibliography
1. World Health Organization. Diarrhoeal disease: fact sheet 330. Available from http://www.who.int/mediacentre/factsheets/fs330/en/
2. Hu Y, Gui L, Chang J, Liu J, et al. The incidence of infants with rotavirus enteritis combined with lactose intolerance. Pak J Pharm Sci. 2016 Jan;29(1 Suppl):321-3. PMID: 27005498.
3. Malysh NG, Doan SI, Holodilo EN, Chemych ON, Poddubnaya AI. Nosological structure of acute intestinal infections, endo–genous risk factors. Immunopatologiya, allergologiya, infektologiya. 2015;3:40-46. doi: 10.14427/jipai.2015.3.40.
4. Lal A, Baker MG, French NP, Dufour M, Hales S. The epidemiology of human salmonellosis in New Zealand, 1997- 2008. Epidemiol Infect. 2012 Sep;140(9):1685-94. doi: 10.1017/S0950268811002470.
5. World Health Organization. Salmonella (non-typhoidal): fact sheet 139. Available from http://www.who.int/mediacentre/factsheets/fs139/en/. Updated: Aug, 2013.
6. Jackowska T, Pawlik K. Prevention of nosocomial infections in pediatric ward-own experiences. Dev Period Med. 2015 Apr-Jun;19(2):225-34. PMID: 26384127. (in Polish)
7. Martyinova GP, Bogvilene YaA, Saybel IV, Vaytsel EV. Clinical and epidemiological characteristics of iersiniosis infection in Krasnoyarsk children. Sibirskoe meditsinskoe obozrenie. 2012;4(76):66-69.
8. Lebedkova NV. Long-term dynamics of morbidity of infections caused by y enterocolitica and y pseudotuberculosis in belarus from 1996 to 2011 years. Meditsinskiy zhurnal. 2012;1(39):57-59.