"Actual Infectology" Том 5, №4, 2017
Modern possibilities for the diagnosis of lymphadenopathy in children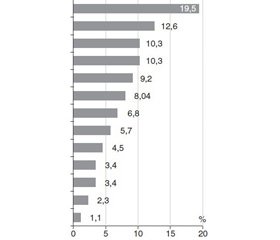 Authors:

Ходак Л.А.(1), Браилко В.И.(1), Ходак А.С.(2), Лаврик В.П.(3)
(1) — Харьковская медицинская академия последипломного образования, г. Харьков, Украина
(2) — Харьковский национальный медицинский университет, г. Харьков, Украина
(3) — Институт медицинской радиологии им. С.П. Григорьева Национальной академии медицинских наук Украины, г. Харьков, Украина



Categories:

Infectious diseases



Sections:

Clinical researches
Summary
На даний час питання диференціальної діагностики лімфаденопатій у дітей стають особливо актуальними. Це обумовлено тенденцією до зростання лімфаденопатій різної етіології. Встановлено, що диференціальна діагностика лімфаденопатій заснована на оцінці клініко-анамнестичних, гематологічних, імунологічних, серологічних, інструментальних (ультразвукове дослідження, комп'ютерна томографія), гістологічних та іммуногістологічних даних біопсійного матеріалу лімфовузлів. Проведене дослідження у 87 дітей віком від 4 до 18 років, які звернулися до обласної дитячої інфекційної клінічної лікарні, показало, що у 68 (78,7 %) хворих лімфаденопатія була проявом інфекційних або паразитарних захворювань. Переважали вірусні агенти, найбільш часто відзначалися вірусна інфекція Епштейна — Барр (19,8 %) і змішана герпесвірусна інфекція (12,6 %). У 7 (8,04 %) хворих збільшення лімфовузлів виявилося результатом онкологічних захворювань (4 — лімфома Ходжкіна, 3 — неходжкінська лімфома). При лімфаденопатії невстановленої етіології біопсія лімфовузла з наступним морфологічним або імуногістологічним дослідженням є вирішальною в постановці остаточного діагнозу.
В настоящее время вопросы дифференциальной диагностики лимфаденопатий у детей становятся особенно актуальными. Это обусловлено тенденцией к росту лимфаденопатий различной этиологии. Установлено, что дифференциальная диагностика лимфаденопатий основана на оценке клинико-анамнестических, гематологических, иммунологических, серологических, инструментальных (ультразвуковое исследование, компьютерная томография), гистологических и иммуногистологических данных биопсийного материала лимфоузлов. Проведенное исследование у 87 детей в возрасте от 4 до 18 лет, обратившихся в областную детскую инфекционную клиническую больницу, показало, что у 68 (78,7 %) больных лимфаденопатия была проявлением инфекционных или паразитарных заболеваний. Преобладали вирусные агенты, наиболее часто отмечались вирусная инфекция Эпштейна — Барр (19,8 %) и смешанная герпесвирусная инфекция (12,6 %). У 7 (8,04 %) больных увеличение лимфоузлов оказалось результатом онкологических заболеваний (4 — лимфома Ходжкина, 3 — неходжкинская лимфома). При лимфаденопатии неустановленной этиологии биопсия лимфоузла с последующим морфологическим или иммуногистологическим исследованием является решающей в постановке окончательного диагноза.
At present, the questions of differential diagnosis of lymphadenopathy in children become especially urgent. This is due to the tendency to growth of lymphadenopathy of various etiologies. It was found that the differential diagnosis of lymphadenopathy is based on the evaluation of clinical-anamnestic, hematologic, immunological, serological, instrumental (ultrasound, computed tomography), histological and immunohistological data of biopsy material of lymph nodes. A study conducted in 87 children aged 4–18 years who were hospitalized to the Regional Children's Infectious Clinical Hospital showed that in 68 (78.7 %) patients, lympha­denopathy was a manifestation of infectious or parasitic diseases. Among the most prevalent viral agents, the most frequent one was Epstein-Barr (19.8 %) viral infection and mixed herpesvirus infection (12.6 %). In 7 (8.04 %) patients, the enlargement of lymph nodes was the result of cancer (4 — Hodgkin lymphoma, 3 — non-Hodgkin lymphoma). Conclusions. Viral pathogens predominate in the structure of lymphadenopathy in children. With lymphadenopathy of unidentified etiology, a lymph node biopsy followed by a morphological or immunohistological study is crucial in the final diagnosis.
Keywords
етіологічна структура лімфаденопатій; діти; діагностика
этиологическая структура лимфаденопатий; дети; диагностика
etiological structure of lymphadenopathy; children; diagnosis
For the full article you need to subscribe to the magazine.
Bibliography
1. Kornienko GV, Dmitriakov VA, Svekatun VN. A clinical case of tuberculous cervical lymphadenitis in a 10-year-old-boy. Sovremennaya pediatriya. 2017;4(84):120-123 (in Russian). doi 10.15574/SP.2017.84.120.
2. Pasiyeshvili LM. Lymphadenopathy: definytion and diagnosis. Skhіdnoєvropeis'kii zhurnal vnutrіshn'oї ta sіmeinoї meditsini. 2016;1:46-56 (in Russian).
3. Sаvvо ОM. Klіnіko-іmunologіchna kharakteristika perebіgu lіmfadenopatії u dіtei, iakі chasto khvorіiut' [Clinical-immune cha–racteristic of lymphadenopathy course at often ill children]. Donetsk: Donets. nats. med. un-t іm. M. Gor'kogo; 2011. 20 p. (in Ukrainian).
4. Goncharov IaP, Sapozhnikov AR, Petrusha AO. Differential diagnosis of generalized lymphadenopathy. Terapiia. 2011;9:66-70 (in Russian).
5. Sarsu SB, Sahin K. A retrospective evaluation of lymphadenopathy in children in a single center's experience. J Pak Med Assoc. 2016;66(6):654-7. PMID: 27339563.
6. Kopcha VS, Kadubets OIa. Peripeteias of bartonellosis diagnostics. Іnfektsіinі khvorobi. 2016;1:73-76 (in Ukrainian). doi: 10.11603/1681-2727.2016.1.5964.
7. Sokolova TF, Dolgikh TI, Turok NE. Clinical and laboratory parallels of herpesviral infections associated with lymphadenopathy in children. Pediatriya. 2011;4:70-72 (in Russian).
8. Bogadel'nikov IV, Khamid F, Kubyshkin AV. Limfadenopatii pri infektsionnykh zabolevaniiakh u detei [Lymphadenopathy in infectious diseases in children]. Donetsk: Zaslavskii A.Iu; 2013. 224 p. (in Russian).
9. Nkaoui M, El Bardouni A, Lazrek O et al. Elbow abscess revealing cat-scratch disease: about a case. Pan Afr Med J. 2017;27:67. doi: 10.11604/pamj.2017.27.67.12427 (in French).
10. Popgeorgiev N, Michel G, Lepidi H, Raoult D, Desnues C. Marseillevirus adenitis in an 11-month-old child. J Clin Microbiol. 2013;51(12):4102-5. doi: 10.1128/JCM.01918-13.
11. Jalilov AF. Non-Hodgkin's lymphoma: principles of classification and immunocytochemical diagnosis. Onkologiia. 2013;4:264-272 (in Russian).
12. Samochatova EV, Shelikhova LN, Miakova NV, Litvinov DV. Opportunities and problems of modern therapy for non-Hodgkin's lymphomas in children and adolescents. Pediatriya. 2011;4:37-43 (in Russian).
13. Papp ZE, Kelemen I, Horváth A. Early symptoms of childhood malignant diseases. Orv Hetil. 2017;158(21):829-834. doi: 10.1556/650.2017.30756.
14. Farndon S, Behjati S, Jonas N, Messahel B. How to use… lymph node biopsy in paediatrics. Arch Dis Child Educ Pract Ed. 2017;102(5):244-248. doi: 10.1136/archdischild-2015-309634.
15. Celenk F, Baysal E, Aytac I et al. Incidence and predictors of malignancy in children with persistent cervical lymphadenopathy. Int J Pediatr Otorhinolaryngol. 2013;77(12):2004-7. doi: 10.1016/j.ijporl.2013.09.022.
Similar articles


Authors: Харченко Ю.П.(1), Зарецкая А.В.(1), Юрченко И.В.(1), Лаврюкова С.Я.(2)
(1) — Одесский национальный медицинский университет, г. Одесса, Украина
(2) — Одесская городская клиническая инфекционная больница, г. Одесса, Украина
"Actual Infectology" Том 6, №1, 2018
Date: 2018.03.22
Categories: Infectious diseases
Sections: Specialist manual


Authors:
Разнатовская Е.Н., Гречка Ю.Ю. - Запорожский государственный медицинский университет; Федорец А.В., Михайлова А.А. - Запорожский областной противотуберкулезный клинический диспансер


"News of medicine and pharmacy" 16 (467) 2013
Date: 2013.10.21
Categories: Family medicine/Therapy, Infectious diseases
Sections: Specialist manual