"Actual Infectology" Том 5, №5, 2017
Peculiarities of the clinical picture of meningitis in children of the first three years of life according to the data of Kyiv Municipal Children's Clinical Infectious Diseases Hospital in 2010–2015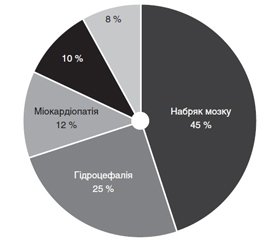 Summary
Було проведено ретроспективний аналіз 290 історій хвороби дітей, госпіталізованих до Київської міської дитячої клінічної інфекційної лікарні впродовж 2010–2015 років з діагнозом «менінгіт». Серед них 73 історії хвороби дітей перших трьох років життя. Встановлено, що особливістю перебігу менінгіту у дітей перших 3 років життя було переважання гнійного менінгіту менінгококової (33 %) і невстановленої (55 %) етіології та переважання в клінічній симптоматиці загальноінфекційного і менінгеального синдромів при гнійному менінгіті та загальномозкової симптоматики при серозному менінгіті. Відмічено, що у 85 % дітей менінгіт тяжкого ступеня тяжкості, у 75 % — ускладненого перебігу, у структурі ускладнень менінгіту у дітей перших 3 років життя превалює набряк головного мозку.
Был проведен ретроспективный анализ 290 историй болезни детей, госпитализированных в Киевскую городскую детскую клиническую инфекционную больницу в течение 2010–2015 годов с диагнозом «менингит». Среди них 73 истории болезни детей первых трех лет жизни. Установлено, что особенностью течения менингита у детей первых 3 лет жизни было преобладание гнойного менингита менингококковой (33 %) и неустановленной (55 %) этиологии и преобладание в клинической симптоматике общеинфекционного и менингеального синдромов при гнойном менингите и общемозгового синдрома при серозном менингите. Отмечено, что у 85 % детей менингит тяжелой степени тяжести, у 75 % — осложненного течения, в структуре осложнений менингита у детей первых 3 лет жизни превалирует отек головного мозга.
A retrospective analysis was conducted of 290 case histories in children hospitalized in Kyiv Municipal Children's Clinical Infectious Diseases Hospital in 2010–2015 with the diagnosis of meningitis. Among them — 73 case histories of children of the first three years of life. It was found that the feature of the disease was the prevalence of meningitis of purulent meningococcal (33 %) and unidentified (55 %) origin and predominance in clinical symptoms of general infectious and meningeal syndromes in purulent meningitis and cerebral signs in aseptic meningitis. It is noted that in 85 % of children, meningitis was severe, in 75 % — complicated. In the structure of meningitis complications in children of the first 3 years of life, cerebral edema prevails.
Keywords
менінгіт; гнійний менінгіт; серозний менінгіт; тяжкість; перебіг; ранній вік; ускладнення
менингит; гнойный менингит; серозный менингит; тяжесть; течение; ранний возраст; осложнения
meningitis; purulent meningitis; aseptic meningitis; severity; course; early age; complications
For the full article you need to subscribe to the magazine.
Bibliography
1. Brown GC. Mechanisms of inflammatory neurodegeneration: iNOS and NADPH oxidase. Biochem Soc Trans. 2007 Nov;35 (Pt 5):1119-21. doi: 10.1042/BST0351119.
2. Chaudhuri A, Martinez-Martin P, Kennedy PG, et al. EFNS guideline on the management of community–acquired bacterial meningitis: report of an EFNS Task Force on acute bacterial meningitis in older children and adults. Eur J Neurol. 2008 Jul;15(7):649-59. doi: 10.1111/j.1468-1331.2008.02193.x.
3. Feigin RD, McCracken GH Jr, Klein JO. Diagnosis and ma–nagement of meningitis. Pediatr Infect Dis J. 1992 Sep;11(9):785-814. PMID: 1448332.
4. Pypa LV, Svistil'nik RV, Polishhuk VA, Svistil'nik TV, Piddubna OV, Len'ga VR. A review of the latest practical recommendations of the European Federation of Neurological Societies (EFNS) on diagnosing and managing patients with bacterial meningitis. Mezhdunarodnyi Nevrologicheskii Zhurnal. 2011;8:82-89. (in Ukrainian).
5. Tsinzerling VA, Chukhlovina ML . Infektsionnye porazheniia nervnoi sistemy [Infectious lesions of the nervous system]. Saint-Petersburg: Elbi-SPb; 2005. 448 р. (in Russian).