"Actual Infectology" Том 5, №5, 2017
The case of acute appendicitis in an adult patient with measles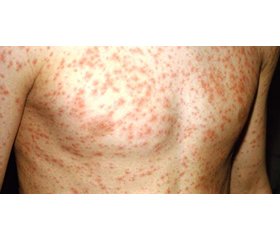 Summary
У статті наведений клінічний випадок гострого апендициту в дорослого пацієнта, хворого на кір.
В статье представлен клинический случай острого аппендицита у взрослого пациента, больного корью.
The article presents the clinical case of acute appendicitis in an adult patient with measles.
Keywords
кір у дорослих; ускладнення; гострий апендицит
корь у взрослых; осложнения; острый аппендицит
measles in adults; complications; acute appendicitis
For the full article you need to subscribe to the magazine.
Bibliography
1. Golub A.P. Uskladnennja koru u doroslyh ta udoskonalennja metodiv likuvannja. Diss. kand. med. nauk. [Complications of measles in adults and improvement of treatment methods. PhD med.sci. diss.] Kyi'v, 2010. 21 p. (in Ukrainian). Available from: http://lib.inmeds.com.ua:8080/jspui/handle/lib/4577 . Accessed: April, 2010.
2. Guseinov AKh. Combination of measles and acute appendicitis. Vestnik khirurgii imeni I.I.Grekova. 1994;152(5-6):92-93. (in Russian).
3. Griffin DE, Ward BJ. Differential CD4 T cell activation in measles. J Infect Dis. 1993 Aug;168(2):275-81. PMID: 8101549.
4. Laseca CR, Portilla GA, Fernández FL, Sevillano GC, Abad MA, Torres AJ. Measles-related appendicitis. A report of a new case. Rev Esp Enferm Dig. 1990 Sep;78(3):179-81. PMID: 2278745.
5. Vieth M, Dirshmid K, Oehler U, Helpap B, von Luckner AG, Stolte M. Acute measles gastric infection. Am J Surg Pathol. 2001 Feb;25(2):259-62. PMID: 11176076.