"Actual Infectology" Том 5, №6, 2017
Clinical features of nervous system disorders in patients with EBV as monoinfection and in association with other herpes viruses in their reactivation and persistence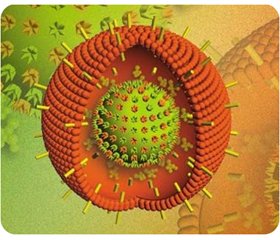 Authors:

Руденко А.О., Муравська Л.В., Дьяченко П.А., Пархомець Б.А., Клюс В.Ю.
ДУ «Інститут епідеміології та інфекційних хвороб ім. Л.В. Громашевського НАМН України», м. Київ, Україна



Categories:

Infectious diseases



Sections:

Clinical researches
Summary
Під спостереженням перебувало 48 хворих з ураженнями нервової системи, викликаними вірусами Епштейна — Барр (EBV) у моноінфекції або в асоціації з іншими вірусами родини герпесу при їх реактивації або персистенції. При активації EBV-інфекції найчастіше діагностується арахноїдит — 29,4 % і арахноенцефаліт — 26,5 %, рідше розсіяний енцефаломієліт — 11,8 % та енцефаліт — 11,8 %, енцефалополінейропатія — 5,9 %, менінгоенцефаліт — 5,9 %. При персистенції вірусів родини герпесу енцефаліт не діагностовано, арахноїдит був у 28,6 %, арахноенцефаліт — у 28,6 %, розсіяний енцефаломієліт — у 14,3 %. Показана різниця виявлення неврологічних симптомів і синдромів у групі хворих з активацією та реактивацією порівняно з персистенцією.
Под наблюдением находились 48 больных с поражениями нервной системы, вызванными вирусами Эпштейна — Барр (EBV) в моноинфекции или в ассоциации с другими вирусами семейства герпеса при их реактивации или персистенции. При активации EBV-инфекции чаще всего диагностируется арахноидит — 29,4 % и арахноэнцефалит — 26,5 %, реже рассеянный энцефаломиелит — 11,8 % и энцефалит — 11,8 %, энцефалополинейропатия — 5,9 %, менингоэнцефалит — 5,9 %. При персистенции вирусов семейства герпеса энцефалит не диагностирован, арахноидит был у 28,6 %, арахноэнцефалит — у 28,6 %, рассеянный энцефаломиелит — у 14,3 %. Показаны отличия выявления неврологических симптомов и синдромов в группе больных с активацией и реактивацией сравнительно с персистенцией.
We have examined 48 patients with nervous system disorders caused by Epstein — Barr virus (EBV) as monoinfection or in association with other herpes viruses during their reactivation (n = 34) or persistence (n = 14). With the activation of Epstein — Barr virus infection, arachnoiditis is most often diagnosed — 29.4 %, as well as arachnoencephalitis — 26.5 %, rarely — disseminated encephalomyelitis (DEM) — 11.8 % and encephalitis 11.8 %, encephalopolyneuropathy — 5.9 %, meningoencephalitis — 5.9 %. With persistence of herpes viruses, encephalitis was not detected, arachnoiditis was diagnosed in 28.6 % of patients, arachnoencephalitis — in 28.6 %, and DEM — in 14.3 %. Differences in the detection of neurologic symptoms and syndromes in the group of patients with activation and reactivation are shown as compared with persistence.
Keywords
вірус Епштейна — Барр; реактивація; персистенція; ураження нервової системи; клінічні синдроми
вирус Эпштейна — Барр; реактивация; персистенция; поражения нервной системы; клинические синдромы
Epstein — Barr virus; reactivation; persistence; nervous system disorders; clinical syndromes
For the full article you need to subscribe to the magazine.
Bibliography
Dekonenko EP. Herpes virus and nervous system damage. RMJ. 2002;4:46-49. (in Russian).
Donati D, Akhyani N, Fogdell-Hahn A, et al. Detection of human herpesvirus-6 in mesial temporal lobe epilepsy surgical brain resections. Neurology. 2003 Nov 25;61(10):1405-1411. PMCID: PMC4294224.
Gilden D. Varicella zoster virus and central nervous system syn-dromes. Herpes. 2004 Jun;11 Suppl 2:89A-94A. PMID: 15319095.
Echevarría JM, Casas I, Martínez-Martín P. Infections of the nervous system caused by varicella-zoster virus: a review. Interviro–logy. 1997;40(2-3):72-84. PMID: 9450225.
Dekonenko EP, Andreeva LS, Kupriianova LV, et al. The etiological structure and clinical features of acute viral non-epidemic encephalitis in the central part of Russia. Nevrologicheskiy zhurnal. 1998;3(1):18-23. (in Russian).
Skoldenberg B. Herpes simplex encephalitis. Scand J Infect Dis Suppl. 1996;100:8-13. PMID: 9163027.
Leshchinskaia EV, Martynenko IN. Ostrye virusnye entsefa–lity u detei [Acute viral encephalitis in children]. Moscow: Meditsina; 1990. 253 p. (in Russian).
Rudenko AO, Muravs'ka LV. Human herpesvirus infection is a worldwide problem. Infectious diseases. 2001;2:5-11. (in Ukrainian).
Mal'cev DV, Kazmirchuk VJe, Jevtushenko SK. On the issue of modern clinical and virological classifications of herpesvirus infections. Mezhdunarodnyi Nevrologicheskii Zhurnal. 2012;2(48):14-28. (in Russian).
Khanna KM, Lepisto AJ, Decman V, Hendricks RL. Immune control of herpes simplex virus during latency. Curr Opin Immunol. 2004 Aug;16(4):463-9. doi: 10.1016/j.coi.2004.05.003.
Preston CM. Repression of viral transcription during herpes simplex virus latency. J Gen Virol. 2000 Jan;81(Pt 1):1-19. doi: 10.1099/0022-1317-81-1-1.
Salio M, Cella M, Suter M, Lanzavecchia A. Inhibition of dendritic cell maturation by herpes simplex virus. Eur J Immunol. 1999 Oct;29(10):3245-53. doi: 10.1002/(SICI)1521-4141(199910)29:10<3245::AID-IMMU3245>3.0.
CO;2-X.
Hill A, Jugovic P, York I, et al. Herpes simplex virus turns off the TAP to evade host immunity. Nature. 1995 Jun 1;375(6530):411-5. doi: 10.1038/375411a0.
Leib DA. Counteraction of interferon-induced antiviral responses by herpes simplex viruses. Curr Top Microbiol Immunol. 2002;269:171-85. PMID: 12224508.
Verschoor A, Brockman MA, Knipe DM, Carroll MC. Cutting edge: myeloid complement C3 enhances the humoral response to peripheral viral infection. J Immunol. 2001 Sep 1;167(5):2446-51. PMID: 11509581.
Similar articles

Authors:
Мальцев Д.В., Казмірчук В.Є., Євтушенко С.К., Інститут імунології та алергології Національного медичного університету імені О.О. Богомольця, м. Київ, Донецький національний медичний університет ім. М. Горького


International neurological journal 2 (48) 2012
Date: 2013.02.08
Categories: Neurology
Sections: Specialist manual


Authors:
Крамарьов С.О., Євтушенко В.В. Національний медичний університет імені О.О. Богомольця, м. Київ, Україна


"Actual Infectology" Том 7, №3, 2019
Date: 2019.06.27
Categories: Infectious diseases
Sections: Specialist manual


Authors:
Борак В.П., Романюк Л.Б., Кравець Н.Я. - ДВНЗ «Тернопільський державний медичний університет ім. І.Я. Горбачевського», м. Тернопіль, Україна; Борак В.Т. - КЗ ТОР «Тернопільська університетська лікарня», м. Тернопіль, Україна


"Actual Infectology" 2 (11) 2016
Date: 2016.08.08
Categories: Infectious diseases
Sections: Specialist manual


Authors: Чумак А.А., Носач О.В., Саркісова Е.О., Гасанова О.В., Овсяннікова Л.М., Плескач О.Я., Альохіна С.М., Шинкаренко В.І., Шийко Т.І.
Державна установа «Національний науковий центр радіаційної медицини НАМН України», м. Київ, Україна
"Actual Infectology" Том 5, №6, 2017
Date: 2018.02.20
Categories: Infectious diseases
Sections: Clinical researches