"Actual Infectology" Том 5, №6, 2017
Measles diagnosis at the Subcarpathian region: yesterday, today, tomorrow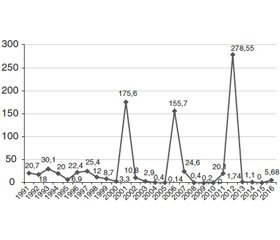 Authors:

Савчук Р.М., Сіднєва Н.І., Джус Т.Б., Погоріла Л.Й., Степанович А.М.
Державна установа «Івано-Франківський обласний лабораторний центр
Міністерства охорони здоров'я України», м. Івано-Франківськ, Україна



Categories:

Infectious diseases



Sections:

Clinical researches
Summary
Подано результати епідеміологічного аналізу захворюваності на кір в Івано-Франківській ­області, лабораторної діагностики, вивчення специфічного імунітету та прогноз щодо захворюваності на 2017–2018 рр.
Представлены результаты эпидемиологического анализа заболеваемости корью в Ивано-Франковской области, лабораторной диагностики, изучения специфического иммунитета и прогноз заболеваемости на 2017–2018 гг.
The article deals with the results of the epidemiological analysis of measles rate in Ivano-Frankivsk region, laboratory diagnosis, studying of the specific immune resistance and prognosis of morbidity for 2017–2018.
Keywords
кір; захворюваність; епідеміологія; лабораторна діагностика; генотип вірусу кору; визначення IgМ до вірусу методом імуноферментного аналізу
корь; заболеваемость; эпидемиология; лабораторная диагностика; генотип вируса кори; определение IgМ к вирусу кори методом иммуноферментного анализа
measles; morbidity; epidemiology; laboratory diagnosis; genotype of measles virus; assessment of IgM to the virus by ELISA test
For the full article you need to subscribe to the magazine.
Bibliography
1. Marychev IL, Bryzhata SI, Procap OI, Svita VM, Demchyshyna IV. The incidence of measles and rubella in the population in Ukraine. In: Zadorozhnja VI, Sergejeva TA, editors. Proceeding of the Scientific-practical conference Modern infectious diseases: Biological safety and biosecurity. 2016, October 12-13; Kyiv, Ukraine. Kyiv; 2016. 72-73 pp. (in Ukrainian).
2. World Health Organization. WHO Regional Office for Europe. Eliminating measles and rubella. Framework for the verification process in the WHO European Region 2014. Copenhagen: WHO Regional Office for Europe; 2014. 21 p.
Similar articles

Authors: Савчук Р.М., Сіднєва Н.І., Джус Т.Б., Погоріла Л.Й., Степанович А.М.
Державна установа «Івано-Франківський обласний лабораторний центр Міністерства охорони здоров'я України», м. Івано-Франківськ, Україна
"News of medicine and pharmacy" №1 (639), 2018
Date: 2018.02.28
Categories: Infectious diseases
Sections: Clinical researches


Authors: Трихліб В.І., Щур А.Б., Грушкевич В.В., Гришин О.С., Павловська М.О., Мусієнко Т.І., Музика Г.А., Ралець Н.В., Дудар Д.М., Козаченко Л.В.
Українська військово-медична академія, м. Київ, Україна
Військово-медичний клінічний центр Центрального регіону, м. Вінниця, Україна
Військово-медичний клінічний центр Південного регіону, м. Одеса, Україна
КМЛ № 4, м. Київ, Україна
Військовий госпіталь, м. Дніпро, Україна
"Actual Infectology" Том 6, №3, 2018
Date: 2018.07.27
Categories: Infectious diseases
Sections: Specialist manual


Authors:
Гончаров В.О.(1), Котлик Л.С.(1), Скопенко А.В.(1), Грузевський О.А.(2), Гридіна Т.Л.(2) (1) — ДУ «Одеський обласний лабораторний центр МОЗ України», м. Одеса, Україна (2) — Одеський національний медичний університет, м. Одеса, Україна


"Actual Infectology" Том 7, №2, 2019
Date: 2019.04.08
Categories: Infectious diseases
Sections: Clinical researches


Authors: Марусик У.І.
Вищий державний навчальний заклад України «Буковинський державний медичний університет», м. Чернівці, Україна
"Actual Infectology" Том 5, №3, 2017
Date: 2017.09.20
Categories: Infectious diseases
Sections: Specialist manual