"Actual Infectology" Том 5, №6, 2017
Features of acute tonsillitis in the servicemen depending on the season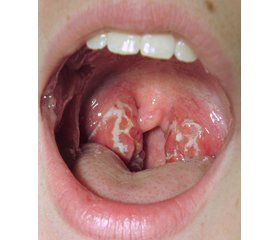 Authors:

Трихліб В.І., Поліщук М.М., Кондратюк В.В., Боклан Ю.О., Шевченко В.Г., Щипанська О.В., Харченко Л.Г.
Українська військово-медична академія, м. Київ, Україна



Categories:

Infectious diseases



Sections:

Clinical researches
Summary
У статті проведений аналіз літератури щодо гострого тонзиліту у військових та наведені власні дані про особливості перебігу гострого тонзиліту в останніх.
В статье проведен анализ литературы относительно острого тонзиллита у военнослужащих и представлены собственные данные об особенностях течения острого тонзиллита у последних.
The article deals with an analysis of the literature on acute tonsillitis in military personnel and presents own data on the features of the course of acute tonsillitis in the servicemen.
Keywords
військовослужбовці; гострий тонзиліт
военнослужащие; острый тонзиллит
servicemen; acute tonsillitis
For the full article you need to subscribe to the magazine.
Bibliography
1. Soldatov IB. Lektsii po otorinolaringologii: uchebnoe posobie [Lectures on otorhinolaryngology: textbook]. Moscow: Meditsina; 1990. 282 p. (in Russian).
2. Kuznetsov SV, Kopeichenko TS, Ol'khovskaia ON, et al, authors; Tarasenko MV, editor. Differentsial'naia diagnostika zabolevanii s sindromom anginy u detei: metodicheskie ukazaniia dlia studentov i vrachei-internov [Differential diagnosis of diseases with angina in children: methodical instructions for students and interns]. Kharkov: KhNMU; 2014. 22 p. (in Russian).
3. Savyc'kyj VL, Tryhleb VI, Os'odlo GV, et al. Infekcijni zahvorjuvannja: navchal'nyj posibnyk [Infectious diseases: textbook]. Kyiv: SPD Chalchyns'ka NV; 2014. 386 p. (in Ukrainian).
4. Wald ER, Green MD, Schwartz B, Barbadora K. A streptococcal score card revisited. Pediatr Emerg Care. 1998 Apr;14(2):109-11. PMID: 9583390.
5. Shevchenko OP, Shostakovych-Korec'ka LR, Lytvyn KJu, et al. Epidemiology and etiological structure of acute tonsillitis in the Dnepropetrovsk region. In: Os'odlo GV, Tryhlib VI, Krasjuk OA, editors. Proceeding of the Scientific and Practical Conference on Pharmacotherapy of infectious diseases. 2015, April 9-10; Kyiv, Ukraine. Kyiv; 2015. 106-108 pp.
6. Trihleb VI, Grushkevich VV, Tretyakov VV, at al. Complicated course of acute respiratory infections and acute tonsillitis among servicemen. Suchasni aspekty vijs'kovoi' medycyny: zbirnyk naukovyh prac'. 2016;23:201-212. (in Ukrainian).
7. Shostakovych-Koretskaya LR, Shevchenko-Makarenko OP, Revenko GO, et al. Clinical and epidemiological signs of acute tonsillitis. In: Proceeding of the All-Ukrainian scientific-practical conference on Infectious Diseases in practice of a doctor-internist: modern aspects. 2016, June 15-16; Sumy, Ukraine. 234-237 pp. (in Ukrainian).
8. Trihleb VI, Grushkevich VV, Boklan YA, Gorishnyi BM, Grinchuk IG, Odintsov LV. Acute tonsillitis in persons from organized groups: actuality, pharmaco-economic issues. Suchasni aspekty vijs'kovoi' medycyny: zbirnyk naukovyh prac'. 2008;13. (in Russian).
9. Korzeniewski K, Nitsch-Osuch A, Konarski M, Guzek A, Prokop E, Bieniuk K. Prevalence of acute respiratory tract diseases among soldiers deployed for military operations in Iraq and Afghanistan. Adv Exp Med Biol. 2013;788:117-24. doi: 10.1007/978-94-007-6627-3_18.
10. Rybin VV, Sabanin IuV, Kuzin SN, Kas'kov OV, Rikhter VV, Zavolozhin VA. Epidemiological characteristics of acute tonsillitis in military draft personnel from troops of the Ministry of Interior of Russia. Voen Med Zh. 2011 Mar;332(3):52-5. PMID: 21770316.
Similar articles

Authors:
Трихліб В.І.(1), Ралець Н.В.(2), Дудар Д.М.(2), Голуб А.П.(3), Бєляєва К.П.(1), Цюрак Н.Р.(1) (1) — Українська військово-медична академія, м. Київ, Україна (2) — КНП «Київська міська клінічна лікарня № 4», м. Київ, Україна (3) — Національна медична академія післядипломної освіти імені П.Л. Шупика МОЗ України, м. Київ, Україна


"Actual Infectology" Том 8, №6, 2020
Date: 2020.11.25
Categories: Infectious diseases
Sections: Clinical researches

Authors:
В.І. Трихліб(1), Г.В. Аксютін(2), Н.В. Ралец(2), Д.М. Дудар(2), А.П. Голуб(3), К.П. Бєляєва(1), Н.Р. Цюрак(1) (1) — Українська військово-медична академія, м. Київ, Україна (2) — КНП «Київська міська клінічна лікарня № 4», м. Київ, Україна (3) — Національна медична академія післядипломної освіти імені П.Л. Шупика МОЗ України, м. Київ, Україна


"Actual Infectology" Том 8, №5, 2020
Date: 2020.11.24
Categories: Infectious diseases
Sections: Medical forums

Authors:
Трихліб В.І., Бєляєва К.П., Цюрак Н.Р., Лисенко Т.І., Єрошенко А.О., Мартинчик О.С., Невмержицький С.О. Українська військово-медична академія, м. Київ, Україна


"Actual Infectology" Том 8, №6, 2020
Date: 2020.11.25
Categories: Infectious diseases
Sections: Medical forums

Authors:
Трихліб В.І.(1), Бєляєва К.П.(1), Цюрак Н.Р.(1), Лисенко Т.І.(1), Єрошенко А.О.(1), Мартинчик О.С.(1), Черняк В.А.(1), Вишнягов А.М.(2), Латишенко С.В.(2), Лопатин С.А.(2), Рихальська К.С.(2), Золіна С.В.(2) (1) — Українська військово-медична академія, м. Київ, Україна (2) — Національний військово-медичний клінічний центр «Головний військовий клінічний госпіталь», м. Київ, Україна


"Actual Infectology" Том 8, №6, 2020
Date: 2020.11.25
Categories: Infectious diseases
Sections: Medical forums