"Actual Infectology" Том 5, №6, 2017
Features of the dynamics of the indicators of epidemiological surveillance for poliomyelitis in conditions of decline vaccination coverage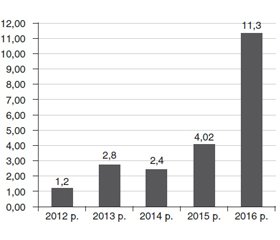 Authors:

Усачова О.В., Сіліна Є.А., Пахольчук Т.М., Конакова О.В., Дралова О.А., Ніколаєва С.Л., Пухір В.П., Фірюліна О.М., Зеленухіна Є.В.
Запорізький державний медичний університет, м. Запоріжжя, Україна



Categories:

Infectious diseases



Sections:

Clinical researches
Summary
У статті подано результати епідемічного нагляду за гострими млявими паралічами та рівень охоплення вакцинацією проти поліомієліту дітей у Запорізькій області за період 2012–2016 рр.
В статье представлены результаты эпидемиологического надзора за острыми вялыми параличами и уровень охвата вакцинацией против полиомиелита детей Запорожской области за период 2012–2016 гг.
The article presents the results of epidemiological surveillance of acute flaccid paralysis and the level of vaccination against poliomyelitis coverage in the Zaporizhzhia region in 2012–2016.
Keywords
поліомієліт; епідемічний нагляд; гострі мляві паралічі; вакцинація проти поліомієліту; діти
полиомиелит; эпидемический надзор; ост­рые вялые параличи; вакцинация против полиомиелита; дети
poliomyelitis; epidemiological surveillance; acute flaccid paralysis; vaccination against poliomyelitis; children
For the full article you need to subscribe to the magazine.
Bibliography
Tsyganchuk OM. Poliomyelitis: new challenges on the way to eradication. Sovremennaya pediatriya. 2017;3(83):27-37.
Koloskova OK, Ivanova LA, Marusyk UI. Pediatrics Poliomyelitis. Aktual'naya Infektologiya. 2016; 1(10):9-13. (in Ukrainian).
Usachova OV, Pahol'chuk TM, Silina JeA, Konakova OV, Rjabokon' JuJu. Poliomijelit: suchasni osoblyvosti etiologii', epidemio–logii' ta profilaktyky u ditej. Organizacija epidemichnogo nagljadu za vypadkom gostrogo v'jalogo paralichu [Poliomyelitis: modern features of etiology, epidemiology and prophylaxis in children. Organization of epidemiological surveillance of the case of acute flaccid paralysis]. Zaporizhzhia; 2016. 81 p.
Surveillance systems to track progress towards global polioera–dication, 2012-2013. Wkly Epidemiol Rec. 2014 Apr 25;89(17):165-73. PMID: 24772461.
World Health Organization. Poliomyelitis. Fact sheet. Available from: http://www.who.int/mediacentre/factsheets/fs114/en/. Accessed: April 2017.
Meeting of the Strategic Advisory Group of Experts on immunization, April 2014 — conclusions and recommendations. Wkly Epidemiol Rec. 2014 May 23;89(21):221-36. PMID: 24864348.
World Health Organization. Poliovirus detected from environmental samples in Israel and West Bank and Gaza Strip. Disease outbreak news. Available from: http://www.who.int/csr/don/2013_09_20_polio/en/. Accessed: September 20, 2013.
Similar articles

Authors:
Матвєєва О.В. - ДП «Державний експертний центр МОЗ України»; Демчишина І.В. - ДЗ «Український центр контролю та моніторингу захворювань МОЗ України»; Васильєва В.А. - ДУ «Інститут епідеміології та інфекційних хвороб ім. Л.В. Громашевського НАМН України»; Задорожна В.І. - ДУ «Інститут епідеміології та інфекційних хвороб ім. Л.В. Громашевського НАМН України»


"News of medicine and pharmacy" 11-12 (505-506) 2014
Date: 2014.07.01
Categories: Family medicine/Therapy, Infectious diseases, Pediatrics/Neonatology


Authors:
Koloskova O.K., Ivanova L.A., Marusyk U.I. - Bukovinean State Medical University, Department of Pediatrics and Child Infectious Diseases, Chernivtsi, Ukraine


"Actual Infectology" 1 (10) 2016
Date: 2016.03.22
Categories: Infectious diseases
Sections: Specialist manual



Authors:
Koloskova O.K., Ivanova L.A, Marusyk U.I. - Bukovinian State Medical University, Department of Pediatrics and Pediatric Infectious Diseases, Chernivtsi, Ukraine


"Actual Infectology" 4 (9) 2015
Date: 2016.02.19
Categories: Infectious diseases
Sections: Specialist manual