"Actual Infectology" Том 6, №1, 2018
Lyme disease in childhood: look at the problem and clinical case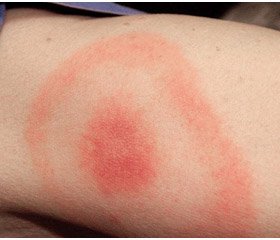 Summary
Огляд літератури присвячений хворобі Лайма (ХЛ), яка відома також як системний кліщовий бореліоз, Лайм-бореліоз, Lyme disease. На даний час під терміном «хвороба Лайма» розуміють цілу групу етіологічно самостійних іксодових кліщових бореліозів. Виділено понад 13 геномних груп, що відносяться до комплексу Borrelia burgdorferi sensu lato. Патогенними для людини на даний час вважають тільки три види борелій: B.burgdorferi sensu stricto, B.garinii та B.аfzelii. Від виду борелій залежить характер органних уражень у пацієнта. До захворювання на ХЛ схильні дорослі і діти шкільного віку. У дітей також виділяють три патоморфологічні стадії ХЛ. Діагностика проводиться ступенево: визначення імуноглобулінів класу М і G методом імуноферментного аналізу, при позитивному тесті — підтвердження методом імуноблоту. Описаний клінічний випадок має безперечний інтерес з точки зору пізно вставленого етіологічного діагнозу, тому що перебіг захворювання був без гострого періоду та за відсутності головної ознаки — мігруючої еритеми. Етіотропне лікування було розпочато пізно.
Обзор литерaтуры посвящен болезни Лайма (БЛ), которая известна также как системный клещевой боррелиоз, Лайм-боррелиоз, Lyme disease. В настоящее время под термином «болезнь Лайма» понимают целую группу этиологически самостоятельных иксодовых клещевых боррелиозов. Выделено более 13 геномных групп, относящихся к комплексу Borrelia burgdorferi sensu lato. Патогенными для человека в настоящее время считают только три вида боррелий: B.burgdorferi sensu stricto, B.garinii и B.аfzelii. От вида боррелий зависит характер органных поражений у пациента. К заболеванию склонны взрослые и дети школьного возраста. У детей также выделяют три патоморфологические стадии БЛ. Диагностика проводится ступенчато: определение иммуноглобулинов класса М и G методом иммуноферментного анализа, при положительном тесте — подтверждение методом иммуноблота. Описанный клинический случай представляет несомненный интерес с точки зрения позднего установления этиологического диагноза, так как заболевание протекало без острого периода и в отсутствие главного признака — мигрирующей эритемы. Этиотропное лечение было начато поздно.
Literature review considers the problem of Lyme di­sease (LD), also known as systemic tick-borne borreliosis, Lyme borreliosis. Currently, the term "Lyme disease" refers to the entire group of etiologically independent ixodic tick-borne borelliosis. More than 13 genomic groups are identified that belong to the Borrelia burgdorferi sensu lato group. Only three types of Borrelia are currently considered to be pathogenic for humans: B.burgdorferi sensu stricto, B.garinii and B.afzelii. The nature of organ lesions depends on the species of Borrelia. Adults and school-age children are prone to LD. Children also have three clinical and pathomorphological stages of LD. The diagnosis is carried out step by step: the determination of M and G immunoglobulins using enzyme-linked immunosorbent assay, with a positive test — confirmation by immunoblotting. The described clinical case is of some interest in terms of late etiological diagnosis, since the course of the disease was without acute period and absence of the main feature — migratory erythema. Etiotropic treatment was started late.
Keywords
бореліоз; хвороба Лайма; діти; клінічний випадок
боррелиоз; болезнь Лайма; дети; клинический случай
borreliosis; Lyme disease; children; clinical сase; review
For the full article you need to subscribe to the magazine.
Bibliography
1. Uchaikin VF, Shamsheva OV. Infectious Diseases in Children. M.: Geotar-media, 2015; 387-391 (In Russ.).
2. European Union concerted action on Lyme borreliosis. 2009. Electronic resource Access: http://meduni09.edis.at/eucalb/.
3. Rogovskyy A, Batool M, Gillis DC, Holman PJ, Nebogatkin IV, Rogovska YV, Rogovskyy MS. Diversity of Borrelia spirochetes and other zoonotic agents in ticks from Kyiv, Ukraine. Ticks Tick Borne Dis. 2017 Dec 15. S1877-959X(17)30366-7. doi: 10.1016/j.ttbdis.2017.12.006.
4. Wormser G, Dattwyler R, Shapiro Е et al. The clinical assessment, treatment, and prevention of Lyme disease, human granulocytic anaplasmosis, and babesiosis: clinical practice guidelines by the infectious diseases society of America. Clin Infect Dis. 2006;43:1089-1134. doi: 10.1086/508667.
5. History of Lyme Disease 1883–2011 Squidoo.com; Electronic resource Access: http://www.squidoo.com/history-oflyme-disease.
6. Willy Burgdorfer. Who namedit? A dictionary of medical epo–nyms; Electronic resource Access: http://www.whonamedit.com/doctor.cfm/2466.htm.
7. Lyme Disease (Lyme Borreliosis, Borrelia burgdorferi Infection) / American Academy of Pediatrics. Red Book: 2012. Report of the Committee on Infectious Diseases. Ed. by LK Pickering. — 29th ed. — Elk. Grove Village IL: American Academy of Pediatrics, 2012; http://aapredbook.aappublications.org/content/1/SEC131/ SEC212.body.
8. Talaska TW, Krause A, Aberer E, Kaiser R et al. Epidemiological, biological, and ecological aspects of Lyme borreliosis. Focus on Lyme-Borreliosis. Dia Sorin, Italy. 2013: 5-25.
9. Walter KS, Carpi G, Caccone A, Diuk-Wasser MA. Genomic insights into the ancient spread of Lyme disease across North America. Nat Ecol Evol. 2017 Oct;1(10):1569-1576. doi: 10.1038/s41559-017-0282-8.
10. Yushuk ND, Vengerov YYa. Infectious Diseases, 2nd edition. M.: Geotar-media, 2011: 275-391 (In Russ.).
11. Sarksyan DS, Maleev VV, Platonov AE. Differential diagnosis of tick-borne borreliosis, caused by Borrelia miyamotoi. Infectious Diseases. 2012;4(10):41-44 (In Russ.)
12. Szulzyk T, Flisiak R. Lyme borreliosis. Annals of Parasitolo–gy. 2012;58(2):63-69.
13. Moore A, Nelson C, Molins C, Mead P et al. Current guidelines, common clinical pitfalls, and future directions for laboratory diagnosis if Lyme disease, United States. Emerging Infectious Diseases. 2016;22(7):1169-1177. doi: 10.3201/eid2207.151694.
14. Shah JS, D'Cruz I, Ward S, Harris NS, Ramasamy R. Development of a sensitive PCR-dot blot assay to supplement serological tests for diagnosing Lyme disease. Eur J Clin Microbiol Infect Dis. 2017 Dec 27. doi: 10.1007/s10096-017-3162-x.
15. Verhaegh D, Joosten LAB, Oosting M. The role of host immune cells and Borrelia burgdorferi antigens in the etiology of Lyme disease. Eur Cytokine Netw. 2017 Jun 1;28(2):70-84. doi: 10.1684/ecn.2017.0396.
16. Skripchenko NV, Balinova AA. Modern ideas about the pathogenesis of Ixodes tick-borne borreliosis. Journal Infectology. 2012;4(2):5-14 (In Russ.).
17. Cutler SJ, Rudenko N, Golovchenko M еt al. Diagnosing Borreliosis. Vector Borne Zoonotic Dis. 2017 Jan;17(1):2-11. doi: 10.1089/vbz.2016.1962.
18. Henningsson AJ. Сlinical, epidemiological and immunological aspects of Lime Borreliosis with special focus on the role of the complement system. Linköping University, Sweden, 2011: 116 p.
19. Gilson J, Khalighi K, Elmi F, Krishnamurthy M, Talebian A, Toor RS. Lyme disease presenting with facial palsy and myocarditis mimicking myocardial infarction. J Community Hosp Intern Med Perspect. 2017 Dec 14;7(6):363-365. doi: 10.1080/20009666.2017.1396170.
20. Sá MC, Moreira C, Melo C, Sousa Á, Carvalho S. Lyme disease and juvenile idiopathic arthritis — A pediatric case report. Rev Bras Reumatol Engl Ed. 2017 Nov-Dec;57(6):620-622. doi: 10.1016/j.rbre.2015.09.006.
21. Bryant Kristina A. Clinical Manifestations of Tick-Borne Infections in Children. Clin. Vaccine Immunol. 2000;7(4):523-527; http://cdli. asm.org/content/7/4/523.full. doi: 10.1128/CDLI.7.4.523-527.2000.
22. Kuimova IV, Radionova OA, Krasnova EI. Clinical features of ixodial tick-borne borreliosis in children. Lechaschi Vrach. 2014;3:55 (In Russ.).
23. Fu Md J, Bhatta L. Lyme carditis: Early occurrence and prolonged recovery. J Electrocardiol. 2017 Dec 14: S0022-0736(17)30:493-4. doi: 10.1016/j.jelectrocard.2017.12.035.
24. Mygland A, Ljostad U, Fingerle V et al. EFNS guidelines on the diagnosis and management of European Lyme neuroborreliosis. Eur. J. Neurology. 2010;17:8-16. doi: 10.1111/j.1468-1331.2009.02862.x.
25. Halperin JJ. Diagnosis and management of Lyme neuroborreliosis. Expert Rev Anti Infect Ther. 2018 Jan;16(1):5-11. doi: 10.1080/14787210.2018.1417836.
26. Deutsche Borreliose-Gesellschaft. Diagnosis and Treatment of Lyme borreliosis (Lyme disease) Guidelines of the German Borreliosis Society. Ed. 2nd (Revised) Am. Planetarium 12, D-07743 Jena, Germany, 2010: 31 р.
27. Sanchez E, Vannier E, Wormser GP, Hu LT. Diagnosis, Treatment, and Prevention of Lyme Disease, Human Granulocytic Anaplasmosis, and Babesiosis A Review. JAMA. 2016;315(16):1767-1777. doi: 10.1001/jama.2016.2884.
28. Information on infectious and parasitic diseases for January-December 2016: Russian Federal Service for Surveillance on Consumer Rights Protection and Human Wellbeing (Rospotrebnadzor), Moscow. 27.02.2017 (In Russ.).
29. Aucott JN, Rebman AW, Crowder LA, Kortte KB. Post-treatment Lyme disease syndrome symptomatology and the impact on life functioning: is there something here? Qual Life Res. 2013 Feb;22(1):75-84. doi: 10.1007/s11136-012-0126-6.
Similar articles


Authors: Попович О.О.
Вінницький національний медичний університет ім. М.І. Пирогова, м. Вінниця, Україна
"Actual Infectology" 3 (12) 2016
Date: 2016.11.22
Categories: Infectious diseases
Sections: Specialist manual


Authors: Клюс В.Ю.
ДУ «Інститут епідеміології та інфекційних хвороб ім. Л.В. Громашевського НАМН України», м. Київ, Україна
"Actual Infectology" Том 5, №5, 2017
Date: 2018.02.15
Categories: Infectious diseases
Sections: Clinical researches