"Actual Infectology" Том 6, №1, 2018
Immune response of adult people living with human immunodeficiency virus to the introduction of diphtheria and tetanus toxoid (review of literature)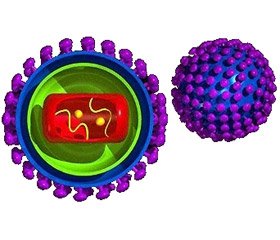 Summary
Зростання кількості людей, які живуть з ВІЛ-інфекцією (ЛЖВ), і значне збільшення тривалості їх життя на фоні антиретровірусної терапії ставлять актуальні питання про вакцинацію цих пацієнтів. Для підготовки статті здійснювався пошук інформації з використанням баз даних Scopus, Web of Science, MedLine, Global Health, Google Scholar, CyberLeninka. Аналіз науково-практичної літератури свідчить, що у ЛЖВ досить часто спостерігається втрата імунологічної пам'яті про попередні імунізації і менш ефективна імунна відповідь навіть після відновлення імунної системи на фоні антиретровірусної терапії, що може вимагати вживання додаткових заходів, наприклад, таких як оцінка рівня специфічних антитіл, ревакцинація або збільшення дози вакцин. Цей огляд підкреслює необхідність вакцинації проти дифтерії та правця як важливої превентивної стратегії серед ЛЖВ дорослого віку.
Рост количества людей, живущих с ВИЧ-инфекцией (ЛЖВ), и значительное увеличение продолжительности их жизни на фоне антиретровирусной терапии ставят актуальные вопросы о вакцинации этих пациентов. Для подготовки статьи осуществлялся поиск информации с использованием баз данных Scopus, Web of Science, MedLine, Global Health, Google Scholar, CyberLeninka. Анализ научно-практической литературы свидетельствует, что у ЛЖВ довольно часто наблюдается потеря иммунологической памяти о предыдущих иммунизациях и менее эффективный иммунный ответ даже после восстановления иммунной системы на фоне антиретровирусной терапии, что может потребовать дополнительных мер, например, таких как оценка уровня специфических антител, ревакцинация или увеличение дозы вакцин. Этот обзор подчеркивает важность вакцинации против дифтерии и столбняка как важной превентивной стратегии среди ЛЖВ взрослого возраста.
The increase in the number of people living with human immunodeficiency virus (PLHIV) and significant increase in their life expectancy on the background of antiretroviral therapy raises the issue of vaccination of these patients. To prepare the article, we searched for information using Scopus, Web of Science, MedLine, Global Health, Google Scholar, CyberLeninka databases. The analysis of scientific and practical literature shows that PLHIV are often considered to experience a loss of immunological memory of previous immunizations and a less effective immune response, even after the restoration of the immune system when using antiretroviral therapy, which may require additional measures, such as: assessment of the level of specific antibodies, revaccination, or increasing the dose of vaccines. This review emphasizes the importance of vaccination against diphtheria and tetanus as an important preventive strategy among PLHIV in adulthood.
Keywords
ВІЛ-інфекція; вакцинація; імунітет; дифтерія; правець; огляд
ВИЧ-инфекция; вакцинация; иммунитет; дифтерия; столбняк; обзор
HIV-infection; vaccination; immunity; diphtheria; tetanus; review
For the full article you need to subscribe to the magazine.
Bibliography
1. Bhatt B, Jindal H, Sk S, Malik JS, Sangwan K, Resident J. Vaccination in HIV positive adults: need to address. Hum Vaccin Immunother. 2014;10(10):3011-2. doi: 10.4161/21645515.2014.971645.
2. Cioe PA, Melbourne K, Larkin J. An immunization update for HIV-infected adults in the United States: review of the literature. J Assoc Nurses AIDS Care. 2015 Mar-Apr;26(2):201-7. doi: 10.1016/j.jana.2014.11.006.
3. Setse RW, Siberry GK, Moss WJ, Wheeling J, Bohannon BA, Dominguez KL. Meningococcal Conjugate and Tetanus Toxoid, Reduced Diphtheria Toxoid and Acellular Pertussis Vaccination Among HIV-infected Youth. Pediatr Infect Dis J. 2016 May;35(5):e152-7. doi: 10.1097/INF.0000000000001078.
4. Pinto Neto LFDS, Vieira JV, Ronchi NR. Vaccination cove–rage in a cohort of HIV-infected patients receiving care at an AIDS outpatient clinic in Espírito Santo, Brazil. Braz J Infect Dis. 2017 Sep-Oct;21(5):515-519. doi: 10.1016/j.bjid.2017.03.021. Epub 2017 Jun 2
5. WHO-UNICEF estimates of DTP3 coverage. Available from: http://apps.who.int/immunization_monitoring/globalsummary/timeseries/tswucoveragedtp3.html. Assesed: July 15, 2017.
6. Corre LN, Autran B. Vaccination in HIV-infected Individuals. Future Virology. 2012;7(1):85-102. doi:10.2217/fvl.11.128
7. Kerneis S, Launay O, Turbelin C, Batteux F, Hanslik T, Boelle PY. Long-term immune responses to vaccination in HIV-infected patients: a systematic review and meta-analysis. Clin Infect Dis. 2014 Apr;58(8):1130-9. doi: 10.1093/cid/cit937.
8. Crum-Cianflone NF, Wallace MR. Vaccination in HIV-Infec–ted Adults. AIDS Patient Care STDS. 2014 Aug 1; 28(8): 397-410. doi: 10.1089/apc.2014.0121.
9. Ho YL, Enohata T, Lopes MH, De Sousa Dos Santos S. Vaccination in Brazilian HIV-infected adults: a cross-sectional study. AIDS Patient Care STDS. 2008 Jan;22(1):65-70.
10. Spach DH. Immunizations for HIV-infected adults: indications, timing, and response. Top HIV Med. 2006 Dec-2007 Jan;14(5):154-8.
11. Crane HM, Dhanireddy S, Kim HN, еt al. Optimal timing of routine vaccination in HIV-infected persons. Curr HIV/AIDS Rep. 2009;6:93-99.
12. Grabmeier-Pfistershammer K, Herkner H, Touzeau-Roe–mer V, Rieger A, Burgmann H, Poeppl W. Low tetanus, diphtheria and acellular pertussis (Tdap) vaccination coverage among HIV infected individuals in Austria. Vaccine. 2015 Jul 31;33(32):3929-32. doi: 10.1016/j.vaccine.2015.06.056.
13. Moir S., Fauci AS. B-cell exhaustion in HIV infection: the role of immune activation. Current opinion in HIV and AIDS. 2014 Sep;9(5):472-7. doi: 10.1097/COH.0000000000000092.
14. Crum-Cianflone NF, Sullivan E. Vaccinations for the HIV-Infected Adult: A Review of the Current Recommendations, Part I. Infect Dis Ther. 2017 Sep;6(3):303-331. doi: 10.1007/s40121-017-0166-x.
15. Kim DK, Riley LE, Harriman KH, Hunter P, Bridges CB. Advisory committee on immunization practices recommended immunization schedule for adults aged 19 years or older-United States. MMWR Morb Mortal Wkly Rep. 2017 Feb 10;66(5):136-138. doi: 10.15585/mmwr.mm6605e2.
16. De Milito A. B lymphocytes dysfunction in HIV infection. Current HIV Research. 2004 Jan;2(1):11-21.
17. Yek C, Plana M, Castro P. Standard vaccines increase HIV-1 transcription during antiretroviral therapy. AIDS. 2016 Sep 24;30(15): 2289-2298. doi: 10.1097/QAD.0000000000001201
18. World Health Organization. Vaccine position papers. Avai–lable from: http://www.who.int/immunization/documents/positionpapers/en/. Accessed: Mar 30, 2017.
19. Panel on Opportunistic Infections in HIV-Infected Adults and Adolescents. Guidelines for the prevention and treatment of opportunistic infections in HIV-infected adults and adolescents: recommendations from the Centers for Disease Control and Prevention, the National Institutes of Health, and the HIV Medicine Association of the Infectious Diseases Society of America. Available from: https://aidsinfo.nih.gov/contentfiles/lvguidelines/adult_OI.pdf. Accessed: Mar 30, 2017.
20. Quinn KJ, McCarty EJ, Quah SP, Emerson CR, Donnelly CM. Managing vaccines: defining the remit of primary care and specialist HIV clinics in the delivery of immunization to individuals with HIV infection. Int J STD AIDS. 2012 Feb;23(2):136-7. doi: 10.1258/ijsa.2011.011231.
21. British HIV association guidelines on the use of vaccines in HIV-positive adults 2015. Available from: http://www.bhiva.org/documents/Guidelines/Immunisation/consultation/BHIVA-Immu–nisation-Guidelines-2015-Consultation.pdf. Accessed: 30 Mar 2017.
22. European AIDS Clinical Society (EACS) Guidelines for the treatment of HIV. Version 8.2. January 2017. Available from: http://www.eacsociety.org/guidelines/eacs-guidelines/eacs-guidelines.html. Accessed: Mar 30, 2017.
23. Frésard A, Gagneux-Brunon A, Lucht F, Botelho-Nevers E, Launay O. Immunization of HIV-infected adult patients — French recommendations. Hum Vaccin Immunother. 2016 Nov;12(11):2729-2741. doi: 10.1080/21645515.2016.1207013.
24. Ministry of Health of Ukraine. Order № 551: On the improvement of preventive vaccination in Ukranian. Available from: http://zakon3.rada.gov.ua/laws/show/z1237-14. (in Ukranian).
25. Rubin LG, Levin MJ, Ljungman P, Davies EG, Avery R, Tomblyn M, Bousvaros A, Dhanireddy S, Sung L, Keyserling H, Kang I. 2013 IDSA clinical practice guideline for vaccination of the immunocompromised host. Clin Infect Dis. 2014 Feb;58(3):e44-100. doi: 10.1093/cid/cit684.
26. Aberg JA, Gallant JE, Ghanem KG, Emmanuel P, Zingman BS, Horberg MA. Primary care guidelines for the management of persons infected with HIV: 2013 update by the HIV medicine association of the Infectious Diseases Society of America. Clin Infect Dis. 2014 Jan;58(1):e1-34. doi: 10.1093/cid/cit665
27. Simonsen SE, Kepka D, Thompson J, Warner EL, Snyder M, Ries KM. Preventive health care among HIV positive women in a Utah HIV/AIDS clinic: a retrospective cohort study. BMC Womens Health. 2014 Mar 4;14(1):37. doi: 10.1186/1472-6874-14-37.
28. Kurtzhals JA, Kjeldsen K, Heron I, Skinhоj P. Immunity against diphtheria and tetanus in human immunodeficiency virus-infected Danish men born 1950-59. APMIS. 1992;100(9):803-8.
29. Kroon FP, van Dissel JT, Labadie J, van Loon AM, van Furth R. Antibody response to diphtheria, tetanus, and poliomyelitis vaccines in relation to the number of CD4+ T lymphocytes in adults infected with human immunodeficiency virus. Clin Infect Dis. 1995 Nov;21(5):1197-203.
30. Talesnik E, Vial PA, Labarca J, Mendez C, Soza X. Time course of antibody response to tetanus toxoid and pneumococcal capsular polysaccharides in patients infected with HIV. J Acquir Immune Defic Syndr Hum Retrovirol. 1998 Dec 15;19(5):471-7.
31. Bonetti TC, Succi RC, Weckx LY, Tavares-Lopes L, de Moraes-Pinto MI. Tetanus and diphtheria antibodies and response to a booster dose in Brazilian HIV-1-infected women. Vaccine. 2004 Sep 9;22(27-28):3707-12.
32. Alagappan K, McGowan J, DeClaro D, Ng D, Silverman RA. Tetanus antibody protection among HIV-infected US-born patients and immigrants. Int J Emerg Med. 2008 Jun;1(2):123-6. doi: 10.1007/s12245-008-0020-8.
33. Burton CT, Goodall RL, Samri A, et al. Restoration of anti-tetanus toxoid responses in patients initiating highly active antiretroviral therapy with or without a boost immunization: an INITIO substudy. Clin. Exp. Immunol. 2008;152(2): 252-257, doi: 10.1111/j.1365-2249.2008.03611.x.
34. Salawu L, Ndakotsu MA. Tetanus antibody in Nigerians living with HIV/AIDS: A preliminary report. Malays J Microbiol. 2010;6(2):111-114. doi: 10.21161/mjm.10708.
35. Andrade RM, Andrade AF, Lazaro MA, еt al. Failure of highly active antiretroviral therapy in reconstituting immune response to Clostridium tetani vaccine in aged AIDS patients. J Acquir Immune Defic Syndr. 2010;54:10-7. doi: 10.1097/QAI.0b013e3181d6003b
36. Eslamifar A, Ramezani A, Banifazl M, Aghakhani A. Tetanus and diphtheria seroprevalence in patients infected with human immunodeficiency virus. Iranian Journal of Pathology. 2012;7(1):27-31.
37. Speranza FA, Ishii SK, Thuler LC, еt al. Diphtheria Antibodies and T lymphocyte Counts in Patients Infected With HIV-1. Braz J Microbiol. 2012 Jul;43(3):946-50. doi: 10.1590/S1517-838220120003000014.
38. Mullaert J, Abgrall S, Lele N, еt al. Diphtheria, tetanus, polio–myelitis, yellow fever and hepatitis B seroprevalence among HIV1-infec–ted migrants. Results from the ANRS VIHVO vaccine sub-study. Vaccine. 2015 Sep 11;33(38):4938-44. doi: 10.1016/j.vaccine.2015.07.036.
39. Sticchi L, Bruzzone B, Caligiuri P, еt al. Seroprevalence and vaccination coverage of vaccine-preventable diseases in perinatally HIV-1-infected patients. Hum Vaccin Immunother. 2015;11(1):263-9. doi: 10.4161/hv.36162
Similar articles

Authors: Волоха А.П.(1), Раус І.В.(2), Донской Б.Є.(3), Чернишова Л.І.(1), Чернишов В.П.(3)
(1) — Національна медична академія післядипломної освіти імені П.Л. Шупика, м. Київ, Україна
(2) — Київський міський центр ВІЛ/СНІД, м. Київ, Україна
(3) — ДУ «НДІ педіатрії, акушерства та гінекології», м. Київ, Україна
"Child`s Health" 7 (75) 2016
Date: 2017.01.10
Categories: Pediatrics/Neonatology
Sections: Clinical researches


Authors: Ревенко Г.О., Маврутенков В.В., Штепа О.П.
ДЗ «Дніпропетровська державна медична академія МОЗ України», м. Дніпро, Україна
"Actual Infectology" 4(13) 2016
Date: 2017.02.09
Categories: Infectious diseases
Sections: Clinical researches


Authors: Анастасій І.А., Аврамчук М.В., Ісаєв В.М.
Національний медичний університет імені О.О. Богомольця, м. Київ, Україна
"Actual Infectology" Том 8, №1, 2020
Date: 2020.02.28
Categories: Infectious diseases
Sections: Specialist manual


Authors: Мотика О.І., Геник І.Д., Слесарчук О.М., Малова О.С., Павлій Р.Б.
ДУ «Львівський НДІ епідеміології та гігієни МОЗ України», м. Львів, Україна
"Actual Infectology" Том 5, №5, 2017
Date: 2018.02.15
Categories: Infectious diseases
Sections: Clinical researches