"Actual Infectology" Том 6, №1, 2018
Clinical case of parvovirus B19 infection in adult immunocompetent patient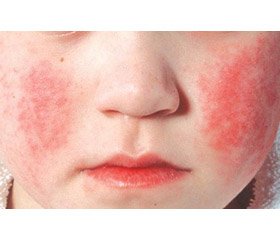 Summary
Описано клінічний випадок парвовірусної інфекції В19, викликаної Parvovirus B19, у дорослого хворого. У статті проаналізовані літературні дані щодо розвитку парвовірусної В19 інфекції у дорослих хворих.
В статье описан клинический случай парвовирусной В19 инфекции, вызванной Parvovirus B19, у взрослого больного. Проанализированы литературные данные, касающиеся развития парвовирусной В19 инфекции у взрослого больного.
A clinical case of parvovirus B19 infection is described. The published data on the development of parvovirus B19 infection in immunocompetent adult patients were analyzed in this article.
Keywords
парвовірусна В19 інфекція; дорослі; клінічний випадок
парвовирус В19; клинический случай; взрослые
parvovirus B19 infection; adults; clinical case
For the full article you need to subscribe to the magazine.
Bibliography
1. Ovsyannikov DJu. Differential diagnostics of infectious exanthemas in children. Detskie Infectsii. 2015;1:50-54 (In Russ.). doi: org/10.22627/2072-8107-2015-14-1-49-54.
2. Belan JuB, Statkovich MV. Parvovirus infection В19. Lechashhij vrach. 2014;1 (In Russ.).
3. Parvovirus B19 (erythema infectiosum, fifth disease). In: Red Book 2006: Report of the Committee on Infectious Diseases. 27th ed. Washington, D.C.: American Academy of Pediatrics, 2006:484-7. doi: 10.3201/eid1212.061045.
4. American College of Obstetrics and Gynecologists. ACOG practice bulletin. Perinatal viral and parasitic infections. Number 20, September 2000. Int J Gynaecol Obstet. 2002;76:95-107. PMID: 11905409.
5. Sharipova EV, Babachenko IV. Clinical and epidemiological features of B19 Parvovirus infection in children. Pediatrija. Zhurnal im. GN Speranskogo. 2015;94(2):82-86 (In Russ.).
6. Servant A, Laperche S, Lallemand F et al. Genetic diversity with in human erythroviruses: identification of three genotypes. Journal of Virology. 2002;76(18):9124-9134. doi: 10.1128/JVL.76.18.9124-9134.2002.
7. Heegaard Erick D. Human Parvovirus B19 / Erik D Heegaard, Kevin E Brown. Clinical Microbiol Rev. 2002;15:3485-3505. PMCID: PMC11801.
8. Wan Z, Zhi N, Wong S et al. Human parvovirus B19 causes cell cycle arrest of human erythroid progenitors via deregulation of the E2 F family of transcription factors. J Clin Invest. 2010;120:3530-3544. PMCID: PMC2947219.
9. Lamont RF, Sobel J, Vaisbuch E et al. Parvovirus B19 infection in human pregnancy. BJOG. 2011;118(2):175-186. PMCID: PMC3059196 doi:10.1111/j.1471-0528.2010.02749.x.
10. Van Beers-Tas MH, Heidema J. Review: Pathogenesis of parvovirus infections in children. Virol Mycol. 2013;2(1):110. doi: 10.4172/2161-0517.1000110.
11. Valentin MN, Cohen PJ. Pediatric Parvovirus B19: spectrum of clinical manifestations. Cutis. 2013;92:179-184. PMID: 24195090.
12. Wang J, Zhang W, Liu H, Wang D, Wang W, Li Y, Wang Z, Wang L, Zhang W, Huang G. Parvovirus B19 infection associated with Hashimoto's thyroiditis in adults. J Infect. 2010 May;60(5):360-70. PMID: 20153771. doi: 10.1016/j.jinf.2010.02.006.
Similar articles


Authors: Кириенко В.Т.(1), Зайцев И.А.(1), Потий В.В.(2), Нестерук Е.С.(1)
(1) — Национальный медицинский университет им. А.А. Богомольца, г. Киев, Украина
(2) — Донецкий национальный медицинский университет, г. Лиман, Украина
"Actual Infectology" Том 8, №1, 2020
Date: 2020.02.28
Categories: Infectious diseases
Sections: Specialist manual