"Child`s Health" Том 13, №1, 2018
Modern approach to the diagnosis of cardiovascular disorders newborns at perinatal risk in the neonatal period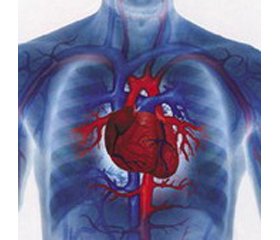 Summary
З метою удосконалення та систематизування підходу до діагностики серцево-судинних розладів у новонароджених шляхом комплексної оцінки допплерехокардіографічних параметрів, біохімічних маркерів (рівень лактатдегідрогенази, γ-глутамілтрансферази) та поліморфними варіантами С786Т у гені ендотеліальної синтази оксиду азоту (еNOS), T58C у гені мітохондріальної супероксиддисмутази (MnSOD2) та Ser49Gly в гені β1-адренорецептора (ADRB1) обстежені 133 новонароджені, із них 73 з групи перинатального ризику (І група) та 60 здорових доношених новонароджених (ІІ група). За результатами обстеження, бівентрикулярна дисфункція встановлена в 19,1 % дітей І групи, серед яких у 4 (5,5 %) обстежених встановлена систоло-діастолічна, у 10 (13,6 %) новонароджених — діастолічна дисфункція шлуночків серця. У 12 (20,0 %) передчасно народжених дітей та в 4 (30,7 %) новонароджених із затримкою внутрішньоутробного розвитку встановлено гіпокінетичний тип центральної гемодинаміки, що супроводжувалося підвищеними рівнями лактатдегідрогенази і γ-глутамілтрансферази в сироватці крові та змінами діастолічного наповнення шлуночків серця. Встановлена наявність асоціації між генотипом СС поліморфізму гена еNOS та скоротливою здатністю міокарда лівого шлуночка, інтегральною функцією лівого шлуночка за індексом Теї у передчасно народжених дітей  із групи перинатального ризику, носіїв алелі С за поліморфізмом гена MnSOD2 та з легеневою гіпертензією, в неонатальний період. Наявність генотипу GG поліморфізму гена ADRB1 можна вважати предиктором розвитку гіпокінетичного режиму центральної гемодинаміки.
С целью усовершенствования и систематизации подхода к диагностике сердечно-сосудистых расстройств у новорожденных путем комплексной оценки допплерэхокардиографических параметров, биохимических маркеров (уровень лактатдегидрогеназы, γ-глутамилтрансферазы) и полиморфными вариантами С786Т в гене эндотелиальной синтазы оксида азота (еNOS), T58C в гене митохондриальной супероксиддисмутазы (MnSOD2) и Ser49Gly в гене β1-адренорецептора (ADRB1) обследовано 133 новорожденных, из них 73 из группы перинатального риска (I группа) и 60 здоровых доношенных новорожденных (II группа). По результатам обследования, бивентрикулярная дисфункция установлена у 19,1 % детей I группы, среди которых у 4 (5,5 %) обследованных установлена систоло-диастолическая, у 10 (13,6 %) новорожденных — диастолическая дисфункция желудочков сердца. У 12 (20,0 %) преждевременно рожденных детей и у 4 (30,7 %) новорожденных с задержкой внутриутробного развития установлен гипокинетический тип центральной гемодинамики, что сопровождалось повышенными уровнями лактатдегидрогеназы и γ-глутамилтрансферазы в сыворотке крови и изменениями диастолического наполнения желудочков сердца. Установлено наличие ассоциации между генотипом СС полиморфизма гена еNOS и сократительной способностью миокарда левого желудочка, интегральной функцией левого желудочка по индексу Теи у преждевременно рожденных детей из группы перинатального риска, носителей аллели С по полиморфизму гена MnSOD2 и с легочной гипертензией, в неонатальный период. Наличие генотипа GG полиморфизма гена ADRB1 можно считать предиктором развития гипокинетического режима центральной гемодинамики.
In order to improve and systematize the approach to the diagnosis of cardiovascular disorders in newborns by comprehensive assessment of Doppler echocardiography parameters, biochemical markers (lactate dehydrogenase (LDH), γ-glutamyltransferase (GGT) levels) and polymorphic variants of C786T in the endothelial nitric oxide synthase (eNOS) gene, T58C in mitochondrial superoxide dismutase gene (MnSOD2) and Ser49Gly in β1-adrenoceptor gene (ADRB1), 133 newborns were examined, 73 of them were at perinatal risk (group 1) and 60 — healthy full-term neonates (group 2). According to the results of the study, biventricular dysfunction is detected in 19.1 % of children in group І, among them 4 (5.5 %) children were found to have systolic-diastolic and 10 (13.6 %) newborns — diastolic dysfunction of the heart ventricles. Besides, 12 (20.0 %) pre-term infants and 4 (30.7 %) newborns with intrauterine growth retardation had hypokinetic type of central hemodynamics accompanied by elevated levels of LDH and GGT in serum and changes in the diastolic filling of the heart ventricles. The study showed an association between SS genotype of eNOS gene polymorphism and contractile capacity of the left ventricular myocardium, the integral function of the left ventricle according to Tei index in pre-term infants from the perinatal risk group, carriers of C allele by MnSOD2 gene polymorphism and pulmonary hypertension in the neonatal period. The presence of GG genotype of ADRB1 gene polymorphism can be considered as a predictor for the development of hypokinetic regimen of central hemodynamics.
Keywords
серцево-судинні розлади; новонароджені; неонатальний період
сердечно-сосудистые расстройства; новорожденные; неонатальный период
cardiovascular disorders; newborns; neonatal period
For the full article you need to subscribe to the magazine.
Bibliography
1. Connor J.A. Genetic testing practices in infants with congenital heart disease / Connor J.A., Hinton R.B., Miller E.M., Sund K.L., Ruschman J.G., Ware S.M. // Congenit. Heart Dis. — 2014. — 9(2). — Р. 158-67. doi: 10.1111/chd.12112.
2. Годованець Ю.Д. Патогенетичні аспекти кардіоваскулярних порушень при гіпоксичному ураженні у новонароджених дітей / Годованець Ю.Д., Перижняк А.І. // Неонатологія, хірургія та перинатальна медицина. — 2016. — Т. VI. — № 1(19). — С. 21-26.
3. Cabrala Е. Prediction of cardiovascular risk in preterm neonates through urinary proteomics: An exploratory study / Cabrala Е., Soares Н., Guimarães Н., Vitorinoce R., Ferreira R., Henriques-Coelho T. // Porto Biomedical Journal. — 2017. — Vol. 2. — Is. 6. — P. 287-292.
4. Barker D.J. Growth in utero, blood pressure in childhood and adult life, and mortality from cardiovascular disease / Barker D.J., Osmond C., Golding J., Kuh D., Wadsworth M.E. // BMJ. — 1989. — Vol. 298. — Is. 6673. — Р. 564-567.
5. Demicheva E. Long-term follow-up of intrauterine growth restriction: Cardiovascular disorders (Review) / Demicheva E., Crispi F. // Fetal Diagnosis and Therapy. — 2014. — Vol. 36. — Is. 2. — P. 143-153.
6. Ueda P. Cerebrovascular and ischemic heart disease in young adults born preterm: A population-based Swedish cohort study / Ueda P., Cnattingius S., Stephansson O., Ingelsson E., Ludvigsson J.F., Bonamy A.-K.E. // European Journal of Epidemiology. — 2014. — Vol. 29. — Is. 4. — P. 253-260.
7. Edwards M.O. Higher systolic blood pressure with normal vascular function measurements in preterm-born children / Edwards M.O., Watkins W.J., Kotecha S.J., Halcox J.P.J., Dunstan F.D., Henderson A.J., Kotecha S. // Acta Paediatrica, International Journal of Paediatrics. — 2014. — Vol. 103. — Is. 9. — P. 904-912.
8. Parkinson, J.R.C. Preterm birth and the metabolic syndrome in adult life: A systematic review and meta-analysis / Parkinson J.R.C., Hyde M.J., Gale C., Santhakumaran S., Modi N. // Pediatrics. — 2013. — Vol. 131, Is. 4. — P. 1240-1263.
9. Willem P. de Boode. Recommendations for neonatologist performed echocardiography in Europe: Consensus Statement endorsed by European Society for Paediatric Research (ESPR) and European Society for Neonatology (ESN) / Willem P. de Boode, Yogen Singh, Samir Gupta, Topun Austin, Kajsa Bohlin, Eugene Dempsey, Alan Groves, Beate Horsberg Eriksen, David van Laere, Zoltan Molnar, Eirik Nestaas, Sheryle Rogerson, Ulf Schubert, Cécile Tissot, Robin van der Lee, Bart van Overmeire, Afif El-Khuffash // Pediatric Research. — 2016. — Vol. 80. — № 4. — Р. 465-471.
10. Nieminen T. Effects of polymorphisms in β1-adrenoceptor and α-subunit of G protein on heart rate and blood pressure during exercise test. The Finnish Cardiovascular Study / Nieminen T., Laiho J., Lehtimäki Т., Kähönen M. // Journal of Applied Physiology. — 2006. — 100(2). — Р. 507-511.
11. Niu W. An updated meta-analysis of endothelial nitric oxide synthase gene: three well-characterized polymorphisms with hypertension / Niu W., Qi Y. PLoS One. — 2011. — 6(9). — 24266. doi: 10.1371/journal.pone.0024266.
12. Пахомя Н.С. Полиморфизм некоторых генов-кандидатов сердечно-сосудистых заболеваний у больных бронхиальной астмой с сопутствующей гипертонической болезнью / Пахомя Н.С., Урясьев О.М. // Земский врач. — 2015. — № 4(28). — С. 24-29.
13. Shengyang Jiang. Role of gamma-glutamyltransferase in cardiovascular diseases / Shengyang Jiang, Donglin Jiang, Yijia Tao // Exp. Clin. Cardiol. — 2013. — 18(1). — 53-56.
14. Makikallio K. Human fetal cardiovascular profile score and neonatal outcome in intrauterine growth restriction / Makikallio K., Rasanen J., Makikallio T., Vuolteenaho O., Huhta J.C. // Ultrasound Obstet. Gynecol. — 2008. — 31. — Р. 48-54.
15. Класифікація ризиків перинатального періоду життя новонароджених / Коваленко О.С., Лепьохіна Г.С., Зазархов О.Ю., Злепко С.М. // Environment & Health. — 2016. — № 4. — С. 52-55.
16. Butnariu A. Systolic and diastolic function in congestive heart failure pediatric patients / Zamfir С., Іancu M., Iacob D., Samasca G., Lupan Iu. // Rom. J. Intern. Med. — 2016. — 54. — 1. — Р. 37-46.
17. Asutosh P. Chauhan. Study of myocardial involvement and lactic acid production in perinatal asphyxia / Asutosh P. Chauhan, Piyush B. Tailor, Prakash Bhabhor, Margeyi M. Mehta, Rachit M. Joshi // National Journal of Medical Research. — 2013. — Vol. 3. — Is. 1. — Р. 76-79.
18. Знаменська Т.К. Гіпоксія плода та асфіксія новонародженого / Знаменська Т.К., Похилько В.І., Подольський В.В., Ципкун А.Г., Ковальова О.М., Мироненко К.Є., Шевченко Л.І., Костюкова К.О. — Київ, 2010. — 464 с.
19. Xu M. Role for Functional SOD2 Polymorphism in Pulmonary Arterial Hypertension in a Chinese Population / Xu M., Xu M., Han L., Yuan C., Mei Y., Zhang H., Chen S., Sun K., Zhu B. // Int. J. Environ. Res. Public Health. — 2017, Mar 6. — 14(3). — 266. doi: 10.3390/ijerph14030266.
20. Ali K. Alzahrani. Cardiac Function Affection in Infants with Neonatal Sepsis // J. Clin. Trial. — 2017. — Vol. 7(5). — 329. doi: 10.4172/2167-0870.1000329.
Similar articles
Authors:
Бойченко А.Д., Ріга О.О., Сенаторова А.В., Меркулов В.В.* Харківський національний медичний університет *Комунальний заклад охорони здоров'я «Обласна клінічна лікарня — центр екстремальної медичної допомоги і медицини катастроф», м. Харків


"Child`s Health" 3 (30) 2011
Date: 2011.10.14
Categories: Pediatrics/Neonatology