"Child`s Health" Том 13, №2, 2018
Inhibition of bacterial virulence factors as a method of treating bacterial pneumonia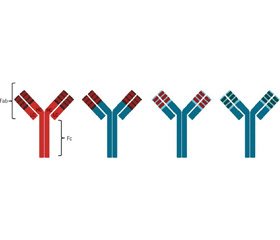 Authors:

Абатуров А.Е.(1), Крючко Т.А.(2)
(1) — ГУ «Днепропетровская медицинская академия МЗ Украины», г. Днепр, Украина
(2) — ВГУЗУ «Украинская медицинская стоматологическая академия», г. Полтава, Украина



Categories:

Pediatrics/Neonatology



Sections:

Specialist manual
Summary
Неухильне зростання антибіотикорезистентних бактеріальних штамів в етіологічній структурі пневмоній, виснаження потенціалу антибактеріальної терапії підвищують значення лікарських засобів, дія яких спрямована на нейтралізацію головних чинників вірулентності, причинно-значимих бактеріальних агентів. Серед медикаментозних методів контролю інфекційного процесу за допомогою усунення бактеріальних факторів вірулентності виділяють: пригнічення продукції бактеріальних факторів вірулентності, нейтралізацію чинників вірулентності, блокування рецепторів, які розпізнають фактори вірулентності. Одним із можливих методів лікування малокурабельних форм пневмонії, викликаних антибіотикорезистентними штамами, є використання специфічних для певних антигенів респіраторно-тропних патогенів моноклональних антитіл (mAb). На даний час розроблені технології, що дозволяють отримати повністю гуманізовані mAb, що відрізняються мінімальним рівнем імуногенності і токсичності. З огляду на високий аффінітет бактеріальних пороутворюючих токсинів до ліпідного бішару клітинних мембран макроорганізму альтернативою специфічним mAb як нейтралізаторам бактеріальних факторів вірулентності є неспецифічні ліпідні секвестранти, експериментальне використання яких запобігає розвитку фатальної септицемії.
Неуклонный рост антибиотикорезистентных бактериальных штаммов в этиологической структуре пневмоний, истощение потенциала антибактериальной терапии повышают значение лекарственных средств в лечении пневмоний, действие которых направлено на нейтрализацию факторов вирулентности, причинно-значимых бактериальных агентов. Среди медикаментозных способов контроля инфекционного процесса при помощи подавления бактериальных факторов вирулентности выделяют: ингибирование продукции бактериальных факторов вирулентности, нейтрализацию факторов вирулентности, блокировку рецепторов, распознающих факторы вирулентности. Одним из возможных методов лечения малокурабельных форм пневмонии, вызванных антибиотикорезистентными штаммами, является использование специфических для определенных антигенов респираторно-тропных патогенов моноклональных антител (mAb). В настоящее время разработаны технологии, позволяющие получать полностью гуманизированные mAb, которые отличаются минимальным уровнем иммуногенности и токсичности. Учитывая высокий аффинитет бактериальных порообразующих токсинов к липидному бислою клеточных мембран макроорганизма, альтернативой специфическим mAb в качестве нейтрализаторов бактериальных факторов вирулентности являются неспецифические липидные секвестранты, экспериментальное использование которых предотвращает развитие фатальной септицемии.
Incremental increase in the number of antibiotic-resistant bacterial strains in the etiologic structure of pneumonia and reduced potential of antibiotic therapy increase the importance of drugs in the treatment of pneumonia, which are aimed at neutralizing virulence factors of etiologically significant bacterial agents. There are the following drug methods for monitoring the infectious process by suppressing bacterial virulence factors: inhibition of production of bacterial virulence factors, neutralizing virulence factors, blocking of receptors, blocking of receptors recognizing virulence factors. One possible method for the treatment of low-curable forms of pneumonia caused by antibiotic-resistant strains is the use of monoclonal antibodies (mAb) specific for certain antigens of respiratory-tropic pathogens. At present, technologies have been developed that make it possible to obtain fully humanized mAbs, which have a minimal level of immunogenicity and toxicity. In view of the high affinity of bacterial pore-forming toxins to the lipid bilayer of the cell membranes of the macroorganism, an alternative to specific mAbs as neutralizers of bacterial virulence factors are non-specific lipid sequestrants, wherein the experimental use of these sequestrants prevents the development of fatal septicemia.
Keywords
пневмонії; бактеріальні фактори вірулентності; моноклональні антитіла
пневмонии; бактериальные факторы вирулентности; моноклональные антитела
pneumonia; bacterial virulence factors; monoclonal antibodies
For the full article you need to subscribe to the magazine.
Bibliography
1. Будчанов Ю.И. Моноклональные антитела: от создания до клинического применения // Клиническая онкогематология. Фундаментальные исследования и клиническая практика. — 2016. — Т. 9, № 3. — С. 237-244.
2. Adawi A. In vitro and in vivo properties of a fully human IgG1 monoclonal antibody that combats multidrug resistant Pseudomonas aeruginosa / A. Adawi, C. Bisignano, T. Genovese et al. // Int. J. Mol. Med. 2012 Sep; 30(3): 455-64. doi: 10.3892/ijmm.2012.1040.
3. Baaske R. ATP Release from Human Airway Epithelial Cells Exposed to Staphylococcus aureus Alpha-Toxin / R. Baaske, M. Richter, N. Möller et al. // Toxins (Basel). 2016 Dec 6; 8(12). pii: E365. doi: 10.3390/toxins8120365.
4. Babb R., Pirofski L.A. Help is on the way: Monoclonal antibody therapy for multi-drug resistant bacteria // Virulence. 2017 Mar 17: 1-4. doi: 10.1080/21505594.2017.1306620.
5. Chhabria V., Beeton S. Development of nanosponges from erythrocyte ghosts for removal of streptolysin-O from mammalian blood // Nanomedicine (Lond). 2016 Oct 21. doi: 10.2217/nnm-2016-0180.
6. Congy-Jolivet N. Recombinant therapeutic monoclonal antibodies: mechanisms of action in relation to structural and functional duality / N. Congy-Jolivet, A. Probst, H. Watier, G. Thibault // Crit. Rev. Oncol. Hematol. 2007 Dec; 64(3): 226-33. doi: 10.1016/j.critrevonc.2007.06.013.
7. Diago-Navarro E. Antibody-Based Immunotherapy To Treat and Prevent Infection with Hypervirulent Klebsiella pneumoniae / E. Diago-Navarro, I. Calatayud-Baselga, D. Sun et al. // Clin. Vaccine Immunol. 2017 Jan 5; 24(1). pii: e00456-16. doi: 10.1128/CVI.00456-16.
8. DiGiandomenico A. A multifunctional bispecific antibody protects against Pseudomonas aeruginosa / A. DiGiandomenico, A.E. Keller, C. Gao et al. // Sci Transl. Med. 2014 Nov 12; 6(262): 262ra155. doi: 10.1126/scitranslmed.3009655.
9. DiGiandomenico A. Identification of broadly protective human antibodies to Pseudomonas aeruginosa exopolysaccharide Psl by phenotypic screening / A. DiGiandomenico, P. Warrener, M. Hamilton et al. // J. Exp. Med. 2012 Jul 2; 209(7): 1273-87. doi: 10.1084/jem.20120033.
10. DiGiandomenico A., Sellman B.R. Antibacterial monoclonal antibodies: the next generation? // Curr. Opin Microbiol. 2015 Oct; 27: 78-85. doi: 10.1016/j.mib.2015.07.014.
11. Distler U., Tenzer S. Tools for Pathogen Proteomics: Fi–shing with Biomimetic Nanosponges // ACS Nano. 2017 Nov 20. doi: 10.1021/acsnano.7b07363.
12. Dreymueller D. ADAM-family metalloproteinases in lung inflammation: potential therapeutic targets / D. Dreymueller, S. Uhlig, A. Ludwig et al. // Am. J. Physiol. Lung Cell Mol. Physiol. 2015 Feb 15; 308(4): L325-43. doi: 10.1152/ajplung.00294.2014.
13. Escajadillo T. A Red Blood Cell Membrane-Camouflaged Nanoparticle Counteracts Streptolysin O-Mediated Virulence Phenotypes of Invasive Group A Streptococcus / T. Escajadillo, J. Olson, B.T. Luk et al. // Front Pharmacol. 2017 Jul 18; 8: 477. doi: 10.3389/fphar.2017.00477.
14. EVADE (Effort to prevent nosocomial pneumonia caused by Pseudomonas aeruginosa in mechanically ventilated subjects). NIH Web site. https: //clinicaltrials.gov/ct2/show/NCT02696902?term = MEDI3902&rank = 2 Published February 11, 2016. Accessed March 15, 2017.
15. Geno K.A. Pneumococcal Capsules and Their Types: Past, Pre–sent, and Future / K.A. Geno, G.L. Gilbert, J.Y. Song et al. // Clin. Microbiol. Rev. 2015 Jul; 28(3): 871-99. doi: 10.1128/CMR.00024-15.
16. Henry B.D. Engineered liposomes sequester bacterial exoto–xins and protect from severe invasive infections in mice / B.D. Henry, D.R. Neill, K.A. Becker et al. // Nat. Biotechnol. 2015 Jan; 33(1): 81-8. doi: 10.1038/nbt.3037.
17. Hu C.M. A biomimetic nanosponge that absorbs pore-forming toxins / C.M. Hu, R.H. Fang, J. Copp et al. // Nat. Nanotechnol. 2013 May; 8(5): 336-40. doi: 10.1038/nnano.2013.54.
18. Inoshima I. A Staphylococcus aureus pore-forming toxin subverts the activity of ADAM10 to cause lethal infection in mice / I. Ino–shima, N. Inoshima, G.A. Wilke et al. // Nat. Med. 2011 Sep 18; 17(10): 1310-4. doi: 10.1038/nm.2451.
19. Kelly-Quintos C. Characterization of the opsonic and protective activity against Staphylococcus aureus of fully human monoclonal antibodies specific for the bacterial surface polysaccharide poly-N-acetylglucosamine / C. Kelly-Quintos, L.A. Cavacini, M.R. Posner et al. // Infect. Immun. 2006 May; 74(5): 2742-50. doi: 10.1128/IAI.74.5.2742-2750.2006.
20. Khan N., Jan A.T. Towards Identifying Protective B-Cell Epitopes: The PspA Story // Front Microbiol. 2017 May 2; 8: 742. doi: 10.3389/fmicb.2017.00742.
21. Kirkham L.A. Construction and immunological characterization of a novel nontoxic protective pneumolysin mutant for use in future pneumococcal vaccines / L.A. Kirkham, A.R. Kerr, G.R. Douce et al. // Infect. Immun. 2006 Jan; 74(1): 586-93. doi: 10.1128/IAI.74.1.586-593.200.
22. Köhler G., Milstein C. Continuous cultures of fused cells secreting antibody of predefined specificity // Nature. 1975 Aug 7; 256(5517): 495-7. PMID: 1172191.
23. Kong C., Neoh H.M., Nathan S. Targeting Staphylococcus aureus Toxins: A Potential form of Anti-Virulence Therapy // Toxins (Basel). 2016 Mar 15; 8(3). pii: E72. doi: 10.3390/toxins8030072.
24. Kristian S.A. Generation and Improvement of Effector Function of a Novel Broadly Reactive and Protective Monoclonal Antibody against Pneumococcal Surface Protein A of Streptococcus pneumo–niae / S.A. Kristian, T. Ota, S.S. Bubeck et al. // PLoS One. 2016 May 12; 11(5): e0154616. doi: 10.1371/journal.pone.0154616.
25. Kumar A., Kumar A. Role of Staphylococcus aureus Virulence Factors in Inducing Inflammation and Vascular Permeability in a Mouse Model of Bacterial Endophthalmitis // PLoS One. 2015 Jun 8; 10(6): e0128423. doi: 10.1371/journal.pone.0128423.
26. LaGrow A.L. A Novel Biomimetic Nanosponge Protects the Retina from the Enterococcus faecalis Cytolysin / A.L. LaGrow, P.S. Coburn, F.C. Miller et al. // mSphere. 2017 Nov 22; 2(6). pii: e00335-17. doi: 10.1128/mSphere.00335-17.
27. Liu Q., Yeo W.S., Bae T. The SaeRS Two-Component System of Staphylococcus aureus // Genes (Basel). 2016 Oct 3; 7(10). pii: E81. doi: 10.3390/genes7100081.
28. Matthews A.L. Scissor sisters: regulation of ADAM10 by the TspanC8 tetraspanins / A.L. Matthews, J. Szyroka, R. Collier et al. // Biochem. Soc. Trans. 2017 Jun 15; 45(3): 719-730. doi: 10.1042/BST20160290.
29. McCormick C.C. Chemical inhibition of alpha-toxin, a key corneal virulence factor of Staphylococcus aureus / C.C. McCormick, A.R. Caballero, C.L. Balzli et al. // Invest. Ophthalmol. Vis. Sci. 2009 Jun; 50(6): 2848-54. doi: 10.1167/iovs.08-3157.
30. Milla C.E. Anti-PcrV antibody in cystic fibrosis: a novel approach targeting Pseudomonas aeruginosa airway infection // C.E. Milla, J.F. Chmiel, F.J. Accurso et al. // Pediatr. Pulmonol. 2014 Jul; 49(7): 650-8. doi: 10.1002/ppul.22890.
31. Munguia J., Nizet V. Pharmacological Targeting of the Host-Pathogen Interaction: Alternatives to Classical Antibiotics to Combat Drug-Resistant Superbugs // Trends Pharmacol. Sci. 2017 May; 38(5): 473-488. doi: 10.1016/j.tips.2017.02.003.
32. Murphy A.J. Mice with megabase humanization of their immunoglobulin genes generate antibodies as efficiently as normal mice / A.J. Murphy, L.E. Macdonald, S. Stevens et al. // Proc. Natl. Acad. Sci USA. 2014 Apr 8; 111(14): 5153-8. doi: 10.1073/pnas.1324022111.
33. Nait Chabane Y. Virstatin inhibits biofilm formation and motility of Acinetobacter baumannii / Y. Nait Chabane, M.B. Mlouka, S. Alexandre et al. // BMC Microbiol. 2014 Mar 12; 14: 62. doi: 10.1186/1471-2180-14-62.
34. Oh M.H., Choi C.H. Role of LuxIR Homologue AnoIR in Acinetobacter nosocomialis and the Effect of Virstatin on the Expression of anoR Gene // J. Microbiol Biotechnol. 2015 Aug; 25(8): 1390-400. doi: 10.4014/jmb.1504.04069.
35. Parsons J.B. Perturbation of Staphylococcus aureus gene expression by the enoyl-acyl carrier protein reductase inhibitor AFN-1252 / J.B. Parsons, M. Kukula, P. Jackson et al. // Antimicrob Agents Chemother. 2013 May; 57(5): 2182-90. doi: 10.1128/AAC.02307-12.
36. Patel M., Kaufman D.A. Anti-lipoteichoic acid monoclonal antibody (pagibaximab) studies for the prevention of staphylococcal bloodstream infections in preterm infants // Expert Opin Biol. Ther. 2015 Apr; 15(4): 595-600. doi: 10.1517/14712598.2015.1019857.
37. Que Y.A. Assessment of panobacumab as adjunctive immunothe–rapy for the treatment of nosocomial Pseudomonas aeruginosa pneumonia / Y.A. Que, H. Lazar, M. Wolff et al. // Eur. J. Clin. Microbiol. Infect. Dis. 2014 Oct; 33(10): 1861-7. doi: 10.1007/s10096-014-2156-1.
38. Ragle B.E., Karginov V.A., Bubeck Wardenburg J. Prevention and treatment of Staphylococcus aureus pneumonia with a beta-cyclodextrin derivative // Antimicrob. Agents Chemother. 2010 Jan; 54(1): 298-304. doi: 10.1128/AAC.00973-09.
39. Rodgers K.R., Chou R.C. Therapeutic monoclonal antibo–dies and derivatives: Historical perspectives and future directions // Biotechnol. Adv. 2016 Nov 1; 34(6): 1149-58. doi: 10.1016/j.biotechadv.2016.07.004.
40. Roux D., Pier G.B., Skurnik D. Magic bullets for the 21st century: the reemergence of immunotherapy for multi- and pan-resistant microbes // J. Antimicrob. Chemother. 2012 Dec; 67(12): 2785-7. doi: 10.1093/jac/dks335.
41. Song Y. PcrV antibody-antibiotic combination improves survival in Pseudomonas aeruginosa-infected mice / Y. Song, M. Baer, R. Srinivasan et al. // Eur. J. Clin. Microbiol. Infect. Dis. 2012 Aug; 31(8): 1837-45. doi: 10.1007/s10096-011-1509-2.
42. Szijártó V. Endotoxin neutralization by an O-antigen specific monoclonal antibody: A potential novel therapeutic approach against Klebsiella pneumoniae ST258 / V. Szijártó, L.M. Guachalla, K. Hartl et al. // Virulence. 2017 Jan 19: 1-13. doi: 10.1080/21505594.2017.1279778.
43. Tai S.S. Streptococcus pneumoniae protein vaccine candidates: properties, activities and animal studies // Crit. Rev. Microbiol. 2006; 32(3): 139-53. PMID: 16893751.
44. Thanabalasuriar A. Bispecific antibody targets multiple Pseudomonas aeruginosa evasion mechanisms in the lung vasculature / A. Thanabalasuriar, B.G. Surewaard, M.E. Willson et al. // J. Clin. Invest. 2017 Jun 1; 127(6): 2249-2261. doi: 10.1172/JCI89652.
45. Tsuji B.T. Activity of AFN-1252, a novel FabI inhibitor, against Staphylococcus aureus in an in vitro pharmacodynamic model simulating human pharmacokinetics / B.T. Tsuji, Y. Harigaya, A.J. Lesse et al. // J. Chemother. 2013 Feb; 25(1): 32-5. doi: 10.1179/1973947812Y.0000000060.
46. Vuong C. Investigational drugs to treat methicillin-resistant Staphylococcus aureus / C. Vuong, A.J. Yeh, G.Y. Cheung, M. Otto // Expert Opin Investig. Drugs. 2016; 25(1): 73-93. doi: 10.1517/13543784.2016.1109077.
47. Warrener P. A novel anti-PcrV antibody providing enhanced protection against Pseudomonas aeruginosa in multiple animal infection models / P. Warrener, R. Varkey, J.C. Bonnell et al. // Antimicrob. Agents Chemother. 2014 Aug; 58(8): 4384-91. doi: 10.1128/AAC.02643-14.
48. Yano M. Antibodies to Streptococcus pneumoniae capsular polysaccharide enhance pneumococcal quorum sensing / M. Yano, S. Gohil, J.R. Coleman et al. // MBio. 2011 Nov 1; 2(5). pii: e00176-11. doi: 10.1128/mBio.00176-11.
Similar articles

Authors: Абатуров А.Е.(1), Крючко Т.А.(2)
(1) — ГУ «Днепропетровская медицинская академия МЗ Украины», г. Днепр, Украина
(2) — ВГНУЗ «Украинская медицинская стоматологическая академия», г. Полтава, Украина
"Child`s Health" Том 14, №3, 2019
Date: 2019.06.07
Categories: Pediatrics/Neonatology
Sections: Specialist manual


Authors: Абатуров А.Е., Никулина А.А.
ГУ «Днепропетровская медицинская академия МЗ Украины», г. Днепр, Украина
"Child`s Health" Том 12, №2, 2017
Date: 2017.05.10
Categories: Pediatrics/Neonatology
Sections: Specialist manual


Authors: Абатуров А.Е., Никулина А.А.
ГУ «Днепропетровская медицинская академия МЗ Украины», г. Днепр, Украина
"Child`s Health" Том 13, №1, 2018
Date: 2018.04.12
Categories: Pediatrics/Neonatology
Sections: Specialist manual


Authors: Абатуров А.Е.(1), Крючко Т.А.(2)
(1) — ГУ «Днепропетровская медицинская академия МЗ Украины», г. Днепр, Украина
(2) — ВГУЗУ «Украинская медицинская стоматологическая академия», г. Полтава, Украина
"Child`s Health" Том 14, №4, 2019
Date: 2019.08.05
Categories: Pediatrics/Neonatology
Sections: Specialist manual