"Actual Infectology" Том 6, №2, 2018
Atypical forms of acute Epstein-Barr virus infection in children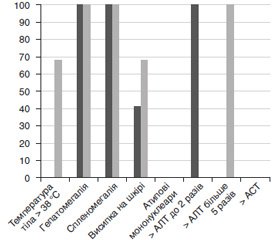 Authors:

Сорокман Т.В.(1), Попелюк Н.О.(1), Швигар Л.В.(2)
1 - ВДНЗ України «Буковинський державний медичний університет», м. Чернівці, Україна
2 - КМУ «Міська дитяча поліклініка», м. Чернівці, Україна



Categories:

Infectious diseases



Sections:

Clinical researches
Summary
Актуальність. Сьогодні спостерігається тенденція до зростання захворюваності на Епштейна — Барр-вірусну інфекцію (ЕБВІ) у дітей. Мета дослідження: виявити частоту та особливості атипових форм гострої ЕБВІ в дітей. Матеріали та методи. Проаналізовано результати обстеження 28 дітей віком від 6 місяців до 18 років, які перенесли ЕБВІ та перебували під спостереженням у дитячій поліклініці. Визначали активність аланінамінотрансферази, аспартатамінотрансферази, лужної фосфатази, гаммаглутамілтранспептидази, рівень білірубіну, маркери вірусних гепатитів. Проводили ультразвукову діагностику, імуноферментний аналіз із визначенням у крові маркерів ЕБВ (IgM VCA, IgG EA, IgG VCA, ДНК-ЕБВ) методом полімеразної ланцюгової реакції. Дані оброблені методами статистичного аналізу з використанням прикладної програми Statistica 6. Результати. У 71,4 % випадків ЕБВІ перебігала в типовій формі із середнім ступенем тяжкості. Атиповий перебіг ЕБВІ спостерігався у 28,5 % випадків. Клінічно атипові форми розпочиналися переважно з ознак гострої респіраторної вірусної інфекції з наступним ураженням внутрішніх органів (печінки і серця), зокрема в дітей до 1 року, та змінами функціональних проб печінки. Висновки. Частота атипових форм гострої ЕБВІ становить 28,5 %. Атипові форми гострої ЕБВІ частіше трапляються в дітей грудного віку та підлітків і перебігають з ураженням внутрішніх органів (печінка та серце).
Актуальность. В настоящее время наблюдается тенденция к росту Эпштейна — Барр-вирусной инфекции (ЭБВИ) у детей. Цель исследования: выявить частоту и особенности атипичных форм острой ЭБВИ у детей. Материалы и методы. Проанализированы результаты обследования 28 детей в возрасте от 6 месяцев до 18 лет, перенесших ЭБВИ, которые находились под наблюдением в детской поликлинике. Определяли активность аланинаминотрансферазы, аспартатаминотрансферазы, щелочной фосфатазы, гаммаглутамилтранспептидазы, уровень билирубина, маркеры вирусных гепатитов. Проводили ультразвуковую диагностику, иммуноферментный анализ с определением в крови маркеров ЭБВИ (IgM VCA, IgG EA, IgG VCA, ДНК-ЭБВ) методом полимеразной цепной реакции. Данные обработаны методами статистического анализа с использованием прикладной программы Statistica 6. Результаты. В 71,4 % случаев ЭБВИ протекла в типичной форме со средней степенью тяжести. Атипичное течение ЭБВИ наблюдалось в 28,5 % случаев. Клинически атипичные формы начинались преимущественно с признаков острой респираторной вирусной инфекции с последующим поражением внутренних органов (печени и сердца), в частности у детей до 1 года, и изменениями функциональных проб печени. Выводы. Частота атипичных форм острой ЭБВИ составляет 28,5 %. Атипичные формы ЭБВИ чаще встречаются у детей грудного возраста и подростков и протекают с поражением внутренних органов (печень и сердце).
Background. Today, there is a tendency to increase in Epstein-Barr virus infection (EBVI) morbidity. The purpose of the study was to identify the incidence and features of atypical forms of acute EBVI in children. Material and methods. We have examined 28 children aged 6 months to 18 years with EBVI who were monitored in pediatric polyclinic. The activity of alanine aminotransferase and aspartate aminotransferase, levels of bilirubin, alkaline phosphatase, gamma-glutamyl transpeptidase, markers of viral hepatitis were evaluated. Enzyme-linked immunosorbent assay was performed with determination of blood markers of EBV (immunoglobulin (Ig) M viral capsid antigen (VCA), IgG early antigen, IgG VCA, avidity) and cytomegalovirus (CMV) (IgM, IgG, avidity), EBV deoxyribonucleic acid (DNA), CMV DNA; polymerase chain reaction was used for serological diagnosis. The data were processed by statistical analysis using Statistica 6 program. Results. In 71.4 % of cases, EBVI had usual course and moderate severity. The atypical forms of acute EBVI were observed in 28.5 % of cases. Clinically atypical forms began mainly from signs of acute respiratory infections followed by lesions of the internal organs (liver and heart), in particular, in children under 1 year of age, and changes in liver functional tests. Conclusions. The incidence of atypical forms of EBVI is 28.5 %. Atypical forms of EBVI are more common in infants and adolescents and associated with the damage to the internal organs (liver and heart).
Keywords
Епштейна — Барр-вірусна інфекція; атипова форма; діти
Эпштейна — Барр-вирусная инфекция; атипичная форма; дети
Epstein-Barr virus infection; atypical form; children
For the full article you need to subscribe to the magazine.
Bibliography
1. Nikolskiy MA, Sokolova ED, Lioznov DA. The misdiagnosis of infectious mononucleosis in children. Consilium Medicum. Pediatrics (Suppl.). 2016;3:24-28. (in Russian)
2. Lavrent'eva IN, Finogenova NA, Mamedova EA. Features of diagnosis and course of herpetic infections caused by Epstein-Barr viruses and human type 6 herpes in neutropenia in young children. Detskie infektsii. 2011;3:11-5. (in Russian)
3. Taila AK, Hingwe AS, Johnson LE. Toxoplasmosis in a patient who was immunocompetent: a case report. J Med Case Rep. 2011 Jan 18;5:16. doi: 10.1186/1752-1947-5-16.
4. Hurt C, Tammaro D. Diagnostic evaluation of mononucleosis-like illnesses. Am J Med. 2007 Oct;120(10):911.e1-8. doi: 10.1016/j.amjmed.2006.12.011.
5. Allen UD, Preiksaitis JK. Epstein-Barr Virus and Posttransplant Lymphoproliferative Disorder in Solid Organ Transplantation. American Journal of Transplantation. 2013;13;4:107-120. doi: 10.1111/ajt.12104.
6. Sanosyan A, Rutagwera DG, Molès J-P, Bollore K, Peries M, Kankasa Ch [et al.]. Increased Epstein–Barr virus in breast milk occurs with subclinical mastitis and HIV shedding. Medicine (Baltimore). 2016 Jul;95(27):e4005. doi: 10.1097/MD.0000000000004005.
7. Belan IuB, Mikhailova IuB. Modern aspects of the diagnosis of infectious mononucleosis in children. Pediatr. 2010;1(2):19-25. (in Russian)
8. Gao LW, Xie ZD, Liu YY, Wang Y, Shen KL. Epidemiologic and clinical characteristics of infectious mononucleosis associated with Epstein-Barr virus infection in children in Beijing, China. World J Pediatr. 2011 Feb;7(1):45-9. doi: 10.1007/s12519-011-0244-1.
9. Crowley A, Connell J, Schaffer K [et al.]. Is there diagnostic value in detection of immunoglobulin g antibodies to the epstein-barr virus early antigen? Biores Open Access 2012;1(6):291-6. doi: 10.1089/biores.2012.0274.
10. Ning S. Innate immune modulation in EBV infection. Herpesviridae / S. Ning. 2011;2(1):1. doi: 10.1186/2042-4280-2-1.