"Actual Infectology" Том 6, №2, 2018
Modern aspects of acute intestinal infections of viral etiology in children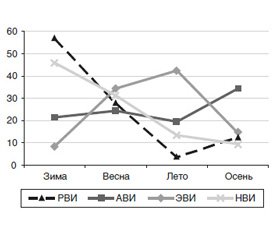 Summary
В інфекційної патології дитячого віку все більшу значимість набувають вірусні діареї. У даній роботі проведено аналіз клініко-епідеміологічних особливостей ротавірусної, аденовірусної, норовірусної та ентеровірусної кишкових інфекцій у дітей. Встановлено, що вірусні кишкові інфекції є однією з провідних причин інфекційних гастроентеритів у дітей перших трьох років життя. Вірусні діареї найбільш тяжко протікають у дітей з несприятливим преморбідним фоном. Пацієнтам першого року життя властивий розвиток вододефіцитного ексикозу. Відсутність специфічної профілактики, легкість інфікування створюють передумови для зростання захворюваності.
В инфекционной патологии детского возраста все большую значимость приобретают вирус­ные диареи. В настоящей работе проведен анализ клинико-эпидемиологических особенностей ротавирусной, аденовирусной, норовирусной и энтеровирусной кишечных инфекций у детей. Установлено, что вирусные кишечные инфекции являются одной из ведущих причин инфекционных гастроэнтеритов у детей первых трех лет жизни. Вирусные диареи наиболее тяжело протекают у детей с неблагоприятным преморбидным фоном. Пациентам первого года жизни свойственно развитие вододефицитного эксикоза. Отсутствие специфической профилактики, легкость инфицирования создают предпосылки для роста заболеваемости.
In the infectious pathology of childhood, viral diarrhea becomes increasingly important. In the present work, the clinical and epidemiological features of rotavirus, adenovirus, norovirus and enterovirus enteric infections in children have been analyzed. It was found that viral intestinal infections are one of the leading causes of infectious gastroenteritis in infants. Viral diarrhea is most severe in children with unfavorable premorbid background. Infant patients are characterized by the development of water-deficient excoxicosis. The absence of specific prevention, ease introduction of infection creates the prerequisites for the growth of morbidity.
Keywords
кишкова інфекція; ротавірусна інфекція; аденовірусна інфекція; ентеровірусна інфекція; діти
кишечная инфекция; ротавирусная инфекция; аденовирусная инфекция; энтеровирус­ная инфекция; дети
intestinal infection; rotavirus infection; adenovirus infection; enterovirus infection; children
For the full article you need to subscribe to the magazine.
Bibliography
1. Prisyazhnyuk EN, Reznik VI, Lebedeva LA, Karavyan–skaya TN, Golubeva EM. [The role of viral pathogens in the etiology of acute intestinal diseases]. Zdorove. Medicinskaya Ehkologiya. Nauka. 2012;3-4(49):213-216. Russian.
2. Ershova IB, Mochalova AA, Osipova TF, Reshchikov VA, Kozina SYU. [Drugs reducing microbiocenosis as the causal treatment of acute intestinal infections in children]. Aktualnaya infektologiya. 2015;2(7):45-50. Russian.
3. Sadkowska-Todys MA, Zieliński A, Czarkowski MS. [Infectious diseases in Poland in 2014]. Przegl Epidemiol. 2016;70(2):167-181.
4. Wiegering V, Kaiserb J, Tappec D, Weißbrichd B, Morbachb H, Girschickbe HJ. [Gastroenteritis in childhood: a retrospective study of 650 hospitalized pediatric patients]. International Journal of Infectious Diseases. 2011;15:401-440.
5. Denisyuk NB. [Rotavirus infection in children: mono- and combined forms, features of the clinic and the course]. Zhurnal infektologii. 2012;4:20-24. Russian.
6. Glass RI, Parashar UD, Estes MK. [Norovirus Gastroenteritis]. N Engl J Med. 2009;361:1776-1785.
7. Hu MH, Lin KL, Wu CT, Chen SY, Huang GS. [Clinical Cha–racteristics and Risk Factors for Seizures Associated With No–rovirus Gastroenteritis in Childhood]. J Child Neurol. 2017;32(9):810-814.
8. Pronko NV, Krasko YP. [Norovirus infection: features of epidemiology and clinical and laboratory manifestations at the present stage]. Aktualnaya infektologiya. 2017;1(5):26-29. Russian.
Similar articles

Authors: Пронько Н.В.(1), Красько Ю.П.(2)
(1) — Гродненский государственный медицинский университет, г. Гродно, Республика Беларусь
(2) — Гродненская областная инфекционная клиническая больница, г. Гродно, Республика Беларусь
"Actual Infectology" Том 5, №1, 2017
Date: 2017.04.21
Categories: Infectious diseases
Sections: Clinical researches


Authors:
Пронько Н.В.(1), Красько Ю.П.(2) (1) — УО «Гродненский государственный медицинский университет», г. Гродно, Беларусь (2) — УЗ «Гродненская областная инфекционная клиническая больница», г. Гродно, Беларусь


"Actual Infectology" Том 7, №3, 2019
Date: 2019.06.27
Categories: Infectious diseases
Sections: Clinical researches


Authors:
Матиевская Н.В.(1), Совкич А.Л.(1), Амвросьева Т.В.(2), Шилова Ю.А.(2) (1) — УО «Гродненский государственный медицинский университет», г. Гродно, Беларусь (2) — Республиканский научно-практический центр эпидемиологии и микробиологии, г. Минск, Беларусь


"Actual Infectology" Том 7, №4, 2019
Date: 2019.10.11
Categories: Infectious diseases
Sections: Clinical researches