"Actual Infectology" Том 6, №2, 2018
A clinical case of a combination of secondary headache with recurrent genital rash in an immunocompetent woman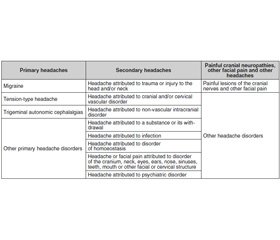 Authors:

Vysochyna I.L.(1), Mavrutenkov V.V.(1), Chykarenko Z.O.(1), Rositskaya O.A.(1), Zhukova N.V.(2)
1 - State Institution "Dnipropetrovsk Medical Academy of the Ministry of Health of Ukraine", Dnipro, Ukraine
2 - Municipal Institution "Professor Ye.H. Popkova City Clinical Hospital 21" of Dnipropetrovsk Regional Council, Dnipro, Ukraine



Categories:

Infectious diseases



Sections:

Specialist manual
Summary
У статті наведено детальний аналіз клінічного випадку рецидивуючих епізодів вираженого головного болю з появою висипання в ділянці зовнішніх статевих органів у імунокомпетентної жінки. Описано особливості перебігу цiєї патології, наведено результати лабораторного обстеження з обґрунтуванням вибору методів і оцінкою ефективності терапії. Наведено аналіз і класифікацію можливих інфекційних та неінфекційних етіологічних причин головного болю відповідно до Міжнародного товариства головного болю. Подано історичну довідку про менінгіт Молларе, діагностичні критерії цього діагнозу, описано терапію і прогноз. Також проведено диференціальну діагностику інших причин доброякісного рецидивуючого асептичного менінгіту. У результаті диференціального підходу в наведеному клінічному випадку був діагностований менінгіт Молларе. У статті описано особ­ливості цієї патології і діагностичні критерії, обговорено можливі етіологічні причини і схеми терапії. Підкреслено необхідність і ефективність тривалої супресивної хіміотерапії для профілактики повторних епізодів клінічного загострення в терапії менінгіту Молларе.
В статье представлен подробный анализ клинического случая рецидивирующих эпизодов выраженной головной боли с появлением сыпи в области наружных половых органов у иммунокомпетентной женщины. Описаны особенности течения данной патологии, приведены результаты лабораторного обследования с обоснованием выбора методов и оценкой эффективности терапии. Представлены анализ и классификация возможных инфекционных и неинфекционных этиологических причин головной боли в соответствии с Международным обществом головной боли. Даны историческая справка о менингите Молларе, диагностические критерии данного диагноза, описаны терапия и прогноз. Также проведена дифференциальная диагностика других причин доброкачественного рецидивирующего асептического менингита. В результате дифференциального подхода в указанному клиническом случае был диагностирован менингит Молларе. В статье представлены особенности данной патологии и диагностические критерии, обсуждены возможные этиологические причины и схемы терапии. Подчеркнуты необходимость и эффективность длительной супрессивной химиотерапии для профилактики повторных эпизодов клинического обострения в терапии менингита Молларе.
Headache is one of the most common pathological conditions worldwide, taking into account that 45 % of the adult population has ever reported severe or disabling cephalgia. This interdisciplinary problem often requires participation of many specialists to perform comprehensive differential diagnosis and to choose the effective management. The article investigates one of the causes of the headache such as infections due to persistent viruses. The article presents a detailed clinical case of recurrent episodes of severe disabling headache in an immunocompetent female, which were accompanied by genital rash. Performed laboratory survey is discussed. Methods and efficacy of therapeutic approach during exacerbation episodes and long-term follow-up are described. The article presents international classification of primary and secondary causes of headache disorders according to the International Headache Society (2013). The spectrum of etiological causes of headache, which should be included into differential diagnosis is discussed. Attention is given to differentiation of headache as a presentation of infectious diseases, both intracranial and systemic. Considering the presented clinical case of recurrent episodes of severe headache associated with signs of genital rash, etiology of herpes simplex virus 1 + 2 is suggested. According to clinicians' opinion, Mollaret meningitis was diagnosed in the discussed case. The article presents historical background of this diagnosis, pathogenic features of this disorder, diagnostic criteria of Mollaret meningitis, its relation to the group of benign recurrent aseptic meningitis, as well as outline of other reasons of benign meningitis. Recommended management of Mollaret meningitis and its efficacy are provided in the study. Differential diagnosis of recurrent episodes of headache should include a long list of causes and often requires collaboration of different specialists. The combination of recurrent pain of any localization, such as cephalalgia with neurologic or somatic pathology, includes herpes simplex virus 1 + 2 infection in the clinical and laboratory differential diagnosis. When establishing the diagnosis of recurrent aseptic meningitis, such as Mollaret meningitis, first line etiotropic drugs are derivatives of acyclovir unless another cause of serous meningitis is confirmed. The use of acyclovir derivatives with recurrent aseptic meningitis, including Mollaret meningitis, can be justified on the basis of clinical signs in cases when exact etiotropic confirmation is complicated. This therapy should be performed as a long-term suppressive chemotherapy, duration and efficacy of which should be established during further clinical evaluation, considering absence of headache relapses and other clinical presentations.
Keywords
головний біль; дорослі; диференціальна діагностика; менінгіт Молларе; терапія
головная боль; взрослые; дифференциальная диагностика; менингит Молларе; терапия
headache; adults; differential diagnosis; Mollaret meningitis; management
For the full article you need to subscribe to the magazine.
Bibliography
1. Kallio-Laine K., Seppänen M., Kautiainen H. et al. Recurrent lymphocytic meningitis positive for herpes simplex virus type 2 // Emerging Infectious Diseases. 2009; 15(7): 1119-1122.
2. Loren A. Rolak. Neurology Secrets. London (UK): Elsevier Health Sciences, 2008. 584 p.
3. Matthew Robbins, Brian M. Grosberg, Richard Lipton. Hea–dache / John Wiley and Sons Ltd/Wiley-Blackwell. ISBN 978-0-470-65472-9. 2013. 336 p. https://www.bookdepository.com/Headache-Richard-Lipton/9780470654729
4. Diagnosis and management of headache in adults. A national clini–cal guideline. Scottish Intercollegiate Guidelines Network, 2008. 88 p.
5. Steiner T.J., Paemeleire K., Jensen R., Valade D., Savi L., Lainez M.J.A., Diener H.-C., Martelletti P., Couturier E.G.M. European principles of management of common headache disorders in primary care // Journal of Headache and Pain. 2007; 8(1): 57.
6. Joseph R. Berger, Houff S. Neurological Complications of Herpes Simplex Virus Type 2 Infection // Archives of Neurology. 2008; 65 (5): 596-600.
7. David N. Gilbert, Robert C. Moellering Jr., Georg M. Eliopoulos, Henry F. Chambers, Michael S. Saag. The Sanford Guide to Antimicrobial Therapy; Antimicrobial Therapy, Inc., 2016. 688 p.
8. Galdi A.P. Benign recurrent aseptic meningitis (Mollaret's meningitis) // Arch. Neurol. 1979; 36: 657-658.
9. Mollaret P. Recurrent benign endothelio-leukocytic meningitis. A new syndrome or a new disease? (Case reports) // Rev. Neurol. 1944; 76: 657-658. French
10. Azizul M. Hoque, Chowdhury N., Hoque Z., Siddiqui N. A., Islam R., Ahmad Q. Mollaret's Meningitis: A Case Report and Review of the Literature // The Journal of Teachers Association. 2004; 17 (1): 41-46.
11. Tedder D.G., Ashely R., Tyler K.L., Levin M.J. Herpes simplex virus infection as a cause of benign recurrent lymphocytic meningitis // Ann. Intern. Med. 1994; 121: 334-339.
12. Katariina Kallio-Laine. Herpes Simplex Virus Infection, Pathological Pain and Recurrent Lymphocytic Meningitis. Helsinki: Academic dissertation, 2009. 83 p.
13. Ahmad K. Abou-Foul, Thajunisha M. Buhary, Sedki L. Gayed. Herpes simplex virus type 2-associated recurrent aseptic (Mollaret's) meningitis in genitourinary medicine clinic: a case report // International Medical Case Reports Journal. 2014; 7: 31-33.
14. Marwan Shalabi, Richard J. Whitley. Recurrent Benign Lymphocytic Meningitis // Clinical Practice. 2006; 43 (9): 1194-1197.
15. Beloo Mirakhur, Marc McKenna. Recurrent Herpes Simplex Type 2 Virus (Mollaret) Meningitis. Journal of the American Board of Family Medicine. 2004; 17(4): 303-305.
16. Jarrin I., Sellier P., Lopes A. Etiologies and Management of Aseptic Meningitis in Patients Admitted to an Internal Medicine Department // Medicine (Baltimore). 2016; 95(2): e2372.
17. The International Classification of Headache Disorders, 3rd ed. (2013). Headache Classification Committee of the International Headache Society (IHS).
Similar articles

Authors: Євтушенко В.В.(1), Крамарьов С.О.(1), Камінська Т.М.(2), Литвиненко Н.Г.(1), Чемьоркіна Н.В.(2), Закордонець Л.В.(1)
1 - Національний медичний університет імені О.О. Богомольця, м. Київ, Україна
2 - Міська дитяча клінічна інфекційна лікарня, м. Київ, Україна
"Actual Infectology" Том 6, №2, 2018
Date: 2018.06.11
Categories: Infectious diseases
Sections: Specialist manual


Authors:
Mavrutenkov V.V. — Department of infectious diseases of SE "Dnipropetrovsk medical academy of Health ministry of Ukraine", Dnipropetrovsk city, Ukraine


"Child`s Health" 3 (63) 2015
Date: 2015.06.02
Categories: Pediatrics/Neonatology
Sections: Clinical researches