"Actual Infectology" Том 6, №3, 2018
Modern clinical and epidemiological features of enterovirus meningitis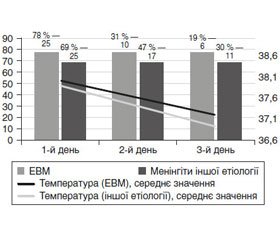 Authors:

Усачова О.В.(1), Коломєєць В.В.(1), Фірюліна О.М.(2)
1 - Запорізький державний медичний університет, м. Запоріжжя, Україна
2 - КУ «Обласна інфекційна клінічна лікарня ЗОР», м. Запоріжжя, Україна



Categories:

Infectious diseases



Sections:

Clinical researches
Summary
Актуальність. Актуальність нейроінфекцій обумовлена вираженою тяжкістю перебігу та високим відсотком летальності. Кількість серозних менінгітів збільшується щодня. Серозний менінгіт є одним із найбільш частих проявів ентеровірусної інфекції. Мета. Встановлення опорних клініко-лабораторних симптомів ентеровірусної етіології менінгіту. Матеріали та методи. Проаналізували результати динамічного клінічного спостереження й обстеження 70 пацієнтів із менінгітами. За результатами полімеразної ланцюгової реакції калу та/або ліквору у 33 хворих встановлено ентеровірусну етіологію захворювання, а у решти 37 етіологія залишилася нез'ясованою. Результати. З'ясували, що ентеровірусні менінгіти мають ряд анамнестичних, клінічних і лабораторних особливостей, таких як: до ентеровірусного пошкодження менінгеальних оболонок більш схильні діти перших десяти років життя; важливим епідфактором при цьому є відпочинок на морі; серед ранніх симптомів ентеровірусного менінгіту частіше реєструється блювання; для ентеровірусного менінгіту характерна полога температурна крива з ранньої нормалізацією температури тіла (на 3–5-й день у більшості пацієнтів); у цих пацієнтів переважно має місце змішаний плеоцитоз ліквору.
Актуальность. Актуальность нейроинфекций обу­слов-
лена выраженной тяжестью течения и высоким процентом летальности. Количество серозных менингитов увеличивается ежедневно. Серозный менингит является одним из наиболее частых проявлений энтеровирусной инфекции. Цель. Установление опорных клинико-лабораторных симптомов энтеро­вирусной этиологии менингита. Материалы и методы. Про­анализировали результаты динамического клинического наблюдения и обследования 70 пациентов с менингитами. По результатам полимеразной цепной реакции кала и/или ликвора у 33 больных установлена энтеровирусная этиология заболевания, а у остальных 37 этиология осталась неясной. Результаты. Выяснили, что энтеровирусные менингиты имеют ряд анамнестических, клинических и лабораторных особенностей, таких как: энтеровирусному повреждению менингеальных оболочек более подвержены дети первых десяти лет жизни; важным эпидфактором при этом является отдых на море; среди ранних симптомов энтеровирусного менингита чаще регистрируется рвота; для энтеровирусного менингита характерна пологая температурная кривая с ранней нормализацией температуры тела (к 3–5-му дню у большинства пациентов); у этих пациентов преимущественно имеет место смешанный плеоцитоз ликвора.
Background. The relevance of neuroinfections is explained by the severity of its course and the high mortality rate. The number of serous meningitis increases every day. Serous meningitis is one of the most common manifestations of enterovirus infection. Therefore, the purpose of our study was to establish the main clinical and laboratory symptoms of enterovirus meningitis. Materials and methods. We have analyzed the results of dynamic clinical observation and examination of 70 patients with meningitis. According to the results of polymerase chain reaction of stool and/or cerebrospinal fluid, in 33 of them the disease was of enterovirus origin, while in the remaining 37 subjects the etiology remained unexplained. Results. We found that enterovirus meningitis has a number of anamnestic, clinical and laboratory features such as: the children of the first ten years of life are more likely to be affected with enterovirus lesions of the meningeal membranes; the important epidemiological factor is holiday at the seaside; vomiting is most often reported among the early symptoms of enterovirus meningitis; the disease is characterized by a flat temperature curve with early normalization of body temperature (by day 3–5 in the majority of the patients); patients predominantly have a mixed cerebrospinal fluid pleocytosis.
Keywords
серозний менінгіт; ентеровіруси; діти; діагностика
серозный менингит; энтеровирусы; дети; диагностика
serous meningitis; enteroviruses; children; diagnosis
For the full article you need to subscribe to the magazine.
Bibliography
1. Задирака Д.А. Сравнительная характеристика серозных менингитов у взрослых и детей / Д.А. Задирака // Актуальні питання фармацевтичної і медичної науки та практики. — 2010. — № 3. — С. 47-48.
2. Рябоконь Ю.Ю. Клинические особенности серозных менингитов у детей / Ю.Ю. Рябоконь, Т.Н. Зеленько // Патология. — 2009. — № 3(6). — С. 89-90.
3. Виничук С.М. Неврология / С.М. Виничук. — К.: Здоровья, 2010. — 363 с.
4. Яхно Н.Н. Болезни нервной системы / Н.Н. Яхно, Д.Р. Штульман. — К.: Медицина, 2005. — Т. 1. — 306 с.
5. Григорьева И.А. Неврология / И.А. Григорьева, Л.И. Соколова. — К.: Медицина, 2016. — 282 с.
6. Виничук С.М. Неврология / С.М. Виничук. — К.: Здоровья, 2010. — 372 с.
7. Mary T. Enterovirus Infections in Children [Електронний ресурс] / T. Mary. — Режим доступу: http://www.merckmanuals.com/home/children-s-health-issues/viral-infections-in-infants-and-children/enterovirus-infections-in-children.
8. Sawyer M.H. Enterovirus infections diagnosis and treatment / Sawyer M.H. // Pediatr. Infect. Dis. — 2002. — № 13(1). — P. 40.
9. The virus watch program: a continuing surveillance of viral infections in metropolitan New York families. VII. Observations on viral excretion, seroimmunity, intrafamilial spread and illness association in coxsackie and echovirus infections / I. Spigland, T.E. Frothingham, L. Elveback, C. Williams, C.E. Hall // Am. J. Epidemiol. — 1969. — № 89(1). — P. 51-61.
10. Молекулярно-генетические варианты вируса ECHO 9, идентифицированные у больных серозным менингитом в России в 2007–2009 г. / Л.Н. Голицына, С.Г. Фомина, Н.А. Новикова [и др.] // Вопросы вирусологии. — 2011. — Т. 56, № 6. — С. 37.
11. Enterovirus 71: epidemiology and diagnostics / Lukashev A.N., Koroleva G.A., Lashkevich V.A., Mikhailov M.I. // Zh. Mikrobiol. Epidemiol. Immunobiol. — 2009. — № 3. — P. 110.
12. Enterovirus meningitis in adults / H.A. Rotbart, P.J. Brenman, K.H. Fife et al. // Clin. Infect. Dis. — 1998. — Vol. 27, № 4. — P. 896-898.