"Тrauma" Том 19, №4, 2018
Effect of negative pressure therapy on inflammation and regeneration in extremity gunshot wounds in early period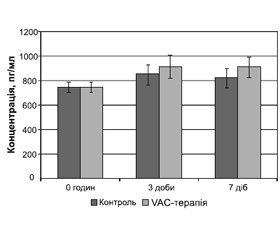 Authors:

Науменко Л.Ю.(1), Горегляд О.М.(2)
1 - ДЗ «Дніпропетровська медична академія МОЗ України», м. Дніпро, Україна
2 - КЗ «Дніпропетровська обласна лікарня ім. І.І. Мечникова», м. Дніпро, Україна



Categories:

Traumatology and orthopedics



Sections:

Specialist manual
Summary
Вакуум-асистоване закриття рани (VAC) проявило себе як економічно вигідний та ефективний метод лікування протягом останніх двох десятиліть, але різноманіття отриманих пацієнтами ушкоджень тканин при вогнепальних (у т.ч. бойових) травмах вимагає подальшого дослідження впливу негативного тиску на процес загоєння рани. Метою дослідження був комплексний аналіз ефективності вакуумної терапії рани (VAC) у взаємозв'язку зі змінами показників лейкоцитарної формули та цитограм із ранового вмісту у хворих із тяжкими вогнепальними ранами. Було виявлено, що VAC пришвидшує зміну дегенеративно-некротичного типу цитограм із ранового вмісту на регенераторний, прискорює нормалізацію показників лейкоцитограми внаслідок зменшення обсягу некробіотичних процесів, підвищує концентрацію судинного ендотеліального фактора росту (VEGF) у сироватці крові, значно зменшує відсоток гнійно-септичних ускладнень, скорочує терміни підготовки ран до реконструктивних оперативних заходів у хворих із застосуванням негативного тиску в середньому на 5,2 ± 0,8 доби.
Вакуум-ассистированное закрытие раны (VAC) проявило себя как экономически выгодный и эффективный метод лечения в течение последних двух десятилетий, но многообразие полученных пациентами повреждений тканей при огнестрельных (в т.ч. боевых) травмах требует дальнейшего исследования влияния негативного давления на процесс заживления раны. Целью исследования был комплексный анализ эффективности вакуумной терапии раны (VAC) во взаимосвязи с изменениями показателей лейкоцитарной формулы и цитограмм из раневого содержимого у больных с тяжелыми огнестрельными ранами. Было обнаружено, что VAC ускоряет смену дегенеративно-некротического типа цитограмм из раневого содержимого на регенераторный, ускоряет нормализацию показателей лейкоцитограммы вследствие уменьшения объема некробиотических процессов, повышает концентрацию сосудистого эндотелиального фактора роста (VEGF) в сыворотке крови, значительно уменьшает процент гнойно-септических осложнений, сокращает сроки подготовки ран к реконструктивным оперативным мероприятиям у больных с применением отрицательного давления в среднем на 5,2 ± 0,8 суток.
Although vacuum-assisted closure approved as cost-effective and a powerful therapeutic method over the past two decades, the variety of injuries due to gunshot (including battle injuries) wounds requires further investigation of negative pressure therapy effect on wound healing. The aim of the work was a comprehensive analysis of effectiveness of vacuum-assisted closure (VAC) by the changes in leucogram and cytogram from wound content in patients with severe gunshot wounds. VAC was found to improve regeneration process confirmed by faster change of degenerative-necrotic cytogram from wound content, to accelerate normalization of leucogram parameters due to reduction of necrobiosis, increase vascular endothelial growth factor in blood serum, diminish the portion of purulent-septic complications, decrease the period for reconstructive interventions start in patients undergone negative pressure therapy by an average of 5.2 ± 0.8 day.
Keywords
загоєння ран; лікування негативним тиском; лейкоцитограма; поверхнева біопсія; VEGF
заживление ран; лечение отрицательным давлением; лейкоцитограмма; поверхностная биопсия; VEGF
wound healing; negative pressure therapy; leucogram; cytogram; surface biopsy; VEGF
For the full article you need to subscribe to the magazine.
Bibliography
1. Taylor C., Jaffery S. Management of military wounds in modernera // Wounds. — 2009. — 5. — Р. 50-58.
2. Morykwas M.J., Simpson J., Punger K., Argenta A., Kremers L., Argenta J. Vacuum-assisted closure: state of basic research and physiologic foundation // Plast. Reconstr. Surg. — 2006. — 117. — Р. 121-126.
3. Geiger S., McCormick F., Chou R., Wangel A.G. Warwounds: lessons learned from Operation Iraqi Freedom // Plast. Reconstr. Surg. — 2008. — 122. — Р. 146-153.
4. Horrocks C. Blast injuries: biophysics, pathophysiology and management principles // J. R. Army Med. Corps. — 2001. — 147. — Р. 28-40.
5. Murray C.K., Hsu J.R., Solomkin J.S. et al. Prevention and management of infections associated with combat-related extremities injuries // J. Trauma. — 2008. — 64. — Р. 238-251.
6. Naumenko L.Y., Horehliad O.M., Mamet'ev A.A., Kostrica K.Y., Roleof V.A. Cin treatment of open severe polystructural damage of extremities // Trauma. — 2016. — 17(3). — Р. 25-26.
7. Naumenko L., Horehliad O., Mametyev A., Kostrytcya K., Domansky A. Healing of severe polystructural limb wounds using vacuum therapy // Orthopaedics, Traumatology and Prosthetics. — 2017. — 4. — doi: 10.15674/0030-59872017457-61.
8. Островский В.К., Свитич Ю.М., Вебер В.Р. Лейкоцитарный индекс интоксикации при острах гнойных и воспалительных заболеваниях легких // Вестн. хирургии. — 1983. — Т. 131, № 11. — С. 21-24.
9. Камаев М.Ф. Инфицированная рана и ее лечение. — М.: Медицина, 1970. — 159 с.
10. Морфологічні особливості репаративних процесів у ранах бойового характеру під впливом вакуум-асистованої терапії / О.Є. Лоскутов, О.М. Горегляд, О.О. Бондаренко, Н.С. Бондаренко // Morphologia. — 2018. — Т. 12, № 1. — С. 20-28.
11. Горегляд А.М. Изменение контаминированности ран под. действием локального применения негативного давления // Вестник Витебского государственного медицинского университета. — 2018. — Т. 17, № 2. — С. 63-69.
12. Scherer S.S., Pietramaggiori G., Mathews J.C., Prsa M.J., Huang S., Orgill D.P. The mechanism of action of vacuum-assisted closure device. Plast. Reconst. Surg. — 2008. — 122. — Р. 786-799.
13. Orgill D.P., Manders E.K., Sumpio B.E. et al. The mechanism of action of vacuum-assisted closure: moretolearn // Surgery. — 2009. — 146. — Р. 40-51
14. Huang C., Leavitt T., Bayer L.R., Orgill D.P. Effect of negative pressure wound therapy on wound healing // Curr. Probl. Surg. — 2014. — 51. — Р. 301-331.
15. McNulty A.K., Schmidt M., Feeley T., Kieswetter K. Effects of negative pressure wound therapy on fibroblast viability, chemotactic signaling, and proliferation in a provisional wound (fibrin) matrix // Wound Repair Regen. — 2007. — 15. — Р. 838-846.
16. Erba P., Ogawa R., Ackermann M. et al. Angiogenesis in wounds treated by microdeformational wound therapy // Ann. Surg. — 2011. — 253. — Р. 402-409.
17. Borgquist O., Ingemansson R., Malmsjo M. Individualizing the negative pressure wound therapy for optimal wound healing: a focused review of literature // Ostomy Wound Mana–ge. — 2011. — 57. — Р. 44-54.
Similar articles

Authors: Гур'єв С.О.(1), Танасієнко П.В.(1), Марцинковський І.П.(2)
(1) — ДЗ «Український науково-практичний центр екстреної медичної допомоги та медицини катастроф МОЗ України», м. Київ, Україна
(2) — Військово-медичний клінічний центр Центрального регіону, м. Вінниця, Україна
"Тrauma" Том 18, №5, 2017
Date: 2017.11.21
Categories: Traumatology and orthopedics
Sections: Specialist manual


Authors:
Herasymchuk P.O., Deikalo I.M., Vlasenko V.H., Fira D.B., Pavlyshyn A.V. - State Higher Educational Institution «Ternopil State Medical University named after I.Ya. Horbachevskyi of the Ministry of Healthcare of Ukraine», Ternopil, Ukraine


International journal of endocrinology 2 (74) 2016
Date: 2016.05.12
Categories: Endocrinology
Sections: Clinical researches


Authors: Кохан Р.C., Гощинський В.Б., Пятничка О.З.
ДВНЗ «Тернопільський державний медичний університет імені І.Я. Горбачевського МОЗ України», м. Тернопіль, Україна
Ukrainian journal of surgery 1 (32) 2017
Date: 2017.05.12
Categories: Surgery
Sections: Clinical researches


Authors:
Шкварковський І.В., Антонюк Т.В., Шкварковська Н.В. - Буковинський державний медичний університет, м. Чернівці


Ukrainian journal of surgery 3-4 (26-27) 2014
Date: 2015.02.04
Categories: Surgery
Sections: Clinical researches