"Actual Infectology" Том 6, №4, 2018
Antibiotic therapy of acute uncomplicated cystitis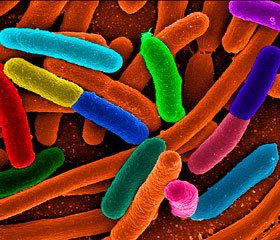 Summary
Інфекції сечовивідних шляхів (ІСВШ) є найбільш поширеними інфекціями у людей. Щорічно у світі реєструють близько 150 млн випадків ІСВШ. Підвищений ризик розвитку ІСВШ мають немовлята, люди похилого віку, вагітні, хворі з травмами спинного мозку, з цукровим діабетом, розсіяним склерозом, дефіцитом імунітету, структурними вадами розвитку нирок та сечовивідних шляхів. Основним напрямком лікування гострої неускладненої ІСВШ є призначення антибактеріальної терапії. У статті наведені дані сучасних міжнародних рекомендацій щодо лікування ІСВШ.
Инфекции мочевыводящих путей (ИМВП) являются наиболее распространенными бактериальными инфекциями у людей. Ежегодно в мире регистрируют около 150 млн случаев ИМВП. Повышенный риск развития ИМВП имеют младенцы, люди пожилого возраста, беременные женщины, пациенты с травмами спинного мозга, с диабетом, рассеянным склерозом, иммунодефицитными заболеваниями, структурными аномалиями почек и мочевыводящих путей. Основным направлением в лечении острой неосложненной ИМВП является назначение антибактериальной терапии. В статье представлены и проанализированы данные современных международных рекомендаций по лечению ИМВП.
Urinary tract infections (UTIs) are the most common bacterial infections in humans. Annually in the world, about 150 million cases of UTI are registered. Several risk factors are associated with UTIs, including diabetes, immunodeficiency diseases, structural abnormalities of the kidneys and urinary tract, spinal cord injuries, multiple sclerosis, pregnancy, infancy, or elderly age. The main direction in the treatment of acute uncomplicated UTI is antibiotic therapy. The article presents data of current international recommendations on the treatment of UTI.
Keywords
нфекції сечовивідних шляхів; цистит; лікування; фосфоміцин
инфекции мочевыводящих путей; цистит; лечение; фосфомицин
urinary tract infections; cystitis; treatment; fosfomycin
For the full article you need to subscribe to the magazine.
Bibliography
1. Frequency and antimicrobial resistance patterns of bacteria implicated in community urinary tract infections: a ten-year surveillance study (2000-2009) / Linhares I., Raposo T., Rodrigues A., Almeida A. // BMC Infect. Dis. — 2013 Jan 18. — 13. — 19. doi: 10.1186/1471-2334-13-19.
2. Urinary tract infections: epidemiology, mechanisms of infection and treatment options / Flores-Mireles A.L., Walker J.N., Caparon M., Hultgren S.J. // Nat. Rev. Microbiol. — 2015 May. — 13 (5). — 269-84.
3. Nicolle L.E. Epidemiology of urinary tract infection // Infect. Med. — 2001. — 18. — 153-162.
4. Foxman B. Epidemiology of urinary tract infections: incidence, morbidity, and economic costs // Am. J. Med. — 2002 Jul 8. — 113, Suppl 1A. — 5S-13S.
5. Gupta K., Scholes D., Stamm W.E. Increasing prevalence of antimicrobial resistance among uropathogens causing acute uncomplicated cystitis in women // JAMA. — 1999. — 281 (8). — 736-738.
6. Colgan R., Keating K., Dougouih M. Survey of symptom burden in women with uncomplicated urinary tract infections // Clin. Drug. Investig. — 2004. — 24 (1). — 55-60.
7. Лопаткин Н.А., Деревянко И.И. Неосложненные и осложненные инфекции мочеполовых путей. Принципы антибактериальной терапии // РМЖ. — 1997. — № 24. — С. 2.
8. Кочуева М.Н. Острый неосложненный цистит: адекватная терапия — средство профилактики рецидивов // Здоровье Украины. — 2017. — № 6 (403).
9. Davis N.F., Hugh D. Flood The Pathogenesis of Urinary Tract Infections // Clinical Management of Complicated Urinary Tract Infection, 2011.
10. Foxman B. Urinary tract infection syndromes: occurrence, recurrence, bacteriology, risk factors, and disease burden // Infect. Dis. Clin. North. Am. — 2014 Mar. — 28 (1). — 1-13.
11. Ronald A. The etiology of urinary tract infection: traditional and emerging pathogens // Dis. Mon. — 2003. — 49 (2). — 71-82.
12. Fatima S., Muhammad I.N., Usman S., Jamil S., Khan M.N., Khan S.I. Incidence of multidrug resistance and extended-spectrum beta-lactamase expression in community-acquired urinary tract infection among different age groups of patients // Indian J. Pharmacol. — 2018 Mar-Apr. — 50 (2). — 69-74. doi: 10.4103/ijp.IJP_200_17.
13. López-Banda D.A., Carrillo-Casas E.M., Leyva-Leyva M., Orozco-Hoyuela G., Manjarrez-Hernández Á.H., Arroyo-Escalante S., Moncada-Barrón D., Villanueva-Recillas S., Xicohtencatl-Cortes J., Hernández-Castro R.. Identification of virulence factors genes in Escherichia coli isolates from women with urinary tract infection in Mexico // Biomed. Res. Int. — 2014. — 959206. doi: 10.1155/2014/959206. Epub 2014 May 5.
14. Falagas M.E., Vouloumanou E.K., Togias A.G., Karadima M., Kapaskelis A.M., Rafailidis P.I., Athanasiou S. Fosfomycin versus other antibiotics for the treatment of cystitis: a meta-analysis of randomized controlled trials // J. Antimicrob. Chemother. — 2010 Sep. — 65 (9). — 1862-77. doi: 10.1093/jac/dkq237. Epub 2010 Jun 29.
15. Bader M.S., Loeb M., Brooks A.A. An update on the ma–nagement of urinary tract infections in the era of antimicrobial resistance // Postgrad. Med. — 2017 Mar. — 129 (2). — 242-258. doi: 10.1080/00325481.2017.1246055. Epub 2016 Oct 21.
16. Grabe M., Bjerklund-Johansen T.E., Botto H., Wullt B., Cek M., Naber K.G., Pickard R.S., Tenke P., Wagenlehner F. Guidelines on Urological Infections — 2011: European Association of Uro–logy, 2011. — Р. 112.
17. International Clinical Practice Guidelines for the Treatment of Acute Uncomplicated Cystitis and Pyelonephritis in Women: A 2010 Update by the Infectious Diseases Society of America and the European Society for Microbiology and Infectious Diseases Clinical Infectious Diseases, 2011. — 52. — e103-e120.
18. Ayman Shehata Dawood, Abdelghaffar Said Dawood, Salah Abdelmonsef Nagla, Mohamed Abdelatti El-Bakary. Fosfomycin Therapy for Non-Complicated Lower Urinary Tract Infections during Pregnancy: Tanta University Experience // Open Journal of Obstetrics and Gynecology. — 2017. — Vol. 7, № 5.
19. https://compendium.com.ua/info/281057/urofostsin/
Similar articles