"Actual Infectology" Том 7, №2, 2019
Cytomegalovirus infection in children: diagnostic difficulties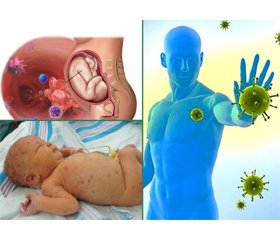 Authors:

Виговська О.В., Юхименко Г.Г., Корбут О.В., Дмитрієва О.А., Буц О.Р. Національний медичний університет імені О.О. Богомольця, м. Київ, Україна



Categories:

Infectious diseases



Sections:

Specialist manual
Summary
У статті проведено аналіз даних літератури, що стосується проблеми цитомегаловірусної інфекції у дітей. Узагальнюються сучасні уявлення про варіанти перебігу та форми цитомегаловірусної інфекції в різних вікових групах, а також ускладнення та наслідки хвороби. Розглядаються методи раціональної діагностики захворювання у дітей на сучасному етапі. У статті описані випадки цитомегаловірусної інфекції у дітей раннього віку, показані труднощі діагностики в практиці лікаря-педіатра в зв'язку з різноманіттям клінічних проявів хвороби, тяжкою фоновою патологією хворих.
В статье проведен анализ данных литературы, касающейся проблемы цитомегаловирусной инфекции у детей. Обобщаются современные представления о вариантах течения и формах цитомегаловирусной инфекции в разных возрастных группах, а также осложнения и исходы болезни. Рассматриваются методы рациональной диагностики заболевания у детей на современном этапе. В статье описаны случаи цитомегаловирусной инфекции у детей раннего возраста, показаны трудности диагностики в практике врача-педиатра в связи с многообразием клинических проявлений болезни, тяжелой фоновой патологией больных.
This article summarizes literature data about the problem of cytomegalovirus infection in children. It serves to genera­lize modern complications and outcomes. Article also considers the methods of rational diagnosis of this disease and describes the clinical cases of cytomegalovirus infection in young children. It shows difficulties and challenges that are related with diagnosis of this disease, caused by its clinical diversity and severe premorbid state of patients.
Keywords
цитомегаловірусна інфекція; діти; клінічні форми; діагностика; імуноглобулін; ганцикловір
цитомегаловирусная инфекция; дети; клинические формы; диагностика; иммуноглобулин; ганцикловир
cytomegalovirus infection; children; clinical forms; diagnosis; immunoglobulin; ganciclovir
For the full article you need to subscribe to the magazine.
Bibliography
1. Краснов В.В., Обрядина А.П. Клинико-лабораторная характеристика цитомегаловирусной инфекции у детей // Практическая медицина. — 2012, ноябрь. — № 7(62). — С. 137-139.
2. Мангушева Я.Р., Хаертынова И.М., Мальцева Л.И. Цитомегаловирусная инфекция у детей // Практическая медицина. — 2014. — № 7(83). — С. 11-16.
3. Крамарьов С.О., Ходак Х.А., Навєт Т.І. Цитомегаловірусна інфекція у дітей // Педіатрія, акушерство та гінекологія. — 1998. — № 4. — С. 47-50.
4. Никонов А.П., Асцатурова О.Р. Цитомегаловирусная инфекция и беременность // Гинекология. — 2007. — № 1. — С. 46-49.
5. Адиева А.А. Роль цитомегаловирусной инфекции в патологии плода и новорожденного. Поиск новых противовирусных препаратов: автореф. дис… канд. мед. наук / Адиева А.А. — Москва, 2009. — 49 с.
6. Alkhawaja S., Ismaleel A., Botta G., Senok A. Theprevalence of congenital and perinatal cytomegalovirus infection samong new born of seropositive mothers // G. Infect. Dev. Ctries. — 2012 May 14. — Vol. 6(5). — С. 410-415.
7. Griffits P.D. Strate giestoprevent CMV infection in the neonate // Semin. Neonatal. — 2002. — Vol. 7(4). — Р. 293-299.
8. Wen L.Z., Xing W. et al. Cytomegalovirus infection in pregnancy // Int. J. Gynecol. Obstet. — 2002. — Vol. 79(2). — Р. 111-116.
9. Таболин В.А., Володин Н.Н., Гераськина В.П., Ильина И.Д. Диагностика, клиника и лечение цитомегаловирусной инфекции у детей // Российский вестник перинатологии и педиатрии. — 1994. — Т. 39, № 3. — С. 16-18.
10. Кочкина С.С., Ситникова Е.П. Цитомегаловирусная инфекция у детей: клиника, диагностика и лечение: Учебно-методическое пособие для студентов. — Ярославль: Аверс, 2012. — 84 с.
11. Яцык Г.В., Одинаева Н.Д., Беляева И.А. Цитомегаловирусная инфекция // Практика педиатра. В помощь врачу. — 2009. — № 10. — С. 5-12.
12. Керимова Ж.Н. Клиническая структура манифестных форм цитомегаловирусной инфекции у детей раннего возраста и эффективность противовирусной терапии: автореф. дис… канд. мед. наук. — ПИУВ, Саратов, 2009. — 27 с.
13. Bedict Cris A., Arens R., Loewendorf A., Janssen Edith M. Modulation of T-cell Mediated Immunity by Cytomegalovirus // Control of Innate Adaptive Immune Responses During Infection Diseases. — 2011. — Р. 121-139.