"Actual Infectology" Том 7, №3, 2019
Clinical and epidemiological features of Klebsiella infection in children at the present stage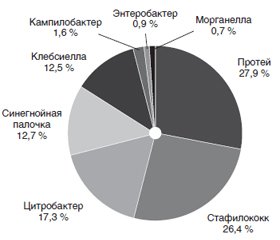 Authors:

Пронько Н.В.(1), Красько Ю.П.(2) (1) — УО «Гродненский государственный медицинский университет», г. Гродно, Беларусь (2) — УЗ «Гродненская областная инфекционная клиническая больница», г. Гродно, Беларусь



Categories:

Infectious diseases



Sections:

Clinical researches
Summary
Проведено аналіз клініко-епідеміологічних особливостей перебігу клебсієльозної кишкової інфекції у дітей. Встановлено, що висока захворюваність на клебсієльозну інфекцію відзначається у дітей перших років життя. Клінічні особливості клебсієльозу характеризуються гострим початком, лихоманкою, діареєю. Захворювання має середньотяжкий перебіг. Пацієнтам віком до 1 року властива наявність вододефіцитного ексикозу. Клебсієльоз найчастіше зустрічається у дітей з несприятливим преморбідним фоном. Під час спалахів гострої клебсієльозної інфекції, що виникають у дитячих колективах, пацієнтів необхідно обстежити щодо умовно-патогенної кишкової групи. Це дозволить оптимізувати не тільки способи лікування хворих, але і протиепідемічні заходи.
Проведен анализ клинико-эпидемиологических особенностей течения клебсиеллезной кишечной инфекции у детей. Установлено, что высокая заболеваемость клебсиеллезной инфекцией отмечается у детей первых лет жизни. Клинические особенности клебсиеллеза характеризуются острым началом, лихорадкой, диареей. Заболевание протекает в среднетяжелой форме. Больным в возрасте до 1 года свойственно наличие вододефицитного эксикоза. Клебсиеллез чаще встречается у детей с неблагоприятным преморбидным фоном. При вспышках острой кишечной инфекции, возникающих в детских коллективах, пациентов необходимо обследовать на условно-патогенную кишечную группу. Это позволит оптимизировать не только способы лечения больных, но и противоэпидемические мероприятия.
The analysis of clinical and epidemiological features of the course of Klebsiella intestinal infection in children has been carried out. It was found that a high incidence of Klebsiella infection is observed in children in the first years of life. Clinical features of Klebsiella infection are characterized by acute onset, fever, diarrhea. The disease course is moderate-to-severe. Patients under 1 year of age are characterized by the presence of water deficiency exsiccosis. Klebsiella infection is more common in children with an unfavorable premorbid background. During outbreaks of acute intestinal infections that occur in children's groups, patients should be examined for the pre­sence of potentially pathogenic intestinal microorganisms. This will optimize not only the methods of treating patients, but also anti-epidemic measures.
Keywords
гострі кишкові інфекції; клебсієльозна інфекція; діти
острые кишечные инфекции; клебсиеллезная инфекция; дети
acute intestinal infections; Klebsiella infection; children
For the full article you need to subscribe to the magazine.
Bibliography
1. Учайкин В.Ф. Этиопатогенетическая терапия острых кишечных инфекций у детей на современном этапе / В.Ф. Учайкин, А.А. Новокшенов, Н.В. Соколова // Лечащий врач. — 2010. — № 1. — С. 7-13.
2. Бондаренко В.М. Дисбактериоз кишечника как клинико-лабораторный синдром: современное состояние проблемы / В.М. Бондаренко, Т.В. Мацулевич — М., 2007. — 300 с.
3. Pronko N.V. Epidemiologic, etiological and age aspects of the syndrome of diarrhea in children / N.V. Pronko // Interfaces and Controversies in Gastroenterology. Mainz. — 2012. — P. 62.
4. Dennehy P.H. Acute diarrheal disease in children: epidemiology, prevention, and treatment / P.H. Dennehy // Infect. Dis. Clin. North. Am. — 2005. — V. 19, № 3. — Р. 585-602.
5. Sadkowska-Todys M.A. Infectious diseases in Poland in 2014 / M.A. Sadkowska-Todys, A. Zieliński, M.S. Czarkowski // Przegl. Epidemiol. — 2016. — V. 70, № 2. — P. 167-181.
6. Ершова И.Б. Препараты, восстанавливающие микробиоценоз, как этиотропная терапия острых кишечных инфекций у детей / И.Б. Ершова, А.А. Мочалова, Т.Ф. Осипова, В.А. Рещиков, С.Ю. Козина // Актуальная инфектология. — 2015. — № 2(7). — С. 45-50.
7. Guarino A. Evidence-based Guidelines for the Management of Acute Gastroenteritis in Children in Europe: Update 2014 / A. Guarino, S. Ashkenazi, D. Gendrel, A. Lo Vecchio, R. Shamir, H. Szajewska // Journal of pediatric gastroenterology and nutrition. — 2014. — V. 59, № 1. — P. 132-152.
8. Shane A.L. Infectious Diseases Society of America Clinical Practice Guidelines for the Diagnosis and Management of Infectious Diarrhea / A.L. Shane, R.K. Mody, J.A Crump // Clinical Infectious Diseases. — 2017. — V. 65, № 12. — P. 1963-1973.
9. Shrivastava A.K. Multiple etiologies of infectious diarrhea and concurrent infections in a pediatric outpatient-based screening study in Odisha, India / A.K. Shrivastava, S. Kumar, N.K. Mohakud // Gut. Pathog. — 2017. — V. 9. — P. 16.
10. Eberlin M. Racecadotril in the treatment of acute diarrhea in children: a systematic, comprehensive review and meta-analysis of randomized controlled trials / M. Eberlin, M. Chen, T. Mueck, J. Däbritz // BMC Pediatr. — 2018. — V. 18, № 1. — P. 124.
11. Broberg C.A. Klebsiella: a long way to go towards understanding this enigmatic jet-setter / C.A. Broberg, M. Palacios, V.L. Miller // F1000 Prime Reports. — 2014. — V. 6, № 64. — P. 60-64.
12. Wiener-Well Y.I. Carriage rate of carbapenem-resistant Klebsiella pneumoniae in hospitalised patients during a national outbreak / Y.I. Wiener-Well, B. Rudensky, A.M. Yinnon, P. Kopuit, Y. Schlesinger, E. Broide, T. Lachish, D. Raveh // J. Hosp. Infect. — 2010. — V. 74, № 4. — P. 344-349.