"Actual Infectology" Том 7, №3, 2019
Tetanus in the practice of a pediatric infectious diseases doctor. Clinical cases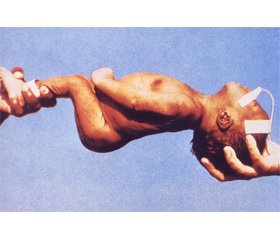 Authors:

Палатна Л.О.(1), Крамарьов С.О.(1), Євтушенко В.В.(1), Шпак І.В.(1), Ковалюх І.Ю.(1), Міщерська Г.Д.(2), Савінова К.Б.(2), Кравчук А.О.(2), Кордівська А.М.(1) (1) — Національний медичний університет ім. О.О. Богомольця, м. Київ, Україна (2) — Комунальний заклад Київської обласної ради «Київська обласна дитяча лікарня», м. Київ, Україна



Categories:

Infectious diseases



Sections:

Specialist manual
Summary
У статті наведений огляд літератури щодо клініко-епідеміологічних особливостей правця в дітей. Докладно висвітлені клінічна картина, форми, ускладнення, питання діагностики та подані клінічні випадки правця в дітей 11 та 2 років 8 місяців. Мета описаних клінічних випадків: підкреслити необхідність вакцинації для запобігання правцю та нагадати про важливість настороженості щодо даного захворювання.
В статье приведен обзор литературы по поводу клинико-эпидемиологических особенностей столбняка у детей. Подробно освещены клиническая картина, формы, осложнения, вопросы диагностики, представлены клинические случаи столбняка у детей 11 и 2 лет 8 месяцев. Цель описанных клинических случаев: подчеркнуть необходимость вакцинации для предупреждения столбняка и напомнить о важности настороженности относительно данного заболевания.
The article presents the results of literature review on the clinical and epidemiological features of tetanus in children. Clinical picture, forms, complications, diagnostic questions and clinical cases of tetanus in children aged 11 years and 2 years 8 months are presented in detail. The purpose of the described clinical cases is to emphasize the need for vaccination to prevent tetanus and to remind about the awareness of this disease.
Keywords
правець; діти; імунізація
столбняк; дети; иммунизация
tetanus; children; immunization
For the full article you need to subscribe to the magazine.
Bibliography
1. Інфекційні хвороби (підручник) / за ред. О.А. Голубовської. — К.: ВСВ «Медицина», 2018. — 2-ге вид., доп. і переробл. — 688 с. + 12 с. кольор. вкл. (Голубовська О.А., Андрейчин М.А., Шкурба А.В. та ін.).
2. https://www.who.int (дані Всесвітньої організації охорони здоров'я.
3. Generalized tetanus in a 4-year old boy presenting with dysphagia and trismus: a case report // Rudolfde Jong Р., Heer-Groen Т., Cornelis H., Schrder N., Jansen J.G. — 2009 // https://casesjournal.biomedcentral.com/articles/10.1186/1757-1626-2-7003.
4. Public Health Agency of Canada. Tetanus. — 2014 // http://www.phacaspc. gc.ca/im/vpd-mev/tetanus-tetanos/professionalsprofessionnels-eng.php.
5. Government of Canada. Tetanus Toxoid // Canadian Immunization Guide 2016 // https://www.canada.ca/en/publichealth/services/publications/healthy-living/canadianimmunization-guide-part-4-active-vaccines/page-22-tetanus-toxoid.html.
6. European Centre for Disease Prevention and Control. Tetanus // ECDC. Annual epidemiological report for 2016. — Stockholm: ECDC, 2018.
7. Pearce J.M. Notesontetanus (lockjaw) // J. Neurol. Neurosurg. Psychiatry. — 1996. — 60(3). — Р. 332 [Medline]
8. Методичні рекомендації з діагностики та лікування правця: Наказ МОЗ України № 198 від 05.08.99 «Про вдосконалення профілактики, діагностики та лікування правця» // http://mozdocs.kiev.ua/view.php?id=776.