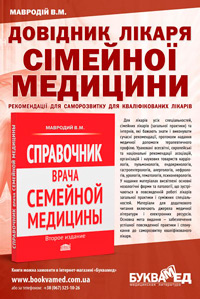 ---
СІМЕЙНІ ЛІКАРІ ТА ТЕРАПЕВТИ
---
НЕВРОЛОГИ, НЕЙРОХІРУРГИ, ЛІКАРІ ЗАГАЛЬНОЇ ПРАКТИКИ, СІМЕЙНІ ЛІКАРІ
---
КАРДІОЛОГИ, СІМЕЙНІ ЛІКАРІ, РЕВМАТОЛОГИ, НЕВРОЛОГИ, ЕНДОКРИНОЛОГИ
---
СТОМАТОЛОГИ
---
ІНФЕКЦІОНІСТИ, СІМЕЙНІ ЛІКАРІ, ПЕДІАТРИ, ГАСТРОЕНТЕРОЛОГИ, ГЕПАТОЛОГИ
---
ТРАВМАТОЛОГИ
---
ОНКОЛОГИ, (ОНКО-ГЕМАТОЛОГИ, ХІМІОТЕРАПЕВТИ, МАМОЛОГИ, ОНКО-ХІРУРГИ)
---
ЕНДОКРИНОЛОГИ, СІМЕЙНІ ЛІКАРІ, ПЕДІАТРИ, КАРДІОЛОГИ ТА ІНШІ СПЕЦІАЛІСТИ
---
ПЕДІАТРИ ТА СІМЕЙНІ ЛІКАРІ
---
АНЕСТЕЗІОЛОГИ, ХІРУРГИ
"Actual Infectology" Том 7, №5-6, 2019
Topical issues of Lyme disease. An overview of current international guidelines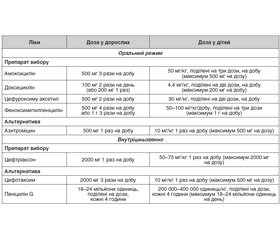 Summary
Хвороба Лайма є найпоширенішою трансмісивною інфекційною хворобою, вектором для якої виступають кліщі. Діагностичний підхід залежить від форми захворювання, але як і раніше серед стратегій перевага надається клінічній діагностиці. Методом вибору серед лабораторних тестів є визначення сироваткових антитіл. Збудник хвороби чутливий до антибіотиків одразу декількох класів, при цьому їх вибір та доза базуються на синдромі хвороби. Після хвороби у пацієнтів можуть залишатися неспецифічні симптоми, за наявності яких не рекомендується додаткова антибіотикотерапія. Автори нижченаведених рекомендацій виступають проти перевірки кліщів на наявність Borrelia burgdorferi після укусу. Профілактична антибіотикотерапія рекомендується дітям і дорослим протягом перших 72 годин лише у випадку з високим ризиком розвитку інфекції. Дотримання простих правил індивідуального захисту, застосування репелентів і своєчасний огляд дозволять уникнути розвитку інфекції.
Болезнь Лайма является самой распространенной трансмиссивной инфекционной болезнью, вектором для которой выступают клещи. Диагностический подход зависит от формы заболевания, но по-прежнему среди стратегий предпочтение отдается клинической диагностике. Методом выбора среди лабораторных тестов является определение сывороточных антител. Возбудитель болезни чувствителен сразу к нескольким классам антибиотиков, при этом их выбор и доза базируются на синдроме болезни. После болезни у пациентов могут оставаться неспецифические симптомы, при определении которых не рекомендуется дополнительная антибиотикотерапия. Авторы нижеприведенных рекомендаций выступают против проверки клещей на наличие Borrelia burgdorferi после укуса. Профилактическая антибиотикотерапия рекомендуется детям и взрослым в течение первых 72 часов только в случае с высоким риском развития инфекции. Соблюдение простых правил индивидуальной защиты, применение репеллентов и своевременный осмотр позволят избежать развития инфекции.
Lyme disease is the most common vector-borne disease transmitted by ticks. The diagnostic approach depends on the form of disease, but clinical diagnosis continues to be preferred among others. The method of choice among laboratory tests is to determine serum antibodies. The causative agent of disease is sensitive to several classes of antibiotics; their choice and dose is based on the syndrome of disease. After the illness, patients may have non-specific symptoms in which additional antibiotic therapy is not recommended. Authors of the following guidelines do not recommend testing ticks for Borrelia burgdorferi after a bite. Prophylactic antibiotic therapy is recommended for children and adults for the first 72 hours only in case of a high risk of infection. Adherence to simple personal protection rules, the use of repellents and timely inspection will prevent the development of infection.
Keywords
хвороба Лайма; нейробореліоз; кліщі
болезнь Лайма; нейроборрелиоз; клещи
Lyme disease; neuroborreliosis; ticks
For the full article you need to subscribe to the magazine.
Bibliography
1. https://www.idsociety.org/practice-guideline/Lyme-Di–sease-Guideline-Public-Comments/.
2. Steere A.C. et al. Prospective study of serologic tests for lyme disease. Clin. Infect. Dis. 2008 Jul 15. 47(2). 188-95.
3. Molins C.R. et al. Collection and characterization of samples for establishment of a serum repository for lyme disease diagnostic test development and evaluation. J. Clin. Microbiol. 2014 Oct. 52(10). 3755-62.
4. Nau R., Christen H.J., Eiffert H. Lyme disease: current state of knowledge. Dtsch. Arztebl. Int. 2009 Jan. 106(5). 72-81.
5. Centers for Disease Control and Prevention. Recommendations for test performance and interpretation from the Second National Conference on Serologic Diagnosis of Lyme Disease. Morb. Mortal Wkly Rep. 1995 Aug.11. 44(31). 590-1.
6. National Institute for Health and Care Excellence (UK). NICE guideline 95: Lymedisease. October 2018.
7. Waddell L.A. et al. The Accuracy of Diagnostic Tests for Lyme Disease in Humans, A Systematic Review and Meta-Analysis of North American Research. PLoS One. 2016. 11(12). Е0168613.
8. Cook M.J. et al. Commercial test kits for detection of Lyme borreliosis: a meta-analysis of test accuracy. Int. J. Gen. Med. 2016 Nov 18. 9. 427-440.
9. Halperin J.J. et al. Central nervous system abnormalities in Lyme neuroborreliosis. Neurology. 1991 Oct. 41(10). 1571-82.
10. Cerar T. et al. Humoral immune responses in patients with Lyme neuroborreliosis. Clin. Vaccine Immunol. 2010 Apr. 17(4). 645-50.
11. Mygland A., Ljøstad U., Fingerle V. et al; European Fe–deration of Neurological Societies. EFNS guidelineson the diagnosis and management of European Lymeneuroborreliosis. Eur. J. Neurol. 2010 Jan. 17(1). 8-16; e1-4.
12. https://www.canada.ca/en/public-health/services/disea–ses/lyme-disease/health-professionals-lyme-disease.html.
13. Warshafsky S. et al. Efficacy of antibiotic prophylaxis for the prevention of Lyme disease: an updated systematic review and meta-analysis. J. Antimicrob. Chemother. 2010 Jun. 65(6). 1137-44.
14. Kimberlin D.W., Brady M.T., Jackson M.A. American Academy of Pediatrics. Lyme disease. Red Book: 2018 Report of the Committee on Infectious Diseases. 31st ed. Itasca, IL: American Academy of Pediatrics, 2018. 515-23.
15. Cameron D., Gaito A., Harris N. et al. Evidence-based guidelines for the management of Lyme disease. Expert Rev. Anti-Infect. Ther. 2004. 2(Suppl. 1). S4.
16. Wormser G.P., Dattwyler R.J., Shapiro E.D. et al. The clinical assessment, treatment, and prevention of Lyme disease, human granulocytic anaplasmosis, and babesiosis: clinical practice guidelines by the Infectious Diseases Society of America. Clin. Infect. Dis. 2006. 43(9). 1121.
17. https://drive.google.com/file/d/1dpR1T0nXcCIL5rgjuwr6PQ7jGClTF6Wt/view?fbclid=IwAR0dsm5hdPDiR3xXhXWN4pmh-qjUW9DXTApV9v9Y7hp7UKarAsYDJDP3-cI.
18. Kelly Young. New Draft Lyme Disease Guidelines Issued. June 27, 2019. https://www.jwatch.org/fw115560/ 2019/06/27/new-draft-lyme-disease-guidelines-issued.
Similar articles

Authors:
Никитюк С.О.(1), Климнюк С.І.(1), Костик М.М.(2), Сковронська О.Н.(2) (1) — ДВНЗ «Тернопільський державний медичний університет імені І.Я. Горбачевського МОЗ України», м. Тернопіль, Україна (2) — Тернопільська обласна дитяча клінічна лікарня, м. Тернопіль, Україна


"Actual Infectology" Том 7, №1, 2019
Categories: Infectious diseases
Sections: Medical forums


Authors: Никитюк С.О.
ДВНЗ «Тернопільський державний медичний університет імені І.Я. Горбачевського», м. Тернопіль, Україна
"Actual Infectology" 4(13) 2016
Categories: Infectious diseases
Sections: Clinical researches


Authors: Никитюк С.О.(1), Костик М.М.(2), Кізан С.В.(2), Борис З.Я.(2)
1 - ДВНЗ «Тернопільський державний медичний університет ім. І.Я. Горбачевського МОЗ України», м. Тернопіль, Україна
2 - Тернопільська обласна дитяча клінічна лікарня, м. Тернопіль, Україна
"Actual Infectology" Том 6, №4, 2018
Categories: Infectious diseases
Sections: Specialist manual